Twins Minor Leaguers Who Will See Time in the Majors in 2013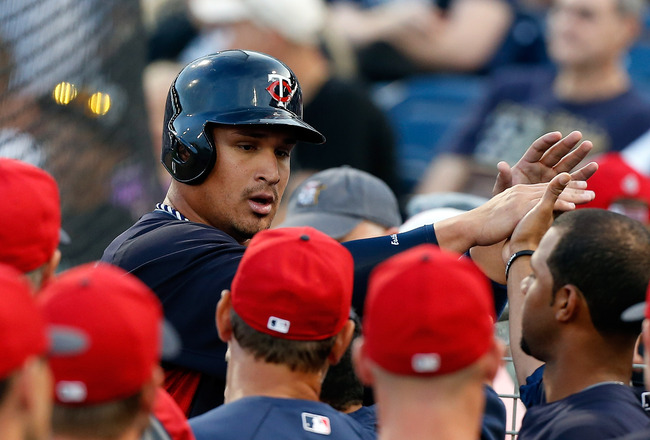 J. Meric/Getty Images
This article has in the title "Who Will See Time in the Majors in 2013", but right now a lot of fans are just wishing we'd just see any baseball being played at Target Field. What was supposed to be a six-game homestand with three against the New York Mets and three against the Los Angeles Angels quickly turned to two against each.
The Twins turn their attention to a weekend series in Chicago against the White Sox, after being swept by the Mets and sweeping the Angels in these abbreviated series. The Mets game that was a rainout or a cold out or a just plain we-are-sick-of-this-weather out has been rescheduled for August 19. The Twins will need some minor league reinforcements then.
The makeup date takes out one of the only three off-days the Twins have on the schedule in August. This means the Twins will play 17 games in 17 days between August 8 and August 25 before their second off-day of the month. It's quite a crucial month with only five games in the whole month not being against an American League Central opponent.
So let's take a look at what current minor leagues will be having an impact on the major league level sometime this season. Then again I should say probably having an impact on the major league level this season; I'm like a weatherman—I should never be trusted.
Oswaldo Arcia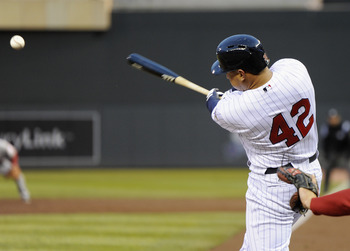 Hannah Foslien/Getty Images
Well, I'm starting off good because I know I got this one right. Since last Saturday, Oswaldo Arcia has been from Pawtucket, R.I. to Minneapolis to Rochester, N.Y. and now back to Minneapolis. It's easy to say that Arcia has been racking up the frequent flier miles.
Oswaldo Arcia had been tearing up Triple-A thus far; in 10 games Arcia has a .394 batting average, 13 hits, three home runs, eight RBI and two stolen bags. Arcia was called up after Wilkin Ramirez was placed on the paternity list, which allows a replacement for three days, and Arcia was placed in the starting lineup on Monday.
In his first Major League at-bat, Arcia laced a single to right field and advanced to second on an error. Then it all went downhill for Arcia.
Later in the game a pop-fly popped out of his glove resulting in his first major league error, and then after the game, he was sent back down to the minors, since Wilkin Ramirez was ready to return from his paternity leave.
Arcia was then called up and made available for Wednesday's game against the Angels after fourth outfielder Darin Mastroianni was placed on the 15-day disabled list due to a stress reaction in his left ankle.
The story for Arcia is that he'll be up and down between Rochester and the Twins for the whole season. Whenever anyone gets hurt Arcia will be the young man on the plane, a very young man being only 21 and turning 22 on May 9.
It'll be fun to watch Arcia grow in front of our eyes; the highly touted prospect projects to be in the Twins long-term plans. If nothing else it supplies Twins fans with a reason to go to Target Field this summer if things go very south.
Kyle Gibson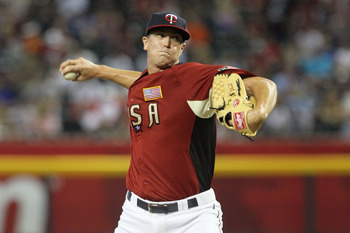 Jeff Gross/Getty Images
Kyle Gibson will be in the Twins rotation sooner than later; it's all just a matter of time. The way it goes for the Twins is that one or two starting pitchers will flop by mid-June, and Gibson will soon be taking over one of those spots.
As we all know by now, Gibson is still fighting the good fight to come back from Tommy John surgery that was performed back on November 7, 2011. That surgery knocked him out of most of the 2012 season, but he had already reached roster before needing the Tommy John surgery.
Gibson has not yet regained his control, which is said to be one of the last things to be regained after Tommy John surgery. If Gibson had his control reined in during spring training, he more than likely would of broke camp on the major league squad.
This season Gibson hasn't done much in Triple-A. In three starts he is 0-2 with a 4.11 ERA. That being said, nothing is really going right for the Red Wings who are currently 2-11 overall.
Gibson is still ranked as the No. 49 prospect in baseball by MLB.com, so there are silver linings coming soon to a Twins team near you.
Clete Thomas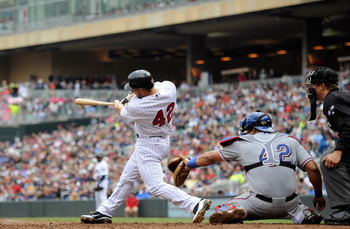 Hannah Foslien/Getty Images
Twins fans are more than aware of what Aaron Hicks has done so far this season. After going crazy during spring, Hicks has, to say it nicely, cooled off and has two hits in 45 at-bats, resulting in an average of .044. Not exactly what you want out of your leadoff hitter, or anybody for that matter. In response Ron Gardenhire has moved Hicks down in the lineup, but we'd have to imagine that Hicks does not have a long leash.
Which bring us to Clete Thomas, who is probably the Twins second-string center fielder at the current moment. Now that Darin Mastroianni is on the DL, the Twins really don't have a backup center fielder. Ron Gardenhire says that it is Wilkin Ramirez, but he belongs at DH or in a corner outfield slot, and Eduardo Escobar who is a middle infielder.
Clete Thomas definitely isn't a sexy name for this list, but in all reality he'll have a stint in the major leagues. He's a veteran that sometimes the Twins will need to call up and probably play center field or backup Mastroianni when Gardenhire can't stand Aaron Hicks any longer.
This will all happen for Clete Thomas unless some other Rochester outfielder decides to take his head out of the sand.
Joe Benson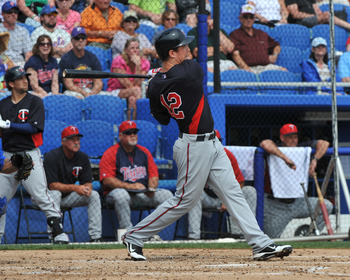 Al Messerschmidt/Getty Images
Joe Benson kind of has his head in the sand in Rochester. Going into spring training, he was in a three horse race for the center field job with the Twins. Benson got left in the dust before they got out of Turn 1.
So far in Rochester this season, it's been pretty tough on Benson. In 12 games played, he has six hits, only one being for extra bases, with a batting average of .171. Granted, that's better than Aaron Hicks who beat him out for the job with the Twins, but it still isn't really good.
The fact of the matter is that it's do or die time for Joe Benson. The prospects are coming hot and ready from Single-A and Double-A, so you better get a move on. 2012 had some injuries, but it was a horrific season. Something just needs to happen for Benson.
I'd expect that some point this season, he'll get a shot at making it at the major league level with the Twins. If Benson doesn't show something then, it'll be tough for him to see another inning at the major league level with the Twins.
It's go time, baby.
Chris Colabello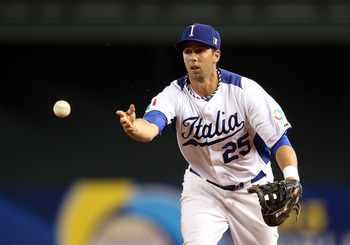 Christian Petersen/Getty Images
It's time to get happy again, with the story of Chris Colabello. Colabello looks to be a career minor leaguer. At the age of 29, he's played nine minor league seasons—only two not being in the Independent League; those two years where 2012 with the New Britain Rock Cats and this year with the Rochester Red Wings.
So far he is tearing it up in Triple-A. In 12 games he is hitting .357 with four home runs and six RBI. Colabello at first base has been part of three pretty good position players at Rochester this year along with Oswaldo Arcia and Clete Thomas.
If you followed the World Baseball Classic this spring, you probably heard Colabello's name on the roster of the darling Italian team. In the WBC, Colabello hit .333 with two home runs and seven RBI in only 18 at-bats.
He is hot right now in Rochester, and he has been this whole year. Twins fans will see the 29-year-old at Target Field sometime this season.
Anthony Slama
G. Newman Lowrance/Getty Images
Free Anthony Slama. Free Anthony Slama. Free Anthony Slama.
Anthony Slama has been stuck in Triple-A for four years. He has 101 career minor league saves and 449 career minor league strikeouts. Despite that he's only appeared in seven games at the major league level.
Let my people go!
If any bullpen guy goes down, Anthony Slama needs to be the first guy that general manager Terry Ryan is on the phone with. He deserves a shot up at the major league level. Give him a shot, and if he underwhelms, let him go to greener pastures.
As a warning though, look around the major league level and see who is anchoring MLB bullpens. That's right, former Minnesota Twins. I'm looking at you, Oakland A's closer Grant Balfour.
Trevor May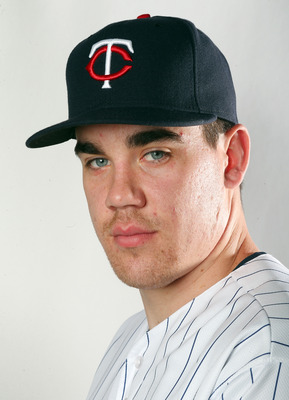 Elsa/Getty Images
Let's go to Double-A and do a little day dreaming, my friends. Trevor May, who came over in the Ben Revere trade with the Philadelphia Phillies, is sitting right now in Double-A. Now most Twins don't make that jump from Double-A to the majors, and Aaron Hicks can be looked at as an example why that should never happen—but it's mid-April and there's time.
It's pretty safe to say that Trevor May will make some appearances in Rochester this year, and once he gets there, he might as well keep on moving up the ladder. He's a prospect and Twins fans are itching to see bits and pieces of the future and here's a pitching piece of that puzzle is.
Why this pitching piece of the puzzle? He is currently on the 40-man roster.
Being on the 40-man gives you a step up for being called up because you occupy one of the spaces that is highly coveted. If the Twins want to call up say Chris Colabello, they would have to put him on the 40-man and take someone off. That someone would have to go through waivers, and that's never a fun process unless the Twins really want to get rid of you.
So with an eye to the future and in that eye there is a twinkle, Trevor May will find his way to the mound of Target Field during 2013.
Keep Reading

Minnesota Twins: Like this team?