Philadelphia Eagles: 10 Mid-to-Late Round Prospects Chip Kelly Should Consider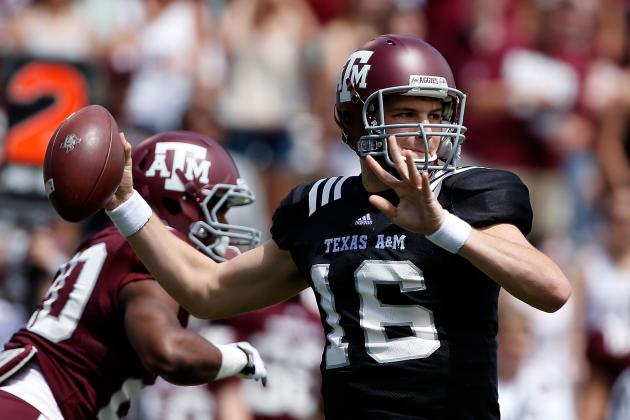 Scott Halleran/Getty Images

The hype surrounding the Philadelphia Eagles centers on which prospect the team will select fourth overall. It's the highest the team has picked in the NFL draft since 1999 when Andy Reid made a slam-dunk with Donovan McNabb.
McNabb went to six Pro Bowls in 11 seasons with Philly, setting the stage for a team that reached the playoffs eight times under Reid and his franchise quarterback. Likewise, Chip Kelly could set the tone by making Geno Smith his future signal-caller.
But Kelly has more work to do than just his quarterback. The Eagles were 4-12 in 2012, losing 11 of their final 12 contests. The defense features six new starters from free agency, and the offensive line was plagued with injuries last season.
Picking well in his first draft will make Kelly's Eagles much more competitive in the future. The key could be the late-round picks. Reid had some hits, as he chose Todd Herremans and Trent Cole in the fourth and fifth rounds, respectively. Those two are now the team's longest-tenured players. Other players like Quintin Mikell and David Akers, each of whom were undrafted, became focal points on the roster.
The Eagles would be wise to take a good look at the following 12 players. Each could probably be obtained in the third round or later, but they could make a long-term impact on the Birds.
Begin Slideshow

»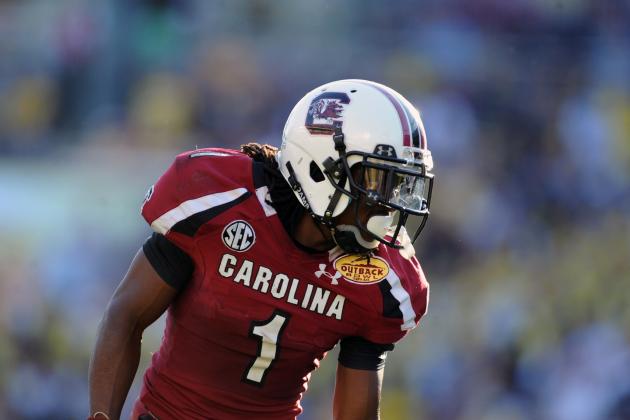 Al Messerschmidt/Getty Images

It's interesting that Tavon Austin is viewed as a top-10 prospect, while Ace Sanders will be lucky to go in the top 100 selections. Each is about the same size and possesses the same physical tools, but Austin put up much better numbers due largely to a vastly superior quarterback.
Sanders is a playmaker though. He could become anything in the NFL. He might be Joshua Cribbs as a return man. He might be Percy Harvin, who has top production as a receiver and returner. And he could be Dexter McCluster or Brad Smith, who has never reached his maximum potential in the league.
Sanders will probably return punts for the Philadelphia Eagles from day one. The team tried Damaris Johnson last year with limited results (save for a long punt return touchdown). Sanders has terrific vision and a tremendous burst of speed that should make him a constant threat in the special teams game. A good coach and quarterback will get him involved in the offense as well.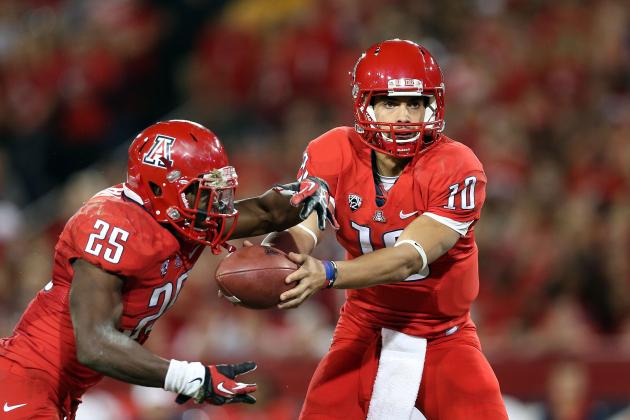 Christian Petersen/Getty Images

It seems to be that there are three potential quarterbacks in the draft for Chip Kelly's offense. Geno Smith and E.J. Manuel are well-documented players that will likely go in the first round (or at least the first 35 picks).
If Kelly really wants to prove he's a good coach, he'll take Matt Scott of Arizona. Scott is a talented athlete who runs well. He put up solid numbers as a senior, throwing 27 touchdown passes while completing over 60 percent of his passes.
Scott is very raw and undersized (196 pounds). The Philadelphia Eagles will definitely be able to get him in the third round; there's a chance he may still be around in the fourth. Scott was just a one-year starter in college, so he will be best used on the bench to learn behind Michael Vick.
He's essentially a long-term project for Kelly. Then again, that's what the critics said about Russell Wilson.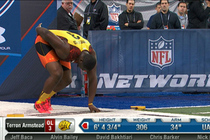 Picture courtesy of Google Images
It's not as if Chip Kelly will only take the fastest offensive linemen. But how could he not be intrigued by a 300-pound man that runs a 4.65 40-yard dash?
Armstead is quick enough to get downfield and take out linebackers on the second level. He is a four-year starter, extremely intelligent and has a strong work ethic. Armstead could emerge as a future NFL left tackle should he get proper coaching.
The Philadelphia Eagles are counting on All-Pro Jason Peters to return from injury, a serious one at that. If Peters can't recover, Armstead could be his replacement. Or the team could start Armstead immediately at right tackle and slide Todd Herremans inside as Danny Watkins' replacement.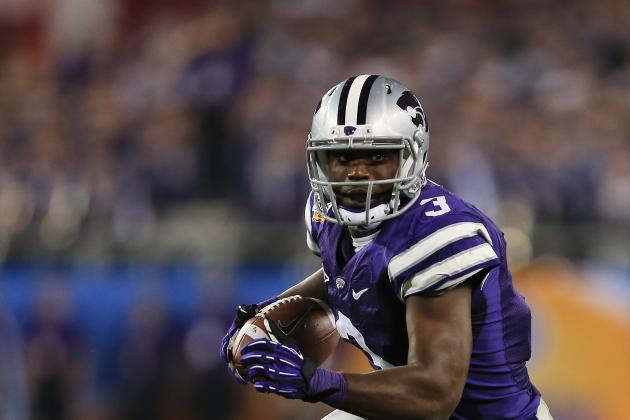 Doug Pensinger/Getty Images

A former quarterback under Chip Kelly, Chris Harper could be a steal if he drops to the fourth round. Harper is a natural athlete who has run in the low 4.4s in the 40-yard dash.
Harper has impressive size for a player of his speed, as he's 6'0" and 228 pounds. He's not a finished product as a wide receiver. But he's fast, physical and even a good blocker. Harper is raw enough that he needs proper coaching.
The good news is that if he joins the Philadelphia Eagles, he won't be asked to produce much as a rookie. DeSean Jackson and Jeremy Maclin are the unquestioned top two receivers in the offense. There's veteran slot man Jason Avant, newbie Arrelious Benn, and even youngsters Riley Cooper and Damaris Johnson in the mix.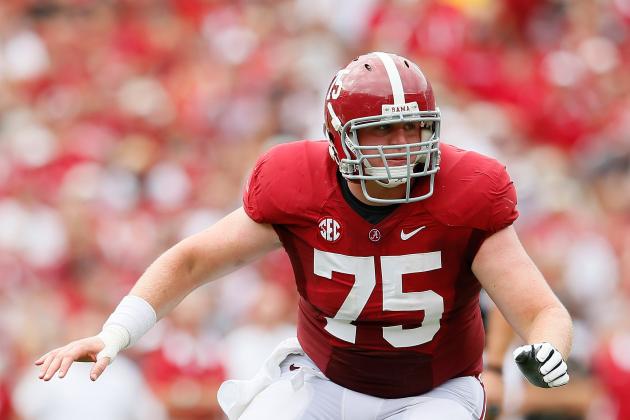 Kevin C. Cox/Getty Images

Barrett Jones is a jack-of-all-trades offensive lineman who played everywhere at the University of Alabama. He was a four-year starter for a top program that won three national championships.
Jones projects best as an interior lineman, likely a center in the NFL. Jones is tough and played through a fairly serious injury as a senior. He is extremely intelligent and has a future as a coach, which means he won't take a long time to grasp a team's system.
Jones would likely start at right guard for the Philadelphia Eagles, assuming he can beat out Danny Watkins in preseason. At the worst, Jones is a top backup that can fill in anywhere on the line when needed. And because he's not a master at any one position, he can probably be obtained in the third or even fourth round.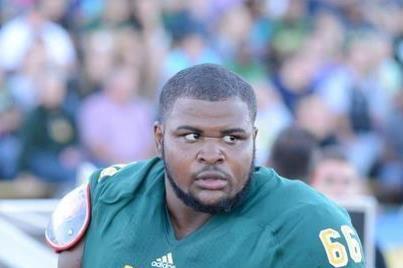 If the Philadelphia Eagles grab Star Lotulelei at pick four, they won't need Brandon Williams. But if Chip Kelly picks Sharrif Floyd as a 3-4 end, Williams could be his future nose tackle.
Williams is a big man at 340 pounds. He's an ideal nose tackle in that he can play the zero-technique and occupy double-teams constantly. Williams is versatile enough that he can be utilized at multiple spots on the line. If Chip Kelly gets creative and uses Isaac Sopoaga and Williams next to one another, that's a mountain in the middle for opposing offensive lines.
Williams' stock has dropped as of late. He played against Division II competition in college, and going to be tough to use in a 4-3 system. He should be a solid pickup in the third round for the Eagles.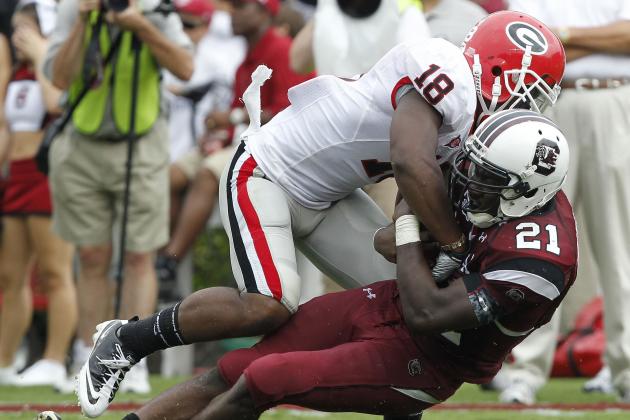 Mike Zarrilli/Getty Images

Baccari Rambo was a three-year starter at Georgia, flashing signs of playmaking ability. He recorded eight interceptions in a standout junior season and totaled 16 in four collegiate years.
Rambo reads the opposing quarterback well and jumps in front of routes. He possesses very good ball skills and would push for starting time as a rookie. The Philadelphia Eagles have two adequate starters in Kenny Phillips and Patrick Chung, although each player has struggled to stay healthy.
Rambo would give the Eagles an excellent third option as a safety, and that would allow Nate Allen to move down to the fourth spot.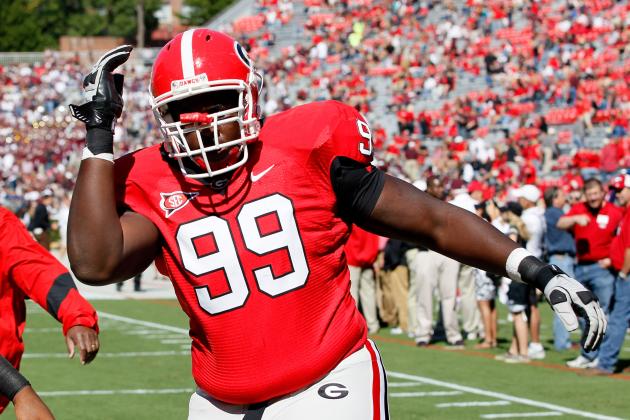 Kevin C. Cox/Getty Images

Kwame Geathers is a middle-round nose tackle prospect that could help the Philadelphia Eagles. He's too inconsistent and put up less-than-spectacular production at the nose tackle position.
Geathers has the natural size for his position. He's enormous at over 350 pounds. Geathers will draw double-teams simply because of his sheer mass. He also has NFL bloodlines, as two of his brothers play in the league (Clifton was just traded to the Eagles recently).
Geathers is probably a two-down player since he offers absolutely nothing as a pass-rusher. He would spend much of 2013 rotating with Isaac Sopoaga in the zero-technique spot. Geathers is only a 3-4 player, which means his value will likely slip to the fourth round.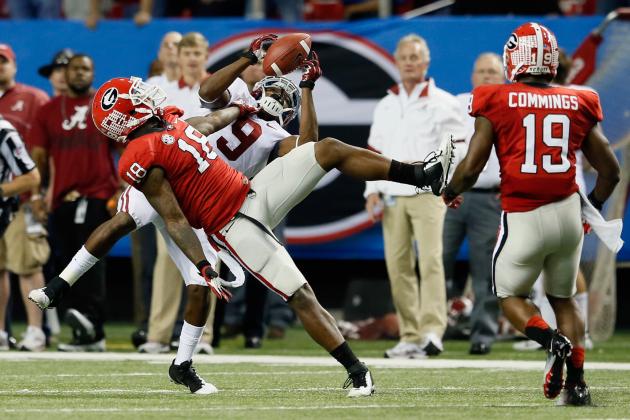 Kevin C. Cox/Getty Images

This makes three Georgia players that would be a good fit for the Philadelphia Eagles. Sanders Commings is buried in a deep class of cornerbacks, which means there's a chance he could slip to the fourth round.
Commings is big for a cornerback at 225 pounds. He is physical and can jam receivers. Commings matches up well with tight ends, and he's tough and aggressive. He would fill a void on a team that is short on starting-caliber corners.
The Eagles brought over Cary Williams from the Baltimore Ravens, and he will start from day one. After that, Bradley Fletcher and Brandon Boykin are best utilized as the nickel and dime corners. Commings would challenge for the starting spot opposite Williams. At the least, the Eagles would have four good corners in their secondary.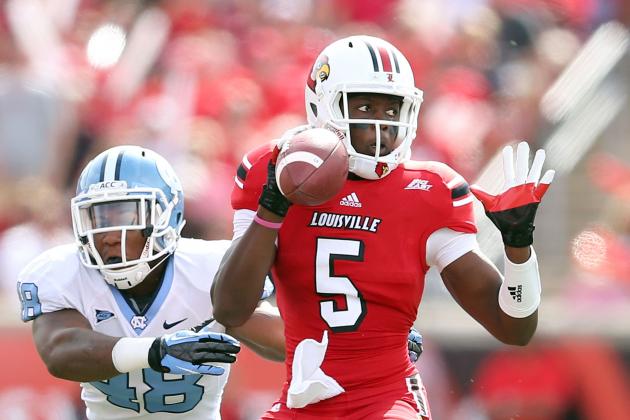 Andy Lyons/Getty Images

Switching to a 3-4 defense will move Mychal Kendricks to the inside spot, a role he played in college. Kendricks has a bright future with the team but the Philadelphia Eagles may need to draft another inside linebacker.
DeMeco Ryans was brought over via trade last offseason, and he played well in year one. But he's due to make $6.7 million in 2013, and that's a lot of money for an inside linebacker. Ryans can stop the run although he's limited as a pass-rusher. He didn't play well in Houston's 3-4 scheme, and he's entering his eighth NFL season.
Kevin Reddick would allow the Eagles to phase in his replacement. Reddick was a four-year starter in college, and he's a very well-rounded prospect. He is a team leader and will translate well to the NFL level. Grabbing Reddick in the fourth round would be a great move.