Kansas City 2013 Mock Draft: Full 7 Round Predictions, 1 Week Ahead of the Draft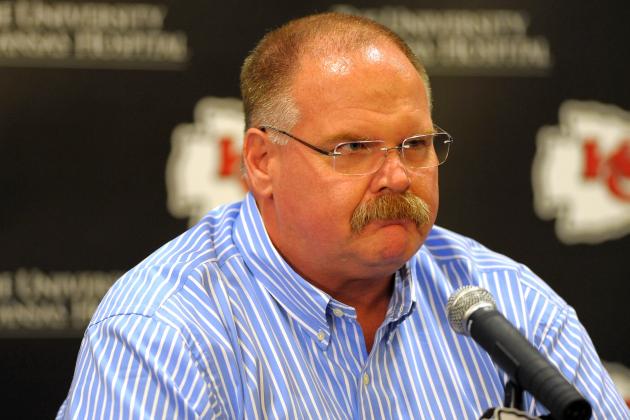 Denny Medley-USA TODAY Sports

The first round of the 2013 NFL draft is in exactly a week and the Kansas City Chiefs will make the first pick. With John Dorsey running the front office and Andy Reid being the new head coach of the franchise, fans are looking forward to what the new regime will do.
With the first pick, the Chiefs have been granted the power to pick anyone they desire. Kansas City has solved some of their needs through the offseason, but other holes need to be addressed and the Chiefs can succeed in doing so next week.
In this slideshow, I will go over all seven rounds and talk about whom the Chiefs will draft next week.
Begin Slideshow

»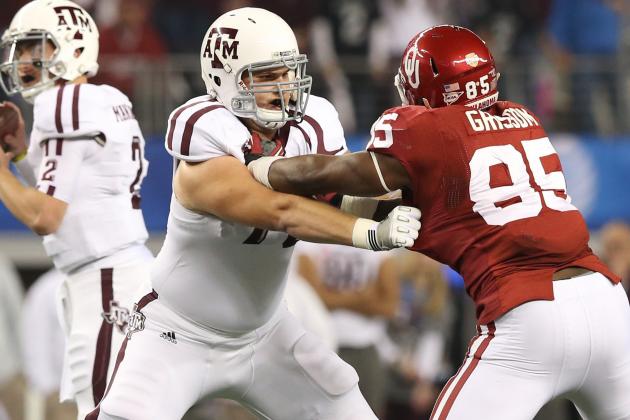 USA TODAY Sports

Eric Winston is no longer on the team while the Chiefs have an uncertain future with Branden Albert. Kansas City solved their big hole at the starting quarterback spot, so that position, despite being coveted the most with the top pick, won't be addressed No. 1 overall this year as long as Kansas City is picking first.
Therefore, drafting Luke Joeckel would be the best decision to help turn around the offense. Alex Smith has himself a very reliable pass blocker while Jamaal Charles can use Joeckel and go around him to pick up a lot of yards and move the chains.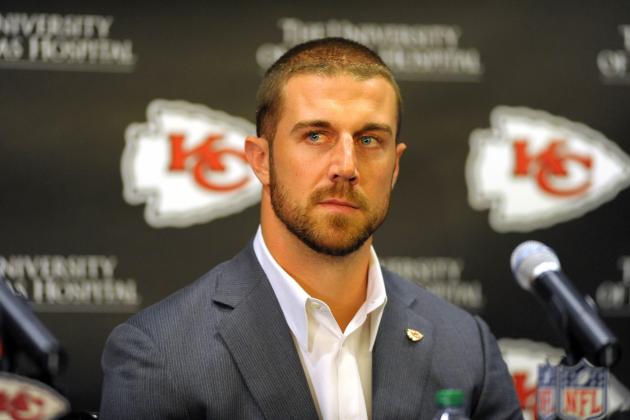 Denny Medley-USA TODAY Sports

The Chiefs no longer own the 34th pick in the draft and are currently without a pick in the second round.
The Chiefs could make up for this loss by trading Albert to the Miami Dolphins, who appear to be interested in him, and get another pick.
Kelley L Cox-USA TODAY Sports

The Chiefs struggled at the No. 2 cornerback position last year after letting Brandon Carr slip away. Kansas City tried replacing him with Stanford Routt, but he lasted just half a season.
In a pass-heavy league, the Chiefs desperately need a capable corner opposite Brandon Flowers. With 63rd pick pick in the third round (No. 63 overall), the Chiefs have a great chance to find a starting cornerback.
Marc Anthony can help fill that void, and give the Chiefs another reliable defensive back to work under Bob Sutton's defense.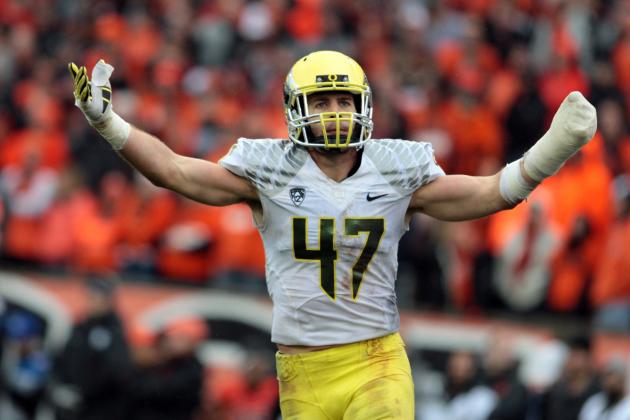 Scott Olmos-USA TODAY Sports

The Kansas City Chiefs lost a linebacker as Brandon Siler was not retained this offseason. The Chiefs are thin at inside linebackers and need a lot of bodies to come in and help Derrick Johnson.
A good player to consider in the 2013 draft is Kiko Alonso.
Alonso had one sack and racked up four interceptions during his senior year with the Oregon Ducks.
Playing behind Johnson and eventually transforming into a starter would likely be the route the Chiefs take with Alonso. If he has an impressive training camp and preseason, he's got a chance to start sooner than most late third-round picks.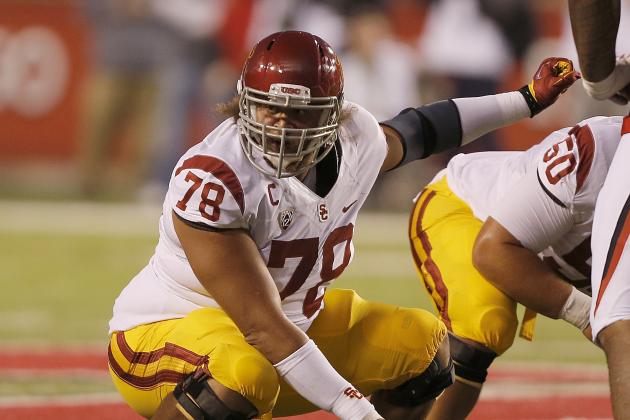 George Frey/Getty Images

Rodney Hudson started just the first three games of the 2012 season and was done early due to an injury. He's slated to start in 2013, but the inexperienced center will need a back up, especially since Ryan Lilja retired.
Drafting Khaled Holmes from USC is a move that Dorsey and the front office must consider, as it would be a step toward adding some depth for the interior of the offensive line.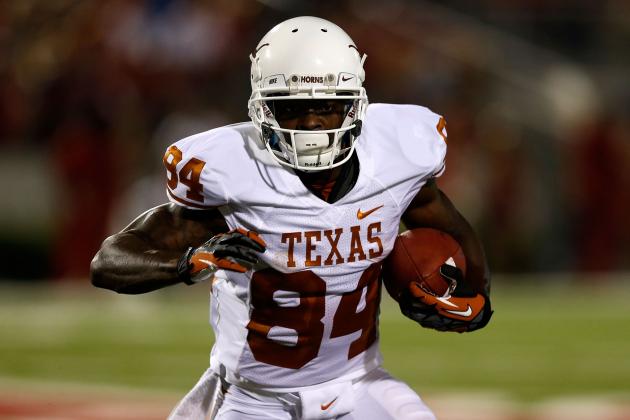 Scott Halleran/Getty Images

Though former Texas Longhorn Marquise Goodwin played at a big school, he served a small role as a wide receiver. In the NFL, if given an opportunity and good coaching, that could change.
During his senior year, he caught 26 passes, three of them in the end zone. Goodwin contributed as a returner and thus would bring some versatility to an NFL team.
For the Chiefs, this versatility benefits them in multiple ways. Kansas City can use the former track and field star as an slot receiver and another return option on special teams.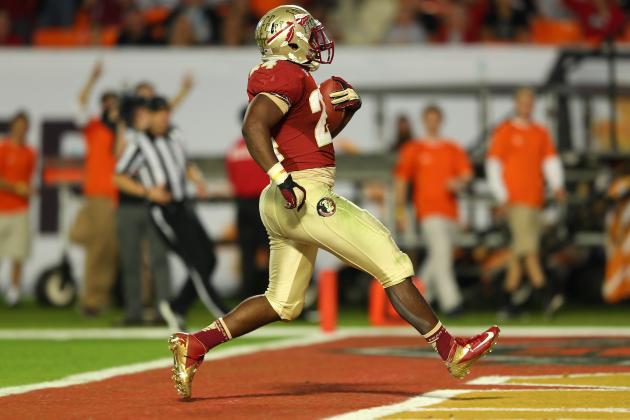 Mike Ehrmann/Getty Images

If there is a position the Chiefs are thin at the most, it's fullback. The Chiefs had Patrick DiMarco as the team's fullback last year and added Ryan D'Imperio this offseason.
If Lonnie Pryor is available late in the draft, Dorsey must pick him up.
Pryor, who earned the Orange Bowl MVP this past year, can be beneficial to the Chiefs in many ways.
Pryor can be the lead blocker for Charles and other Kansas City running backs this season. He ran for 376 yards and eight touchdowns on 47 carries—including a season-high 134 yards and two touchdowns off five carries in the Orange Bowl against Northern Illinois. The Chiefs may consider using him as a runner in short-yardage situations.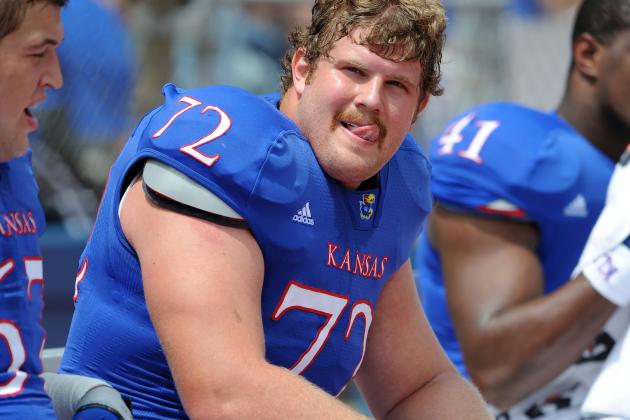 John Rieger-USA TODAY Sports

This would be Kansas City's third offensive lineman in the draft, but Tanner Hawkinson is an offensive lineman who could fit in Kansas City's system. Don't be surprised if Dorsey gets two offensive linemen and considers one more late in the draft.
The Chiefs need some depth at the line, and Hawkinson would be a nice addition.
Hawkinson broke the school record at the University of Kansas for most starts with 48 (all consecutive) and played his final season under Charlie Weis, former Chiefs offensive coordinator. Hawkinson, if given the chance, could be a great run-blocker in the NFL.
Hawkinson was part of a rush offense that ranked third in the Big 12 this past season despite the team winning only one game.
Matthew Emmons-USA TODAY Sports

With Kansas City trying to fill most of their offensive gaps, it wouldn't hurt to finish the draft with a defensive player.
Kenny Cain's had a solid senior season at TCU, recording 86 tackles (5.5 for a loss) and two interceptions in 2012.
He can also move to outside linebacker and give the Chiefs depth behind Tamba Hali and Justin Houston.