Boise State Football: Broncos' Post Spring-Game Two-Deep Depth Chart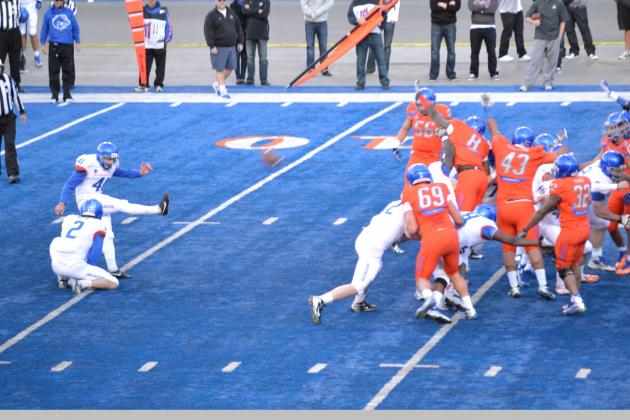 Photo courtesy L Moebius
Spring practice is a wrap for the Boise State football team. To anyone who took notice, it appears that plenty of progress was made.
That is, of course, the typical story for the spring practice session of any college football team. But head coach Chris Petersen has to like where his team is sitting as the big break between spring and fall commences.
The spring game was impressive, and it is clear that the Broncos should be much better on offense this season. On the defensive side of the ball, there were some equally impressive signs, despite the fact that they were a bit thin due to injuries.
Now that spring camp is completed, let's take a peek at what just might be the two-deep depth chart going into the fall for Boise State.
Begin Slideshow

»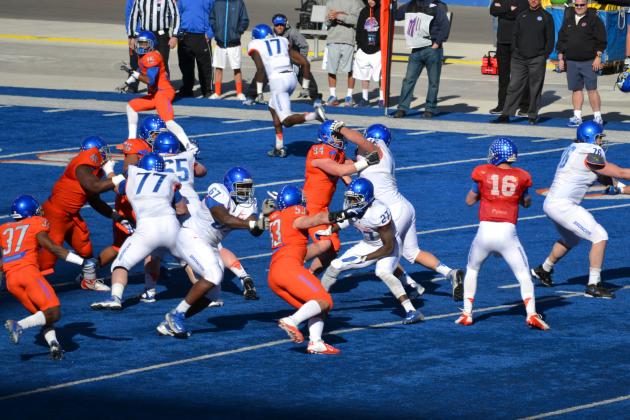 Photo courtesy L Moebius
Boise State fans should be excited about their team's offense in 2013.
They have a senior quarterback with a solid backup, a stable of running backs and the deepest group of wide receivers in the Mountain West Conference.
The offensive line hasn't gotten a lot of coverage this spring. However, despite some reconstruction this season, it appears as if the big guys up front are poised to be a solid foundation once again.
2013 Two-Deep Offensive Depth Chart Prediction:
QB: Joe Southwick, Grant Hedrick
RB: Jay Ajayi, Derrick Thomas
FB: Jamal WIlson, Connor Peters
TE: Gabe Linehan, Holden Huff or Kyle Sosnowski
X: Matt Miller, Aaron Burks
H: Kirby Moore, Geraldo Boldewijn
Z: Shane Williams-Rhodes, Dallas Burroughs
C: Matt Paradis, Spencer Gerke
LT: Charles Leno Jr., Rees Odhiambo
RT: Rees Odhiambo, Steven Baggett
RG: Jake Broyles, Travis Averill
LG: Spencer Gerke, Mario Yakoo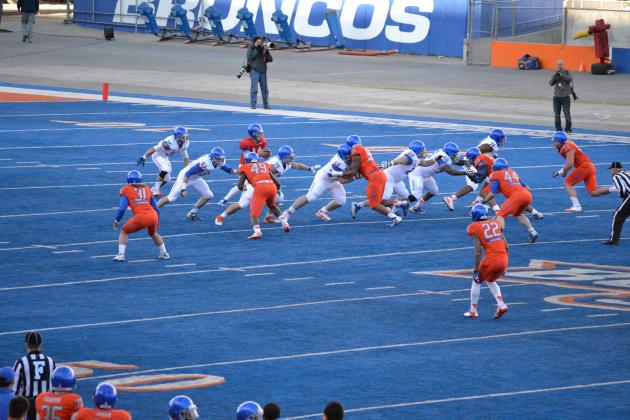 Photo courtesy L Moebius
The defense was the biggest project of the spring, but if the spring game was any indication, the Broncos look to be in great shape.
Depth is an issue, as it is in most seasons. However, if the players stay healthy, they will be at the top of the Mountain West once again when it comes to a dominating defense.
2013 Two-Deep Defensive Depth Chart Prediction
CB: Bryan Douglas, Cleshawn Page
CB: Donte Deayon, Deon'tae Florance
NB: Corey Bell, Jonathan Brown
SS: Jeremy Ioane, Ebo Makinde
FS: Taylor Loffler, Darian Thompson
LB: Blake Renaud, Travis Saxton
LB: Tyler Gray, Dustin Kamper or Ben Weaver
SE: Sam Ukuachu, Khayree Marshall
NT: Ricky Tjong-A-Tjoe, Armad Nance
DT: Tyler Horn, Deuce Mataele
DE: Demarcus Lawrence, Beau Martin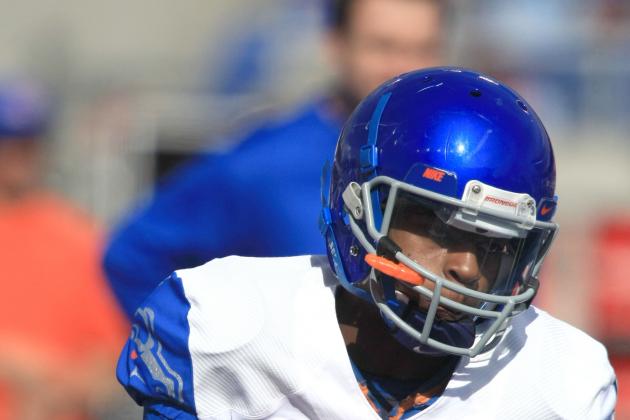 Brian Losness-USA TODAY Sports

Special teams will be very interesting this fall for Boise State. There is a large amount of young talent on the Broncos roster, and no doubt all of them will be looking to make their mark.
When it comes to punting and kickoffs, Boise State is in good shape with senior Trevor Harman. However, when it comes to field goals, the job still seems to be up in the air.
With that being said, both kickers—Dan Goodale and JUCO transfer Tyler Rausa—look quite capable.
In the return game, the Broncos have a couple of electrifying prospects. Dallas Burroughs is known for his extreme speed, but Shane Williams-Rhodes may garner the most attention.
Boise State fans are very familiar with Williams-Rhodes, and it should be fun for those fans to watch him shake and bake coverage teams all season long.
2013 Two-Deep Special Teams Depth Chart Prediction:
PK: Dan Goodale or Tyler Rausa
KO: Trevor Harman, Dan Goodale
HD: Matt Miller, Joe Southwick
P: Trevor Harman, Sean Wale
KR: Shane Williams-Rhodes, Dallas Burroughs
PR: Shane Williams-Rhodes, Dallas Burroughs
LS: Kevin Keane, Jake Holsteen