Shamarko Thomas: 5 Things You Need to Know About the Syracuse Strong Safety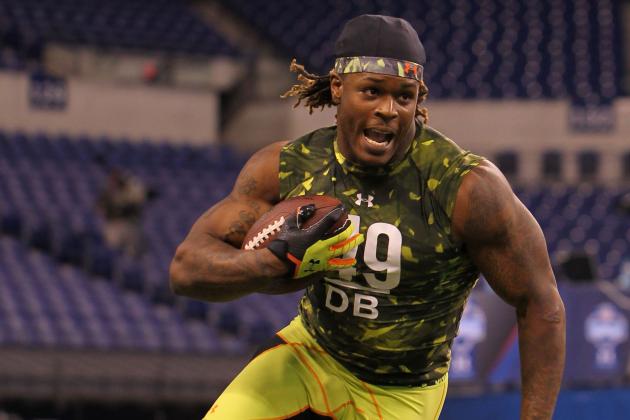 Brian Spurlock-USA TODAY Sports

The strong safety in today's game has to be more versatile than in the past.
Traditionally, this position provided run support by filling a gap between the three linebackers, provided pass coverage of the tight end, and played over the top of the cornerback in the 2-deep zone.
Modern NFL offenses line up in both unbalanced and balanced formations, and many now use the pass to set up the run. Many NFL defenses now utilize four linebackers instead of three, meaning the strong safety is more likely to float to the ball on running plays rather than exercise gap responsibility.
In short, the modern strong safety must be as adept at complex pass coverages as he is at stopping the run. While he still must have the strength to handle the tight end, he also needs the athletic ability to stay with a wide receiver, particularly on deeper routes.
Sources:
Begin Slideshow

»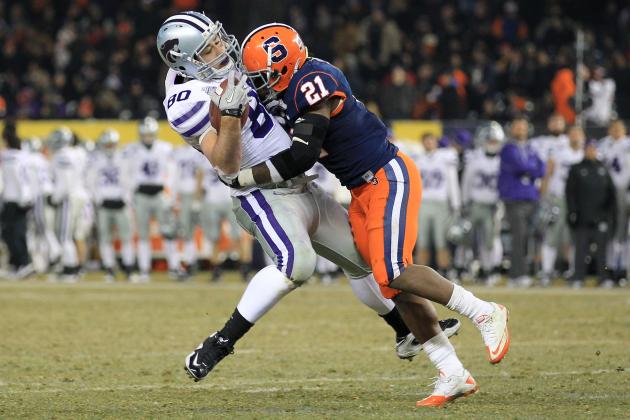 Chris McGrath/Getty Images

Shamarko Thomas is from Virginia Beach, Va. He attended Ocean Lakes High School, where he set school records for tackles, interceptions and defensive touchdowns.
Thomas was an All-State First-Team selection his senior year. He also won All-State honors in track, running the 100-meter dash and anchoring the 4x100 relay team.
Thomas leaves Syracuse after his senior season. He majored in child and family studies.
Measurables
Height: 5'9"
Weight: 213 lbs.
Arm length: 31.5"
Hand length: 9 1/4"
College Stats (career)
Games: 48
Solo Tackles: 177
Assists: 86
Tackles for loss: 16.5 for 55 yards
Sacks: 4 for 35 yards.
Interceptions: 2
Forced Fumbles: 4
Thomas had an eye-popping NFL Combine, raising his draft prospects immensely.
Thomas ran the fastest 40-yard dash, 4.42, of any safety at the NFL Combine. He also put up the most bench press reps (28) and posted the top vertical leap (40.5 inches).
His vertical leap also bested the cornerbacks and wide receivers at the combine.
Thomas was the second-ranked safety in the broad jump (133 inches).
NFL.com ranks him the 11th overall safety and No. 6 strong safety.
CBS.com ranks him 81st overall and the No. 3 strong safety, projecting him to go in the third round.
NFLDraftScout.com ranks him 108th overall and the No. 4 strong safety, projecting him to go between Rounds 3 and 4.
Drafttek.com ranks him 82nd overall, the No. 4 strong safety.
Thomas lost both of his parents in the same year, prior to the 2010 season. He assumed responsibility for six brothers and sisters.
He considered entering the draft after his junior year, but stayed to play his senior season—and it may pay off big for him and his family.
After his combine and Senior Bowl performances, Drafttek.com has him rising 101 places in its player rankings.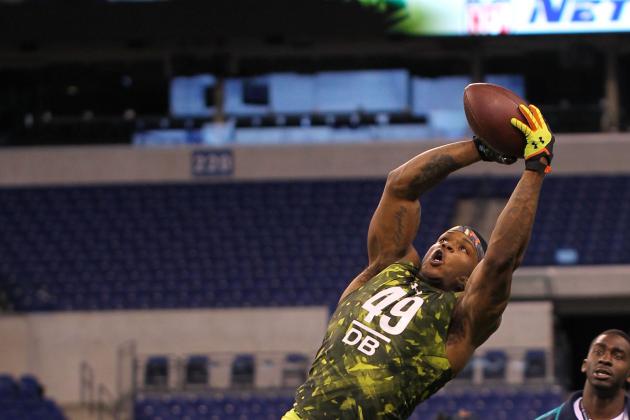 Brian Spurlock-USA TODAY Sports

Thomas has a stout frame to go with his athleticism. He is generally a solid tackler and seems to hit harder the bigger the target.
In college, he played linebacker and cornerback in addition to safety, demonstrating his athleticism and versatility. He also got a lot of experience inside the box and seems to excel in a space where other DBs struggle.
His lack of height will concern some coaches and GMs, but his vertical leap more than makes up for his lack of height.
Thomas occasionally goes for the big hit rather than the sure tackle, and that causes him to give up bigger plays if he misses.