San Francisco Giants Minor Leaguers Who Will See Time in the Majors This Season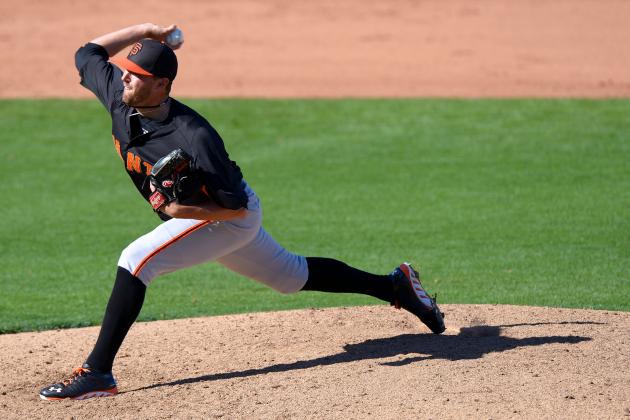 Jake Roth-USA TODAY Sports
Heath Hembree is one of the good young pitchers in the Giants' organization.
The San Francisco Giants have done a great job of developing minor league talent that can contribute at the big league level. This is critical to the Giants, as it helps indoctrinate each player to the training and methodology of the organization.
Equally important, developing homegrown talent also helps to maintain control over the teams' budget, while the player is in his first few years in the majors.
With the high cost of players acquired through the free-agent market, bringing up your own players through the system is far more cost effective. Only when a player reaches arbitration eligibility or gets to his free-agent years does his salary start to skyrocket.
Several current Giants are products of the system.
These include pitchers Matt Cain, Tim Lincecum, Madison Bumgarner and Sergio Romo.
Position players Buster Posey, Brandon Belt, Brandon Crawford and Pablo Sandoval all came up through the Giants' minor league organization.
Let's take a look at five minor league players who will get the opportunity to play in the Majors this year.
All minor league stats are courtesy of www.baseballreference.com
Begin Slideshow

»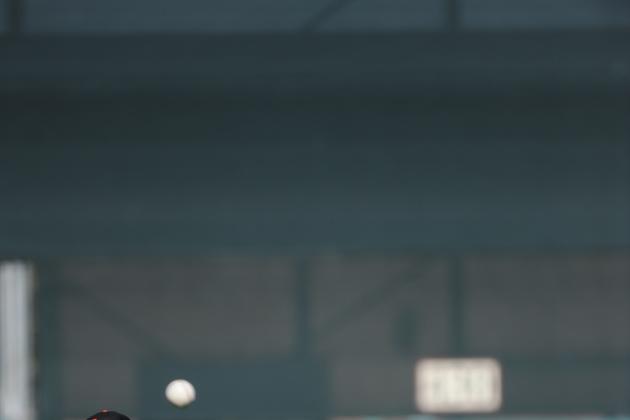 Rich Pilling/Getty Images
Michael Kickham impressed Bruce Bochy in spring training.
Michael Kickham is a 24-year-old left-handed pitcher, who has steadily moved through the Giants' system. Kickham is currently pitching for the Fresno Grizzlies, the Giants' Triple-A affiliate.
In his first two outings, Kickham has thrown nine innings, allowing nine hits and four earned runs. The main concern with Kickham is his control, as he has issued seven walks, against seven strikeouts.
This strikeout-to-walk ratio has to improve.
Kickham currently has an ERA of 4.00 and WHIP of 1.778. He has not allowed a home run in the offensively oriented Pacific Coast League.
In 2012, Kickham pitched for the Giants' Double-A squad in Richmond.
In 150.2 innings of work, he allowed only 119 hits. Again, his bases-on-balls is too high, with 75 walks, while striking out 137. Kickham's ERA of 3.05 and WHIP of 1.288 were solid.
These numbers can be dramatically improved if Kickham can cut down on his walks.
In 2012, San Fransisco starters all started over 30 games, a major reason for the Giants' success. Barring injury, do not expect any of the Giants' minor league starters to make much of an impact.
If the Giants are faced with any rainouts—which result in doubleheaders—there will be a need for an extra starter and that would most likely be Kickham.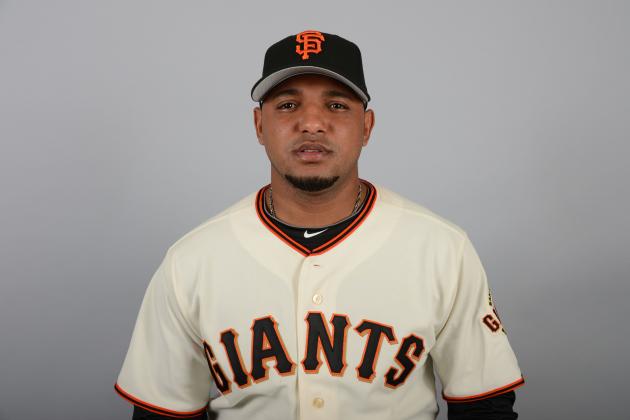 Kyle Terada-USA TODAY Sports
Tony Abreu has been slowed with a knee injury.
Heading into spring training, Tony Abreu had the inside track on a utility infielder role with the Giants.
Unfortunately, he sustained a knee injury which basically stopped him from showcasing his skills in camp.
Instead of Abreu, the Giants kept Nick Noonan on the Opening Day roster. Abreu has been very slow to recover and has yet to get back on the field.
Over the course of the year, injuries happen and if the Giants need an extra infielder, look for Abreu to get the call. He is 28 years old and has spent parts of four seasons in the Majors.
If there's a need for a utility infielder prior to Abreu's return to health, Brock Bond or Kensuke Tanaka are next in line to get a shot.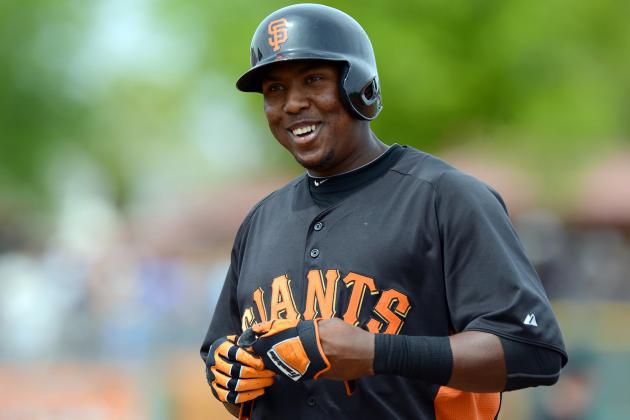 Jake Roth-USA TODAY Sports
Francisco Peguero is tearing up the PCL.
Francisco Peguero had a hot spring and opened some eyes within the brass in San Fransisco.
He hit .328, with an OBP of .350 and OPS of .833.
Peguero has continued to sting the ball at Triple-A Fresno. In 38 at-bats, Peguero is hitting .395 with an OPS of .831.
Peguero had an excellent chance to make the Opening Day roster but the Giants wanted him to play every day.
The Giants called Peguero up to the big club when the rosters expanded last September. He struggled at the plate, hitting only .188, with three hits in 16 at-bats. He had the "deer-in-the-headlights" look.
That experience helped Peguero find more of a comfort zone this spring. If the Giants need an outfielder who will get to play on a regular basis, look for Peguero to fill that role.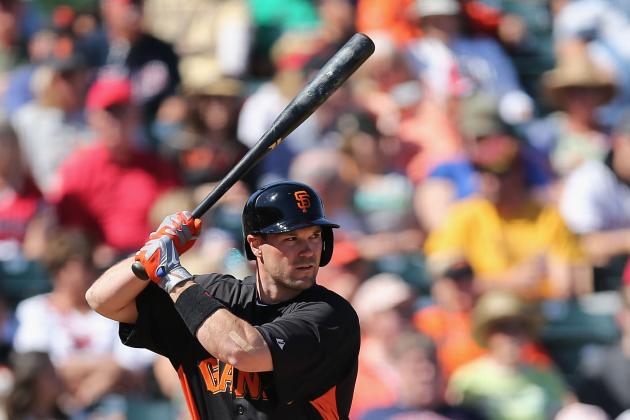 Christian Petersen/Getty Images
Cole Gillespie played in the Majors with the Arizona Diamondbacks in 2010 and 11.
Cole Gillespie was the Giants' final cut, as the team opened the regular season. Instead of a fifth outfielder, the Giants opted to go with three catchers.
The decision was necessitated by the uncertainty over the health of backup catcher Hector Sanchez.
Guillermo Quiroz gave the Giants depth behind the plate and also allows manager Bruce Bochy to use Sanchez as a pinch hitter.
Gillespie has experience coming off the bench and if the Giants need an outfielder to fill a reserve role, it will likely be Gillespie, over Peguero.
Gillespie is currently batting .290 in Fresno, with an OPS of .922.
He has good power and is a solid defensive outfielder.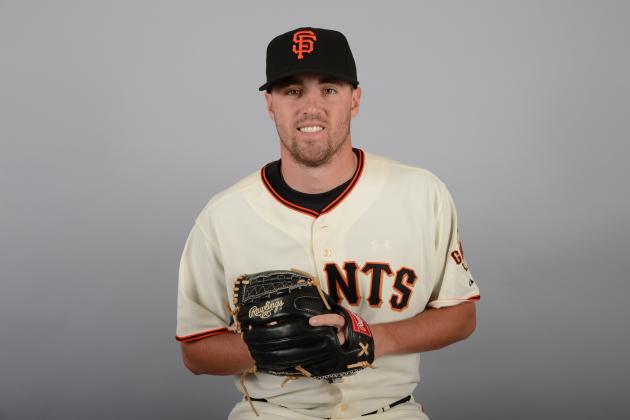 Kyle Terada-USA TODAY Sports
Heath Hembree has closer's stuff.
Heath Hembree is being groomed in the Giants' minor league system as the future closer. In 2012, his season was cut short due to an injury to his throwing arm.
Hembree has a powerful arm and his best pitch is his fastball. He can routinely get this up to the mid 90's and has the control to spot the ball well.
In six innings, Hembree has allowed five hits and two walks.
He has struck out five, while allowing one run. When the Giants need a relief pitcher, look for Heath Hembree to be the man they call.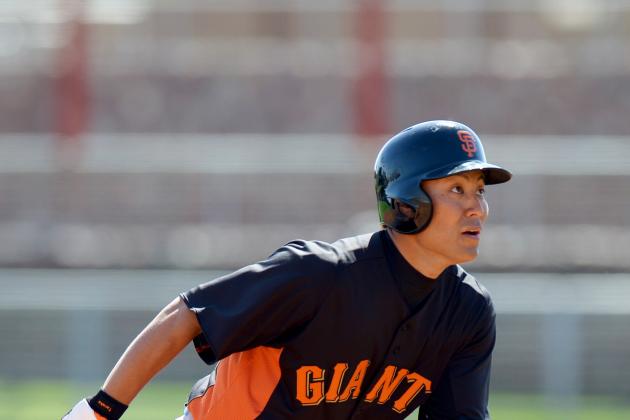 Jake Roth-USA TODAY Sports
Gary Brown is off to a slow start in Fresno.
The San Francisco Giants have put a lot into building up their farm system.
Over the past few years, that approach has paid off.
The outstanding thing for the Giants is that many of their best prospects are still two to three years away. Pitchers Clayton Blackburn, Chris Stratton and Kyle Crick lead the way.
All three have the ability to be Major League starters.
The Giants' top prospects among position players include Gary Brown, Joe Panik, Andrew Susak, Adam Duvall and Roger Kieschnick.
They are on pace to make their big league debut in 2014 or beyond.
The Giants have won two of the last three World Series titles and a key reason for this are the homegrown players groomed in the Giants' minor league system.
The system continues to produce good young players, which helps to ensure success in the future.