Iowa Football: Ranking the Toughest Opponents on Hawkeyes' 2013 Schedule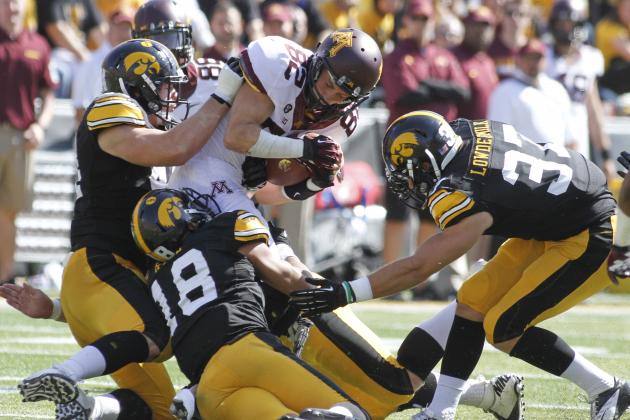 Matthew Holst/Getty Images

With spring ball well underway and the Iowa spring game just 10 days away, Hawkeye fans want to know how tough the schedule looks for 2013.
It won't be easy considering the Hawkeyes' three Big Ten opponents not on the schedule are Illinois, Indiana and Penn State. Illinois was shut out in Big Ten play in 2012 and Indiana managed only four wins overall.
The 2012 season was a disappointment to say the least, with Iowa posting its first losing record in the regular season since 2000 at 4-8. It also was only the fourth time in the Kirk Ferentz era that Iowa failed to reach a bowl game.
In ranking the toughest games, it's always important to look at the results from 2012, returning players and coaches and how much of a factor home field will be. The Hawkeyes are familiar with many of their opponents inside and outside the Big Ten. Two of their nonconference opponents are against teams they played in 2012.
Challenges await this fall, but this is what Iowa must overcome to get back into the Big Ten race.
Begin Slideshow

»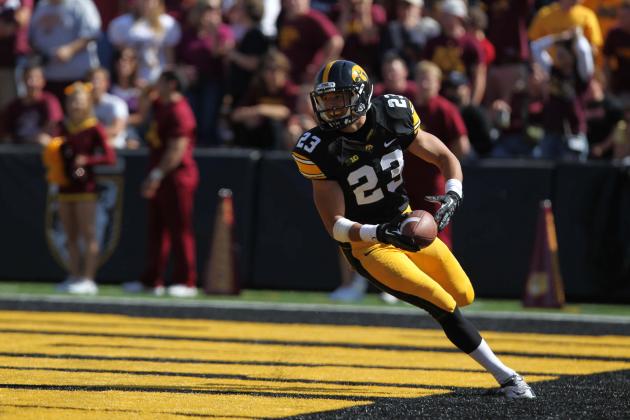 Reese Strickland-USA TODAY Sports

2012 Record: 3-8
In Ferentz's 14 seasons, he has never lost to a FCS team. The closest time that streak was in jeopardy came against Northern Iowa in 2009, where Iowa blocked two field goals in the final seconds for a 17-16 victory.
This is a Missouri State team that struggled in 2012, particularly on offense. The Bears scored more than 17 points in only four contests.
In Missouri State's two games against FBS teams last season, Kansas State and Louisville, the Bears were demolished 51-9 and 35-7, respectively.
Quarterbacks Ashton Glaser and Kierra Harris return for the Bears in 2013, but both quarterbacks threw for more interceptions than touchdowns and combined for a 9-18 ratio.
There are several FCS schools that are better than the bottom FBS teams, but Missouri State isn't one of them. The Hawkeyes will have a decent lead by halftime and Iowa fans will see backups in the fourth quarter.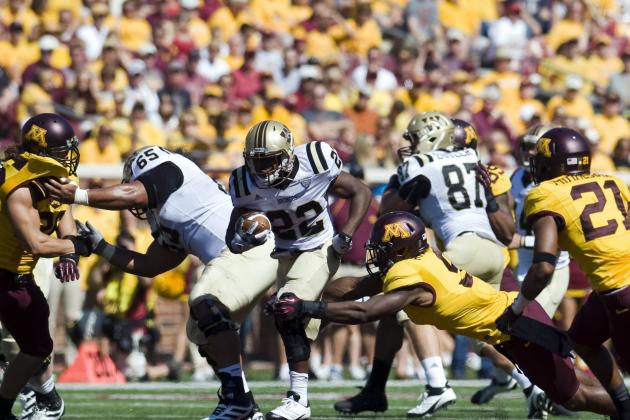 Marilyn Indahl-USA TODAY Sports

2012 Record: 4-8
There's no chance of the Hawkeyes sleepwalking through this contest for two reasons.
First, Iowa struggled against MAC opponents last year. It collapsed in a home loss to Central Michigan and barely squeaked by Northern Illinois. Second, the Hawkeyes dropped their last contest against Western Michigan in 2007, which prevented them from going to a bowl game.
The Broncos were minus-14 in turnover margin last year and tied for 110th in turnover margin per game at minus-1.17. WMU also yielded 29.67 points per game in 2012.
Western Michigan loses three of its starters on the defensive line and that should help the Iowa running game and the protection for the eventual Hawkeyes' quarterback.
WMU always has a potent offense, but the Hawkeyes should be able to manage the tempo, have success on the ground and get the job done.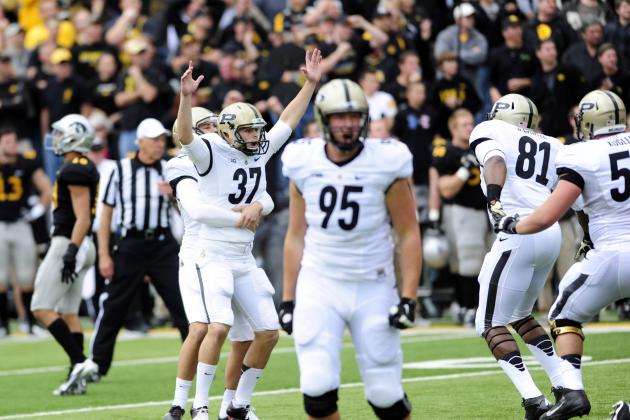 Byron Hetzler-USA TODAY Sports

2012 Record: 6-7
If there was a contest that summed up Iowa's 2012 season, the Purdue game was it.
Both teams were fighting to get closer to a bowl game. The Hawkeyes were getting crushed in yardage, but Purdue's sloppy play with turnovers kept Iowa in the game.
It was a tie game after Mike Meyer converted a 24-yard field goal with 3:32 remaining. Then Iowa forced a three-and-out and got the ball down to marginal field-goal range.
However, the Hawkeyes failed to make a fourth-down conversion, and the Boilermakers moved the ball 37 yards in 16 seconds as Paul Griggs won the game with a 46-yard field goal as time expired.
The Darrell Hazell era is now underway in West Lafayette, and he will try and repair a defense that gave up 31.23 points in 2012.
Offense has generally been the main theme for Purdue, but it will return only five starters on that side of the ball (all Big Ten returning starter information is via Brian Bennett of ESPN.com). That's the least amount of any team in the Big Ten.
With a new coach, work needed on both sides of the ball and the fact that Iowa has lost only once at Purdue in the last nine years, this is the Hawkeyes' most winnable Big Ten game on the schedule.
Jonathan Daniel/Getty Images

2012 Record: 12-2
Even with a crowd dominated by Hawkeye fans in Soldier Field, Northern Illinois came within one point of defeating Iowa in the season opener. At the time, it was considered a near upset although by the end of the season, it was an upset the other way around.
Multi-threat quarterback Jordan Lynch returns for Northern Illinois, but Rod Carey is the new man in charge. He will try and build on an offense that put up 238.21 yards per game on the ground (12th in the nation).
Even though NIU returns many of its play makers on offense, there are several aspects that favor the Hawkeyes.
The Huskies lose all four of their starting defensive linemen that led to NIU sacking James Vandenberg six times. Iowa also returns seven starters on defense, which should help in being more prepared for the explosive Lynch.
A lot of the damage should occur on the ground for both teams. This will be a game for four quarters, but Kinnick Stadium is the difference in the season opener.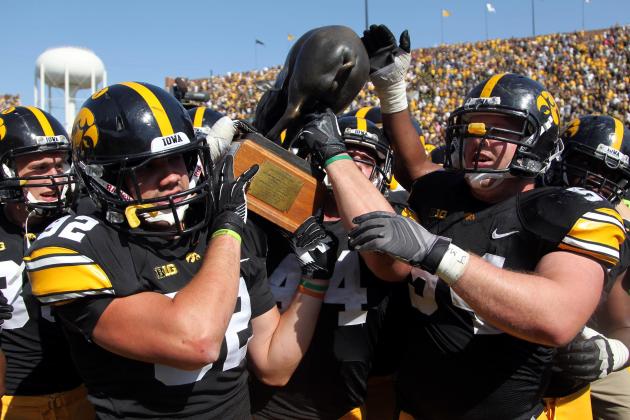 Reese Strickland-USA TODAY Sports

2012 Record: 6-7
Home games were not Iowa's friend in 2012, but Hawkeye fans did enjoy returning the Floyd of Rosedale to Iowa City on Homecoming. Iowa showed off a rare display of dominance by rushing for 182 yards and going plus-four in turnovers.
On the other hand, since Minnesota vacated Hubert H. Humphrey Metrodome and set base inside TCF Bank Stadium, the Hawkeyes can't get a win in Minneapolis. Even though Iowa was a favorite against Minnesota in 2010 and 2011, the Gophers edged the Hawkeyes 27-24 and 22-21, respectively.
This is the Big Ten opener for both teams and will be used as a good measuring stick.
Iowa will see whether its play on both lines has improved in Big Ten play. Minnesota, with 10 starters back, can evaluate how its 94th-ranked offense in 2012 (22.08 points per game) has progressed against a Ferentz defense.
The Hawkeyes will have the advantage with coaching and defense. Minnesota has home field and experience. This game is a coin flip on who wins.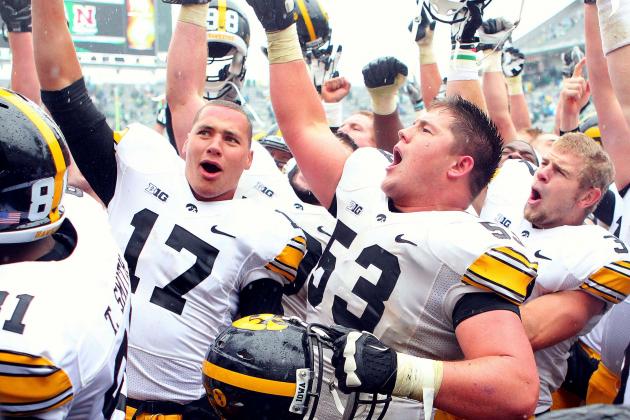 Mike Carter-USA TODAY Sports

2012 Record: 7-6
Remember when the Hawkeyes were 2-0 and leading the Legends Division after defeating Michigan State on the road in double overtime 19-16? That was Iowa's last win.
The game between Iowa and Michigan State usually features two teams that are heading to a bowl game and at least one that is in contention for a Big Ten crown. Although both programs will try to get back to their winning ways in 2013.
Michigan State rode Le'Veon Bell in 2012 because of the Spartans' struggles in the vertical passing game. Mark Weisman was put in a similar situation at times for the Hawkeyes.
Bell doesn't return for the 2013 season, but Weisman does. These are two teams that generally like to run the football and use play-action passes.
Even though the road team has won three of the last four in this series, the home field should make a significant difference in this one. With the Hawkeyes using a new quarterback and having a few games completed by then, the home crowd will help.
But the Spartans return 15 starters and Michigan State was 4-1 on the road last season.
In a game that will likely be low scoring and come down to the final possession, turnovers will be the key.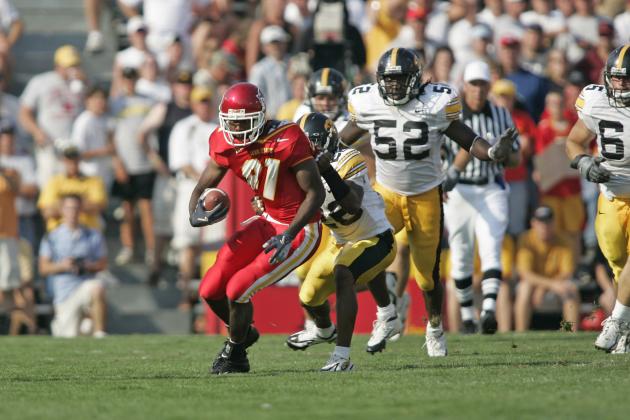 G. N. Lowrance/Getty Images

2012 Record: 6-7
Saying that Iowa State will be the sixth-toughest opponent on the Hawkeyes' schedule might appear fairly high to the common Hawkeye fan (or annoy), but the Cyclones have earned their respect.
This is especially true when it comes to Jack Trice Stadium. Iowa State has won four of the last five at home against its in-state rival and always seems to be the better team in close games.
Despite returning only nine starters (tied for 117th in the nation via David Ubben of ESPN.com), head coach Paul Rhoads is installing consistency in Ames. The Cyclones have played in bowl games in three of the four seasons under Rhoads.
While the Cyclones will lack experience, the Hawkeyes will have several question marks surrounding the offense making their first road appearance of 2013. Iowa scored only three points in 2005 when Jason Manson had to come in for Drew Tate and managed only 13 points in 2007 behind Jake Christensen.
Iowa also has struggled in its road opener when it doesn't involve Iowa State.
In 2006, the Hawkeyes needed overtime to edge an outmanned Syracuse team with Hanson at quarterback. In 2008, Pittsburgh clipped Iowa by a point, a game where Christensen and Ricky Stanzi shared quarterback duties. The Hawkeyes also failed to beat Arizona in their first road game in 2010.
There are several holes to fill for Iowa State, but Iowa's struggles on the road in September are a troubling pattern. It's more that Iowa is playing on the road rather than Iowa State is playing at home, but the Cyclones will be a slight favorite.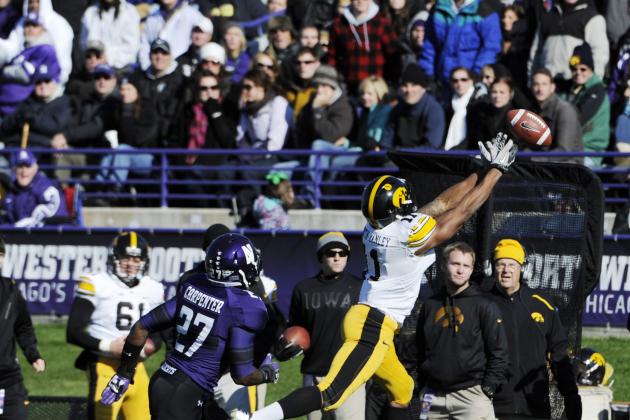 David Banks/Getty Images

2012 Record: 10-3
This image perfectly describes the series between Iowa and Northwestern since Pat Fitzgerald took over as head coach of the Wildcats. Iowa has been too close too many times.
Fitzgerald is 5-2 against Ferentz, including a 3-1 record inside Kinnick Stadium. Combining some form of spread offense through the years along with the Wildcats making several clutch plays in the final seconds, Northwestern has had Iowa's number.
Kain Colter returns for the Wildcats, and he was a deadly force against the Hawkeyes in 2012. The quarterback rushed for 166 yards, scored three touchdowns and produced another score through the air.
While most might think Northwestern is more of an offensive team, its defense has been equally as impressive against Iowa. In Fitzgerald's five wins over Iowa, the Wildcats haven't allowed more than 17 points. Essentially, Northwestern didn't need a shootout to win.
Despite this game being played in Iowa City, Northwestern is definitely the favorite.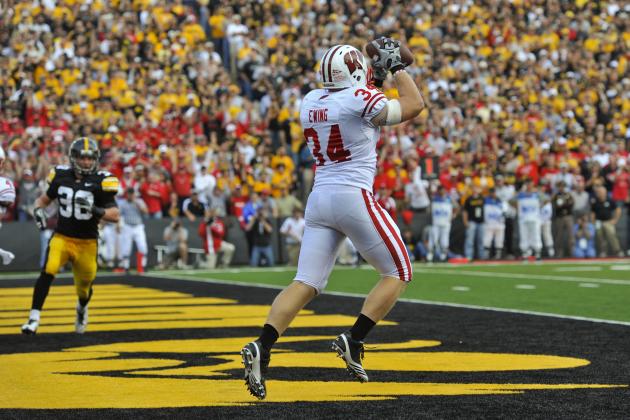 David Purdy/Getty Images

2012 Record: 8-6
Even though Wisconsin won the 2012 Big Ten Championship Game, there's one fact that might surprise you. Not only were nine of the 12 teams in the conference ranked 85th or worse in 2012 for passing yards per game, Wisconsin was last in the Big Ten and 111th in the nation at 156.93 yards a game.
However, the Badgers ran for 236.36 yards (13th in nation), so that passing number isn't as poor as it sounds.
Wisconsin is now led by Gary Andersen, the former Utah State head coach. He will try and solve the Badgers' close-game problems from 2012 when Wisconsin went 2-6 in games decided by one score. Ironically, one of those wins came against Andersen's Aggies when Utah State missed a 37-yard field goal for the win.
Even though the Badgers have represented the Big Ten in the Rose Bowl the last three years, Iowa has had success in its recent contests with Wisconsin. The Hawkeyes have won six of the last nine.
The Hawkeyes do have circumstances in their favor, but the Badgers are returning 15 starters. While that doesn't include Montee Ball, James White does return to lead the running attack along with the core of the front seven on defense.
Iowa last played Wisconsin in 2010, when the Badgers won in dramatic fashion 31-30 in Iowa City. The Hawkeyes have been waiting anxiously for their rival to return and have a shot at bringing the Heartland Trophy back to Iowa.
The crowd will be hostile as it always is for the visiting team in this rivalry, but the Badgers have the edge.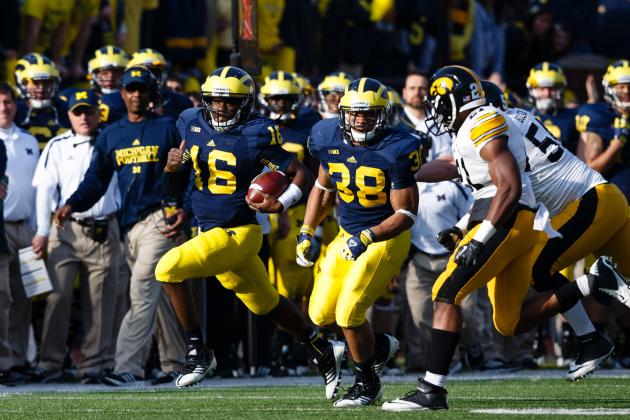 Rick Osentoski-USA TODAY Sports

2012 Record: 8-5
Iowa had won three straight against Michigan going into the 2012 contest, but the Wolverines' speed on offense easily prevailed.
Devin Gardner is now the man in the spotlight for Michigan and is one of the toughest quarterbacks to prepare for in the Big Ten. While the Wolverines are tied with Illinois for the fewest returning starters in the Big Ten (12), they return six on each side of the ball.
The Wolverines should only get better in 2013 with their ability to reload rather than rebuild. Gardner and the offense will get much attention, but head coach Brady Hoke is bringing an aggressive mentality and depth to a defense that allowed 19.85 points last season (20th in nation).
As for the schedule, there are two items helping Iowa. First, it will be Senior Day for the Hawkeyes and they will be coming off a bye week. Second, the Wolverines will have Ohio State to look forward to the following week.
Even though the Wolverines have only defeated the Hawkeyes once in the last 11 years in Iowa City, Michigan should be at least a 10-point favorite.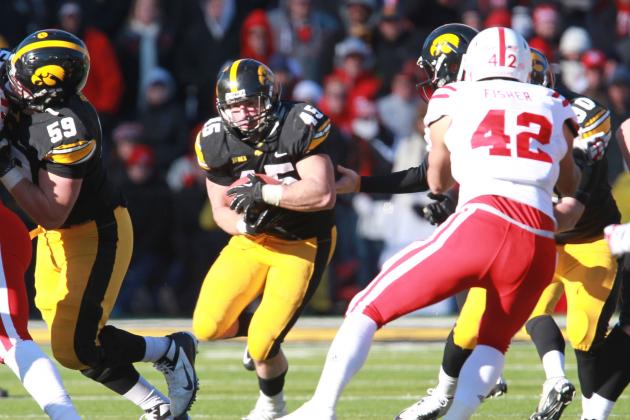 Reese Strickland-USA TODAY Sports

2012 Record: 10-4
The Hawkeyes came close to spoiling Nebraska's appearance in the 2012 Big Ten Championship Game, but the Cornhuskers survived the high-gusting winds in Iowa City.
Nebraska's biggest challenge is fixing a defense that gave up 192.5 yards per game. This defense also returns only four starters.
But it's the Nebraska defense that has been the most impressive aspect in this rivalry the last two years. Iowa has managed only one touchdown in each contest.
Taylor Martinez also returns as one of the nine returning offensive starters. That experience and going against another multi-threat quarterback will be a difficult task on Nebraska's Senior Day.
Playing a rival on the road in the season finale is never easy. Add that it's the Cornhuskers and that they could easily be playing for a bid to the 2013 Big Ten Championship and Iowa must play its best game of the season to win.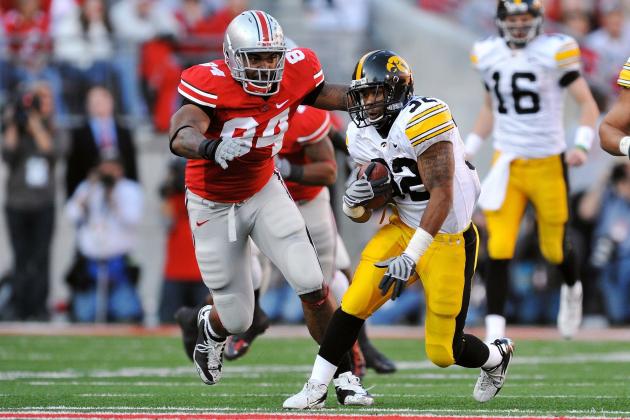 Jamie Sabau/Getty Images

2012 Record: 12-0
This is by far Iowa's toughest game for obvious reasons.
The Buckeyes finished 12-0 last season and return quarterback Braxton Miller, who is the second favorite to win the Heisman Trophy according to Bovada.
Plus, the game is in Columbus, a place Iowa hasn't won since 1991. The Hawkeyes are 2-14 against the Buckeyes since 1989.
Recent history is something Hawkeye fans can lean on for hope. Iowa has played Ohio State close in the last two meetings, including the last one in the Horseshoe in 2009, where the Buckeyes won on a field goal in overtime to clinch a berth to the Rose Bowl.
Nonetheless, this matchup is far different. The Buckeyes return nine starters to an explosive offense and should have an easy win.
If Iowa fans are excited about the bye week before traveling to Columbus, they should realize the Buckeyes also have an off week before the contest.