5 Reasons Austin Trout Will Upset Saul 'Canelo' Alvarez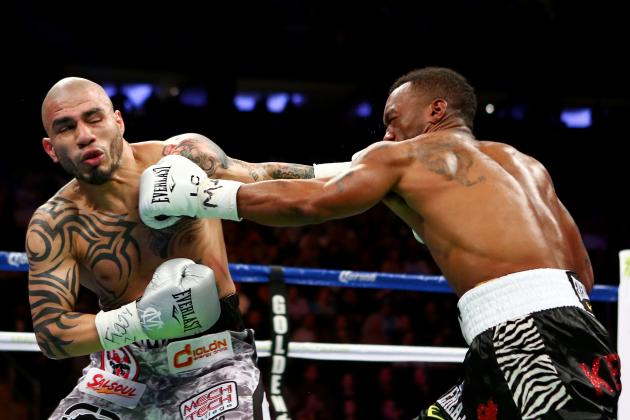 Elsa/Getty Images
Trout earned his shot with a win over Miguel Cotto.
When Austin "No Doubt" Trout arrived in New York City this past December to defend his WBA junior middleweight championship against Puerto Rican legend Miguel Cotto, the odds were clearly stacked against him.
He was fighting a better-known opponent on his home turf in a fight that few people gave him a chance to win.
But not only did he win, he dominated Cotto winning a unanimous decision and derailing a potential super-fight between the Puerto Rican legend and rising Mexican star Saul "Canelo" Alvarez tentatively scheduled for this spring.
Instead it's Trout who finds himself in the biggest fight of his career and facing an opponent who most consider the top prospect in boxing and the sport's potential next breakout star following in the footsteps of Floyd Mayweather.
Again the stakes are high, with another possible super-fight looming in September, and Trout will once again seek to play the spoiler.
These are the five reasons that he will succeed and defeat Canelo Alvarez this Saturday at The Alamodome in San Antonio.
Begin Slideshow

»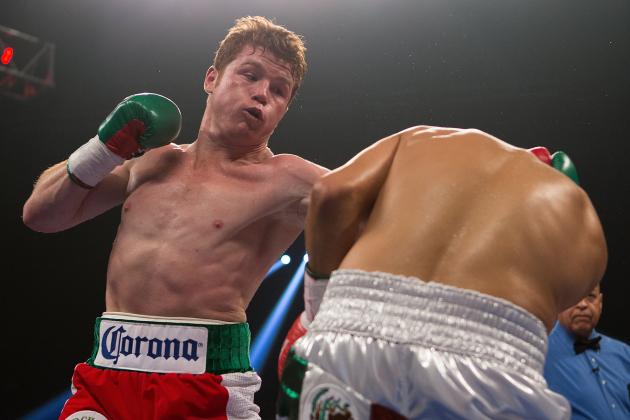 Josh Hedges/Getty Images
Alvarez has yet to be seriously tested.
Canelo Alvarez (41-0-1, 30 KO) is certainly an impressive physical specimen. He hits hard, is aggressive and has racked up an impressive string of wins to begin his young career.
But people seem to forget that he is only 22 years old and has yet to be in the ring with a fighter who has the physical tools to seriously test him.
Sure there are some big names on his resume—Shane Mosley, Kermit Cintron, Carlos Baldomir—but none of those fighters were either in their primes or natural junior middleweights.
His ledger still reads as that of a fighter on the way up but one who has yet to establish true championship bona fides of his own.
Canelo had tremendous physical advantages heading into each of those fights, and while that doesn't taint the victories it certainly means we must take them with a grain of salt.
Beating faded former champions and blown-up welterweights is a nice business if you can get it. But that's not what he will find across the ring from him Saturday night.
Austin Trout will enter the ring in his prime, as a natural junior middleweight, and with all the tools to push Alvarez in a way he has never been pushed.
He is a decorated former amateur champion—which, as we saw this past weekend, matters—and will not be intimidated or get swallowed by the moment.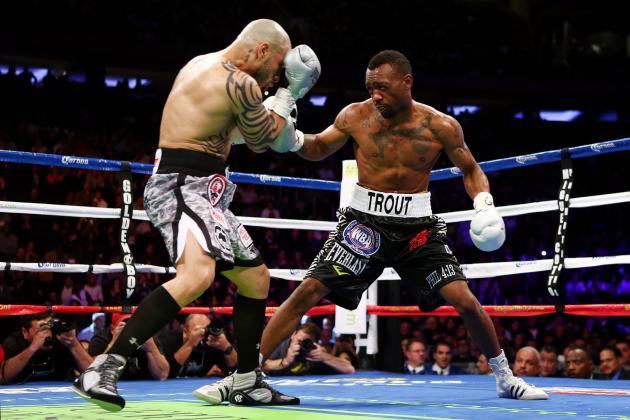 Elsa/Getty Images
Trout is fast, slick and will not be afraid of Alvarez.
One of the biggest knocks on Canelo Alvarez is that he has a tendency to be plodding in the ring and isn't the fastest fighter you'll ever see.
Against most guys those weaknesses can be glossed over by his punching power and the tremendous pressure he applies in the ring.
If he hits you, he will hurt you; if he hurts you, he can knock you out.
But Austin Trout has a style built to exploit those holes and use them to his advantage.
Trout is known for his long, stiff jab, which he uses to keep fighters on the outside where he is most comfortable as a fighter.
He fights out of the southpaw stance and is very slick and difficult to hit with clean punches. If he can utilize his speed and neutralize Alvarez's power, it could be a very long night for the undefeated Mexican star.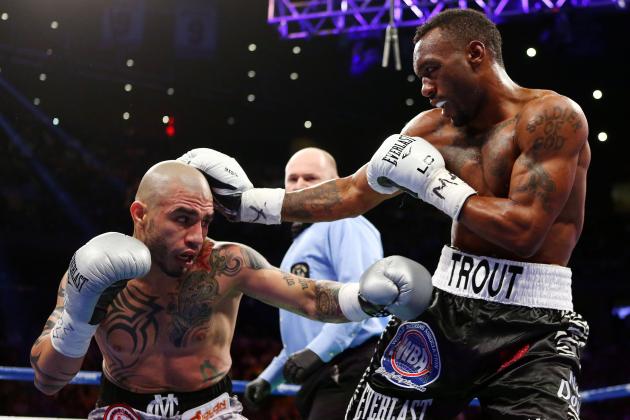 Elsa/Getty Images
Trout was never welcome at the party.
Austin Trout knew coming into his bout with Miguel Cotto that a loss would likely signal the death of his dream of competing at the top levels of boxing.
Even while holding a share of the junior middleweight championship, the 27-year-old from Las Cruces, New Mexico found it extremely difficult to land fights due to his tricky, high-risk, low-reward style.
It forced him to become a world traveler—seeking out fights in Mexico, Canada and Panama—just to keep his career afloat. In fact he captured his WBA championship in Mexico by defeating Canelo's older brother, Rigoberto Alvarez, by wide unanimous decision in early 2011.
So again he finds himself in a fight that could make or break his career.
Few people at Golden Boy Promotions wanted this fight—CEO Richard Schaefer was still floating Cotto as an opponent after Trout defeated him—and nobody will be sad to see Trout go if he loses.
A loss for Alvarez would certainly damage his brand but a loss for Trout could well end his career. He has much more to lose and it will show.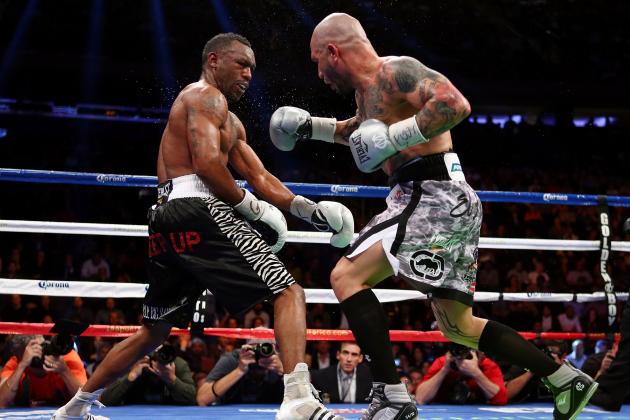 Elsa/Getty Images
It's hard to hit Austin Trout, even in close quarters.
There are not a lot of boxers in the sport who are better at knowing where they are and where they should be in the ring at all times than Austin Trout.
One of Canelo Alvarez's biggest strengths is his ability to stalk his opponent, cutting off the ring and limiting distance, which allows him to land his big shots.
But he does it in a fashion that is plodding and doesn't posses the greatest footwork. That will allow Trout to dictate the pace of the fight and control the distance.
Canelo will absolutely be the aggressor and will come forward all night, but if he's unable to get through Trout's tough guard he could find himself frustrated.
Alvarez is absolutely the bigger puncher and the physically stronger fighter. So was Miguel Cotto, and he came forward all night and was rarely able to land many big shots. And when he did Trout took them well.
Assuming the judging is on the up and up—Texas has a reputation for shoddy officiating and judging—and Trout is given credit for his boxing ability, he could well turn in a repeat of the Cotto fight.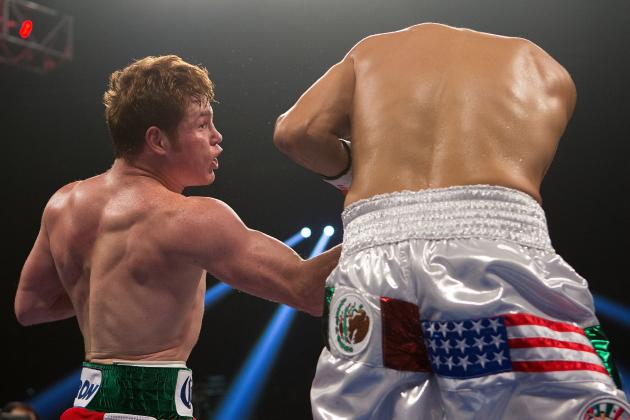 Josh Hedges/Getty Images
Alvarez mistakes will cost him against Trout.
Canelo Alvarez is still just 22 years old.
Most observers seem to forget that fact since he has become something of the de facto face of Golden Boy Promotions, who has done everything in their power to market him as the next great Mexican warrior.
But as a young and somewhat unrefined—despite his high number of fights—fighter, he is prone to mistakes. His defense isn't the best—he was tagged a lot by a 41-year-old Shane Mosley—and he exerts a lot of energy when he throws punches.
Those are the type of mistakes that Austin Trout can exploit. Trout is a precision puncher, who moves around the ring well and can pick apart a fighter who isn't tight with his punches.
Alvarez is also performing on a truly big stage, with the weight of massive expectations on him for the first time. The consequences of this fight are huge as a match with Floyd Mayweather could rise or fall based on the outcome.
Canelo might be looking to do more than usual and make a statement, and that could give Trout even more opportunities should he be sloppy.