3 Reasons St. Louis Cardinals Can Overcome the Loss of Closer Jason Motte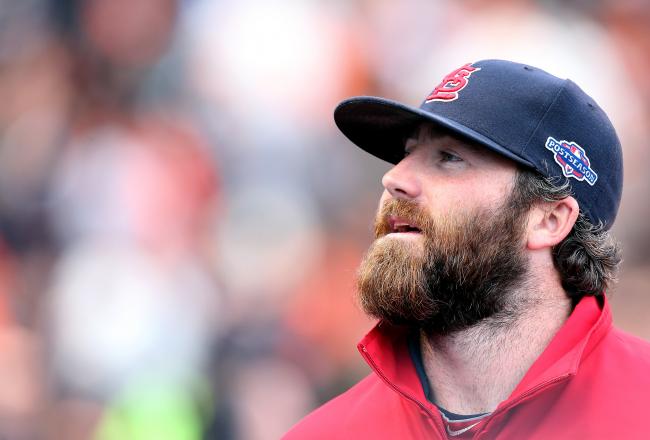 Cardinals' closer Jason Motte watches Game Six of the NLCS against the Giants on Oct. 21.
Christian Petersen/Getty Images
This season has a familiar tune to it. It's a lot like 2011, when the Cardinals lost Adam Wainwright for the season.
However, this time around, the Cardinals are dealing with the loss of one of their most effective relievers, Jason Motte—the hard-throwing closer who will likely undergo season-ending Tommy John surgery to repair his flimsy elbow—who tied for the National League lead with 42 saves last season.
Just 13 games into the season, Motte's absence has already caused reason for alarm. The Cardinals are struggling to close games. Their late-inning arms are failing with the game on the line.
Is it time to panic? Not hardly.
We're talking about a bullpen that allowed the seventh-fewest earned runs in the NL (205) last season. It's essentially the same group that tied for the third-highest strikeout-to-walk ratio (2.64) last season.
The season remains young, and manager Mike Matheny is still deciphering which players are most effective in every role out of the bullpen.
Here are three reasons why the Cardinals can overcome the loss of Motte.
Mitchell Boggs, RHP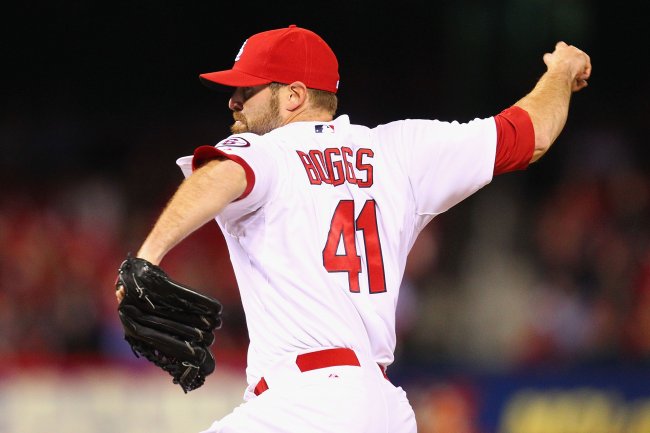 Dilip Vishwanat/Getty Images
A lot of you will disagree with me, but I firmly believe Boggs has the stuff to close out games.
Yes, he has struggled at times. He blew the save against Arizona April 3. The right-hander came on in the bottom of the 12th inning, with the Cardinals clinging to a 9-8 lead. Here's how Boggs fared: single, hit batter, sacrifice bunt, sacrifice fly and a run scored.
The Cincinnati Reds rocked him during the Cardinals' home opener April 8. Manager Mike Matheny called on Boggs to work the ninth inning of a 4-4 game. Here's Boggs' series of unfortunate events: walk, flyout, wild pitch, intentional walk, double, intentional walk, walk, infield single and an error. When the smoke cleared, the Reds had tagged Boggs for six earned runs on just two hits. What was once a close game was written off as a blowout.
"[That was] the worst outing of my career," Boggs said, courtesy of the St. Louis Post-Dispatch. "I don't think you can put it any other way. I wasn't any good. There's no other way to say it, there is no excuse."
Moreover, the Brewers cracked him last Sunday. Once again, Boggs was called on to save the game for starter Jaime Garcia. But Carlos Gómez and Yuniesky Betancourt had other plans for the unconfident Cardinal closer. Boggs was ahead 1-2 on Gómez, the leadoff man, before the center fielder roped a line drive single to right. Boggs jumped ahead 0-1 on Betancourt, before the third baseman yanked an RBI double to right-center.
"This game was there for us to take," Boggs said, courtesy of the Post-Dispatch.
Indeed, the Cardinals had a 3-0 lead in the eighth; though the contest was even when Boggs trotted in from the bullpen.
"The bottom line is I had a chance to get the win for us and I didn't get the job done," Boggs said, courtesy of the Post-Dispatch. "I can sit here and talk about it all I want to, but until I start going out there and doing the job, it's not good enough."
No argument there.
We've seen the agony of Boggs' ninth-inning meltdowns. However, he's been dealt with some harsh luck, too. It's not as if I'm saying Boggs should be let off the hook. He certainly shouldn't. It's his job to shut down opponents late in games.
Boggs hasn't allowed a home run. He's been tagged for six singles, most of which were harmless bloopers, and two doubles.
On the other hand, Boggs has had trouble firing strikes. Thus far, he has issued seven free passes (three intentional) in 7.1 innings of work.
There's no question Boggs has the stuff. He led the NL with 34 holds last season, while opponents hit just .211 off him in 73.1 innings.
As the season continues to unfold, Boggs will continue to adjust to his new role. After all, he prepared to enter the season as the eighth-inning man, not the closer. It's a completely different mindset.
Trevor Rosenthal, RHP
Dilip Vishwanat/Getty Images
Trevor Rosenthal is in the midst of his first full season as a big leaguer. There was talk of the fireballer being inserted into the starting rotation. When Shelby Miller earned the gig, Rosenthal was stowed away in the bullpen.
So far, Rosenthal has shown signs of encouragement. He's shown signs of power, with his blistering heat.
Rosenthal is tied for sixth with 10 strikeouts among active major league relievers—a key stat for any late-inning arm. His fastball has reached triple digits—an important component for a late-inning reliever.
According to FanGraphs, his fastball averages over 97 mph.
"It's definitely fun to…have that special ability," Rosenthal said, courtesy of the Post-Dispatch.
The 22-year-old right-hander, however, has also struggled.
He's made seven appearances thus far, and has allowed four earned runs on eight hits in just eight innings and has two blown saves.
On April 8, the Reds tagged him for two hits and a run in the top of the eighth to tie the game, 4-4.
Six days later, Rosenthal surrendered a two-run home run off the bat of Ryan Braun to bring the visiting Brewers within a run in the top of the eighth.
Rosenthal got away with his overpowering fastball for a few games. However, he's relied on it too often. If you're consistently one dimensional, trouble will find you.
Rosenthal continues to develop his secondary pitches to accompany his heater, which is vital for success.
He's still young, and rather green. In time, Rosenthal will blossom into the pitcher the Cardinals expect him to be.
Whether Matheny opts to lean on Rosenthal for the ninth inning remains a mystery. The youngster is more than capable of handling the role, but his off-speed pitches are crucial in keeping hitters off-balance at the plate.
Mike Matheny and Derek Lilliquist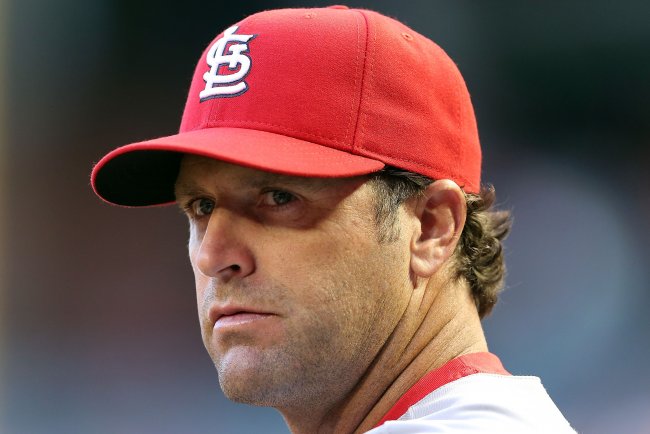 Christian Petersen/Getty Images
The Cardinals have an abundance of resources—powerful arms capable of working any late-game situation.
Matheny is confident in Rosenthal and Boggs in the eighth and ninth innings. Both pitchers possess the appropriate mechanics and pitches to get the job done. The results are lacking.
Matheny isn't naïve, nor is pitching coach Derek Lilliquist. Expect them to tinker with the bullpen if problems continue to arise. Matheny is a former catcher, and a darned good one at that. He's able to read pitchers in ways the average fan cannot.
Historically, Cardinals' closers have a long history of freakish injuries.
Closer Todd Worrell blew out his right arm on September 4, 1989. Manager Whitey Herzog filled the void with Dan Quisenberry. The experiment turned disastrous. The Cardinals went 11-15 over the final stretch of the season, and Quisenberry posted an alarming 4.66 ERA. The Cardinals finished third in the NL East.
The results were far better in 2006, when ninth-inning man Jason Isringhausen landed on the disabled list September 6 with a hip injury that ultimately required season-ending surgery. Manager Tony La Russa and pitching coach Dave Duncan inserted rookie starter Adam Wainwright into the ninth-inning role, where he prospered en route to winning the franchise's 10th title.
Winning without Motte can be done, but it'll be up to Matheny and Lilliquist to determine the proper course of action over the remainder of the season.
This article is
What is the duplicate article?
Why is this article offensive?
Where is this article plagiarized from?
Why is this article poorly edited?

St Louis Cardinals: Like this team?