Selecting the Los Angeles Dodgers' All-Time Dream Team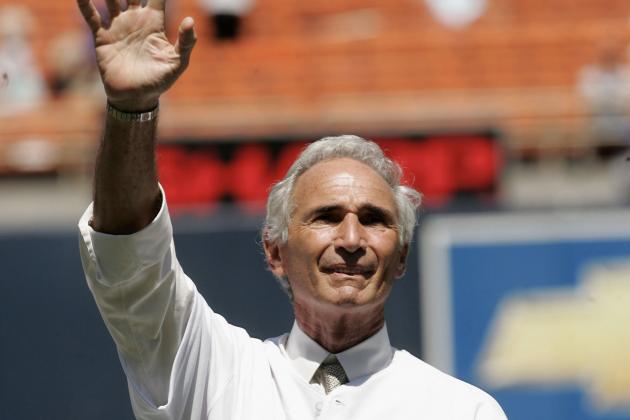 Stephen Dunn/Getty Images

The Los Angeles Dodgers have an extremely rich history. They began in Brooklyn in 1890 as the Bridegrooms, transferring between the Bridegrooms, the Grooms, the Superbas and the Robins until settling on the Dodgers in 1932. They've celebrated six World Series championships and 22 National League pennants. And in all of those years, they've had some fantastic players.
All stats and information courtesy of baseball-reference.com unless otherwise specified.
Begin Slideshow

»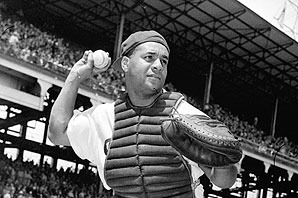 http://i2.cdn.turner.com/si/2011/writers/alex_belth/03/17/books.review/roy-campanella-ap2.jpg
This spot came down to Campanella or Mike Piazza, and the final decision was based on Campanella's overall contribution to the team's history. He was one of baseball's first black players, making his debut in 1948. He won three MVP awards and made eight straight All-Star teams. He is a legendary player, and his influence on the team is still felt. On 2013's Jackie Robinson Day, the team is giving away statues honoring him, Robinson and Don Newcombe.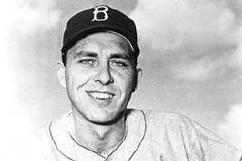 http://3.bp.blogspot.com/_-2gf151WQ-A/TEsfoM31c6I/AAAAAAAAB7w/Zptmz-NHV7Y/s320/hodges_gil.jpg
Hodges barely edges out Steve Garvey for the first-base spot, and he did so behind the power in his bat. Garvey had a higher batting average, but Hodges had an incredible ability to draw walks and get on base, posting an OBP over .350 10 times in his career. In addition, his career OPS+ (OPS normalized for league average to take into account the era) was 120, and that includes the poor seasons at the end of his career that weigh down the numbers.
He made eight All-Star teams, finished in the top 20 of MVP voting eight times, won three Gold Gloves and has a credible Hall of Fame case. His brilliance is sometimes lost, but he was a great player.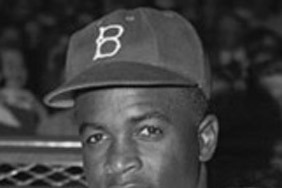 http://www.biography.com/imported/images/Biography/Images/Galleries/Jackie%20Robinson/jackie-robinson-thumb.jpg
Robinson's spot on this team is unquestioned. He's the most influential player the Dodgers have ever had, and his impact is well-known. He was also a great talent who won an MVP in 1949. He finished with a career OPS+ of 132 and tallied 1,518 hits in 10 seasons.
He was, of course, far more significant for his mere presence. As the first African-American player in the modern major leagues, his importance cannot be overstated. The Dodgers are proud of his fame, and they should be.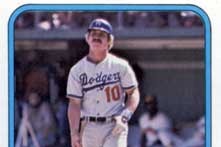 http://www.baseball-almanac.com/players/pics/ron_cey_autograph.jpg
Cey was a six-time All-Star and finished in the top 25 of MVP voting five times. He was never a historically great player, but he was a very good player for many years. He posted a WAR of at least 3.4 every year from 1973 (age 25) until 1982 (age 34), when he left the Dodgers for the Cubs. He had a career OPS+ of 121, which is well above average. In 17 years, he hit 316 home runs, the majority of them with the Dodgers.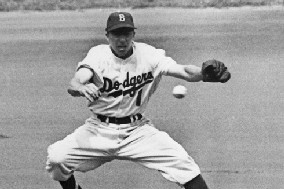 http://lesterslegends.com/wp-content/uploads/2008/06/pee-wee-reese.jpg
Reese was Robinson's teammate in the late 1940s and early 50s, and, by WAR, is the Dodgers' best position player ever. He, like teammates Campanella and Robinson, is a Hall of Famer. He finished in the top 10 of MVP voting eight times and made 10 All-Star teams.
In 16 seasons, he tallied a career .366 OBP and 2,170 hits. It's also worth noting that he missed seasons at the ages of 24, 25 and 26 to serve in World War II. The Dodgers retired his number not only for his performance, but also for his impact on the franchise. He famously befriended Robinson, welcoming the first black player to the team.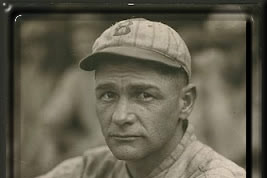 http://www.zackwheatlegionpost624.org/Pictures/zach%20wheat.jpg
Although he played much of his career in the pre-modern era, Wheat is unquestionably the Dodgers' best left fielder. He had an OPS+ above 100 (league average) every year of his career until the last two, and his career level was 129.
The Veterans Committee elected him to the Hall of Fame in 1959, finally acknowledging his greatness. His career 2,884 hits and .367 OBP are fantastic numbers, especially considering the low-power era he played in.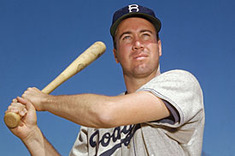 http://theloungeisback.files.wordpress.com/2011/02/duke-snider.jpg
Snider might just be the best hitter the Dodgers have ever had. He posted a career OPS+ of 140 and made eight All-Star teams. He placed in the top 10 of MVP voting six times, including three top-four finishes.
He is second on the Dodgers' all-time position player WAR list (just behind Pee Wee Reese), despite having nearly 2,000 fewer plate appearances. Although he was slightly injury-prone after he turned 30, he was still a key member of the Dodgers' first World Series championship in 1955, as well as their move to Los Angeles before the 1958 season.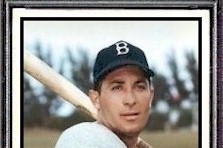 http://www.1952toppsbaseballcards.com/CarlFurilloCard.jpg
Furillo was less famous than his outfield mate, but he was nearly as good. Twice he finished in the top 10 in MVP voting, and he too was a key member of the 1955 World Series team (.891 OPS and 26 home runs). He was never as spectacular as some of his teammates (Hodges, Robinson, Reese, Snider), but he was an excellent hitter and deserves his spot on this list.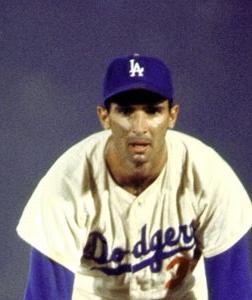 http://i.cdn.turner.com/si/multimedia/photo_gallery/1008/prominent.jewish.athletes/images/sandy-koufax.jpg
Koufax is one of the greatest pitchers of all time, and he tragically had his career cut short by an elbow injury that forced him into retirement after his age-30 season. Wondering what he could have done in a full career with modern medicine is an exercise in futility, because his numbers are simply beyond belief.
He won three Cy Young Awards. He led the league in ERA five times, strikeouts four times and wins three times. He won the 1963 NL MVP award. In 1966, he posted a 190 ERA+. He was a truly incredible pitcher and is undoubtedly the best Dodger pitcher of all time.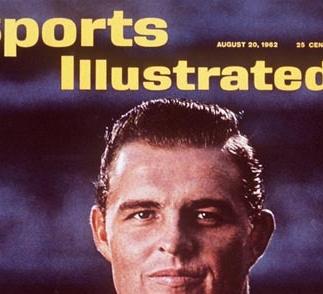 http://i.cdn.turner.com/sivault/si_online/covers/images/1962/0820_large.jpg
Drysdale anchored the staff behind Koufax, forming one of the most formidable tops of a rotation ever. While never as celebrated as Koufax was, he did win a Cy Young Award in 1962 and made eight All-Star teams.
Three times he led the league in strikeouts, and 10 times he finished in the top 10 in ERA. He was also a workhorse, throwing over 200 innings every year from 1957 (age 20) through 1968 (age 31). That likely contributed to his injury-related retirement, which was unfortunate, as he was among the best pitchers of baseball for those 10 years.


http://www.baseball-almanac.com/players/pics/don_sutton_autograph.jpg
Sutton is the Dodgers' all-time leader in wins, with 233, and strikeouts, with 2,696. He finished in the top five of Cy Young voting five times, and it is more a testament to the Dodgers' incredibly historic pitching depth than to anything Sutton did that he is third on this list.
His best seasons were 1972 and 1980, when he posted an ERA+ of 162 and 161, respectively. In between, he posted some shockingly middling seasons in which he was right around league average. However, he did finish in the top 10 in ERA eight times and strikeouts 14 times.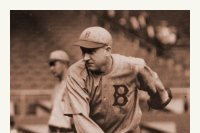 http://seamheads.com/blog/wp-content/uploads/2007/12/vance8.jpg
Vance had an interesting career path, as he didn't get to the Dodgers until 1922, when he was already 31 years old. However, he still had enough time to be good enough to finish atop the Dodgers' career pitching WAR leaderboard. He was the 1924 MVP, and although it took far too long for his brilliance to be appreciated, he was eventually elected to the Hall of Fame in 1955.
He won three ERA titles, including his final one at age 39, an impressive feat no matter the era. He also led the league in strikeouts seven consecutive years. While his cumulative career numbers don't stack up well in comparisons, it's important to remember the time that he played in. Thus, his three seasons of an ERA+ of 174 or higher (and his career ERA+ of 129) are important measures of just how dominant he was.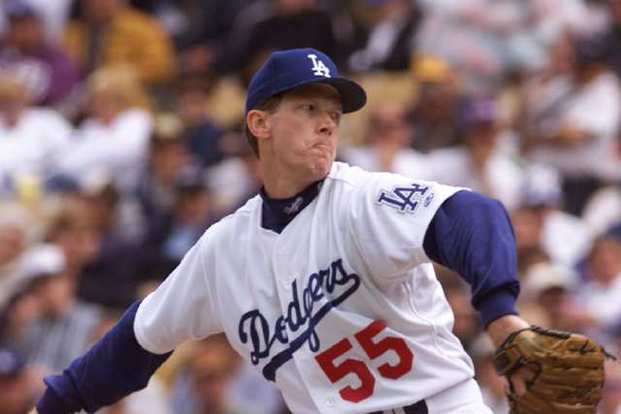 http://3.bp.blogspot.com/-6hkURfQg3yo/T4xNFX5qoNI/AAAAAAAADY4/128VswUmRL4/s1600/Orel.jpg
The final spot in the rotation came down to Hershiser or Fernando Valenzuela, and although Fernando's impact on the Mexican community in Los Angeles was (and still is) enormous, Hershiser's pitching advantage is enough to overcome that.
Hershiser's best year was undoubtedly 1988, when he was the ace and Cy Young winner on the World Series champion. His career was more than just that one season, though, as he finished in the top three in ERA five times, as well as five top-10 finishes on the strikeout leaderboard. He was also an incredible innings-eater, leading the National League in innings for three straight years (1987-1989).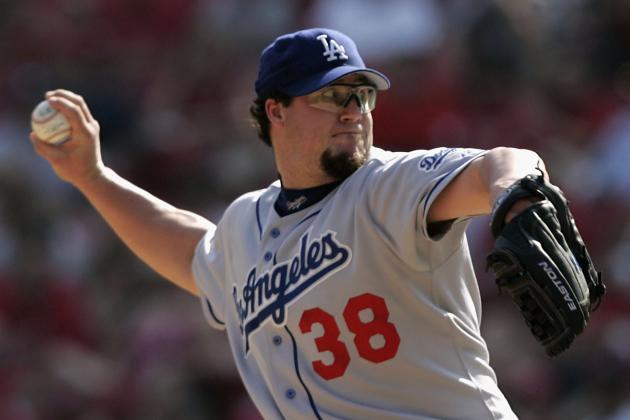 Dilip Vishwanat/Getty Images

Gagne went on an incredible run of dominance from 2002-04, saving 152 games over those three years. This included his 84 consecutive saves from August 2002 to July 2004, which sandwiched his 2003 Cy Young Award; he became the first reliever to win the award since Dennis Eckersley in 1992.
His career with the Dodgers was ridiculous; he posted a 10.4 K/9 and a 125 ERA+ while saving 161 games. The highlight, though, was obviously 2003. His ERA+ was 337 and his WHIP was 0.69; he did all of this while striking out an unreal 44.8 percent of batters he faced, which is the second-best number ever posted (min 30 innings).