Manchester United: 10 Positives and 10 Negatives This Season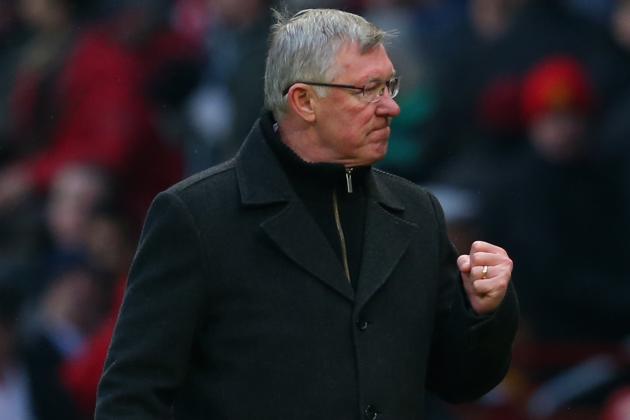 Alex Livesey/Getty Images

The 2012/13 season has been a mixed one for Manchester United.
The elation of domestic dominance quickly subsided as the club was booted out of the Champions League and FA Cup in a relatively short period.
Several players have stepped up, delivering quality performances with regularity; others haven't fared so well.
This article will look at 10 positives and 10 negatives from the Red Devils' campaign so far.
May the 2013/14 season be even better.
Begin Slideshow

»
Michael Regan/Getty Images

Nothing hurt more than United's final-day heartbreak at the end of last season.
The Red Devils were within seconds of claiming Premier League glory, but Manchester City's unlikely comeback against Queens Park Rangers ensured the title would be decorated with blue banners that summer.
This season has been as much about righting the wrongs of last season than anything—about proving local bragging rights as much as English dominance.
Every win since December has pushed United closer to the promised land and further away from Roberto Mancini's side.
When Nemanja Vidic lifts the EPL trophy, he may as well be saying "Take that, City!"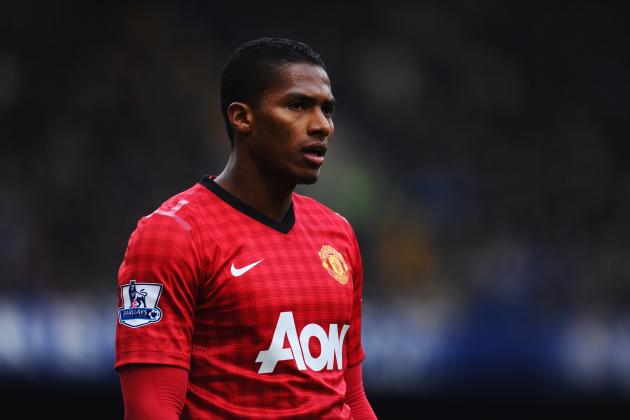 Mike Hewitt/Getty Images

Manchester United have three natural wingers in their squad—Nani, Ashley Young and Antonio Valencia. You'd think at least one would have a half-decent season?
Nope. The Red Devils have looked impotent on the flanks all year—full-backs Patrice Evra and Rafael have been far more effective pushing ahead of their teammates.
Nani has suffered injury, but more importantly a loss of confidence. Gone is the confident, brash player, replaced by a man who struggles to control the ball with his first touch.
Ashley Young has never truly impressed at Old Trafford—his is the lesson that buying players from mid-table clubs is a risky proposition—just ask Liverpool.
Antonio Valencia has been perhaps more disappointing. The Ecuadorian was the club's standout player down the stretch last season, and now he's lucky if he can get the better of his opposing number once in a match.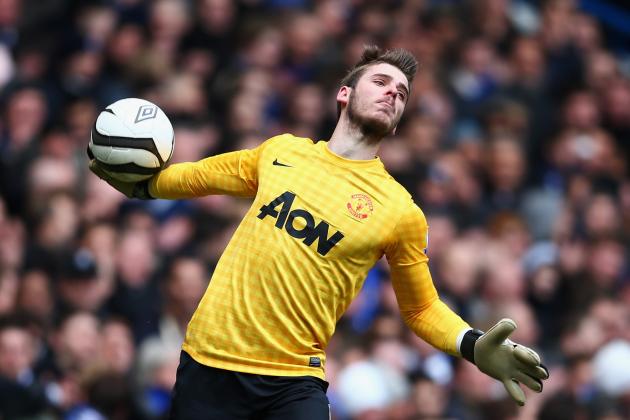 Paul Gilham/Getty Images

Earlier this season, several tabloids claimed that Sir Alex Ferguson was lining up a bid for Stoke's goalkeeper Asmir Begovic to replace David de Gea between the sticks (via Daily Mail).
The stories baffled the majority of United fans, who wondered why the improving Spaniard was being linked with an exit only 18 months after his arrival in Manchester.
Unsurprisingly, de Gea has had a stunning 2013 to date, putting in terrific performances against Tottenham Hotspur, Fulham and Real Madrid in the Champions League.
His stunning reflexes were never in doubt—it's been his improvement dealing with crosses that's really caught the eye.
He is set to be United's No. 1 for many years to come.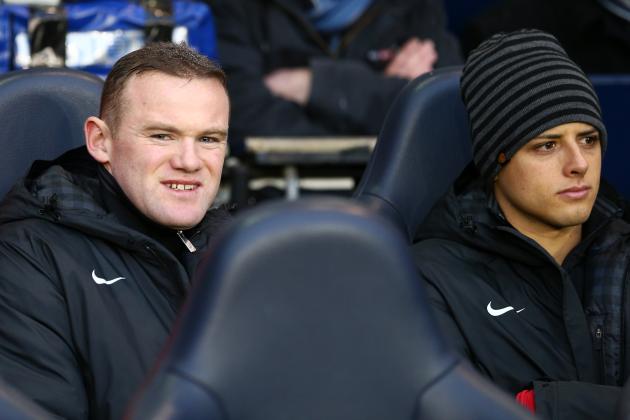 Clive Mason/Getty Images

With Robin van Persie spearheading the Manchester United attack, Javier Hernandez was never going to be his team's first-choice striker.
But even so, the Mexican's lack of game time has alarmed many fans of the Red Devils, who believe the clinical forward has deserved more opportunities in the first team.
He has started only seven of 32 Premier League games, making more appearances from the substitute's bench.
His strike rate hasn't been poor by any stretch of the imagination—he's bagged eight goals in the league, three in Europe and 16 total this season.
But considering Danny Welbeck—a forward who has scored a solitary goal this term—has made eight more appearances in the EPL, it's hard to see the logic behind the Mexican's continued exclusion.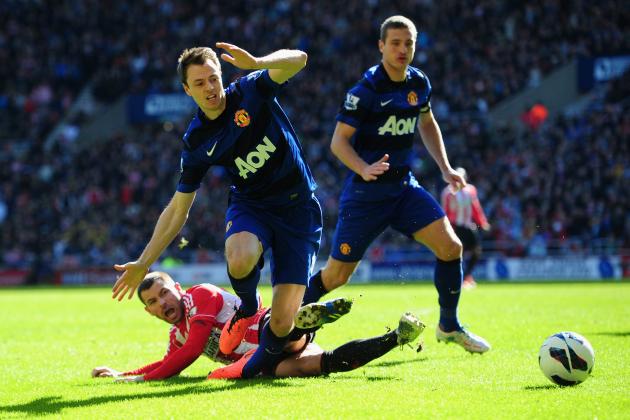 Stu Forster/Getty Images

Through the first half of the season, the Red Devils' defence was conceding goals at an alarming rate.
The likes of Fulham, Southampton, Stoke City, Aston Villa and Reading all managed to put at least two goals past United as mistakes plagued those in the team's back line.
But with Nemanja Vidic's return from injury in December, things have markedly improved.
United have looked sturdy and error-free in the last few months as the Serbian's influence has been sharply felt.
The Red Devils have kept clean sheets in seven of their last eight Premier League games—a quite incredible statistic considering how the side was playing last year.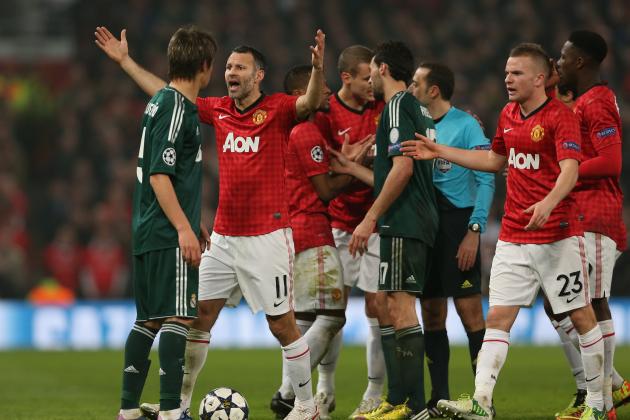 Jasper Juinen/Getty Images

For a brief period of time, United fans were discussing what seemed like the genuine possibility of a treble.
But one Cuneyt Cakır, a little-known referee from Turkey, put paid to the side's European hopes in their Round of 16 clash with Real Madrid.
The most frustrating part of the Red Devils' exit from the Champions League was not that they hadn't been good enough, but that fate had dealt them a terrible hand.
United have lifted the trophy with the big ears twice during Sir Alex's reign—an underwhelming number considering the team's continued excellence.
It is well known that the Scotsman considers his team's relative lack of success in Europe a career regret (via Goal.com).
Alex Livesey/Getty Images

It may not seem like the most important statistic, but Manchester United's disciplinary record this season has been excellent.
Sir Alex's side is one of only three teams in the Premier League yet to receive a red card, Sunderland and Southampton being the other two.
In the past, flashes of red mist have cost the Red Devils vital points, but not this term.
For a run of four games earlier this year, United didn't even receive a yellow card—one game off an EPL record.
They have been calm and composed in times of panic, never letting their emotions get the better of them.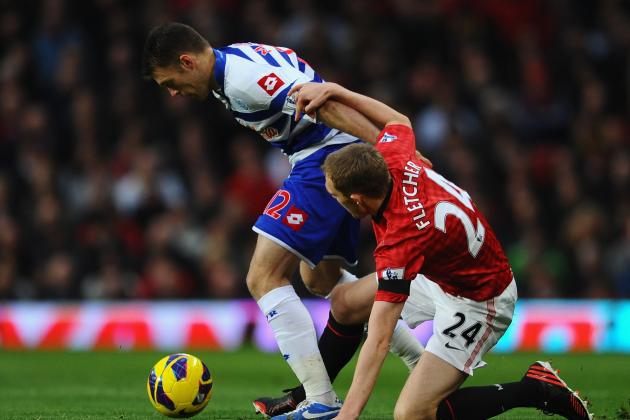 Laurence Griffiths/Getty Images

It would be devastating if it were the case, but Darren Fletcher's career in football seems to be in real jeopardy.
The Scottish central midfielder has been a key United player in previous seasons, but a chronic bowel condition has kept him sidelined for the best part of 18 months.
A brief comeback this season was promptly shelved, the 29-year-old given the rest of the campaign off to recuperate in the hope that he may be able to return next term.
Sir Alex said at the time "He tried his best to cope with the condition with the treatments he was using but, in the last couple of weeks, it's come back" (via ManUtd.com).
According to The Sun, "United are cautiously optimistic that he will be able to join the first-team squad for pre-season training this summer."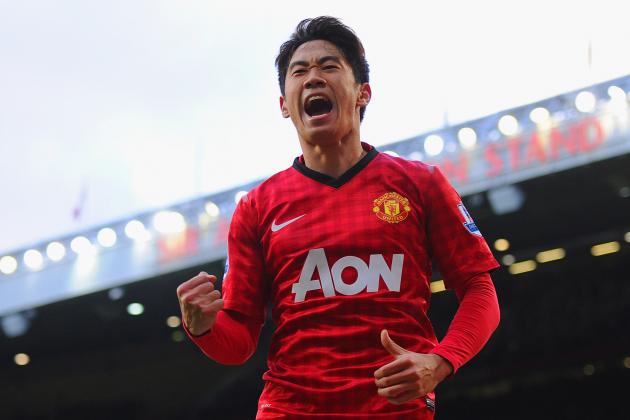 Michael Regan/Getty Images

It seems ironic that many in the footballing world have talked about this current Manchester United as if it was one Sir Alex's worst, and yet they could conceivably break the Premier League's points record.
In tight spots, the Red Devils have pulled through—the club's famous winning mentality coming into effect.
Last season, it seemed as if it were the other way around—nobody at Old Trafford has forgotten the crushing 4-4 draw against Everton, when a 4-2 lead was surrendered in the dying minutes.
Tottenham Hotspur are the only team United has failed to beat this term; every other club has fallen to Sir Alex's side at least once.
It is a confidence in the players that comes directly from the manager—who expects to win every game.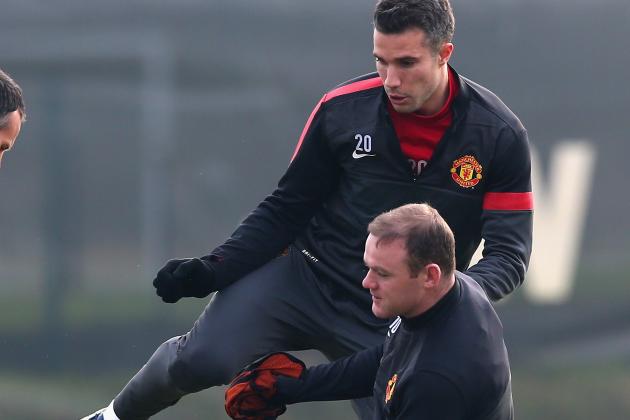 Alex Livesey/Getty Images

Both Robin van Persie and Wayne Rooney have had excellent seasons.
The former has bagged 20 Premier League goals and is second in the race for top scorer, while the latter has 12 goals to his name and nine assists.
But their respective success has been separate—the two just haven't clicked in the same lineup for an extended spell this season.
This isn't either's fault, but it does seem to suggest that Rooney's future doesn't lie in the trequartista role he has inhabited for so much of the campaign.
Either Shinji Kagawa needs to be given an extended run behind van Persie with Rooney dropping back into central midfield, or a creative playmaker needs to be bought in the summer.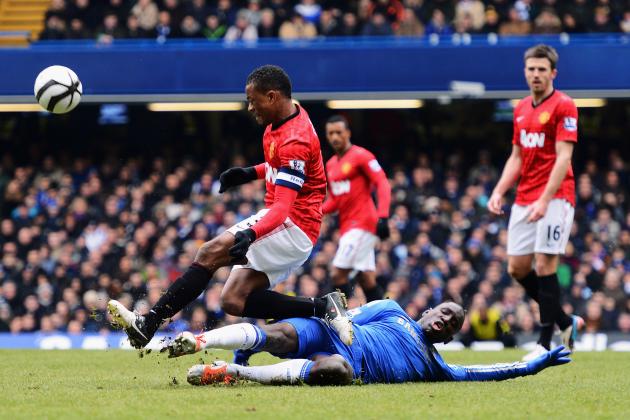 Mike Hewitt/Getty Images

For all the talk of Patrice Evra's decline the last couple of years, the Frenchman has had a renaissance season at Old Trafford.
Age may be slowly robbing him of his natural ability, but he has been a more reliable defensive figure and an improved attacking threat.
The Frenchman has scored four goals and provided five assists in the Premier League.
Rafael's production has increased as well—three league goals and three assists are better numbers than any of the team's wingers can boast.
Sir Alex declared the Brazilian "our most improved player this season" earlier in the season (via ManUtd.com).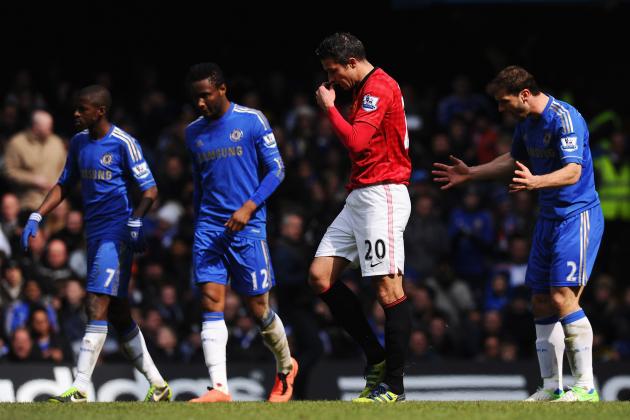 Mike Hewitt/Getty Images

Much has been made of Rio Ferdinand's personal desire to claim FA Cup glory at least once in his glittering career.
As Manchester United faced elimination from the competition at the hands of Chelsea, the Blues' fans mocked the defender with chants of "Rio, Rio what's the score?"
Ferdinand's fruitless pursuit of the trophy symbolises the club's odd inability to win it.
The club won the cup three times in the 90s and once in 2004, but since then have failed to add to their haul of 11.
When asked what his greatest regret of the season has been so far, rather than pointing to the loss to Real, Sir Alex said, "Failing to get past Chelsea in the FA Cup" (via Daily Mail).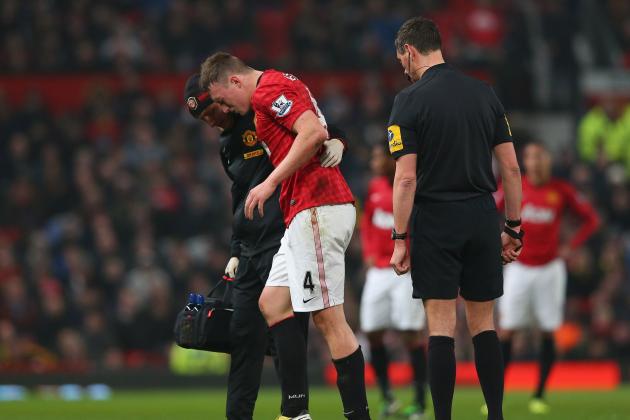 Alex Livesey/Getty Images

Injury crises have cost Manchester United dearly in the past, but this season the side has been relatively unharmed.
Several defenders got hurt early on—namely Nemanja Vidic and Chris Smalling—but their absences didn't cost the team as dearly as they would have done in previous years.
You can chalk this up to the tremendous depth in the Red Devils' squad.
There are key players such as Rooney and van Persie, but there are top quality players always ready to play in their stead.
When asked why United have been so successful this term, former Sunderland manager Martin O'Neill responded "Whatever side they put out will be capable of winning matches" (via Goal.com).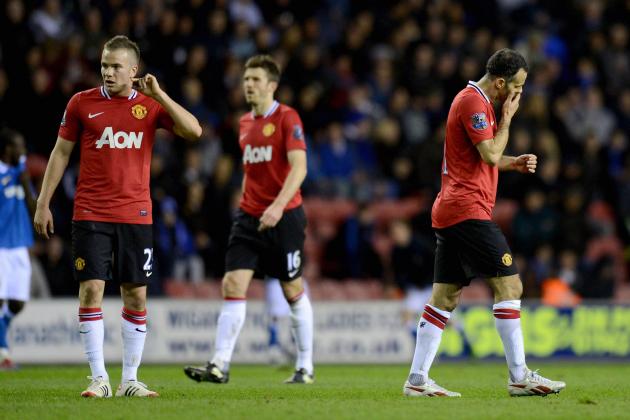 Gareth Copley/Getty Images

Michael Carrick, aided by capable deputies Tom Cleverley and Phil Jones, has had a fine season at Old Trafford.
But the England international alone isn't enough to dominate the middle of the park in key games.
The Red Devils are lacking a conductor in the middle of the park—whether that be a physical box-to-box midfielder or a creative Luka Modric-type.
It is almost laughable how United have won the Premier League at such a canter this season with such a weak midfield.
If initial reports are to be believed, it seems as if Sir Alex may be finally ready to splash out big on the world-class central player they so sorely need.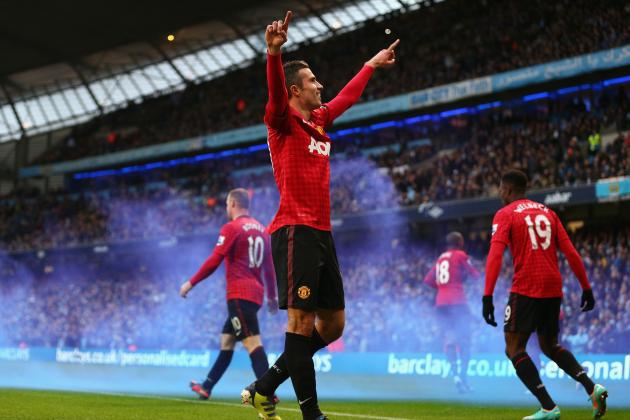 Clive Mason/Getty Images

When Manchester United have failed to claim domestic glory in past seasons, a major reason has been the team's inability to beat the league's best teams.
However, this term the Red Devils have been supremely clinical in the biggest games—triumphing over Liverpool, Chelsea, Arsenal and Manchester City before the midway point of the season.
Credit must go to van Persie, who found the back of the net in all of the above matches, including a 90th-minute winner in the first Manchester derby.
For 45 glorious minutes against Real Madrid in their second-leg clash, Sir Alex's side were the better team and looked on course for progression.
But the less said about that game, the better.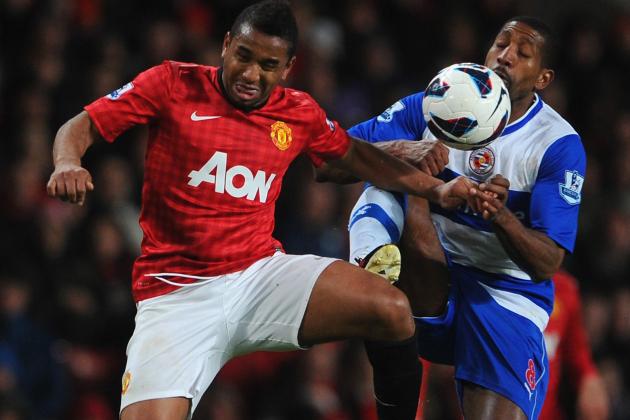 Michael Regan/Getty Images

For a brief run of games in November, Anderson seemed on the brink of finally taking the next step in his United career.
The Brazilian has had a frustrating few years at Old Trafford, failing to live up to his £20 million and hyped potential.
Injury problems and a lack of a run of games in the first team can be assigned partial blame, but the truth is he's just not been good enough.
He looked good enough in wins over Queens Park Rangers, West Ham and Reading in November, but his form subsequently dipped back to its usual underwhelming level.
A summer exit seems inevitable for the former Porto man.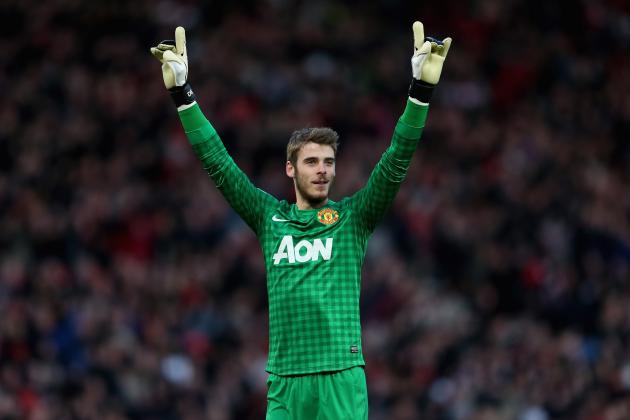 Julian Finney/Getty Images

Manchester United have sat atop the Premier League table since November 24.
Since then, the Red Devils have won 17 of 20 games, frustrating the chasing pack with an incredible consistency.
Last term, United led City by eight points in early April and seemed well on course to claiming domestic glory.
But losses to Wigan Athletic and the Blues and that famous collapse at Everton effectively opened the door for City to tear past at the final moment.
There has been, and there will be no such cataclysm this term—the lessons of last season have been learned and complacency avoided like the plague.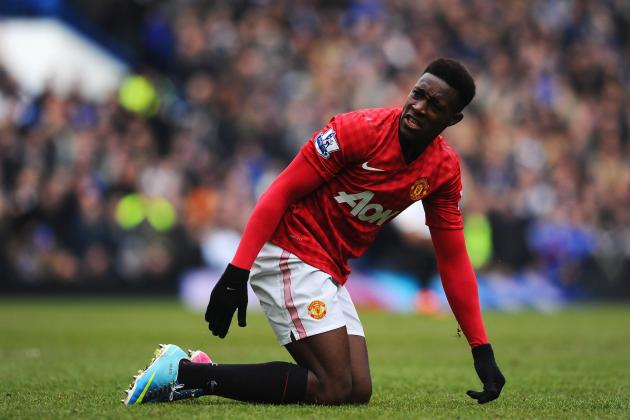 Mike Hewitt/Getty Images

In certain aspects of his game, Danny Welbeck has been much improved this season.
His touch and ability to worry the opposition with his relentless energy and harrying have led to plenty of first-team football in the team's biggest games.
But Welbeck is a forward—and as such, should be expected to finish in the final third of the pitch.
The England international has looked extremely profligate in front of goal, scoring only twice this term in 35 appearances in all competitions.
If he wants to be a regular starter in the United team for years to come, this will have to change.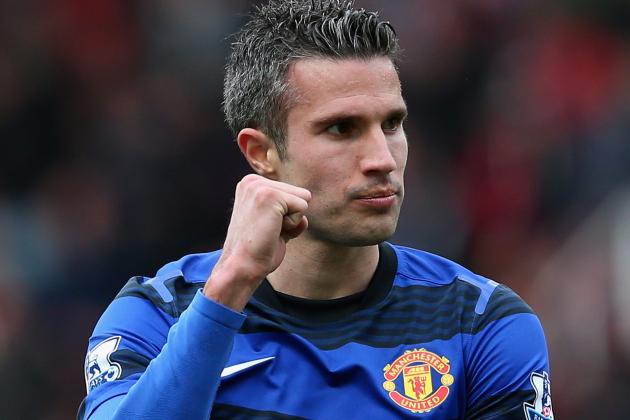 Julian Finney/Getty Images

It seems fitting to conclude the positives from Manchester United's season by going back to the beginning.
The £24 million deal that lured Robin van Persie to Old Trafford from Arsenal may have been the most important moment of the season before it even began.
It was a clear statement of intent issued by Sir Alex—that United were unwilling to repeat their previous mistakes and would pay whatever the price to restore order in England.
His impressive strike rate has already been mentioned, but it has been his sheer quality that has lifted his teammates to better things.
The comparison with Eric Cantona is just—though he is already 29 years of age, it may not be long before the Dutchman is deemed the club's new "king."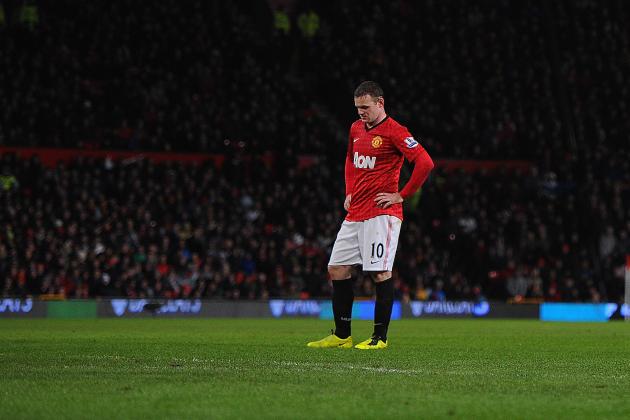 Michael Regan/Getty Images

The vultures need no excuse to circle Old Trafford.
Manchester United's final negative of the season effectively looks ahead to what could prove a tumultuous summer.
Wayne Rooney is one of the, if not the, Red Devils' most important players, but the dominant form of van Persie and a positional identity crisis has led some in the British media to declare an exit possible for the forward.
On Monday, The Sun claimed that French side Paris Saint-Germain are "convinced they will land Wayne Rooney in a £25 million summer swoop."
No matter how many times Sir Alex refutes such gossip, ink will be spilt hyping what would be a stunning transfer.
What other positives/negatives have you taken from Manchester United's season?