UFC on Fox 7 Predictions You Can Take to the Bank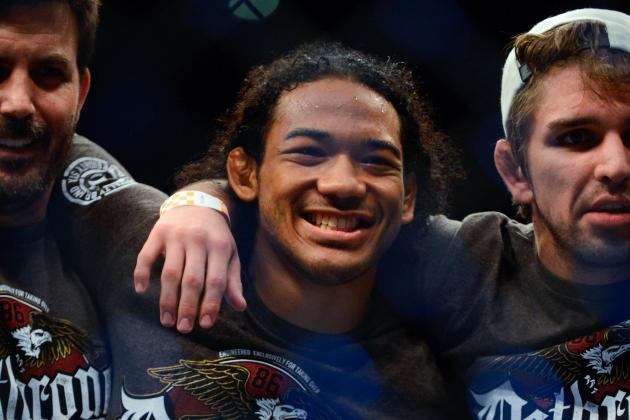 Ron Chenoy-USA TODAY Sports

We're halfway through a grueling month-long stretch of UFC events, but the really interesting stuff—the fight cards that are stacked from bottom to top—are only just now on their way.
When I say that Saturday's UFC on Fox 7 event is a stacked card, I'm just being honest. From the very bottom of the preliminary card all the way to the main event, this card is full of more interesting fights than any in recent memory. One look at the Facebook preliminary fights will tell you all you need to know: T.J. Dillashaw vs. Hugo Viana and Anthony Njokuani vs. Roger Bowling are both fights that feature intriguing prospects, and both have the potential for violent finishes.
I'm here today to give you a look at the main card, the one that will be televised on Fox. I'll give you my thoughts and predictions on each of the four featured fights (using data analysis from the FightMetric database), followed by quick predictions on the rest of the fights.
And when you're done reading my words here, I want you to leave me your own thoughts and predictions in the comments below.
Let's get started.
Begin Slideshow

»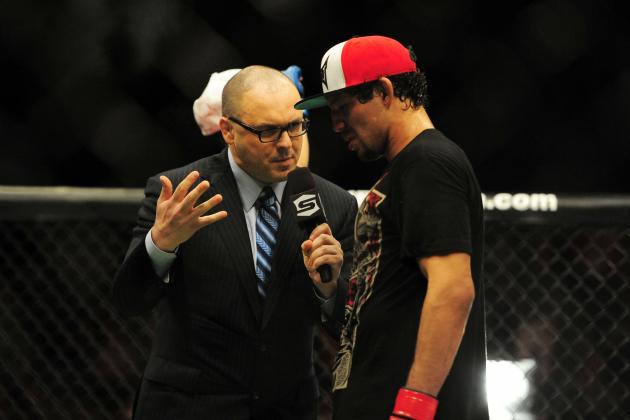 Kyle Terada-USA TODAY Sports

At long last, Gilbert Melendez gets his shot at the UFC.
I can tell you that, having spoken to Melendez often over the past two years, he's been ready for this chance for a long time. He's the consummate company man who wouldn't say anything bad about Strikeforce's previous owners, even when he was stuck in virtual limbo after Zuffa purchased the company, but Melendez is ready. He's more than ready.
Does that mean he can beat Henderson? I think he can.
Does that mean he's going to beat Henderson? I don't think he is.
I've done some rudimentary analysis on the FightMetric database, looking over the numbers for both Henderson and Melendez. What it tells me is that Melendez has an advantage in the striking department, at least when it comes to a natural boxing game. If Melendez can keep this fight standing for at least 60 percent of the total time spent in the cage, he could win the fight.
But the problem for Melendez is that Henderson has an advantage in the striking defense department. He defends more thrown non-power strikes than Melendez, which means that Henderson could essentially look to use his jab to keep Melendez from settling into a power punching game and win points that way.
Once the fight goes to the ground, Henderson seems to have a significant advantage in the wrestling and grappling departments. He's better in overall takedown attempts, in takedown accuracy and in overall takedowns from both the clinch and from shooting. Melendez has very good takedown defense at 78 percent, but Henderson will consistently attempt trips and shoots, and Melendez will have to be on point with his defense the entire fight to stay off the ground.
Once on the ground, Henderson is far more active in transitions, dominant positions and going for submissions.
Prediction
You're going to see a five-round fight unfold here, and it's one that could look a lot like Henderson's December win over Nate Diaz. Henderson won't finish the fight or put Melendez away, but he'll do enough with jabs and with his wrestling to score points and earn a unanimous-decision victory.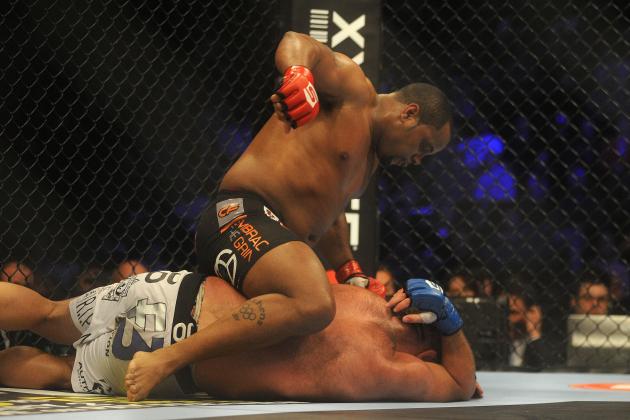 USA TODAY Sports

Cormier's making his UFC debut here, but he's bringing significant advantages in the striking, striking defense and wrestling departments. In short, Cormier is deserving of his status as a minus-450 favorite, which is crazy when you consider Mir's tenure and legacy as one of the UFC's top heavyweights over the past eight years.
Mir's jab accuracy is horrendous at 13 percent, while Cormier is respectable at 37 percent. But it's the stand-up defensive department that will be Mir's undoing; he's terrible at defending strikes on the feet. His jab defense is just 63 percent, power strike defense is 71 percent and total head striking defense is just 66 percent.
In short, if Cormier wants to end this early, he'll look to keep it standing and throw punches at Mir's head. And I think that's exactly what you're going to see, because Mir absolutely isn't going to take Cormier down if Cormier doesn't want to go down.
Prediction
Cormier overwhelms Mir on the feet in the first round, dropping him to the canvas before a few punches put him away for a violent TKO.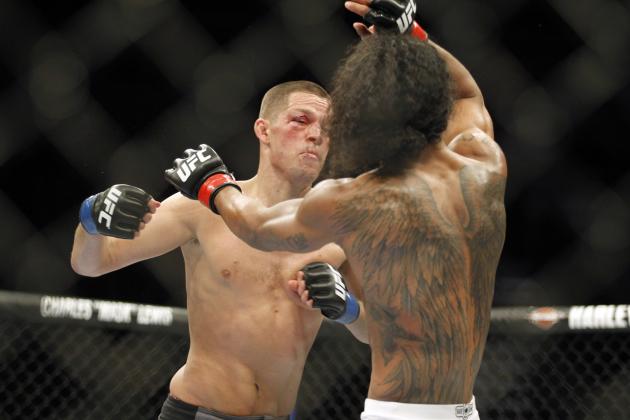 Joe Nicholson-USA TODAY Sports

From a statistical standpoint, Nate Diaz has an advantage in just about every department. He should win this fight, and I suspect he will. But that doesn't mean Josh Thomson doesn't have a chance, because he does.
Thomson has very good striking defense and even bests Diaz in a few defensive categories. He's also more accurate with his significant strikes and lands more of those per minute. But his main advantage comes in the takedown department, where he's accurate with 41 percent of his takedowns to just 16 percent for Diaz. Thomson also bests Diaz on the ground in the transitions department, but their total submission attempts are nearly equal: 23 for Thomson and 22 for Diaz.
Thomson also beats Diaz in the takedown defense department, with 66 percent (average) takedowns defended to 48 percent (below average) for Diaz.
Looking at the numbers, it would make sense for Thomson to employ a wrestling-based game plan, trying to take Diaz to the mat and keep him there while avoiding submission attempts from Diaz if at all possible. The problem, and I'm sure you'll agree, is that I'm not sure he's capable of doing it for 15 minutes.
Prediction
I like Nate Diaz in this fight, but I think it's a lot closer than people are assuming. Diaz will do enough to win a 29-28 decision, but this one might even be controversial.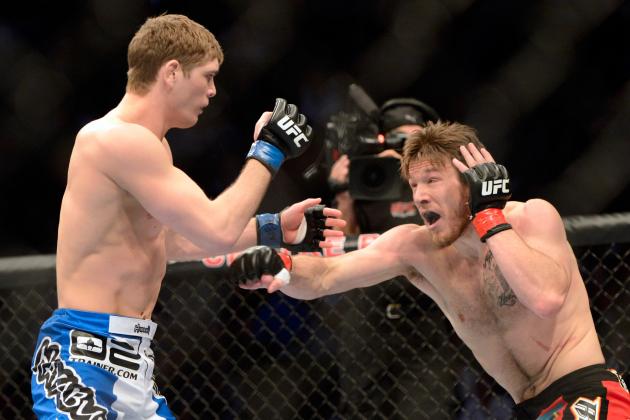 Eric Bolte-USA TODAY Sports

In the previous slides, I used metrics to help shine some light on my fight predictions. I can't do that in this one, at least not completely, because the statistics from Mein's February fight against Dan Miller are not yet fully available.
That being said, I'll point out a few interesting facts:
Mein is nine years younger than Brown. This would typically make the younger fighter a heavy favorite, but Brown seems to be getting better with age and he's won four straight.
Brown excels in both jab accuracy and in power accuracy, with 38 percent and 39 percent, respectively. These are considered very good numbers in terms of punching accuracy.
Brown also lands 58 percent of his significant strikes; again, a very strong number.
I can't really analyze Mein's numbers, so I'm going to go with my gut feeling on this prediction.
Prediction
Mein is much younger than Brown, and he's a more complete fighter. When's the last time you saw someone dispatch Dan Miller the way Mein did just two months ago? That doesn't happen. The same thing will happen here; after Saturday concludes, we'll all talk about how awesome Mein looked in dispatching a very tough and durable Brown. He'll do it in the first two rounds.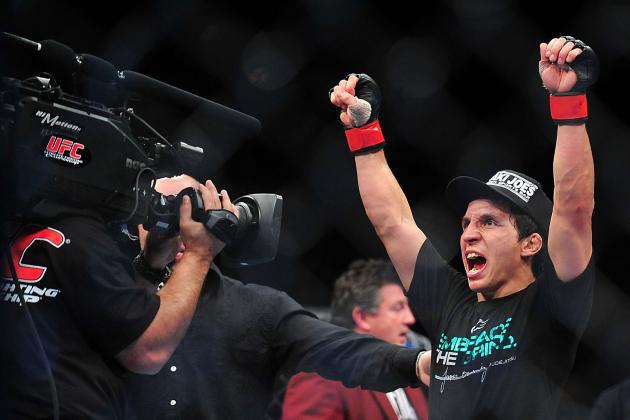 Gary A. Vasquez-USA TODAY Sports

And now, for some preliminary fight predictions:
Clifford Starks vs. Yoel Romero: Romero

Anthony Njokuani vs. Roger Bowling: Bowling

T.J. Dillashaw vs. Hugo Viana: Dillashaw
Tim Means vs. Jorge Masvidal: Masvidal

Joseph Benavidez vs. Darren Uyenoyama: Benavidez

Ramsey Nijem vs. Myles Jury: Nijem

Francis Carmont vs. Lorenz Larkin: Larkin

Chad Mendes vs. Darren Elkins: Mendes