Do the New York Rangers or the New York Islanders Have a Brighter Future?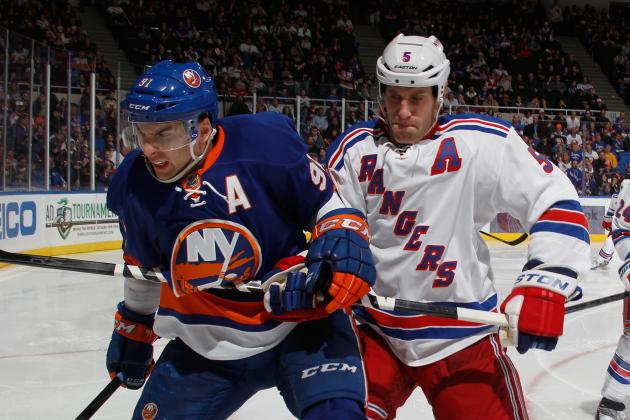 Bruce Bennett/Getty Images

The New York Rangers and New York Islanders find themselves fighting each other for one of the few remaining playoff spots.
The Rangers, who have been great the past few years, and the Islanders, who have spent a long time in the cellar, played a remarkably competitive game on Saturday, with the Rangers squeaking out a 1-0 win in overtime.
For the first time in a long time, this rivalry is competitive. This is great news for hockey fans.
However, the question must be asked: Which team has the brighter future?
Is it the Rangers, led by Ryan McDonagh and Derek Stepan? Or is it the Islanders, led by John Tavares?
We'll examine the current youngsters on both rosters, as well as the respective minor league systems, to determine which team has the brighter future.
Read on to find out.
Begin Slideshow

»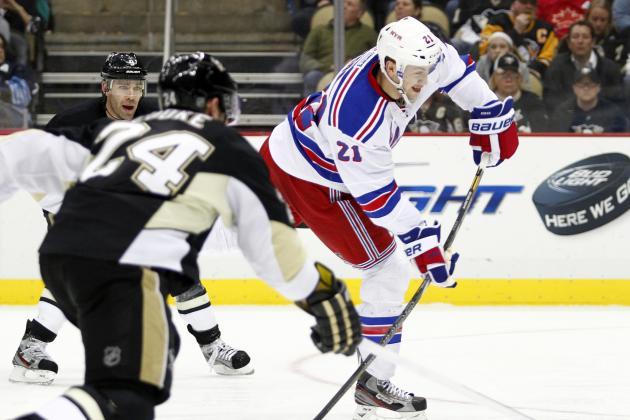 Justin K. Aller/Getty Images

The Rangers have a lot of young talent who can contribute for a while.
Leading the way is Derek Stepan. At just 22, Stepan has 15 goals and 20 assists this season. Outside of Rick Nash, Stepan has been the Rangers' most productive and consistent player.
He will be a restricted free agent after this season, according to CapGeek, but the Rangers will make him a priority. He is one of the best playmakers in the league, a center with incredible vision and accurate passing. The tandem of Stepan and Nash has been dangerous and will continue to be so for the foreseeable future.
The Rangers also have young, top-six forwards in Carl Hagelin, who is 24, J.T. Miller, who is 20, and Chris Kreider, who is 21. These three figure to be productive players for the Rangers for a long time.
On defense, the youth movement is led by the 23-year-old Ryan McDonagh. McDonagh plays on the first pair and is a shutdown defender. He averages nearly 25 minutes a game and still has a plus-6 rating. In fact, for his career, he has a plus-47 rating for his career.
The Rangers also have Michael Del Zotto, who is 22 and has dynamite playmaking skills from the blue line. Marc Staal, although currently injured, is just 26 and one of the best defenders in hockey. John Moore is still developing, but he's a 22-year-old with tremendous upside.
The Rangers also have good prospects in the system. While they don't have a potential star in the system, they do have a number of solid players.
Michael St. Croix has potential as a top-six center with playmaking skills and could start in the AHL next season. Cristoval "Boo" Nieves just finished his freshman season at University of Michigan, where he had eight goals and 29 points. Jesper Fast, who just finished a season in the Swedish Elite League, had 35 points in just 47 games.
On defense, the Rangers are led by Dylan McIlrath. The former first-round pick has battled injuries, but the 6'4", 215-pound blueliner is physical and nasty. He's not afraid to drop the gloves or throw the body and should be on the Rangers blue line next season. He is the physical crease-clearer whom the Rangers have needed for years.
Brady Skjei just finished his freshman season at the University of Minnesota, where he played in 36 games. He's young, but projects as a solid defenseman. Additionally, the Rangers signed former University of Massachusetts defenseman Conor Allen to a pro deal. Allen scored 19 points in 35 games.
One major downside to their system is that they have no future starting goaltender. Henrik Lundqvist is dominant, but he is 31 and his game will eventually decline. The Rangers need to start thinking about the future in net, and would be wise to spend a first-round pick in the next few years on a goalie.
On the whole, the Rangers have a bright future. They have elite players in Derek Stepan and Ryan McDonagh, as well as a great in core in Carl Hagelin, J.T. Miller, Chris Kreider, Marc Staal, John Moore and Michael Del Zotto.
They have a number of good prospects, including some with untapped potential. Nieves and Skjei are both 19 and have the potential to be stars, especially Nieves. McIlrath should be playing in New York next season, as should Jesper Fast.
The Rangers do need a goaltender of the future, and that is a significant weakness. However, the future is bright for the Rangers for a long time.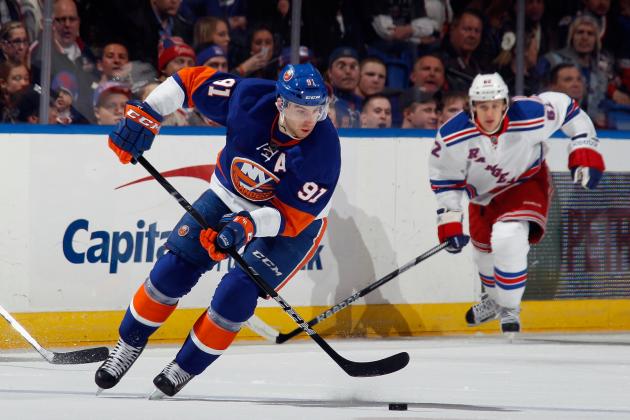 Bruce Bennett/Getty Images

The Islanders have a number of young, talented players who are leading them in their quest to make the playoffs.
Their best player by far is John Tavares. The 22-year-old has 24 goals and 18 assists. He is one of the best players in hockey and has been the driving force in the Isles' resurgence. Without him, they would still rank amongst the league's worst.
Josh Bailey is just 23 and has shown promise this year, with 16 points. Matt Martin, also 23, is a valuable depth forward. Kyle Okposo, at 24, has had a rough season, with just 18 points, but last season he did have 24 goals. The 25-year-old Michael Grabner has 13 goals and scored 20 goals last season.
On defense, the team is led by Andrew MacDonald, who, at 26, averages over 23 minutes per game. Travis Hamonic is 22 and averages nearly 23 minutes per game. They are potential anchors on the blue line for years to come.
The Islanders' system is good, too. Ryan Strome is an elite prospect who has scored 34 goals and has 60 assists in the OHL this season. He's already playing in the AHL at just 19 years of age. Griffin Reinhart projects as a shutdown defenseman. The former fourth-overall pick has star potential.
Ville Pokka and Matt Donovan have potential on defense, while Nino Niederreiter and Kirill Kabanov have top-six potential on offense.
Like the Rangers, there is no great goaltender in the system. Kevin Poulin has not been good as the backup goalie for the Islanders, as he has a 3.31 goals-against average. Anders Nilsson has talent, but has struggled in the AHL with a 3.14 goals-against average. With Evgeni Nabokov nearing the end of his career, an infusion of talent is needed in net.
The Islanders have a lot of high-end skill on the roster and in the system. They have a number of potential stars ready to contribute in the next few years, perhaps more so than the Rangers. All the years of drafting high have certainly paid off.
Bruce Bennett/Getty Images

So, which team has the brighter future?
The Rangers have much more depth on offense on the roster and in the system. Outside of Derek Stepan and potentially Chris Kreider, however, there is not much star power. There is a lot of second-, third- and fourth-line players, which is terrific. But there aren't a lot of guys who are going to score 40 goals.
The Rangers do have Rick Nash as their main goal scorer. He's young at 28, but the Rangers cannot rely on just him for offense. They will need someone, whether it is Chris Kreider or another youngster, to step up.
The Islanders have less depth forwards and more star power. John Tavares is easily one of the top-five players in the league and only getting better. Josh Bailey is showing star potential, and Ryan Strome projects as a future perennial All-Star.
The Islanders have better defensive prospects than the Rangers. However, the Rangers have a lot of young talent already on the big club. The trio of Ryan McDonagh, Michael Del Zotto and Marc Staal should dominate for years. They're already known quantities. The Islanders don't have anyone like that on the roster.
Both teams have weak goaltending prospects for the future, and while Henrik Lundqvist is still young, giving the Rangers an advantage for the short term, both teams need to start thinking about their next goalies.
Let's recap—the Rangers have a brighter future on offense, while the Islanders have a brighter future on defense. The goaltenders are a push.
Who wins out?
It's close, but the Islanders have a slightly brighter future. Quite simply, they have much more star power. John Tavares is already better than Rick Nash, and he's getting better each year. There's no reason why Tavares cannot score 50 goals in a full season. Ryan Strome is an elite prospect, as is Griffin Reinhart.
That's not to say the Rangers future is bleak. It's not. They will have a consistently good team for the foreseeable future. However, their strength is in their depth.
They have a number of great second- and third-line forwards coming up. That's great. But they don't have anyone like Ryan Strome, or even Griffin Reinhart. The Islanders have had a lot of high draft picks in recent years, and they have been able to acquire elite talent. The Rangers have had not that opportunity.
Henrik Lundqvist should be dominant for at least a few more years, if not more, which will keep the Rangers competitive as the Islanders' top prospects begin to make it into the NHL.
That said, the Islanders are following the Pittsburgh model, which is to use the bad seasons to stock the cupboard with elite talent. It will take a few years for everyone to develop. But if Strome and Reinhart and the rest of the top prospects develop as expected, then within the next few years the Isles should be at the top of Eastern Conference.