Quanterus Smith: Video Highlights for Former Western Kentucky DE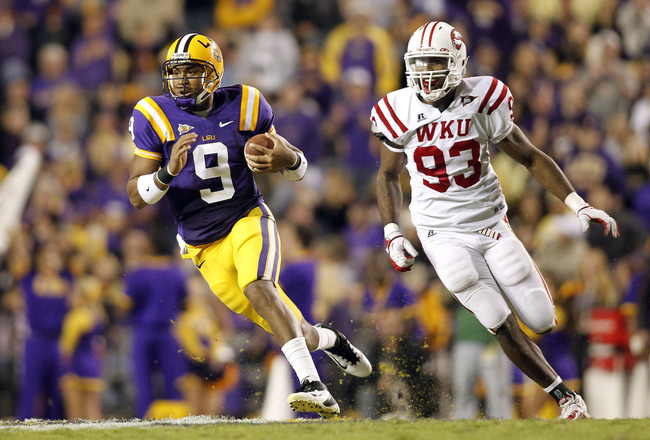 Crystal LoGiudice-USA TODAY Sports
Former Western Kentucky defensive end Quanterus Smith was leading the nation in sacks and averaging 1.25 per game for the Hilltoppers before tearing his ACL on November 17 against UL-Lafayette.
Despite the injury, Smith was named the 2012 Sun Belt Defensive Player of the Year and led the conference with 12.5 sacks and 18.5 tackles for loss.
His played progressively improved during each season at WKU, and his 24 career sacks rank second in the conference since 2005.
Smith represents a bit of an enigma heading into the draft since he hasn't been able to work out for teams at all thanks to his injury, but in today's wide-open NFL, creating defensive pressure is more important than ever. Smith figures to garner late-round interest.
Here are some of the more noteworthy plays from Smith's career at WKU.
WKU vs Florida International: October 27, 2012

Play ends at 0:16

One of the main concerns surrounding Smith—other than his knee of course—is the perception that he may need to play outside linebacker at the next level. As such, teams will want to make sure he has the coverage skills to avoid being a liability when he's not rushing the passer.
Here we see Smith prove just that.
He lines up opposite the opposing tight end and drops back into coverage. The Hilltoppers blitz the quarterback, often a scenario in which the QB's first read is to the tight end underneath.
Smith takes away that option by grinding into the tight end, throwing off his timing, and preventing him from coming out of his break in time to present the quarterback with a target.
This may not be a typical highlight-reel play, but it will certainly help Smith's cause as teams question his versatility.
WKU vs Florida International: October 27, 2012

play ends at 2:25

Another concern about Smith is whether he can effectively play the run.
Here we see yet again why he isn't strictly a one-trick pony.
Lined up against the right tackle, Smith stands him up at the point attack. Rather than overextend himself and try to go for the flashy play, he simply waits patiently for the play to come to him, sheds his block and stuffs the running back for no gain.
Again, not a "wow" play, but one NFL scouts will be happy to see when evaluating Smith.
WKU vs Florida International: October 27, 2012

play ends at 5:48

Smith had himself a heck of a game against FIU.
The play shown here is his third sack of the game.
He doesn't do anything to complicated, he just uses his speed and athleticism to leave a pair of humiliated offensive linemen and one sore quarterback in his wake.
Smith hesitates briefly at the snap, gearing up for what should be a double-team by the tackle and guard. Instead he stutter steps and runs a quick stunt to the inside, completely removing the tackle from the equation.
The guard has no chance and simply can't keep up as Smith blows past him on his way to quarterback paydirt.
WKU vs Southern Mississippi: September 22, 2012

play ends at 1:08

On this play we see Smith display excellent patience and discipline.
For some reason I can't fathom, Southern Miss let Smith come through the line untouched.
Maybe they were hoping to fool him with a quarterback option. If so, it didn't work.
Smith blows the play up from the beginning, but rather than hone in on one player leave himself vulnerable to misdirection, he waits until the quarterback commits to keeping the ball, then pounces.
You can't defend the option any better than that.
WKU vs Arkansas State: September 29, 2012

play ends at 1:00

Once again Smith proves he's more than just a straight-line pass-rusher.
Here we see him put a premature end to a designed quarterback draw.
He lines up opposite the left tackle and shows nice technique. Smith lets the lineman lean into him and uses his own weight against him, pulling off a nice inside swim move.
The lineman's forward lunge carries him to the ground and leaves Smith free to stuff the play for a loss.
WKU vs Arkansas State: September 29, 2012

play ends at 2:55

Later in that same game Smith makes his presence felt yet again.
With Arkansas State deep inside its own territory, Smith lines up against the right tackle.
By now you'd think Arkansas State would know better than to leave somebody alone on Smith, but you'd be wrong.
Smith torpedoes his way upfield and leaves the offensive tackle in a heap on the ground. The quarterback actually does an excellent job avoiding the safety, as it takes a herculean effort on his part to keep the football on the field of play.
At this point, the announcers begin describing Smith using words like "menace."
WKU vs Alabama: September 8, 2012

play ends at 1:04

If you thought Smith's success was due to playing inferior competition, think again.
Last September, WKU had to go on the road to face the top-rated Crimson Tide. As you might expect, the Hilltoppers got blown out, 35-0, but Smith did his part.
On this play he's matched up against possible first-round draft pick D.J. Fluker. In theory Fluker should dominate this matchup. Instead, Smith makes a statement on the big stage.
He doesn't even do anything particularly unique or deceptive, he just flat-out beats Fluker around the edge. Fluker attempts to cut him off at one point, but a quick dip of the downfield shoulder by Smith is all it takes to spring himself free.
Quarterback A.J. McCarron has no chance. Smith drops him for a sack and forces a fumble, which Alabama is fortunate enough to recover.
WKU vs Alabama: September 8, 2012

play ends at 2:42

Smith wasn't satisfied with just getting a sack against the best team in the country. So he went out and got himself three, none of which were more impressive than this.
He beats not one, but two vaunted Alabama linemen in pursuit of the quarterback.
Lined up against the left tackle, Smith dispenses of him rather quickly with another excellent inside spin move.
From there he encounters guard Chance Warmack, considered by many to be the best guard in this year's draft. Warmack barely gets a hand on Smith as he explodes past him with a nice burst.
Moses may have parted the Red Sea, but we have video evidence of Quanterus Smith parting the Crimson Tide.
Keep Reading

Denver Broncos: Like this team?