Theo Riddick: Video Highlights for Former Notre Dame RB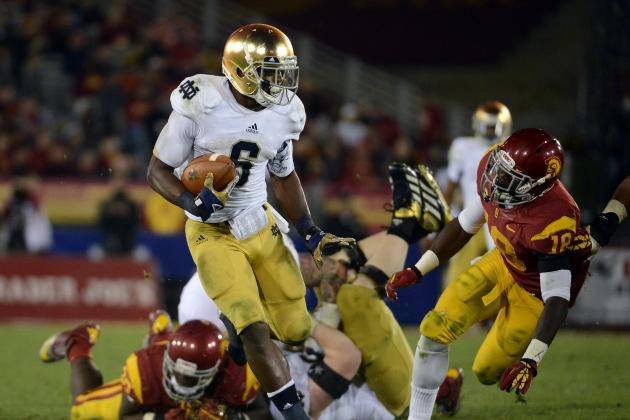 Harry How/Getty Images

After a star-studded high school career as a running back in New Jersey, Theo Riddick headed off to Notre Dame with the hopes of becoming the next great running back for the Irish.
It didn't quite work out that way.
Riddick ran into a numbers game at Notre Dame, joining the Irish the same season as perhaps the most highly touted running back in the high school class of 2009, Cierre Wood. Notre Dame moved Riddick to slot receiver during his sophomore and junior seasons before switching him back to running back for his senior season.
Riddick had a very nice senior season, splitting carries with both Wood and George Atkinson III. Riddick rushed for 917 yards and caught passes for 370 more.
That versatility will get Riddick a look from several NFL teams. He'll either be a Day 3 choice in the draft, or a highly sought-after free agent after the draft.
At 5'11, 200 pounds, Riddick has decent size but lacks the top-end speed you want from an NFL runner. Riddick doesn't have the musculature that you'd hope for either, but he definitely showed enough potential over the course of his Notre Dame career to get a look from an NFL club.
Let's take a look at some video that shows off Riddick's potential.
Begin Slideshow

»
Plenty of things to like about Theo Riddick on this 19-yard run against BYU last October.
Riddick shows great patience initially after taking the handoff, and at the same time, he shows great feel by taking a jab step away from the defensive end who is closing off the line from his left.
Too many running backs try to explode into the hole before it has time to develop. Riddick lets his hole open wide and then shows a nice burst to get through it. As mentioned in the initial slide, Riddick doesn't have blazing speed, but he shows nice "game speed" here as he eats up yards quickly, taking advantage of the big hole.
Riddick then does a great job of setting up the safety for his juke. He has a blocker in front of him who's taking on a player, and Riddick gives just enough of a glimpse of following that block to get the safety to bite hard. Riddick then makes a great cutback that leaves the safety grabbing at air.
You have to be able to make people miss to be successful at the highest level, and Riddick shows off that ability here.
NFL offenses are getting more and more complicated every season. There was a time, not very long ago, that there was no place for smaller backs and receivers inside the box.
That's changing dramatically as offensive coordinators have all figured out ways to get the ball to slot receivers quickly and to get them in space—basically long handoffs that count as completions.
Where Riddick could be very valuable in NFL is as a third-down back who excels in the passing game. Having played slot receiver for his sophomore and junior seasons at Notre Dame should pay off for him at the next level.
The play you see here is a very simple slip screen that every NFL team now has several versions of. Riddick takes a good hard step off the line of scrimmage that gets the corner to back up immediately. Riddick then runs a nice, patient route down the line of scrimmage. He shows great feel for what's going on around him; he lets both his blockers cut in front of him to pick off defenders and makes himself a nice target for the quarterback.
He puts a nice spin move on the first Spartan tackler, one he probably wouldn't get away with at the NFL level, but you beat people however you can. He sets up the second tackler with a nice hesitation move and cutback that gains him six more yards.
Everybody wants smart football players.
In fact, at the NFL level, if you're not smart, you better have otherworldly talent if you want to succeed. You figure a guy who plays at Notre Dame is probably pretty smart, and Riddick proves his football savvy on this play.
Facing a 3rd-and-14, Riddick runs a great route and picks up a first down against Michigan State's soft zone. This conversion is probably due more to poor defense than anything else, but Riddick exploits it. Most importantly, he makes sure that his takes his route past the first-down marker, ensuring that the Irish will get a new set of downs if the pass is complete.
You have to be tough to play in the NFL. You have to want it.
This 27-yard run by Theo Riddick against BYU shows off a lot of positive attributes for Riddick. Desire, aggressiveness and toughness are all on display in spades as Riddick pounds his way through BYU tacklers.
Riddick runs through the first tackler and then explodes into open space. He shows off smarts by not trying to make any more moves once the BYU defense has him surrounded, but instead he just takes on the tacklers and drives right through them to pick up an extra 15 yards.
He turns what probably should have been a short gain into a long one with nothing more than determination and desire.
All great running backs can give you a little extra when going for a first down, especially when they are trying to take it into the end zone.
Riddick does a nice job of following his blocks and then giving that little extra burst to get the ball across the goal line. What NFL scouts will like about this play is that Riddick never hesitates, never wavers from his course for even a moment. Some backs like Riddick, who are able to put moves on, are sometimes guilty of looking for someone to beat when they really don't have to.
Riddick senses early on the run that he can score on the play, and he simply makes a beeline for the end zone and gets the score.
NFL coaches like to see how college football players performed on the biggest stage.
Theo Riddick would love for them all to watch game tape from Notre Dame's big 22-13 win over USC last November. Riddick spent most of the 2012 season splitting carries with Cierre Wood and George Atkinson III, but it was Riddick who stepped up in the biggest way in the game that got the Irish into the national championship.
Riddick rushed for 146 yards and a touchdown to lead Notre Dame. On all three of these runs, Riddick makes something out of nothing and turns plays that could have been stopped cold into big gains. He shows good feet in all three runs, avoiding tacklers with spin moves and jukes and then just out-battling them at the point of attack.
Riddick shows a nice ability to always be going forward even when he's being taken down.
Obviously, NFL coaches want to see maximum effort every time they turn on a player's tape.
Theo Riddick certainly won't disappoint them on that front. Riddick is constantly fighting for extra yards and always churning his legs at the point of contact. He's tough to bring down because of that and often can get away on sheer extra effort.
This 53-yard run versus BYU shows Riddick fighting in a big pile at the line of scrimmage. His legs keep churning, and he breaks free for a big gain when everyone thought the play was over. You'd like to see a little more breakaway speed from him, but Riddick's tenacity will work in his favor when he's trying to land a roster spot in the NFL.