Zaviar Gooden: Video Highlights for Former Missouri OLB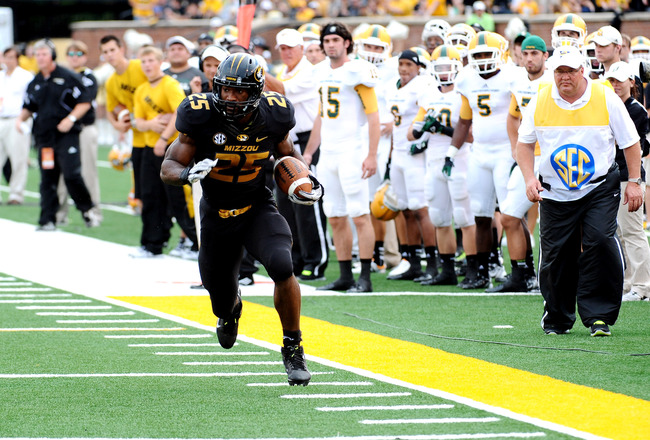 Dak Dillon-USA TODAY Sports
Zaviar Gooden is the kind of player who comes to mind when you think of natural 4-3 linebackers. He has the speed and smarts to handle the read-and-react nature of playing behind a four-man line.
In a league dominated by linebackers who are glorified rush ends, Gooden is another kind of hybrid defender.
As a former safety, he has the quickness and coverage skills to be more useful further back from the line of scrimmage.
Here are some of Gooden's highlights from his time with Missouri.
1. Wading Through Traffic to Get to the Ball vs. Kentucky, 2012

Gooden fights through blockers to make a tackle.

Despite a slight frame, Gooden can work his way through traffic to get to the ball. Against Kentucky, he succeeds in sifting through a convoy of blockers and making a nice tackle.
Thanks to his quick feet, he flows well downhill. At the snap, he darts to the line and goes inside the first blocker.
Then he wraps around the running back's legs to bring him down for a short gain on the outside. As a light linebacker, Gooden will be targeted by lead blockers and pulling linemen in the pros.
The more often he proves he can use his athleticism to evade this attention and still make tackles, his chances of becoming an NFL starter will improve.
2. Sliding off Contact to Make a Tackle vs. Georgia, 2012

Gooden sheds contact to make a tackle.

Defeating blockers isn't an obvious strength for Gooden. However, there is some evidence that he could improve one of the weaker points of his game.
On this play against Georgia, he meets the fullback's block but is not driven out of the play. He simply slides off the block and makes a fine tackle.
Gooden is agile enough to slide off, rather than shed contact. He must continue to utilize different ways to get around and away from blockers in the pros.
3. Sideline-to-Sideline Pursuit Skills, Part 1 vs. Syracuse, 2012

Gooden uses his speed to track and stop an outside run.

When a safety converts to linebacker, you can trust his speed sideline-to-sideline. Gooden is certainly a natural pursuit linebacker.
In the first of consecutive plays from his active performance against Syracuse, Gooden showcases his lateral quickness. Here he runs down a sweep.
Notice how he takes on a block from an offensive lineman but still makes the play. Gooden's footwork gets him off the block and to the near sideline.
He batters the runner out of bounds to complete a good hustle play, made possible by quick pursuit.
4. Sideline-to-Sideline Pursuit Skills, Part 2 vs. Syracuse, 2012

Gooden speeds his way to the opposite sideline to chase down a run.

This time, Syracuse tried to run away from Gooden. However, he once again demonstrates that he is a cat-quick flow linebacker with excellent closing speed.
The run is pitched to the opposite sideline. Gooden keeps his pursuit path direct and chases down the runner before he can get around the edge.
With modern NFL offenses boasting greater speed at every skill position including quarterback, defenses need faster pursuit. That makes a player with Gooden's sideline-to-sideline quickness potentially invaluable.
5. Good Zone Instincts vs. Tennessee, 2012

Gooden carrying out his responsibilities in zone coverage.

Gooden's speed and agility also makes him a useful part of coverage schemes, particularly zone-based systems. This play against Tennessee shows how Gooden uses excellent instincts in a zone defense.
He initially takes a short drop to cover the slot receiver. Yet when his receiver goes vertical, Gooden leaves him, correctly passing off the responsibility to the deep safeties.
His responsibility is the middle zone. He stays put and meets the tight end coming across and underneath from the other side of the formation.
This was perfect zone identification and discipline from Gooden. These skills will serve him well in a pro game where defenses are more reliant than ever on zone concepts.
6. Capable and Determined in Man Coverage vs. Tennessee, 2012

Gooden's coverage skills also extend to man-coverage concepts.

Gooden is also adept in man coverage. Another play against Tennessee shows how effective he can be in tight, single coverage.
The Tennessee offense has spread the field, and Missouri's defense has matched up. It has covered both slot receivers.
Gooden is covering the slot on the near side. He and the other underneath defenders will lock up in man coverage underneath, while two safeties take away the deep routes.
Notice how Gooden quickly gets his hands on his receiver and works to disrupt his route and re-direct him. He also shifts his feet smoothly, enabling him to trail the receiver downfield and stay in front.
This gives the Tennessee quarterback next to no room to throw into. Gooden's blanket coverage creates an incompletion.
Linebackers who can actually match up with tight ends and slot receivers in man coverage are like a dream for most NFL defensive coordinators.
Gooden has that ability, and it should help his draft stock.
Final Thoughts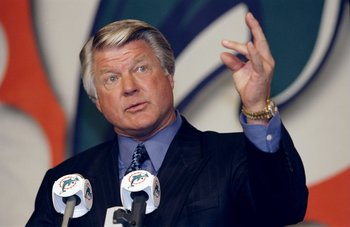 Jimmy Johnson would likely value Gooden's speed and agility.
Eliot J. Schechter/Getty Images
Gooden looks like a player former Super Bowl winner Jimmy Johnson would love to draft. Johnson always valued defensive speed, particularly at linebacker.
His ability to dart across the field and swarm to the ball is reminiscent of the likes of Zach Thomas. That means he needs exactly the right scheme to help him thrive in the pros.
That scheme will involve a team with an active four-man front. It must be a line that can keep blockers away from Gooden and leave him free to use his quickness to flow to the ball.
Keep Reading

Tennessee Titans: Like this team?