Robert Alford: Video Highlights for Former Southeastern Louisiana CB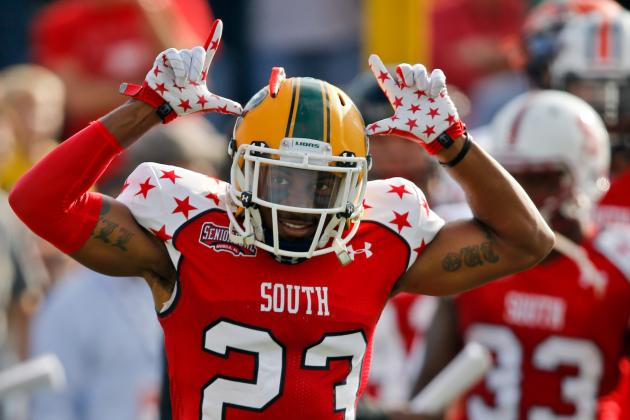 Derick E. Hingle-USA TODAY Sports

Southeastern Louisiana cornerback Robert Alford is a hot commodity right now. His performance in the Senior Bowl not only raised some eyebrows, but it also raised his draft stock.
Alford possesses adequate size for the NFL (5'10", 188 lbs). He ran the 40 in 4.39 seconds, benched 225 pounds 17 times and had a 40-inch vertical jump at the NFL combine.
He finished his career at Southeastern Louisiana with 10 interceptions in 29 games. He also returned one punt 75 yards for a touchdown.
Perhaps his best attribute is his ability to utilize his speed and quickness in press coverage.
Here are several video highlights during his career at Southeastern Louisiana.
Begin Slideshow

»
Alford's stock rose after his performance in the Senior Bowl.
On the opening kick off, he receives the ball in the end zone and explodes through a hole in the middle of the field. Notice how he uses good vision to find the hole and then makes a quick move to the inside before heading toward the outside.
He sprints down the sideline and is eventually taken down from behind with a facemask tackle.
Alford shows more of his explosive return capabilities against Lamar.
Here he receives a punt just outside the hashmarks nearest to Southeastern Louisiana's bench. He makes one tackler miss and isn't touched again until the 13-second mark.
In an instant, he displays both his speed and agility as he runs the tightrope along the sideline and then puts on the jets into the end zone for a 75-yard punt return for a touchdown.
If you only see one Alford highlight, this is the one.
His ball-hawking skills and pure athleticism are on display. In one motion, he breaks away from his receiver and makes a spectacular play on the ball for the interception to seal the victory for Southeastern Louisiana against McNeese State.
Alford uses his body well to establish position. In this play, he anticipates the fade route, shielding the receiver from the ball, which allows him to make an easy interception.
In this interception, Alford beats the receiver to an overthrown ball. He does such a good job getting to the spot that he actually looks like the intended target.
Alford not only play well in pass coverage, he also does an excellent job stuffing the run.
Here at the goal line against Northwestern State, Alford sheds the blocker and then sticks the ball-carrier high with his helmet, forcing a fumble.
Is Alford a two-way player? In this compilation of highlights, he shows his skill at running after the catch.
Pay attention to Alford's footwork and burst, which shows how elusive and dangerous in the open field he can be. These highlight demonstrate to his future employer that he can be utilized on the offensive side of the ball as well.