Arsenal FC: 8 Players Who No Longer Have a Purpose at the Emirates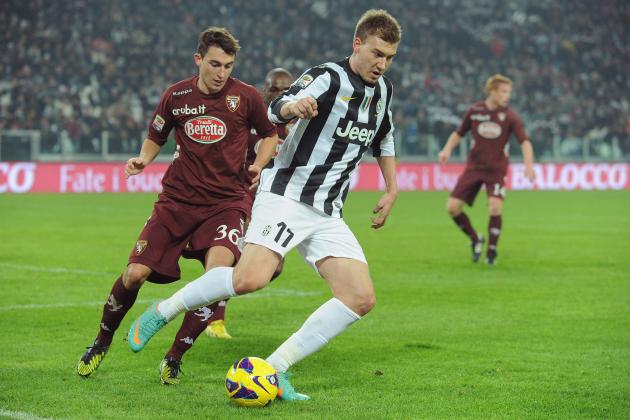 Valerio Pennicino/Getty Images

Arsenal Football Club is going to be one of the most watched clubs in the upcoming summer transfer window.
In recent memory, Arsenal's policy hasn't been one of not spending, but rather one of spending poorly. Furthermore, the almost uniform wages that all players are paid has raised questions in recent times.
Top players struggle to break £100,000 a week, while mid-level squad players are paid £60,000.
If Arsene Wenger wants to attract top talent to the Emirates in the summer, an easy way to free up funds would be to trim the fat of the current wage bill.
The following is a list of players currently on contract at Arsenal Football Club (although some are on loan elsewhere), who should be sold in the upcoming summer.
Begin Slideshow

»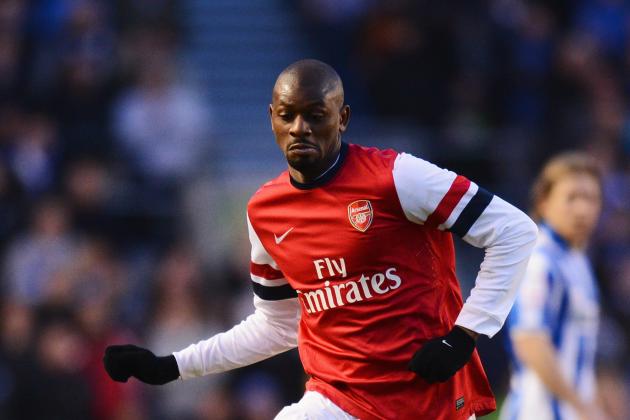 Mike Hewitt/Getty Images

With the amount of promise shown by Abou Diaby earlier this season it's so sad to see him sustain yet another long-term injury.
The Frenchman was brought to Arsenal in the winter of 2006. In the eight seasons since then he has made a total of 178 appearances.
Injuries have defined Diaby's Arsenal career. It's sad because this season Arsenal fans finally got a glimpse at how great he could be.
His tackling and passing were fantastic in the early months of the season. He was a player that we didn't have.
No one else in the squad could do the things Diaby did. And yet, he has sustained another injury, the latest one projected to keep him out for up to nine months.
The money spent on Diaby has had a horrible return on investment. He shows flashes of brilliance, but in the end that's all they are—flashes.
He looks to be unable to string together a full season of fitness, and for that reason, his time at the Emirates should come to an end.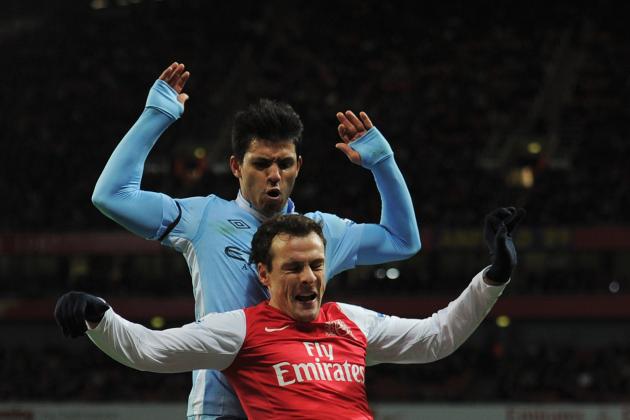 Michael Regan/Getty Images

Sebastien Squillaci's last action for Arsenal's first team was in December's Champions League match against Olympiacos.
The Frenchman was brought to the Emirates with compatriot Laurent Koscielny in the summer transfer window of 2010.
Most Arsenal fans would admit that Squillaci was thrown into the mix during a difficult time for Arsenal. William Gallas and Kolo Toure were no longer at the club, and the back four was almost all new.
Regardless, it was clear that Squillaci was not a good enough player to wear the Arsenal shirt. I, personally, cannot remember a single standout performance from him.
In recent months he has been relegated to the U-21 side.
Arsenal have no use for Squillaci, so selling the Frenchman would be beneficial to both parties.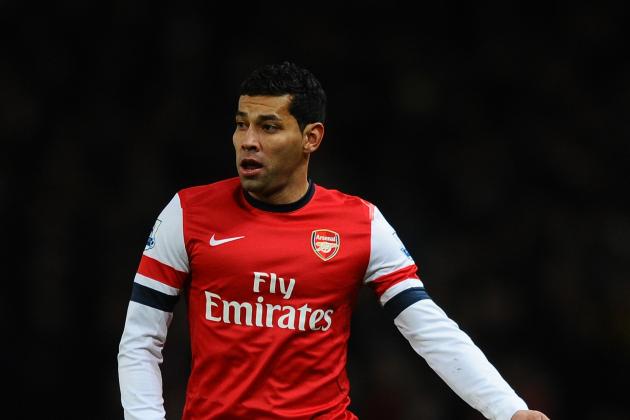 Laurence Griffiths/Getty Images

The vitriol endured by Andre Santos in the early parts of this campaign was something I never could have fathomed before.
The Brazilian arrived at the Emirates via Fenerbahce in the summer of 2011. No one really knew what to expect, as he was not a well-known player in the European press.
Santos stepped up and had a decent offensive contribution to the team when involved, but his defending never impressed.
The early parts of this season were dreadful. Santos was scapegoated for a handful of Arsenal's poor performances (rightfully so in some cases), and he was vilified by Gooners everywhere.
His matters were not helped the least bit by his exchanging of shirts with Robin van Persie at half-time during the Manchester United game in November.
This footage essentially made Santos' position at the Emirates untenable. In the January window, he was loaned out to Gremio, a team in his native Brazil.
With the outstanding play of Kieran Gibbs and the addition of Nacho Monreal, Santos has no place at the Emirates any time in the foreseeable future. Wenger should cut his losses and allocate his money to a player who will improve the team.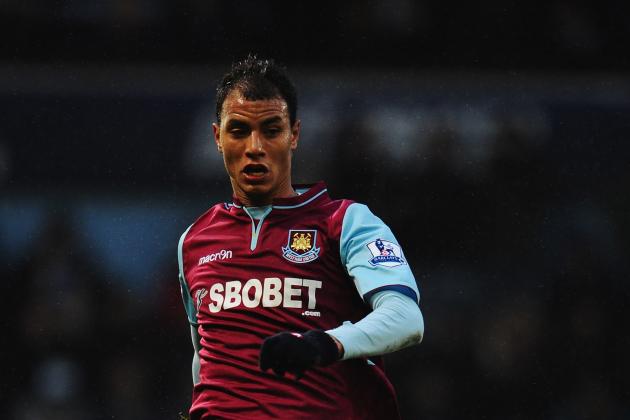 Mike Hewitt/Getty Images

Marouane Chamakh was loaned out to West Ham United this past winter. He made two appearances for the Hammers in January and then failed to make another one in February and March.
Chamakh joined Arsenal in the summer of 2010. Arsenal fans are quick to forget that the Moroccan actually started well for the Gunners. However, this appeared to be a case of beginner's luck.
Chamakh could not hold a candle to Robin van Persie, the player he was brought to replace when the Dutchman was in the midst of his various injury spells.
In the following season, Chamakh progressively became less useful. In the last two seasons he's started just nine games for the Gunners.
No Arsenal fan will be sad to see the Moroccan leave in the summer, and so I believe that his time is coming to an end.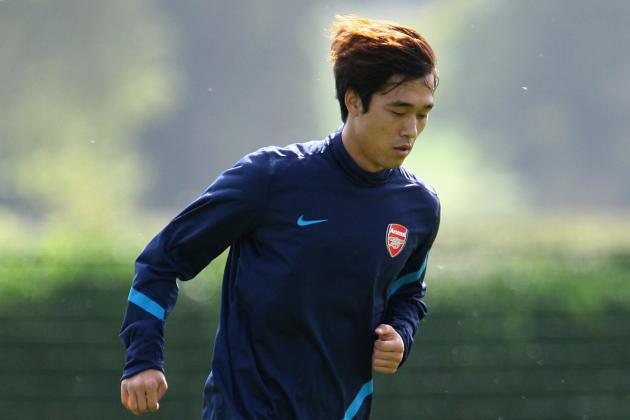 Julian Finney/Getty Images

One of the strangest signings Wenger has made in recent years, Chu-Young Park has made just six appearances for Arsenal since joining the Gunners in summer of 2011.
His most memorable contribution was a well-taken goal scored against Bolton in the League Cup of 2011. He contributed little else, though.
The South Korean has been on loan at Spanish side Celta Vigo since August. Despite scoring the occasional goal, Park has not been overly impressive in La Liga.
This summer should see the sale of the South Korean, as his contributions to the Gunners have been minimal and there is no need to keep him around.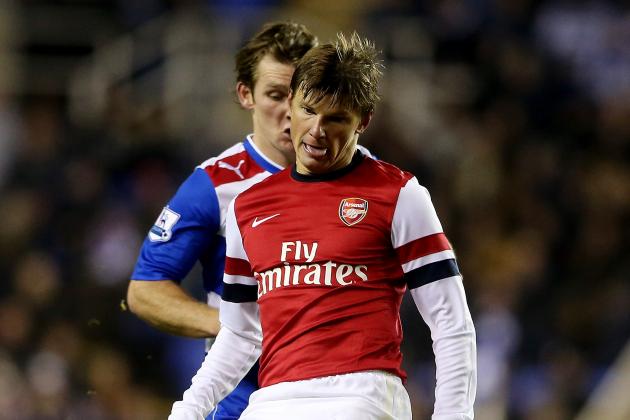 Scott Heavey/Getty Images

Andrey Arshavin immediately impressed after his 2009 move to the Emirates. Fans will always remember the four goals he scored at Anfield to earn the Gunners a 4-4 draw.
Recently, though, the Russian has been unable to break into the first team. When he does, he does not appear to offer the side much.
I will always be thankful for Arshavin, because of the goal he scored to secure a victory in the home leg of the 2011 Champions League tie against Barcelona.
Unfortunately, he has offered little else since then.
With his increasing age, keeping him around doesn't make much sense anymore. I think that Arshavin's exit from Arsenal is imminent.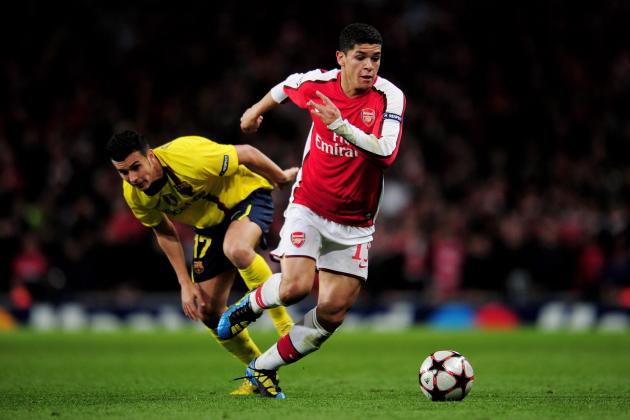 Shaun Botterill/Getty Images

Here's a name we haven't heard in a while. Denilson has not played for the Gunners since 2011. The Brazilian midfielder was brought to the Emirates in the summer of 2006 after enjoying a breakout season at his home club Sao Paulo.
The midfielder contributed in numerous games but never appeared to be a world-class player.
A good tackler and a decent passer, he was perhaps a less talented version of Aaron Ramsey.
Having spent so much time away from the Emirates, no one would notice if he was sold or not. Most Arsenal fans probably don't even realize that he's still on the books.
So officially cutting ties with the Brazilian only makes sense.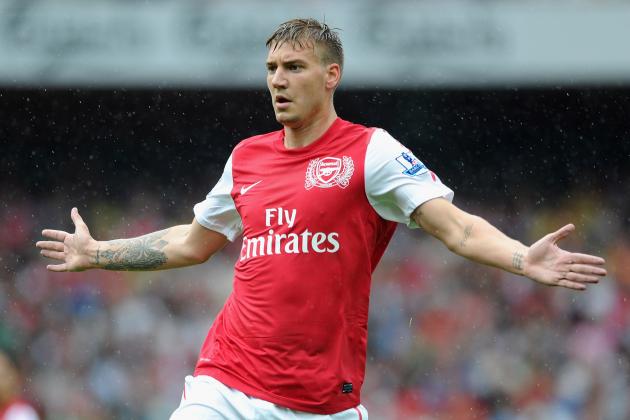 Michael Regan/Getty Images

From the weirdest signing to the weirdest player. Nicklas Bendtner is one of the strangest footballers I've ever seen.
I do believe that he is talented. I've seen him score some marvelous goals. However, he does not take advantage of his size, and his hold-up play is abysmal.
Any Arsenal fan will know that the Danish international is not short on confidence, but I don't think that he's better than any of our current first-team strikers.
No one will be sad to see Bendtner go, and he can get on with conquering the footballing world and fulfilling his potential.
Selling Bendtner makes financial sense, and the Gunners will not be negatively affected in doing so.