Zeke Motta: Video Highlights for Former Notre Dame Safety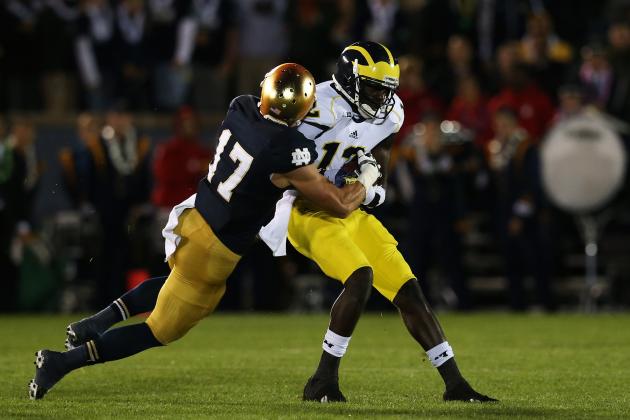 Jonathan Daniel/Getty Images

When one looks at Ezekiel "Zeke" Motta, one immediately thinks that he is an undersized, yet still incredibly strong linebacker.
In fact, it is quite the opposite.
Motta is a powerful safety who loves to unleash ferocious hits on opponents, making his physical superiority felt whenever possible.
Motta is great against the run, he has impressive open-field tackling ability and he is excellent at breaking up receptions with big hits.
Motta struggles in coverage, but his physical prowess makes him an attractive NFL prospect.
Begin Slideshow

»
Zeke Motta will be drafted primarily for his incredible physicality. At least one team will fall in love with the toughness he can bring to a defense, and will select him in order to improve the run defense.
What Motta will not be drafted for is his coverage skills. His coverage is sub-par, and it is definitely not NFL-caliber yet.
In this play, however, Motta displays that he does, in fact, have a solid coverage foundation which can be built upon once he reaches the NFL.
Motta was running stride for stride with a Michigan receiver deep downfield, but he never once took his eyes off the quarterback.
As soon as the quarterback threw the ball, Motta quickly recognized that his man was not the intended target. Instead of just standing there and letting a fellow defensive back take care of the play, Motta immediately bolted to the intended receiver, reaching him as soon as the ball arrived, and broke up the play.
Motta displayed great instincts and coverage ability in this play, and if he can make plays like this consistently, he can become a force in the NFL.
It looked like Michigan State was about to break off a big play.
MSU receiver Macgarrett Kings Jr. had just caught a screen pass and had two lead-blockers out in front of him. At the very least, it appeared that he would pick up at least five yards.
Zeke Motta, however, decided to take matters into his own hands.
Motta quickly bull-rushed the first lead-blocker, immediately taking him out of the play on impact. Then, Motta easily brushed off the other blocker's half-hearted attempt to stop what appeared to be an impossibly strong force.
Motta, undeterred by getting hit by two lead-blockers, proceeded to bring down the freshman receiver who never had a chance to get going.
Motta displayed his physical superiority in this play, and this is why he is such a tantalizing prospect.
Zeke Motta has been constantly criticized for his lack of coverage skills and how this in-ability would hurt him at the pro-level.
Motta, though, does excel in one area of coverage.
Whenever he locates the ball in the air, he immediately sprints towards its intended location. If he's able to reach the receiver quickly enough, he lowers his shoulder and hits him as hard as possible.
This is exactly what Motta did in this play. As soon as he saw the Miami receiver was going to catch the ball, he sprinted from his deep-right zone and decked the receiver.
More often than not, this will result in the receiver dropping the ball.
As soon as he reaches the NFL, Motta will make an impact on special teams.
He possesses stellar downfield running ability, which allows him to quickly reach any returner. His strength will also allow him to break through multiple blocks.
It is uncertain whether or not Motta will make an impact at the safety position early on in his career, but his combination of skills makes him the perfect special teams player.
No stage in college football is bigger than the national championship.
While Notre Dame got destroyed by the superior Alabama team, Zeke Motta did manage to make an impact on the game.
He established that no matter how tough his opponent was, he was still willing to lower his shoulder and hit as hard as he possibly could.
This play is just one example. The Alabama wide receiver had just got a huge pass over the middle, but Motta was not prepared to let him secure the reception.
Motta charged the receiver, lowered his shoulder into his chest and forced the ball out of his hands. Motta's reputation is that of an extremely hard hitter, and he proved that in this play.
Akeem Shavers took the handoff and immediately started running towards the left. He had a pulling lineman out in front of him and a wide open hole for him to run through.
But then Shavers stopped in his tracks. Zeke Motta had suddenly burst through the line of scrimmage, virtually untouched, and Shavers had nowhere to run.
Motta easily finished off the play, giving Shavers a pretty big pop while he was at it.
This play exemplifies Motta's run-stopping ability. He is excellent at diagnosing a play, choosing the correct angle and shooting the gap.
This play was not a particular good one for the usually stout Notre Dame defense.
Denard Robinson faked the handoff and took off running. He went untouched for over 10 yards, and it looked like he was about to pull off a classic Robinson long touchdown run.
Zeke Motta, however, saved the day for Notre Dame. He held his ground, anticipated where Robinson was going to run and made the tackle in the open field.
Motta possesses excellent open-field tackling ability, and this will be valuable for him when he advances to the next level.