Oregon Football: 5 Things to Look for in the Spring Game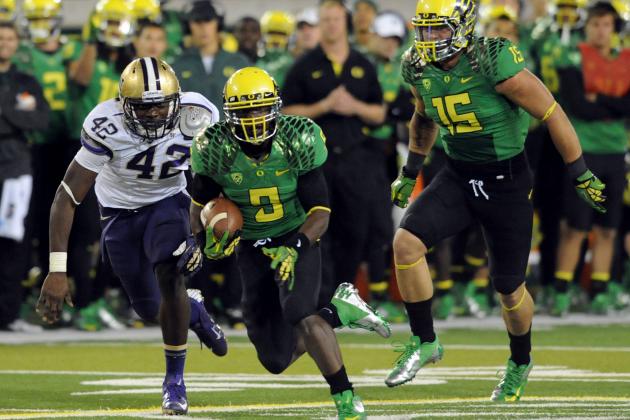 Steve Dykes/Getty Images
Will Byron Marshall have a breakout season?
The Oregon spring game is still a couple weeks away, but the excitement over the return of football in Autzen Stadium can be felt around the state.
But when the ball is kicked and green goes up against yellow (or whatever names they come up with for each side), what kind of things are fans supposed to be looking for?
Is a sack an indication of that player's talent or regression along the offensive line? Is an interception a great play by the defense, a poor throw by the quarterback or a bad route by the receiver?
While those answers may require further review of the play, it's safe to say that the biggest goal among coaches, players and fans is that everybody stays relatively healthy. Football is a violent game, and there are sure to be a few bumps and bruises, but if the best part of the game is that nobody suffered a major injury, it has to be considered a success.
Here are five storylines to watch throughout the spring game.
Begin Slideshow

»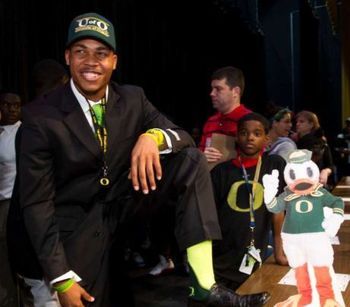 Chance Allen could make an impact this season
Remember when Oregon inked in its 2012 recruiting class and you couldn't wait to see what guys like Chance Allen, Evan Baylis and Reggie Daniels could do?
Well, here we are more than 13 months after that moment, and we've yet to see (aside from Baylis in last year's spring game) any of the redshirt freshmen actually play football.
That, finally, is about to change, and though many of these players have been forgotten, expect several to step up next season and become Duck-household names.
I'm specifically watching to see what safety Reggie Daniels and wide receiver Chance Allen can do. Both guys were highly rated coming out of high school and have now had nearly a year in the system. Will they look up to speed and ready to contribute, or do they appear headed toward another season on the bench?
Keep in mind, too, that many other players such as the Amoako twins, Oshay Dunmore and Brett Bafaro will also get a chance to play in front of fans for the first time.
Getting a chance to watch and evaluate young talent that will someday headline the program is something all fans should get excited about.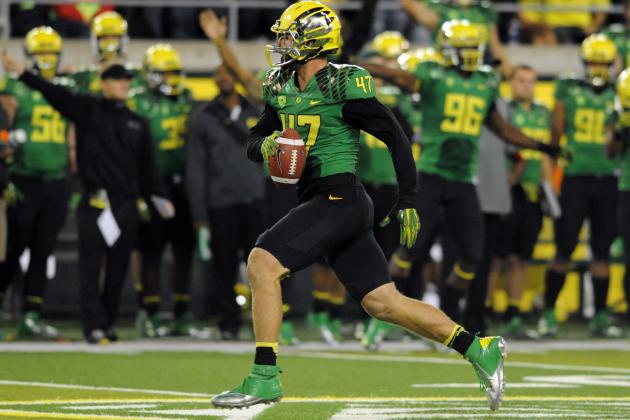 Steve Dykes/Getty Images
Can anyone fill the void left by Kiko Alonso (above) and Michael Clay?
Heading into the 2013 season, there's pretty much a consensus that linebacker could be the only spot of trouble on what should otherwise be a top-notch defense.
So while it'll be fun to see new faces emerge in the secondary and many fans will be eager to see the development of Arik Armstead and DeForest Buckner, I'll be paying close attention to the linebackers, specifically Joe Walker, in the spring game.
Walker comes in having played one year of junior college ball, so the thought is that physically, he may be further along than other players his age. He's also been with the team since January, so he should be getting fairly comfortable with Nick Aliotti's schemes.
But in the spring game, look for how he diagnoses and reacts to each play. Can he fill the gaps quickly? Does he have speed to meet running backs before they hit the corner? Can he hang with guys in coverage?
Not all of these questions will be answered right away, but in order to be a productive player immediately, Walker will have to prove that he belongs on the field and can make plays.
That all starts in the spring game, which is why I have him circled as an important player to watch.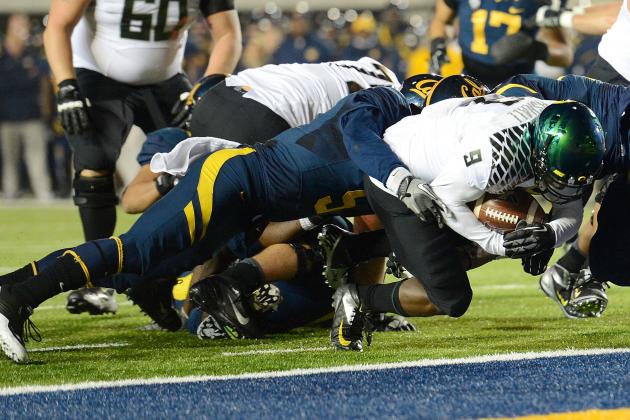 Thearon W. Henderson/Getty Images
Byron Marshall reaches for the endzone against Cal
We now know that De'Anthony Thomas will likely get the start at running back when the Ducks open up the season against Nicholls State.
But since everybody knows what the Black Mamba can do, all eyes will be on sophomore running back Byron Marshall as he looks to become that every down back the Ducks need with Kenjon Barner having graduated.
You have to also figure that De'Anthony will get just as many looks from the receiver position, which makes it all the more important for Marshall to be ready for major action when the season begins.
He has speed, physicality and an apparent eagerness to prove what he can do. In the spring game, look for him to read and react to the defense faster, and watch to see what kind of burst he shows going through the line. Will he break tackles for extra yards, or will he still look like a freshman—hesitant and unsure of himself?
It's not an easy chore to follow in the footsteps of LaMichael James and Kenjon Barner. But Byron Marshall has the talent to be an elite back as well, and now is the time to show it.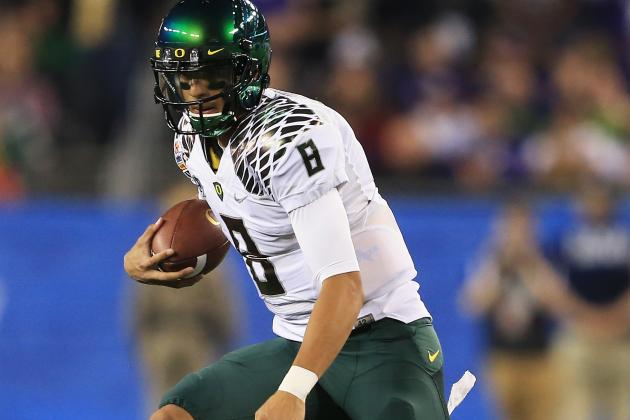 Doug Pensinger/Getty Images
Who will be behind Marcus Mariota on the depth chart?
2012 marked the first time in almost a decade that Oregon's starting quarterback made it through all 12 games without being replaced or getting injured.
While I would assume most Duck fans say a silent prayer to the football gods about Marcus Mariota's health before bed each night, it would be nice to see a competent backup emerge just in case.
The two candidates are Jake Rodrigues and Jeff Lockie, both of whom coaches appear to be very confident in, but then again, would they say anything else?
Rodrigues is the more impressive talent physically, and he boasts a huge arm with tons of speed. Lockie has the skill set needed to play quarterback for Oregon, but he likely won't put quite as much pressure on defenses.
Still, whoever makes the most plays is going to become the backup, and we'll finally get our first look at the competition in the spring game.
Though Marcus Mariota could potentially stay for three more years, either Lockie or Rodrigues is likely to be handed the reigns at some point down the road.
This is a battle I'm extremely excited to see and you should keep a close eye on both guys as they fight for a spot behind Mariota.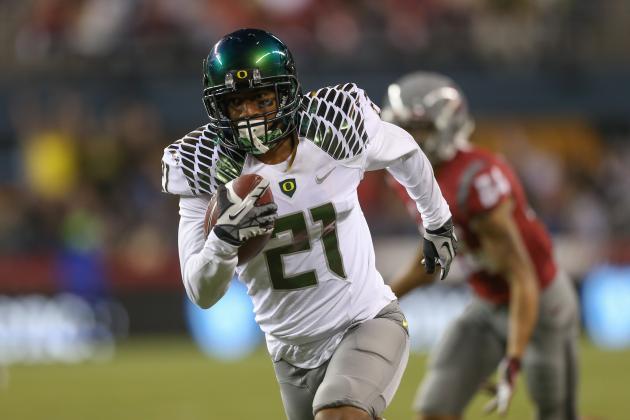 Otto Greule Jr/Getty Images
Avery Patterson nabs an interception against Washington State
As I mentioned in the introduction, you're going to see a lot of different things happening in the spring game, and you may not know how to react to each one.
Does high scoring mean good offense or bad defense? Is a tackle for loss a great play by the defense or a bad decision by the running back? Should the quarterback have even handed it off in the first place?
This kind of thing is for the coaches to look at and decipher after the fact, but fans should be chalking many of those things up as "teachable moments." Those are times when a great (or poor) play is made, but the effort was there and the mistakes can be corrected.
What you don't want to see are silly mistakes such as dropped passes, dumb penalties and fumbles. Those kinds of things should never happen regardless of whether a player is going to contribute next season, and you especially don't want to see starters making dumb mistakes.
If Marcus Mariota throws a deep pass and the corner makes a terrific leaping interception, chalk it up as a great play and potentially a teachable moment. If Mariota throws a pass over the middle right at Tyson Coleman who picks it, that's a silly mistake.
If the effort is there and the team looks sharp (whether there's a lot of scoring or not), fans should walk away satisfied. Look for those teachable moments vs. silly mistakes to help you determine whether it's a positive day for the Ducks.