Alabama Football: 6 Reasons Why AJ McCarron Should Be the Heisman Favorite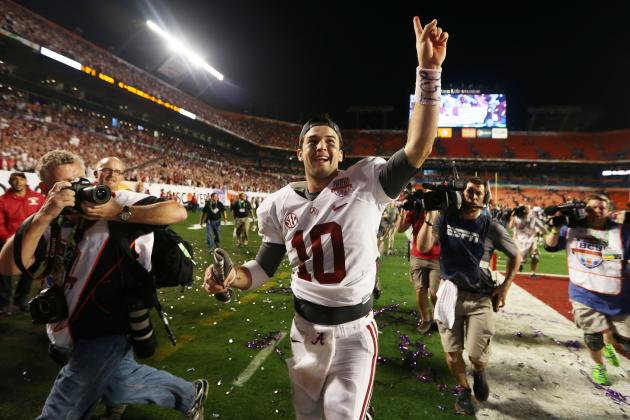 Streeter Lecka/Getty Images

At Alabama, they don't play football for individual recognition. Team accomplishments are the only ones that carry any significant weight.
Nonetheless, the upcoming 2013 season could be a historical one for quarterback AJ McCarron.
McCarron will lead his team into battle this fall with a chance to become the only FBS program to ever win three unanimous national championships. He will have an opportunity to complete his amateur eligibility as the most decorated quarterback in the history of the game.
And, oh yeah, he very well could win the Heisman Trophy.
As is always the case, there are a number of legitimate candidates for the sport's highest honor. But if this season follows the path set by the previous two, McCarron will be a shoo-in to be the 2013 Heisman winner.
Here are six reasons why McCarron should be the leading candidate for the award when toe meets leather in late August.
Begin Slideshow

»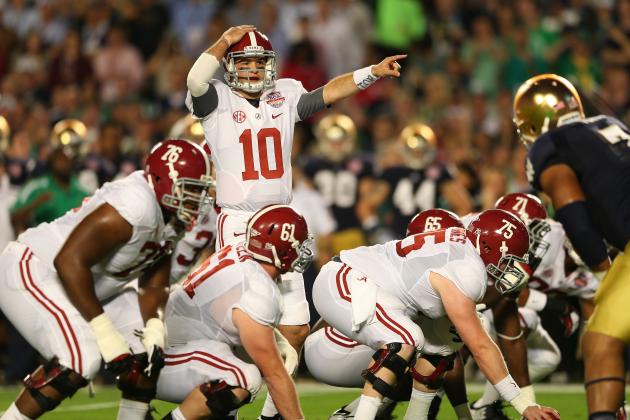 Mike Ehrmann/Getty Images

In two years as a starting quarterback, McCarron has posted a record of 25-2. More importantly, the Tide are 10-2 against Top 25 competition and 5-1 against Top 10 foes.
In championship games (both SEC and BCS), McCarron is a perfect 3-0 as a starter.
Going into the 2013 season, it is likely that Alabama will be favored in every game it plays. If Alabama successfully defends its BCS title once again, McCarron could close out his time at Alabama with a 39-2 record as a starter, complete with two SEC titles and three national crowns.
As the saying goes, to be the man you have to beat the man.
Right now, McCarron is the man on the team. Until the Tide are knocked off their stoop, there is no reason not to believe that McCarron will get the job done once again this fall.
And, as we all know, Heisman winners most often come from contenders. Alabama, at the very least, is once again going to be a contender.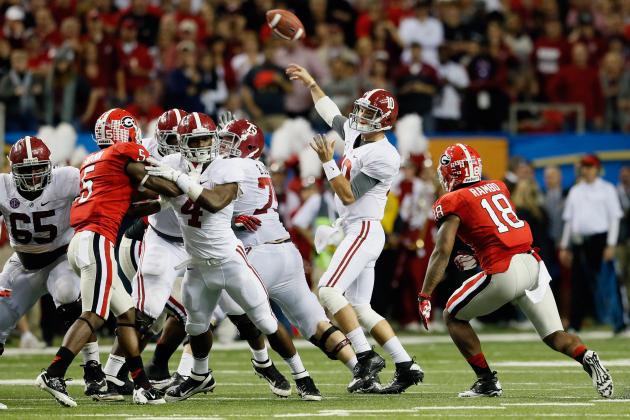 Kevin C. Cox/Getty Images

Alabama does not run a wide-open, pass-happy offense. The Tide mix a remarkably consistent balance of their punishing ground attack and dependable passing game.
Because of this, McCarron is not often as flashy as some of his fellow quarterbacks. Statistically, though, he is phenomenal.
In two years as the Alabama starter, McCarron has thrown for 46 touchdowns and just eight interceptions. He has completed 67 percent of his passes and led the nation in passing efficiency in 2012 after finishing 25th in his sophomore campaign.
In 2012, McCarron finished in the top 15 nationally in yards per attempt, completion percentage, touchdowns, interceptions and again led the country in efficiency.
It could be argued that, statistically, McCarron was the best quarterback in America last year.
Now, with more tools at his disposal than ever before, he may very well do it again.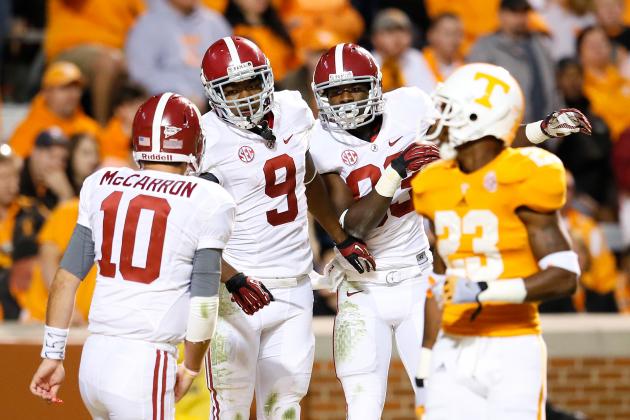 Kevin C. Cox/Getty Images

As good as McCarron was a year ago, he did it while somewhat hamstrung by injuries.
Receivers Chris Black and DeAndrew White were lost early with season-ending injuries. Deep threat Kenny Bell was absent in the title games with both Georgia and Notre Dame after going down late in the season.
This fall, they will all be back. More importantly, they will be joined by last season's freshman sensation Amari Cooper as well as Kevin Norwood and Christion Jones.
All told, McCarron will welcome back eight of his top 10 targets from a year ago.
The Tide offense this season may be the best Alabama has ever seen. With a healthy stable of running backs to maintain balance, McCarron should be able to throw at will and is going to have more options than ever to throw to.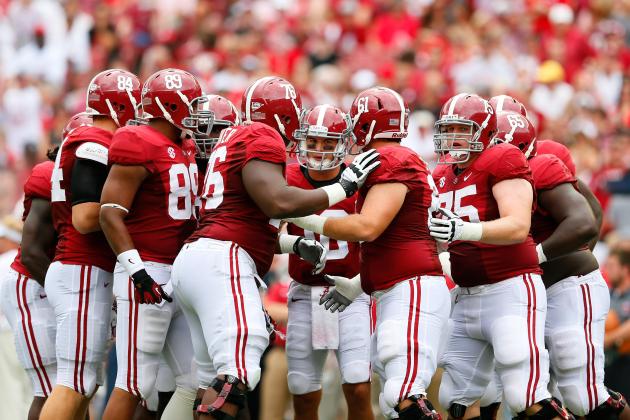 Kevin C. Cox/Getty Images

America loves a good story. America loves it when a wholesome, innocent and unassuming kid does good.
One look at McCarron tells you that he is nothing less than the golden boy of college football.
Given the fact that McCarron chose not to leave early for the NFL and instead returned for his senior year, he will already be a sentimental favorite for many Heisman voters.
While staying for his senior year helps, it is the track record of excellence that should push him over the top, though.
The polls are not out yet, but Alabama is likely to play as many as eight ranked teams again in 2013. If McCarron continues to be as statistically impressive and leads his team to another title or two this fall, he will have put together enough of a career at Alabama that it should overcome any arguments against his single-season numbers.
The good-looking country boy with the model girlfriend and more rings than the Olympic emblem will win out in the end.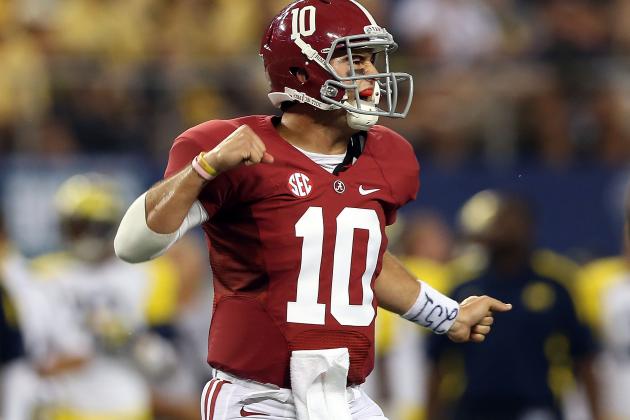 Ronald Martinez/Getty Images

Two of the top competitors for this year's Heisman will be Texas A&M passer Johnny Manziel and Georgia's Aaron Murray.
McCarron will face Manziel in September out in Texas in an effort to avenge his loss from a year ago. If Alabama wins as much as it will be expected to, McCarron will likely face Murray again in the SEC title game.
If the Tide make it to the BCS title game again, McCarron could very well face either Oregon's Marcus Mariota or Ohio State's Braxton Miller, both of whom are also going to be in the running.
With the rigorous SEC schedule that Alabama plays added to quality nonconference games with Virginia Tech and Colorado State, Alabama will have played a tough enough schedule that it won't be able to be used against McCarron in the Heisman conversation.
It all starts on September 14, though. If McCarron outduels Manziel in College Station, the Heisman hype will be off and running for sure.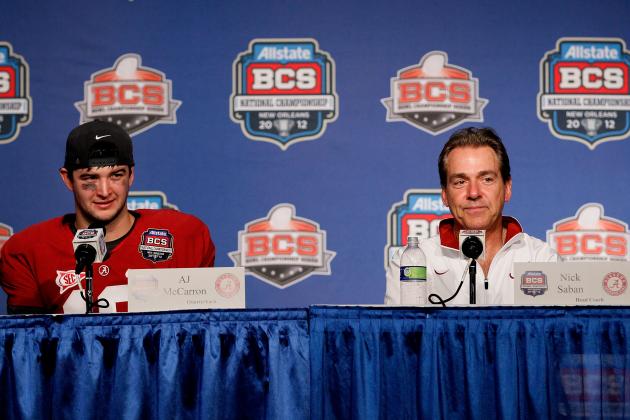 Chris Graythen/Getty Images

The season opener with Virginia Tech will be broadcast nationally on ESPN. The second game with the aforementioned Aggies of Texas A&M will surely be the national CBS game.
It is reasonable to believe that as many as nine of Alabama's 12 regular-season games will be aired across the country by either CBS or one of the ESPN networks.
There are very few programs that will be able to match the exposure that Alabama is going to get this season, especially if the Tide stay in the title conversation.
McCarron is already a household name. By mid-October, he may be the most recognized college player in the land.
With exposure like this, McCarron simply needs to continue doing his thing as he always has and the Heisman will come right to him.