Mike Gillislee: Video Highlights of Former Florida RB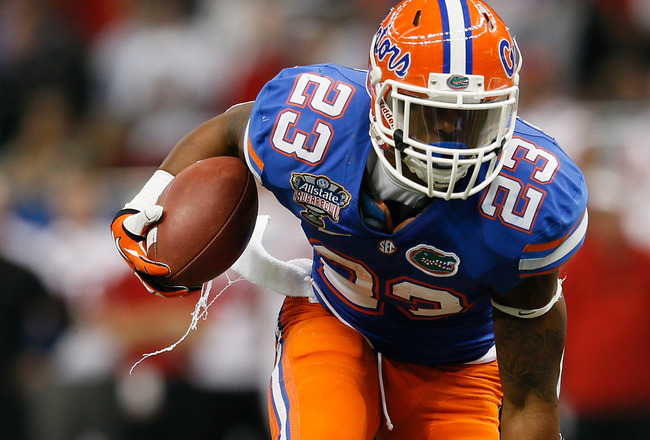 Kevin C. Cox/Getty Images
Despite a rocky start, Florida had a pretty good 2013, and a lot of their success can be attributed to a much-better-than-expected performance by running back Mike Gillislee.
In his first year as Florida's primary running back, Gillislee accumulated 1,152 rushing yards, 167 receiving yards and 11 total touchdowns.
Gillislee may not be the flashiest running back in the class, but he's a do-it-all type player who could be a steal in the middle to late rounds of the draft.
Here are some of his more impressive moments.
1. Gillislee Breaks out Against Tennessee
Now Gillislee's first game against Bowling Green was huge, but it was Bowling Green, so it didn't really matter. However, when he faced then-ranked Tennessee, who were coming off of impressive victories against NC State and Georgia State, the stakes were higher.
Gillislee responded by rushing for 115 yards, including a 45-yarder in the second half, which was more or less the death blow against Tennessee. When the inconsistent play of quarterback Jeff Driskel stalled Florida's offense, Gillislee kept it going.
Watching it again still makes me sad.
2. A Big Run Against Florida State
I love this run; it's simple, but perfectly executed by Gillislee.
He sees that his run route has been cut off, changes direction and guns it. However, what I really like about it is that there are two unblocked defenders right where Gillislee ends up running toward, but he trusts his blockers and goes.
His teammates don't let him down, pick up both blocks and Gillislee makes a bee-line for the end zone.
3. Reception and Run Against Missouri
It's becoming more and more important for running backs in today's NFL to be able to catch the ball well. The league has become more and more pass-oriented, so a guy with no hands will not be liked by scouts.
Here, Gillislee shows that he can do that when needed, but what's so great about the video is the number of defenders he then runs past after making the catch.
The end result is that he went untouched into the end zone.
4. Gillislee Grounds out a Long Game Against LSU
Against LSU, Gillislee was Florida's offense. He carried the ball 34 times in that game, a lot for a college running back. He had no big runs (his biggest being a 12-yard touchdown), but he showed toughness and consistency.
Jeff Driskel, Florida's quarterback, only completed eight passes that game; of Florida's 237 total yards, 146 came from Gillislee. He also scored both of the team's touchdowns.
Keep in mind that LSU had one of the best overall defenses in the country in 2012, and Gillislee's performance becomes all the more impressive.
Gillislee isn't the biggest back in this class, but he can be a workhorse at the next level.
5. 2012 Highlights
This highlight reel has a lot of great runs. From breaking what seems like a dozen tackles against Kentucky to outrunning an entire defense against Jacksonville State, it has everything.
That's the kind of back that Gillislee is. He can run with power and break tackles, he can run with speed when he gets into open space, he can catch passes and he can change direction quickly enough to make tacklers miss.
He isn't the kind of back who goes in the first round, but with his well-rounded skill set on tape and his phenomenal strength, he'll make an NFL team very happy in 2013.
Keep Reading

Miami Dolphins: Like this team?