5 Takeaways from Donaire vs. Rigondeaux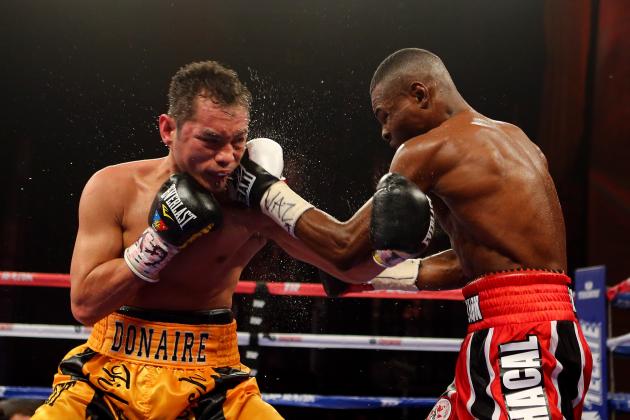 Al Bello/Getty Images
Rigondeaux dethroned the 2012 fighter of the year in New York City.
Guillermo Rigondeaux (12-0, 8 KO) stunned the boxing world with his lopsided decision win over reigning Boxing Writers Association of America Fighter of the Year Nonito Donaire inside of Radio City Music Hall this past Saturday night on HBO.
It was a near virtuoso performance for the 32-year-old Cuban, who never seemed troubled by anything the Filipino Flash threw at him. Short of a flash knockdown in the 10th round, the fight was dominant, convincing and truly stunning in its ease.
The win establishes Rigondeaux as the best super bantamweight in the world and will likely result in Donaire jumping to featherweight to pursue new challenges.
But what can we as boxing fans takeaway from this weekend's performance by both fighters? Let's explore the five things we got from this weekend's big fight.
Begin Slideshow

»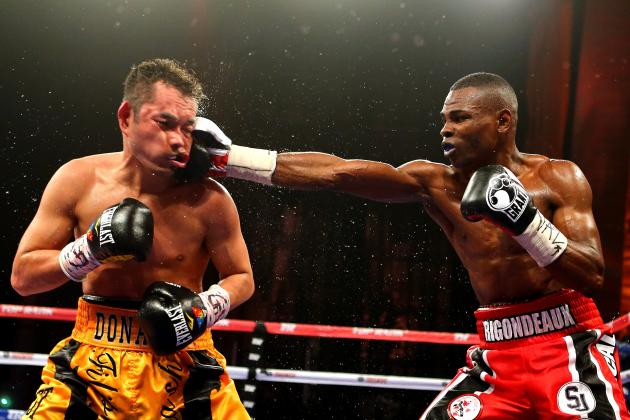 Al Bello/Getty Images
Rigo was dominant. Perhaps too dominant.
Guillermo Rigondeaux had over 400 amateur fights, in which he only lost a handful, and won two Olympic gold medals for Cuba before defecting in 2009.
His style is defense-oriented and relies on speed and thunderous counters that can absolutely knock out most fighters.
It's an extremely dangerous and hard-to-solve style, and even with his convincing win over Nonito Donaire, there will be no line of people willing to fight him.
You can call that a shame, but it's just the cold hard facts. As fans, you can always appreciate the brilliant boxing technique and tactics that mark Rigo's style, but to the casual fan, that stuff doesn't sell anymore.
Mikey Garcia is a possibility if he jumps to featherweight, but that could be another stylistic nightmare that a lot of people probably won't want to see.
He's simply too high-risk-and-little reward for most fighters. You're more likely to see the loser of this weekend's fight, Donaire, secure a high-profile fight first.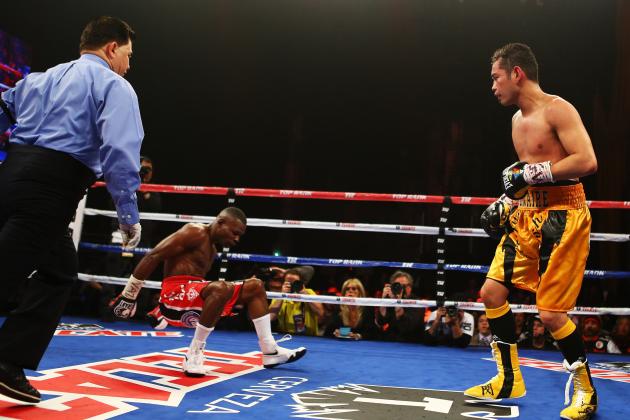 Al Bello/Getty Images
Despite the flash knockdown Donaire was totally outclassed.
For a fighter who had as impressive a 2012 as he did, Nonito Donaire absolutely stunk it up at Radio City Music Hall. Most of the credit for that absolutely belongs to Guillermo Rigondeaux, who had him befuddled and unable to get into any sort of offensive rhythm.
But Donaire also didn't do himself any favors by more or less admitting in the ring after the fight that he didn't adequately prepare for Rigo's style.
There were times he looked completely out of sorts and confused by what Rigondeaux was doing in the ring. He admitted after the fight that he didn't study his style, and it clearly showed.
It was a terrible job by a professional fighter heading into the biggest fight of his career. Granted, he has larger issues to focus on (his wife is having a baby in July), but that's not an excuse.
When you sign up to fight, you prepare. Or you don't fight.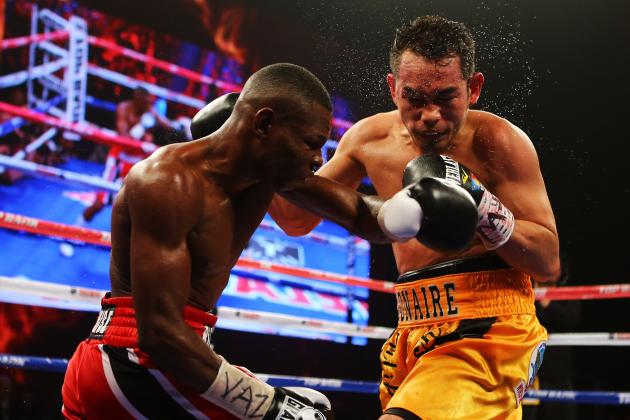 Al Bello/Getty Images
Over 400 amateur fights apparently do matter.
Guillermo Rigondeaux entered the ring on Saturday night with just 11 professional fights under his belt.
Granted, he won an interim world title in his seventh and the full title in his ninth, but many felt he would simply be too inexperienced for Nonito Donaire.
All of those people were wrong. Dead wrong.
Rigo's 400 amateur fights were more-than-adequate preparation for the biggest fight of his professional career. His style may not have been exciting or aesthetically pleasing, but it wins in the ring.
For virtually every minute of nearly every round, it was Donaire who was made to look like the amateur and Rigo the seasoned professional.
Guess all those amateur fights mattered after all.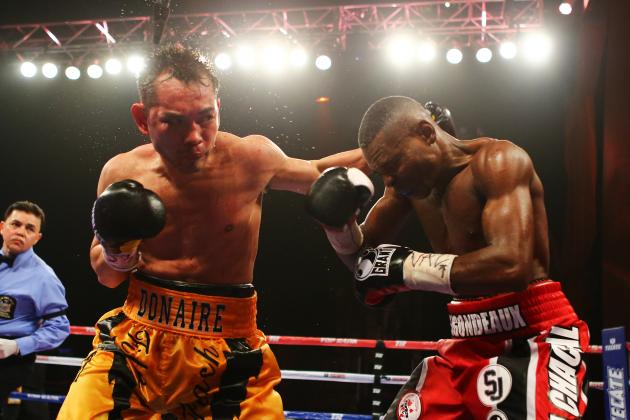 Al Bello/Getty Images
Donaire is still a big name and will be back.
Despite his horrific performance in the biggest fight of his career, we will definitely see Nonito Donaire back in a big fight before long.
And you can put money on him being the one who gets the big fight before Guillermo Rigondeaux.
Unfair? Yes.
But those are just the realities of the sport and the financial considerations that govern it. It's not enough to just be talented. You must have a style that appeals and sells to the public.
Rigo absolutely has that when he wants to use it. When he stands and trades, he can hit with the best of them. But his performance against Donaire, while effective and truly a boxing clinic, will make him a very tough sell.
For the Filipino Flash, the options are more varied.
A move to featherweight appears imminent, and Donaire hinted at difficulty making weight after the fight, where fighters such as Mikey Garcia and Orlando Salido among others await (h/t Boxing Scene.com).
With his history of exciting and appealing fights, he is a much easier sell than Rigondeaux and will likely be the one who cashes in despite the loss.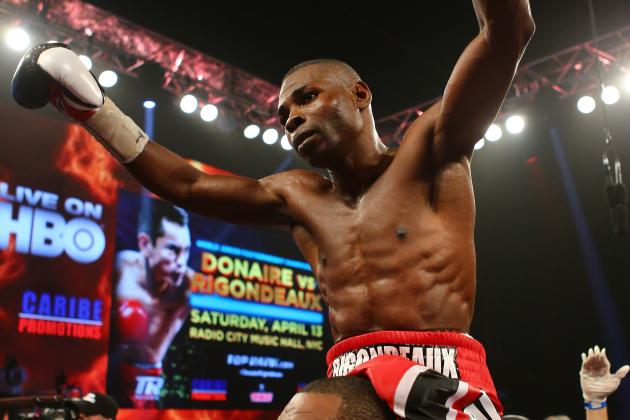 Al Bello/Getty Images
Nobody wants to see this fight again.
With the official scorecards as close as they were, 114-113, 115-112 and 116-111, you might come away with the perception that this was a close, competitive fight, if you didn't watch it.
It wasn't.
Nonito Donaire was simply outclassed on this night by the better man in Guillermo Rigondeaux.
Bottom line. End of story.
There were some floating the possibility of a rematch after the fight, possibly at featherweight, but that should not happen.
This, simply put, wasn't a very good fight. It wasn't entertaining, fun to watch or dramatic in any way. Each round was more or less exactly the same as the one before it.
People who tuned in with the hopes of fireworks were sadly disappointed, and there's nothing to suggest a rematch would be any different.
Pass.