USC Football: Winners and Losers of the Spring Game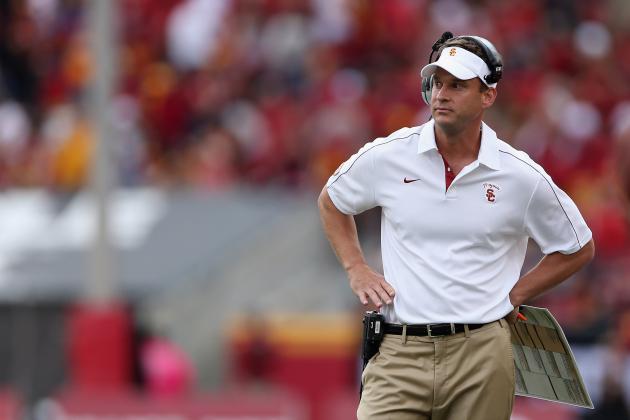 Jeff Gross/Getty Images

In what can only be described as an odd culmination to the spring practice session, USC spent Saturday afternoon playing a rousing game of "touch" football.
With healthy bodies at a premium, head coach Lane Kiffin decided that tackling would not be in the best interests of his football team and thus this was not allowed.
What the Trojans were left with was an interesting display of gridiron prowess that decidedly favored the offense, and that side of the ball took full advantage of the circumstances.
While many questions—particularly on the defense—have not been resolved, fans of the program were still treated to a preview of what the Trojans are capable of in 2013.
This slideshow will take a look at who shined at this game and who did not.
Whether or not this game was really representative of how USC will perform in the upcoming year is for you to decide, but I think all concerned can't wait for fall...
And real tackle football.
Begin Slideshow

»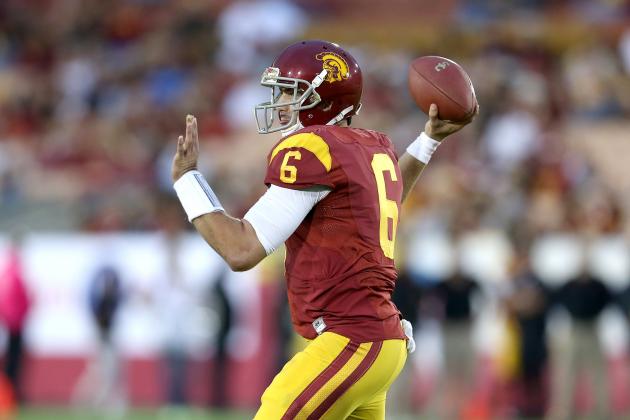 Stephen Dunn/Getty Images
Cody Kessler
One of the biggest question marks of 2013 is who will take the place of departing quarterback Matt Barkley.
While none of the candidates—Max Wittek, Cody Kessler or Max Browne—can hope to truly replace Barkley, a Trojan legend, all are eager to give it a shot. So far in the spring, each of them have had their moments.
In the spring game, all of the aforementioned gunslingers did well, and because of this, Kiffin will have a difficult time ascertaining who the starter will be in the fall.
Statistically, Kessler had the best stats of the three, completing 15 of 22 passes for 242 yards and three touchdowns.
However, both Wittek (12-of-17 for 145 yards and two TDs along with two interceptions) and true freshman Browne (7-of-11, 80 yards with a touchdown and an interception) both looked very good as well.
However, the nagging question is whether the quarterbacks were really that good or if the secondary was that bad.
Which leads us to...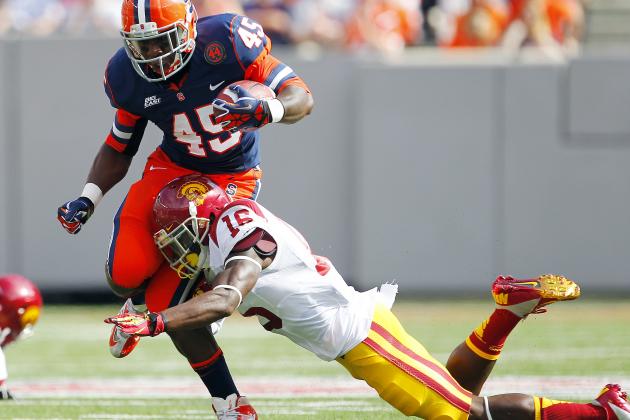 Rich Schultz/Getty Images
Anthony Brown
It is with some reservations that I include the secondary in any list of losers.
After all, how would you like to try covering Marqise Lee, Nelson Agholor or Victor Blackwell?
Still, the stats are what they are, and in this contest, the secondary was burned for 467 yards and five touchdowns, which by any measure is not a good day at the office.
On the other hand, this unit also had three interceptions and several pass breakups.
Specifically, Kevon Seymour, Devian Shelton, Chris Hawkins and Anthony Brown all had some nice plays to mitigate the poor ones.
However, this unit will have to improve significantly in the fall for the Trojans to be successful in 2013.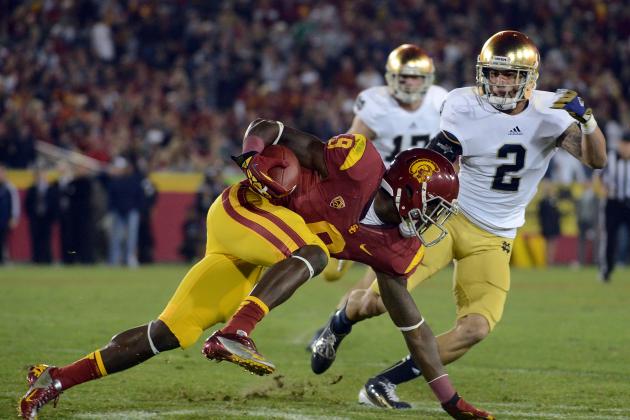 Harry How/Getty Images
Marqise Lee
As stated before, it is going to be a long day at the office for anyone unfortunate enough to have to cover the likes of Lee and Agholor.
Now you can add Blackwell to the list of talented receivers Kiffin has at his disposal.
Blackwell—who has patiently waited his turn while the now departed Robert Woods and Lee have made their marks—shined at the spring game with seven receptions for 155 yards and a touchdown.
Taking advantage of increased playing time due to George Farmer's unfortunate knee injury, Blackwell served notice that opponents will have more to worry about than the dynamic duo of Lee and Agholor.
Speaking of which, it was more of the same for Lee (eight receptions for 148 yards and three touchdowns) and Agholor (seven catches for 106 yards and two TDs) and one can only pity opposing defensive coordinators who will spend many sleepless nights trying to figure out how to contain these two.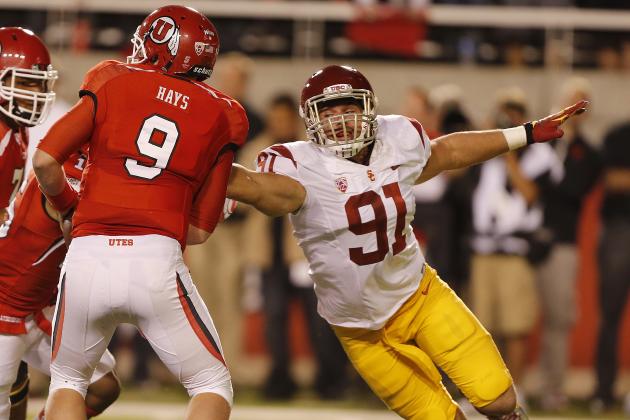 George Frey/Getty Images
Morgan Breslin
If it was frustrating watching new defensive coordinator Clancy Pendergast's 5-2 scheme being played with the front seven's hands tied behind their back, think how tough it must have been for the players themselves.
Itching to lay the wood on whomever was toting the ball, guys like George Uko, Morgan Breslin, Hayes Pullard and the rest of their cohorts instead had to be satisfied with hugging their offensive counterparts.
And because of this, Pendergast will have to wait to see exactly how effective his charges will be, especially when it comes to stopping the run.
This is not to say that the players in question didn't have their moments, because they did with Breslin being credited with 3.5 sacks and true freshman Kenny Bigelow getting two sacks himself.
However, the defense is still a story to be written, and the next chapter will have to wait for the fall.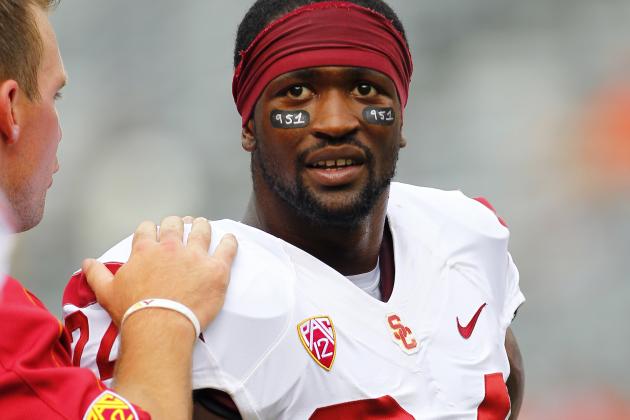 Rich Schultz/Getty Images

With USC's defensive secondary in flux, safety Demetrius Wright has had all spring long to impress his defensive coordinator and head coach.
Unfortunately for Wright, he has come up short and this has left him being relegated to backup status as of the spring game.
How did Wright respond? Check out this tweet from Rich Hammond@RegisterUSC:
RT @registerusc Kiffin moved Demetrius Wright to second-team safety today, told him, "If you don't like it, make plays." He had 2 INTs.

— USC Football News (@USCFootballNews) April 13, 2013
Two interceptions? That makes him a winner.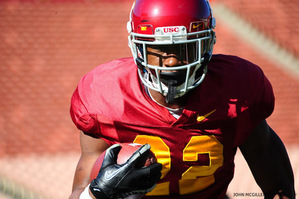 Justin Davis (photo from usctrojans.com)
Much was made of true freshman running back Justin Davis and his tremendous abilities toting the rock.
Fans of the program eagerly awaited witnessing the exploits of this precocious phenom, and while they were at it, they also wanted to see what other running backs such as Javorius (Buck) Allen and Tre Madden had in store for them.
Unfortunately, they will have to wait until the fall.
Obviously deterred by the no-tackling policy, the running backs had a dismal showing in the spring game.
How bad was it for the running backs? Try 37 yards on 19 carries (1.9 YPC).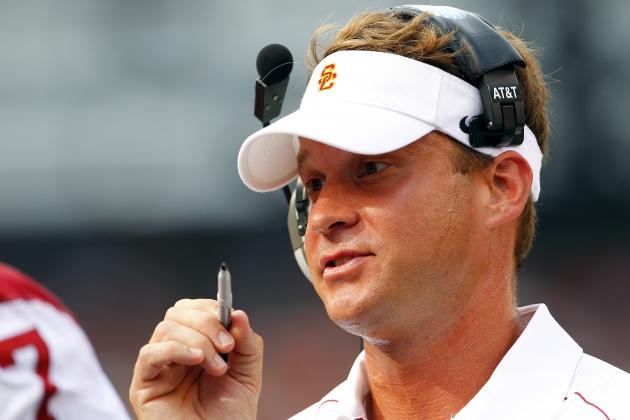 Rich Schultz/Getty Images

Although there were some very good things that came out of this game, overall, it left many unsatisfied due to the absence of tackling.
For Kiffin, the decision not to tackle represented the lesser of two evils as he has too many bodies still on the mend.
Trying to protect an already-depleted roster, the head coach and his staff will have to wait until the fall to see exactly what they have for the 2013 season.
In the meantime, USC fans will have to embrace a team that appears to be loaded on offense and hope that the defense will be just as good once the "handcuffs" come off later in the year.
And that will have to satiate a hungry fanbase for the time being.