Boise State Football: Winners and Losers of the Spring Game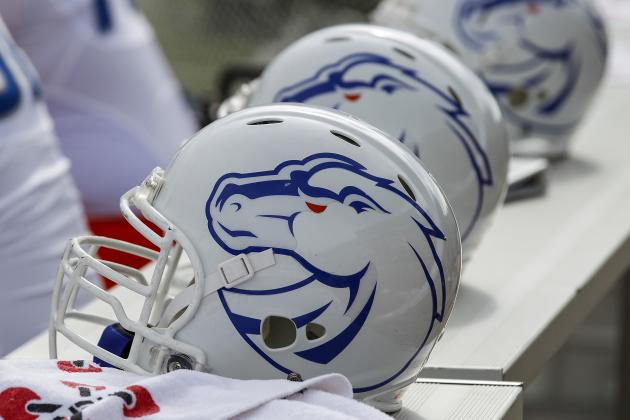 Troy Babbitt-USA TODAY Sports

Boise State held its annual Blue and Orange spring game on Saturday. Despite the wind and cool temperatures, it seemed to be a decent turn out by the Broncos fans.
Offense won the game, 28-19, but the defense showed some serious promise.
There were a few letdowns, mistakes, missed tackles, dropped balls and a couple of injuries on the day, but that's to be expected in the spring.
Let's look at the winners and losers from the 2013 Boise State Blue and Orange spring game and what it all might mean for the Broncos.
Begin Slideshow

»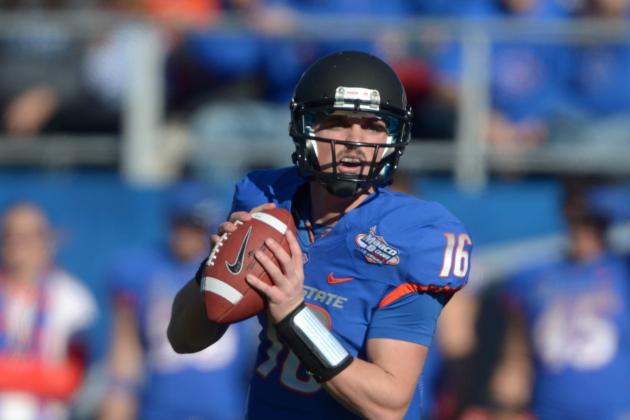 USA TODAY Sports

Quarterback Joe Southwick looked good leading the offense on Saturday.
The Broncos utilized a lot of no-huddle to keep the defense on its heels. It took a bit to get things going, but by the second quarter it was clear that Boise State has a senior quarterback.
On the day, Southwick completed 12 of 20 passes for 113 yards and one touchdown.
The wind seemed to effect the long ball, but Southwick hit some pretty mid-range and short passes. He also scrambled extremely well, and by the number of stars on his helmet, it appears he has had a very good spring.
He capped his spring camp off with a solid performance in the spring game. It was enough that it should give his team, his coaches, himself and the fans a good level of confidence going into the fall.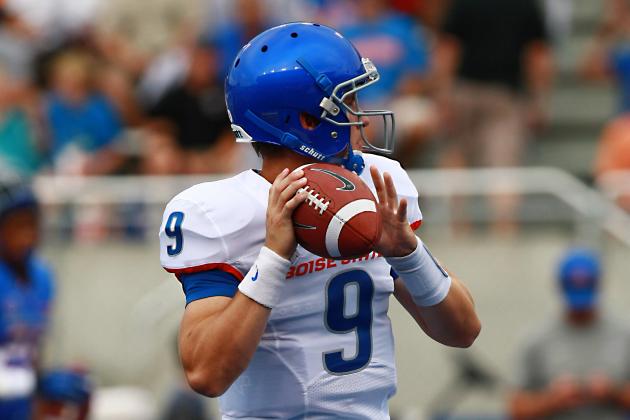 Brian Losness-USA TODAY Sports

If it wasn't for his interception, Grant Hedrick would have had an extremely good game. However, going 10-of-14 with an interception and a touchdown was enough to make him a winner on the day.
Hedrick also moved well when scrambling, and his 71.4 percent completion rate was the best of the four quarterbacks.
Southwick is clearly the starter, but Bronco fans can be confident that they have a good backup come this fall.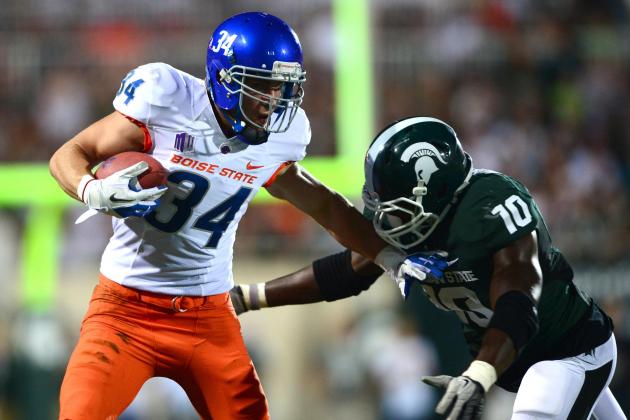 Andrew Weber-USA TODAY Sports

Kirby Moore is a very good receiver. He proved that a few times on Saturday.
However, what he also proved is that he is not his brother.
Although it was just one play, Kirby Moore threw a pass that nearly sailed into the bleachers. Okay, maybe not that far, but it went so far above his intended receiver and so far out of bounds that he had better claim he was "throwing the ball away."
Truth is, he might have been.
However, what will no doubt happen when the team reviews the film is that a few comments might be directed at No. 34. All in fun, of course, but they will be well deserved.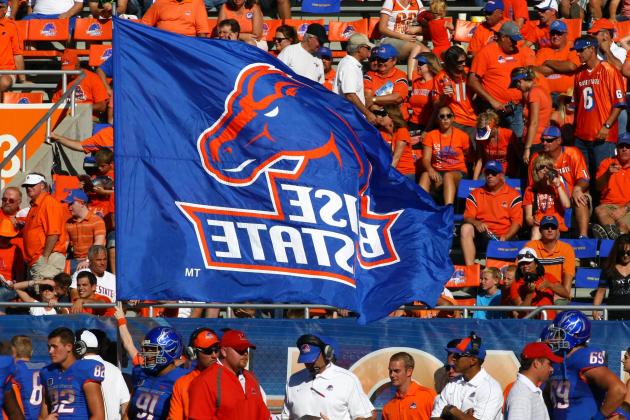 Brian Losness-USA TODAY Sports

Dan Goodale is a redshirt junior that seemed to be destined for being the backup field-goal kicker in 2013.
When the Broncos went out and recruited a JUCO transfer named Tyler Rausa at the position, it appeared as if Goodale would take a back seat.
However, a funny thing happened on the way to assuming. Goodale stepped up. Or at least so far he has.
In the spring game, Dan Goodale hit his PATs, but he also hit some good field goals in the kicking session. Not only that, but his kicks seemed to be with some power and accuracy, even from distance.
Now, of course, the wind helped a bit, but it had to be nice for Boise State fans to see kicks sailing through the uprights.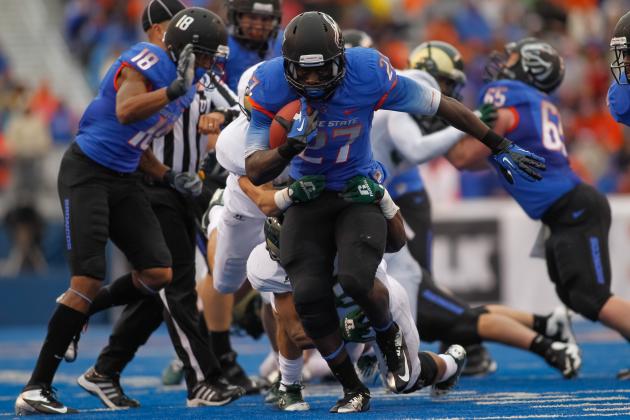 Otto Kitsinger III/Getty Images

Jay Ajayi looked just like Jay Ajayi on Saturday.
He carried the ball 11 times for 69 yards and a touchdown. He looked like his usual powerful self, and this fall it is going to be interesting to see how good Ajayi does.
He is poised to have one of those "special" seasons.
If he stays healthy, Boise State is going to have a very solid rushing attack in 2013.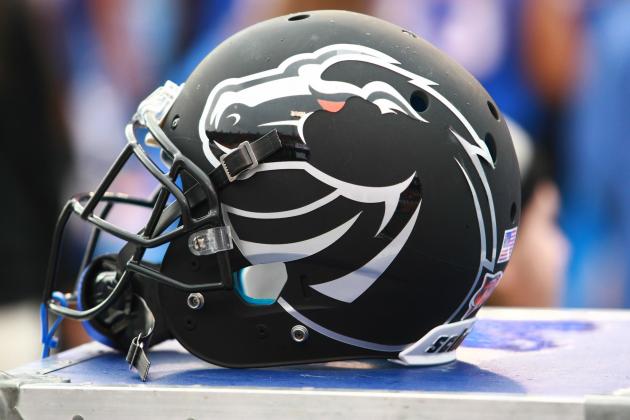 Brian Losness-USA TODAY Sports

Devan Demas can't be happy with his spring game performance.
On the day, he carried five times for five yards, and one of his carries was for four yards.
You do the math.
Demas has speed, moves and quickness.
However, none of that showed on Saturday. Just a redshirt freshman, Demas has some time to improve.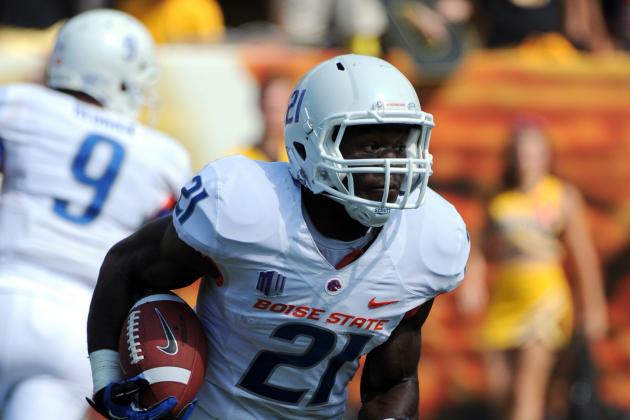 Chuck Cook-USA TODAY Sports

Jack Fields has to be very unhappy with his spring game performance.
On the day Fields carried the ball once and gained just one yard. He was clearly out shined by JUCO transfer Derrick Thomas and redshirt freshman Charles Bertoli. Even walk-on Jamel Hart looked better.
In fact, Hart showed some promise, but Fields looked like he may need to take advantage of a redshirt.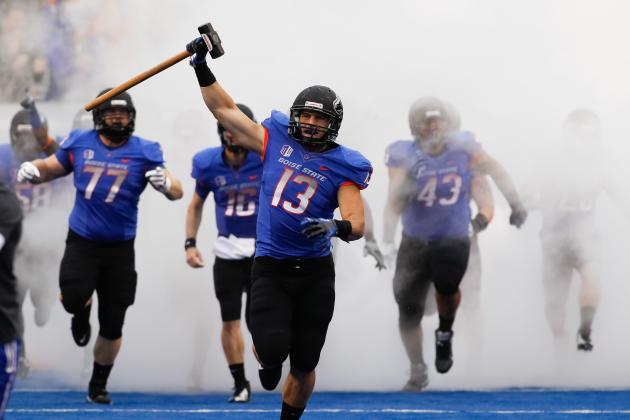 Otto Kitsinger III/Getty Images

Blake Renaud was one of the stars on defense for the Broncos Saturday.
On the day Renaud led the team in tackles with eight total. He was also moving all over the field and seemed to be everywhere.
Renaud is playing at a high level, and a way too early prediction could be that Renaud is going to be a premier linebacker in the Mountain West Conference in 2013.
If the spring game is any indication, that prediction might come true.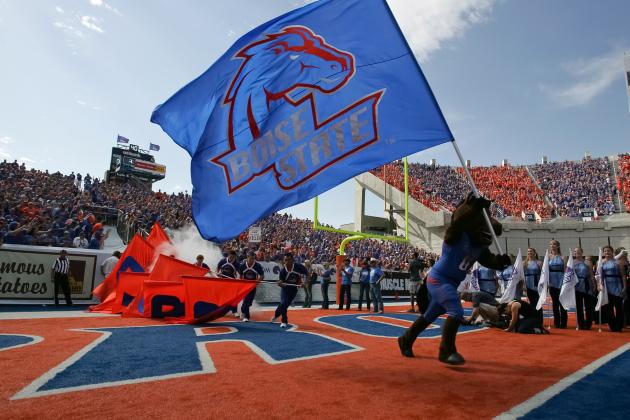 Otto Kitsinger III/Getty Images

The wind was just miserable on Saturday.
Snow is probably worse, but wind has to be second on the list of horrible conditions to play football.
It made the game a bit sloppy at times and made the long ball all but impossible. Still, the Broncos adjusted, and the crowd didn't seem to mind—too much.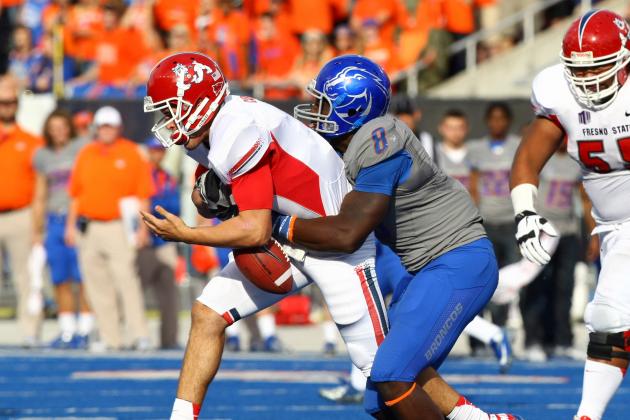 Brian Losness-USA TODAY Sports

As usual, Demarcus Lawrence impressed.
This guy is the real deal. He plays with passion and power. He did so again on Saturday.
On the day, Lawrence had seven tackles, a tackle for a loss and a sack. When he was in the game, the defense was visibly better.
Look for Lawrence to wow a whole lot of people in 2013.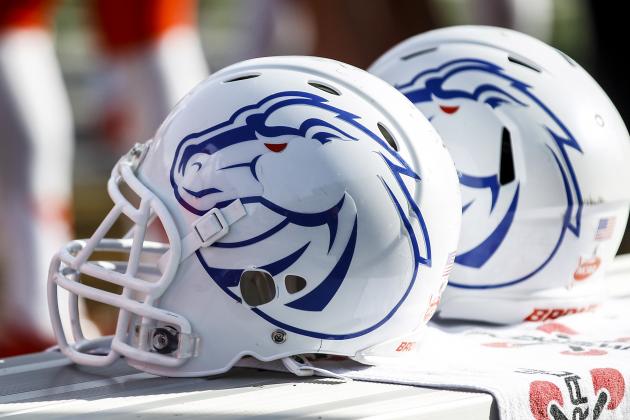 Troy Babbitt-USA TODAY Sports

The player that made the biggest splash, at least on defense, was cornerback Donte Deayon.
His coverage was good, his tackling was as well. But it was his interception for a touchdown that was most impressive.
It is probably safe to say that Deayon is going to get some playing time this fall.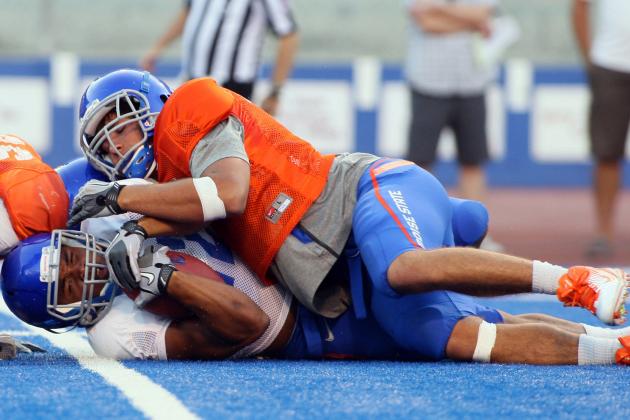 Brian Losness-USA TODAY Sports

Travis Saxton is another Boise State linebacker who made some noise Saturday.
He had some great tackles and made some very good hits. He had seven tackles on the day and one of those was for a loss.
Ben Weaver, also a linebacker, had seven tackles of his own.
Overall, it looks like guys are stepping up for coach Chris Petersen.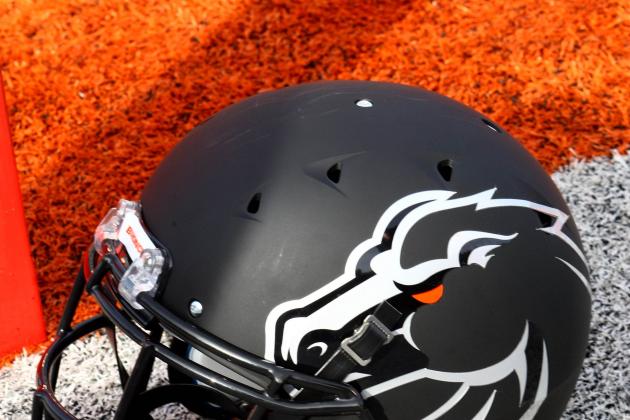 Brian Losness-USA TODAY Sports

The Deuce is loose in Boise, Idaho.
Deuce Mataele showed up in a big way on Saturday. The JUCO transfer has been making noise in spring camp, and it shows.
Mataele had six tackles on the day with two of those for a loss. He also forced a fumble.
He was powerful on the line, had some solid stops and looked like he has been playing for the Broncos for a long time.
This is a guy who is going to make Broncos fans smile.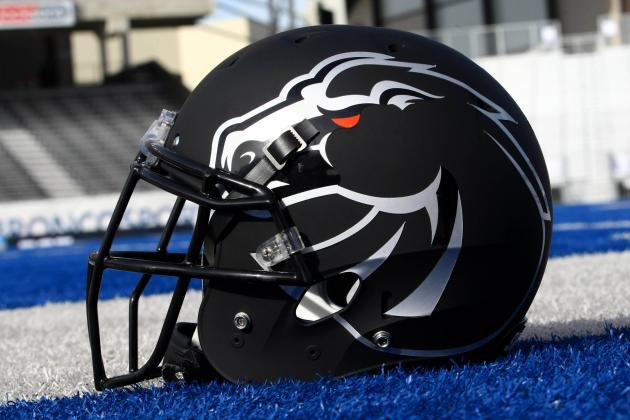 Brian Losness-USA TODAY Sports

Redshirt junior tight end Kyle Sosnowski made just two catches on Saturday, but they were both impressive.
His two receptions were good enough for 22 yards, but it's how he made the plays that made the crowd take notice. He caught the ball in traffic and showed toughness and grit.
Another tight end able to make plays would be a huge addition to the 2013 Boise State offense.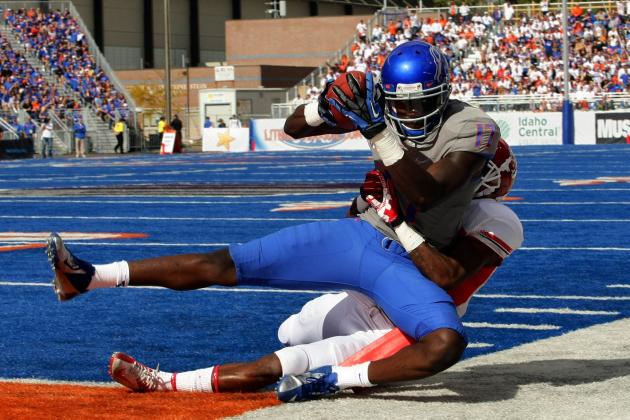 Brian Losness-USA TODAY Sports

Wide receiver Geraldo Boldewijn had a couple of very good catches on the day. He also had a touchdown grab and 32 yards receiving.
However, he seemed to have hit the turf hard and had to be attended to by the trainers. He did appear to be okay after a bit but didn't return to the game.
It appears that he will be just fine, and after seeing what he could be doing this year, Broncos fans have to be hoping he is.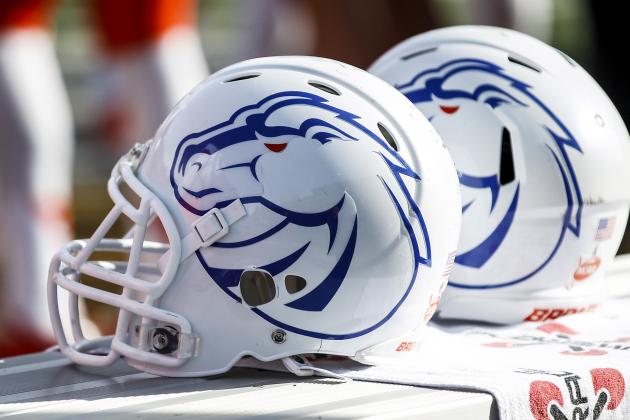 Troy Babbitt-USA TODAY Sports

Some backup running backs made some noise on Saturday.
Derrick Thomas, a JUCO transfer, and Charles Bertoli, a redshirt freshman, made the most of their day.
Thomas carried eight times for 27 yards, and Bertoli had five carries of his own for 24 yards. Both of these guys looked impressive, powerful and agile.
Thomas also caught two passes out of the backfield for 15 yards, and on one of those, he made a defender miss in a big way.
The Broncos have a stable of running backs this season.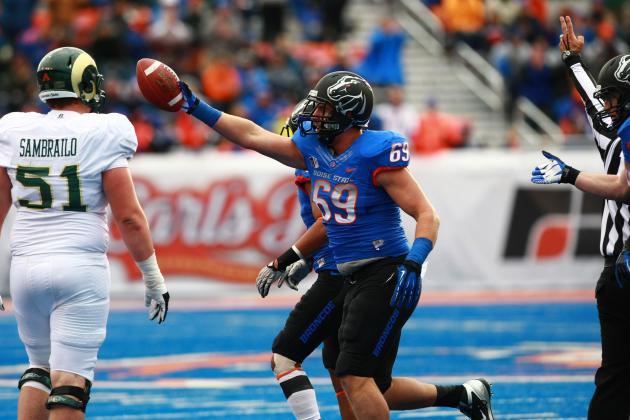 Brian Losness-USA TODAY Sports

Tyler Horn made some noise as well.
He played a solid game racking up a couple of tackles, but it was his interception that gives him his winner status this time around.
It is always nice to see the big guys take the ball away, and on Saturday it happened.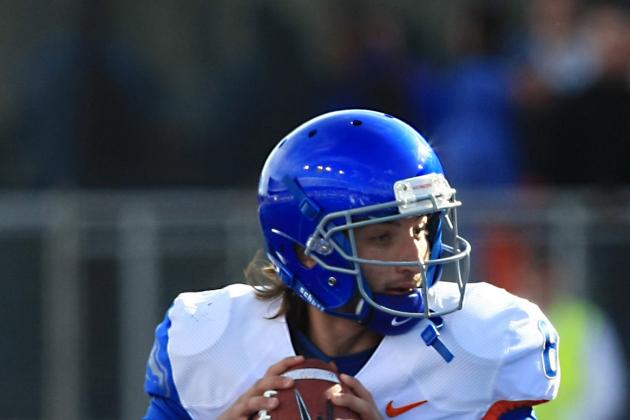 Brian Losness-USA TODAY Sports

Quarterback Nick Patti seemed to struggle during the game.
He threw just three times for two completions and 13 total yards. He did have a decent scramble for five yards, but he also looked like he got dinged up a bit.
Probably not the game he wanted to have, but it could be good motivation for him come this fall.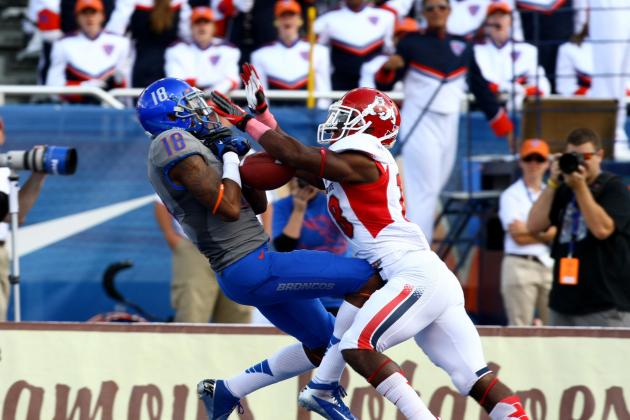 Brian Losness-USA TODAY Sports

Wide receiver Aaron Burks had a great day.
He caught seven passes for 50 yards. He also looked good doing so.
The Broncos have a very deep wide receiver corps, and that should bode well for Boise State during the season. Especially the way the quarterback seems to be playing.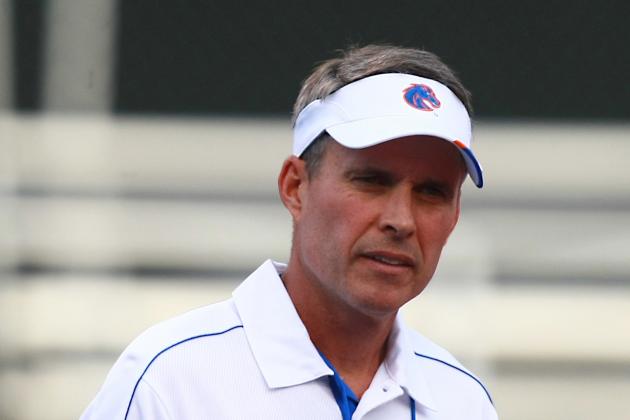 Brian Losness-USA TODAY Sports

Head coach Chris Petersen and his staff continue to do an amazing job rebuilding the Broncos year after year.
It looks like the 2013 Boise State football team is going to look a lot like the Broncos everyone is getting used to seeing.
This group has a lot of talent, and overall the offense and defense appear to be in great shape.