The Ultimate Fighter 17 Finale Results: The Real Winners and Losers
Jayne Kamin-Oncea-USA TODAY Sports

When he's allowed to control the action, decide on the pace and position and to explode when the moment is right, there are few fighters better than bantamweight contender Urijah Faber. Scott Jorgensen tried his best to keep Faber on his heels instead, and even succeeded at times. He pushed the "The California Kid" when he could, landing some solid left hooks and securing several strong positions on the ground.
It wasn't nearly enough.
In the end, Faber proved too much for Jorgensen, a game wrestler who pushed him when he could but couldn't really shoot in with reckless abandon because of Faber's strong and daunting guillotine choke. When Jorgensen shot and missed, he found himself in immediate danger.
It was a strong back-and-forth fight with lots of exciting exchanges on the mat. Finally, in the fourth round, Faber was able to secure a rear naked choke and end the fight. Of course he did. In non-title bouts, Faber remains undefeated in his career. Only time will tell if he can once again perform at that level when UFC gold is on the line.
Faber wasn't the only winner on the night. What's interesting about mixed martial arts is that performances aren't simply binaries; there is more to the game than just winning and losing. A fighter can win over the fans in a valiant but ultimately unsuccessful bout.
Likewise, an athlete can lose in the hearts of the fans and the minds of the matchmakers by winning a dull and dreary fight. The UFC is sport—but it's also sports entertainment. So, who were the real winners and losers on the night? Click on to find out. Disagree? Take me on in the comments.
Begin Slideshow

»
Gary A. Vasquez-USA TODAY Sports

Uriah Hall was seriously being discussed as a UFC middleweight title contender.
No, seriously.
Instead, he was beaten by the unheralded and unknown Kelvin Gastelum. It turns out there's a reason that Hall was available for The Ultimate Fighter: His fight IQ and his ground game need a lot of work before he's anywhere near ready for prime time.
The UFC wanted Hall to be the next big thing. The announcers, Kenny Florian and Jon Anik, compared him to Anderson Silva, hilariously right after Hall had clearly lost the first round to Gastelum. The timing wasn't right—and it appears now that it may never be.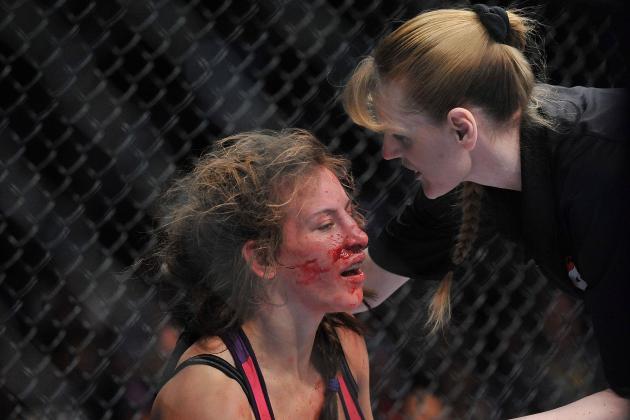 Gary A. Vasquez-USA TODAY Sports

Miesha Tate could practically smell the rematch with Ronda Rousey. It's a loss that has haunted her, one that she's talked about nonstop since Rousey first wrecked her arm last March.
Unfortunately, she forgot that Cat Zingano would be standing in her way. That Cat Zingano had her own hopes and dreams and would fight just as hard to see them realized. Zingano wanted to star in The Ultimate Fighter and compete with Ronda Rousey for a world title too. And, in the end, she's the one who earned the right.
Zingano is super raw, a talented athlete who still has a lot to learn about the fighting arts. Standing, she kept her hands low, which allowed Tate, who's never been known for her boxing game, to tag her several times.
On the mat, she didn't always seem to know exactly how to escape bad positions. Tate took advantage with some solid ground-and-pound. But Zingano survived—and when she had her opportunity, after Tate foolishly searched for a heel hook and gave up position, she attacked with ferocity.
Tate had no answer for Zingano's pure power (or a questionable knee that knocked her silly in Round 3). A series of solid knees finished her night.
I thought the end of the bout came a moment too soon. Yes, Tate had been wobbled, but it wasn't the blows that brought her down. She actually appeared to be shooting for yet another takedown.
It's hard, however, to muster up the energy to complain too loudly. Tate looked nearly done. And perhaps referee Kim Winslow made the right call, choosing to protect Tate's safety rather than to allow unnecessary and superfluous damage. It's a judgement call. While I would have made another decision, I don't think this was a game changer.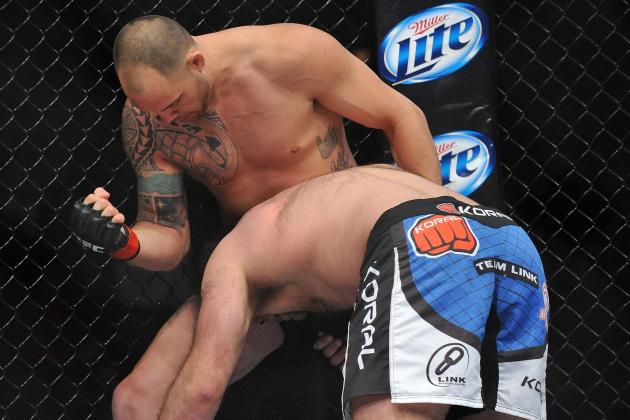 Gary A. Vasquez-USA TODAY Sports

The real Travis Browne remains undefeated, knocking veteran Gabriel Gonzaga loopy with a series of elbows to the head in the first minute and change of their heavyweight bout.
Before you furiously scroll down to leave an angry comment, schooling me about Browne's loss to Antonio Silva in his last fight—I know. But that loss didn't reflect Browne at his best. He fought with a torn hamstring, and many who have followed his career closely didn't consider the Browne who competed that night to be the real deal.
Still, a loss is a loss. And if that cliche holds, then a win is a win too. Even if—like this one—the win is a product of an illegal move.
Browne dropped Gonzaga with elbows, true. But many of them were illegal, landing cleanly on the back of the head. The referee didn't seem to notice. Fans on Twitter are a little savvier though.
@mmaencyclopedia The first that landed was clean, the one that put him out... not so much. The third that connected clean... illegal too.

— Nathan (@ACCBiggz) April 14, 2013
Browne may have won the fight, but all anyone wanted to talk about afterward was how he managed it, not how quickly he had come back or how bright his future looks.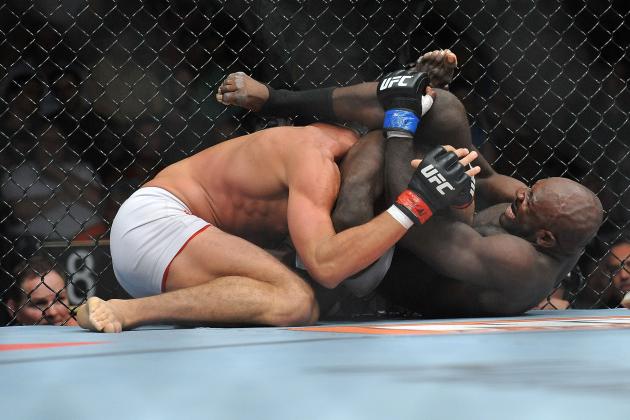 Gary A. Vasquez-USA TODAY Sports

In the corner of the Blackhouse gym—in my imagination, at least—there is a treadmill going orange with rust. It can tilt up and down, creating the opportunity for some serious incline work, but alone it sits.
Kevin Casey, despite weeks in camp, has never once stepped on board.
I don't know whether that's true or not. Obviously, Casey wasn't sending me regular updates as the weeks went by; I don't know the man. But it sure seemed true as I watched him try in vain to suck in air after the first round of his fight against Josh "Silver" Samman.
Kevin Casey's cardio reminds me of that episode of the Simpsons when Homer became a boxer

— Ed (@Gibbe84) April 14, 2013
Casey put on a respectable showing in the first, but unfortunately, it was a three-round fight. The Brazilian jiu-jitsu expert was spent after just five of a scheduled 15 minutes and was easy picking for Samman in the second round, victim of a brutal Muay Thai clinch.
What difference would a few tilts with the treadmill have made? It's impossible to say. But based on the first round, before he gassed out, an in-shape Casey might have earned a different result had he been fit to fight the whole bout.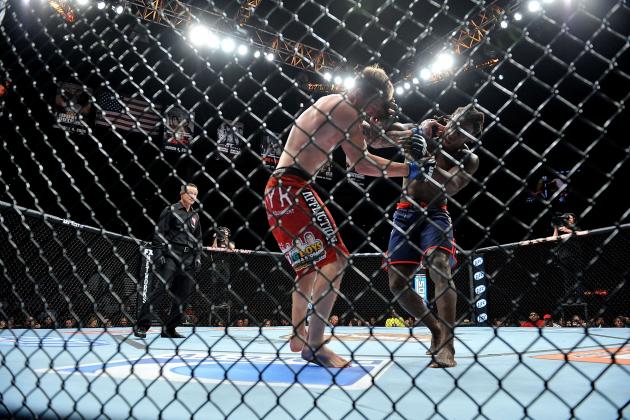 Gary A. Vasquez-USA TODAY Sports

Pity the poor elbow. For years it has been the most despised and least effective strike in the MMA oeuvre. That, at least, was the common consensus, much of it informed by former UFC champion and longtime announcer Bas Rutten, who felt strongly enough about the subject that he told Middle Easy he'd like to see the elbow strike banned from organized MMA:
How many people have you seen get KO'd by elbows? You can count them on one hand. You just get cut, its only on the outside, nobody gets knocked out!

I don't get it, you know.I would say... allow knees on the ground because that will knock people out. Getting hit by a elbow and get cut. That's not me.

I know people who have based their entire career of cutting people. Never knocking anybody out, never submitting anyone. Not even cutting by elbow strikes, just rubbing it. That's it. And then they will win the fight.
A couple of recent shows, however, have left many fans questioning the World According to Bas. Who could forget Chris Weidman's vicious elbow that ended Mark Munoz's night last year in the bout the launched Weidman into the rarefied air of contendership?
And while the stakes were much lower, Clint Hester landed a similar shot against Bristol Marunde, sending the former TUF star's body into all kinds of weird convulsions. It's enough to make a man consider anew whether Rutten is really a trustworthy source. After all, for the bulk of his actual fighting career in Pancrase, elbows were forbidden—the same for the promotion in which he made his announcing bones, the legendary Pride Fighting Championships.
Perhaps, gulp, Bas was speaking from a position of ignorance? Because from where I was sitting, the elbow looked pretty fine indeed.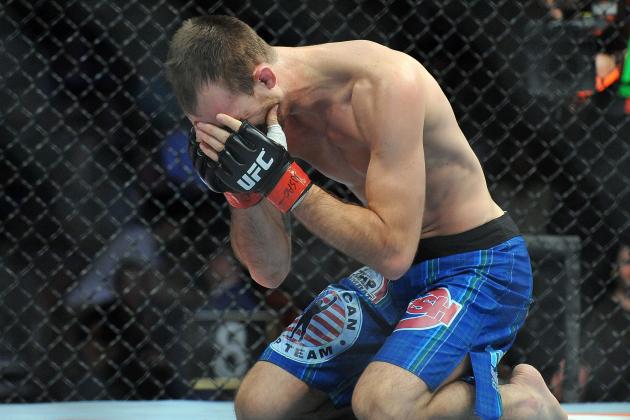 Gary A. Vasquez-USA TODAY Sports

Cole Miller's back was most certainly up against the wall. A UFC veteran of almost six years, his time in the promotion seemed all but over coming into his bout with Bart Palaszewski. Miller had lost twice in a row, most recently to the entirely marginal Nam Phan. Another loss, if past is prologue, would have spelled the end of his UFC tenure.
Miller's run has been an exciting one. He's taken home bonuses for either Fight, Submission or Knockout of the Night five times in his career, and it would have been a shame to see him go. Luckily, it seems, Miller fights best when the stakes are high, becoming just the fifth fighter in more than 50 pro bouts to stop the tough Palaszewski.
"If I had lost this fight I would have been in the unemployment line," Miller said after the fight. "This is where I belong, the UFC featherweight division."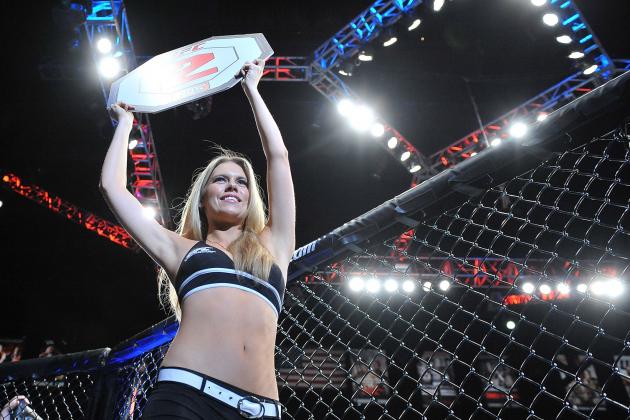 Gary A. Vasquez-USA TODAY Sports

Urijah Faber defeats Scott Jorgensen via rear naked choke at 3:14 of Round 4
Kelvin Gastelum defeats Uriah Hall via split decision (29-28, 29-28, 28-29) to win The Ultimate Fighter
Cat Zingano defeats Miesha Tate via TKO at 2:55 of Round 3
Travis Browne defeats Gabriel Gonzaga via knockout at 1:11 of Round 1
Robert McDaniel defeats Gilbert Smith via submission at 2:49 of Round 3
Josh Samman defeats Kevin Casey via TKO at 2:17 of Round 2
Luke Barnatt defeats Collin Hart via unanimous decision (29-28, 29-28, 30-27)
Dylan Andrews defeats Jimmy Quinlan via TKO at 3:22 of Round 1
Clint Hester defeats Bristol Marunde via TKO at 3:53 of Round 3
Cole Miller defeats Bart Palaszewski via submission at 4:23 of Round 1
Maximo Blanco defeats Sam Sicilia via unanimous decision (29-28 x 3)
Daniel Pineda defeats Justin Lawrence via submission at 1:35 of Round 1