John Boyett: Video Highlights for Former Oregon FS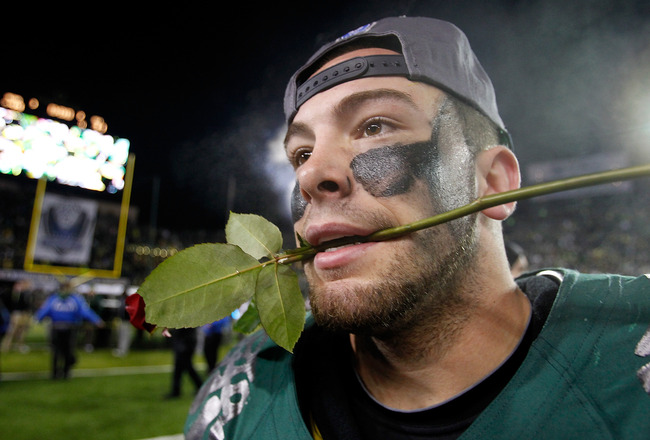 Jonathan Ferrey/Getty Images
For three seasons, John Boyett was the leader of Oregon's secondary. He provided plenty of highlight-reel hits, interceptions and pass breakups over that time, so finding worthy video was an easy task.
Unfortunately for Boyett, he was forced to have season-ending knee surgery in September of 2012 to repair partial tears to both patellar tendons. He played with the injuries for the majority of his junior year, as he told the Napa Valley Register:
I've had a lingering injury that I played through all last year. The hope was, through different treatments and certain types of rehab during this past offseason, they would heal up and I'd be ready to go for my senior year.
That was not the case, as he played in just one game his senior season—against Arkansas State in the season opener.
At 5'10" and 204 pounds, some teams may consider him undersized. He does not play that way, however. Boyett recorded 278 total tackles, intercepted 10 passes and defended 30 more in three-plus seasons at Oregon.
An accurate NFL comparison based on his style of play and measurables would be Troy Polamalu. Is he a future NFL Pro Bowler? Who knows? But his game sure does resemble that of the former USC Trojan.
Here are some of Boyett's best highlights throughout the years.
39-Yard Pick-6 vs. ASU: Sept. 2010
A gift-wrapped highlight starts it off for Boyett, as Arizona State quarterback Steven Threet underthrows wide receiver Kerry Taylor against 2-deep man coverage.
Boyett reads Threet like a book when the junior makes the mistake of throwing to No. 20's side of the field.
It is clear from the release of the ball that the pass does not have enough on it to get to its intended target. Taylor slows to try and get to it, but Boyett has the angle and picks it off.
It's 39 yards of smooth sailing into the end zone as he gives the Ducks a first-quarter lead.
Saving a TD vs. Stanford: Nov. 2011
This is an all-time great defensive play. There is nothing flashy about it, and it did not result in a touchdown.
But it is a textbook example of how to defend a pass.
As Stanford quarterback Andrew Luck releases the ball, it appears to be another touchdown pass for the future No. 1 overall pick. He has Ty Montgomery in the corner of the end zone, and the tall receiver is about to make the catch.
Boyett flies to the scene of the would-be catch, banging into Montgomery as they both leap for the ball and forcing an incompletion as they tumble to the turf.
Knockout Blow vs. USC: Oct. 2010
One of the many traits that make Boyett so likeable as a football player is his technique when bringing the boom.
He doesn't drop his head into a player, he doesn't lead with his helmet and he always crushes his opponent.
For example, look at this play from an October 2010 game at USC. Trojans quarterback Matt Barkley targets receiver Ronald Johnson up the seam and directly into Boyett's territory.
Oops.
Boyett launches himself at Johnson with his lead shoulder, separating receiver from ball. This is another textbook example of how to defend a pass—while not being penalized for any number of rules catered to helping offenses.
Knockout Blow No. 2, vs. Arizona: Sept. 2011
One more example of laying wood cleanly comes from September of 2011 against the Arizona Wildcats.
On this play, Boyett is the deepest man in coverage—as was the case most of the time he was on the field.
Arizona quarterback Nick Foles attempts a pass deep down the right sideline, intended for redshirt freshman receiver Austin Hill. Hill goes up to make the catch, which is defended well by junior cornerback Terrance Mitchell. The ball was being juggled, but Hill may have come down with it had it not been for the torpedo known as Boyett separating him from the pigskin.
Though the hit was clean, Hill suffered a concussion on the play and has had neck issues ever since.
Playing Center Field vs. UCLA: Oct. 2010
Boyett has the range to go from the middle of the field to the sideline for an interception. Range like that gives defensive coordinators the freedom to play a single-high safety, knowing his player can cover the deep sideline routes as well as anything deep over the middle.
That is just what Boyett does here in the first quarter against UCLA in October of 2010. Bruins quarterback Richard Brehaut tries to find receiver Ricky Marvray, who had gotten behind the first wave of the zone Oregon was playing.
Boyett ran from the middle of the field to cut off the pass at the sideline before getting both feet down inbounds. He rolled to slow his momentum and avoid running over any sideline-dwellers while still securing the football.
Comeback-Thwarting INT vs. USC: Oct. 2010
Big-time players make big-time plays when their teams need them.
Up two touchdowns against Barkley and the Trojans—the same game that featured Boyett crushing receiver Ronald Johnson—with just over five minutes left, Boyett and the Ducks were backed up inside the red zone.
Barkley dropped back and released a pass over the middle to receiver Robert Woods. While behind Woods near the goal line, Boyett used his body to shield Woods from making the catch, extending his arms to haul in the interception and falling into the end zone.
Thus ended the comeback attempt for the USC offense. The look on Barkley's face from the sideline immediately following the INT said it all.
Blocked FG vs. Nevada: Sept. 2011
We end this highlight session with one of the best effort plays you will ever see. This game did not hinge on the first-quarter field goal by Nevada, but Boyett does not care about that.
He is all effort, all the time.
From the left of the line, Boyett starts by racing toward the two linemen in his way. Quickly realizing he will not get by them, he decides the best option is to jump over them.
He does, and what results is my favorite John Boyett play of them all.
All it takes to alter a kick is one set of fingers, and that is all he got on the ball. It was enough to steer it wide left, keeping the Wolfpack off the board.
Keep Reading

Indianapolis Colts: Like this team?