WWE Worst of the Week: Orton, Cena and More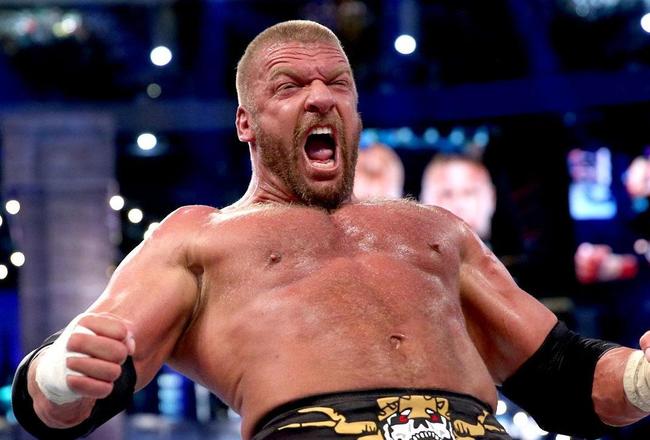 photo via wwe.com

WWE Raw was a blast, plain and simple.
It was the only three hour episode so far that I wasn't ready for it to end. The fans were amazing. We were given two title changes, and we may have heard the only "Mike Chidoa" chant in human history.
But don't worry, all was not all well in WWE this week, and that's what this list is for.
From WrestleMania to Saturday Morning Slam we had over 10 hours of WWE to digest. Some of it sat worse than a Hulkster cheeseburger. It's a shame that we had to pay for four of those hours, when the free three ones on Monday were the best.
The level of excitement and crowd enthusiasm was unsustainable as we quickly saw the large dropoff on SmackDown. Still, it was fun while it lasted.
Now let's Fandango our way through WWE's biggest week of the year, and Triple H all over their worst moments!
No. 5: The Primetime Players vs. Team Hell No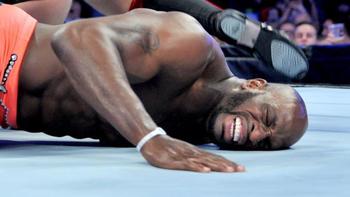 photo via wwe.com
Where is Rufus "Pancake" Patterson when you need him?
WWE, you just don't get to do this!
You can't have The Primetime Players lose a blindfold/one-arm tied behind the back match to Team Hell No, and then keep booking the same two teams with the odds even!
Sure, there's only four or five tag teams in the entire WWE, but that's their fault.
Since Feb. 25, these two teams have faced off five times. Since Oct. 29, they've faced off 10 times. Team Hell No is 9-1, and their only loss was from another blindfold/arm tied match...by a rollup.
Sure, in a way it's comforting to get back to business as usual where we can tune in every week to see the exact same two teams fight again and again, but could we please just have some new tag teams?
No. 4: Look at Us, We're Awesome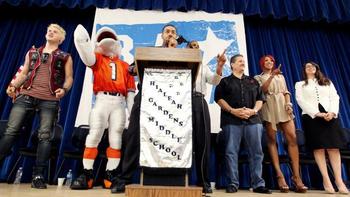 photo via wwe.com
Okay, WWE, I get it. You're awesome, we suck.
Charity is a great thing. It's fantastic. But you lose a lot of your selflessness when you brag about it. You lose even more of that goodwill when you promote it on a show that people are paying $60 to watch.
In some ways, WrestleMania felt like a corporate training video where WWE tells you how great it is, and why you should feel proud to be a part of the company.
Here were some of the videos we paid to watch at WrestleMania:
A Hurricane Sandy video narrated by Chris Christie.
Stephanie McMahon showing off the WWE's involvement in the Special Olympics.
The Be a Star campaign was put over.
A National Guard commercial was shown.
A Slim Jim/WWE USO donation video aired.
Oh, and a commercial for The Rock's Pain and Gain film was shown.
How about WWE showing their fans some charity, and give them back $5 for the privilege of paying to watch it brag about charity deeds?
No 3: Voting for No Reason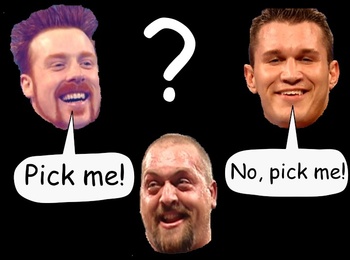 WWE gave us a choice that left us with no good answer: Who should fight The Big Show on WWE Raw?
Sheamus, or Randy Orton?
Sadly, "no one" was not a choice, so the WWE Universe had to select from two of their most vanilla babyfaces.
Did you vote? Well, if so, your time was wasted!
Not only was the question lousy, but the answer didn't even matter. Booker T (who is the SmackDown general manager, and not the WWE Raw general manager) decided to overlook the fans' vote, and just booked Sheamus vs. Orton.
It actually wasn't all bad, as this match is where the New Jersey crowd really came to life and took over the show
So in some ways, this was the best moment of the week. Now let's just hope it's never booked again.
No. 2: Teddy Long vs. Booker T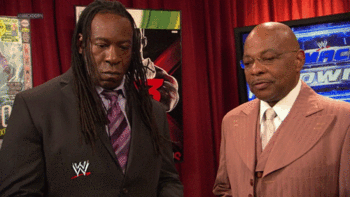 photo via wrestlingwithtext.com
It was Book's idea, but we all make mistakes.

-Teddy Long, SmackDown
Where is this going? Why is it happening? Can it please stop?
For seemingly months now, Booker T and Teddy Long have been getting increasingly pissy with each other in increasingly stupid backstage segments.
The biggest problem is that neither one of them is an active wrestler, so there's really no clear payoff to the TV time it's taking up. Let's say that this is leading to Teddy Long taking over SmackDown. Okay, then what?
On SmackDown, the two had a segment that ended with a ridiculous moment of Booker T staring at Teddy Long as Long stared off into space. The camera held onto the two for around 10 seconds.
Moments like that happen all the time in real life.
Anyway, after Triple H's interview, they went back to Booker and Long. Now they were at least arguing. Maybe they only awkwardly stared for the first 10 minutes.
With this glacially paced feud, perhaps they'll face off at WrestleMania 30, or more likely, WrestleMania 35.
No. 1: Keep the Torch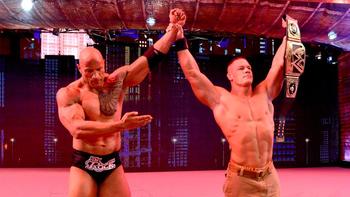 photo via wwe.com
The last image of WrestleMania 29 was the ending that we all thought we'd get last year: The Rock holding up John Cena's hands in a "passing of the torch" moment.
The problem is, the vast majority of fans didn't want to ever see this moment happen.
Of course, The Rock had to go away sometime. Of course, he probably had to lose to Cena since he's the WWE's full-time act, but watching the two put away their differences and share a friendly hug was a vomit-inducing spectacle of epic proportions.
Fans who lived through the Attitude Era didn't want this ending. Cena isn't some young up-and-comer who is respected by the hardcore fans. He's a very strongly disliked 35-year-old man who didn't need the torch passed to him in the first place. He's already had it since 2005.
It's highly doubtful that any of The Rock's fans have now changed their minds and joined the Chain Gang. They're still proudly sitting on the other side of that fence.
What kind of world do we live in, when the top babyface in being all of WWE, can't stand in the middle of the ring at the biggest show of the year without being pelted with boos?
Well, that's all for this week. Agree? Disagree? What was your worst of the week? Sound off below!
Keep Reading