TUF 17 Finale Live Results, Play-by-Play and Fight Card Highlights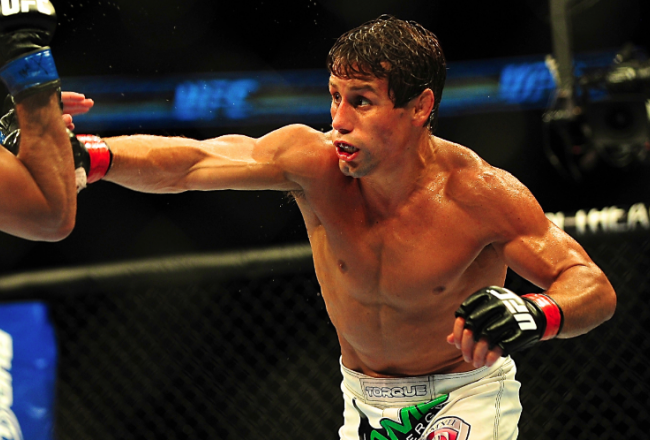 The Ultimate Fighter 17 Finale turned in an impressive card on FX, and fight fans are sure to be talking about this one for a while. Submissions, knockouts and all-around great fights were all on display, leaving nothing to be desired. For full results and play-by-play highlights, scroll on, friend.
Main Card Results:
Urijah Faber defeats Scott Jorgensen via submission (rear naked choke), Round 4
Kelvin Gastelum defeats Uriah Hall via split decision
Cat Zingano defeats Miesha Tate via TKO (knees and elbows), Round 3
Travis Browne defeats Gabriel Gonzaga via KO (elbows), Round 1
Bubba McDaniel defeats Gilbert Smith via submission (armbar), Round 3

Preliminary Results:
Josh "Silver" Samman defeats Kevin Casey via TKO, Round 2
Luke Barnatt defeats Collin Hart via unanimous decision (29-28, 29-28, 30-27)
Dylan Andrews defeats Jimmy Quinlan via TKO (strikes), Round 1
Clint Hester defeats Bristol Marunde via TKO (standing elbow), Round 3
Cole Miller defeats Bart Palaszewski via submission (rear naked choke), Round 1
Maximo Blanco defeats Sam Sicilia via unanimous decision (29-28 x3)
Daniel Pineda defeats Justin Lawrence via submission (kimura), Round 1
Well, folks, thanks for sticking around for the ride. Feel free to leave a comment, or hit me up on Twitter @HunterAHomistek if you want to talk fights, music or anything else that's important to you. I'm happy to discuss anything and everything.
Take care, and see you next time!
Faber and Jorgensen having a fun, technical fight. Good FX card tonight.

— Jeremy Botter (@jeremybotter) April 14, 2013
B/R's Jeremy Botter enjoyed the action. How about yourself?
Faber's grappling was just too much for Jorgensen.
Do you think Faber will hoist UFC gold again, or is this as close as he'll get?
Round 4
Nice body kick from Faber, but Jorgensen counters with a beautiful combination. Faber lands a hard left.
Jorgensen looks for a takedown, but Faber sprawls and looks for the guillotine. Nope. Back to the standup. Uppercut and knee lands for Faber, Jorgensen fires back with punches and a knee of his own. Great short elbow from Jorgensen lands.
Excellent takedown from Faber, and he takes Jorgensen's back immediately. Two minutes to go, and Faber is in control on Jorgensen's back.
This could get ugly.
And it does.
There's the rear naked. Jorgensen is forced to tap.
Urijah Faber defeats Scott Jorgensen via submission (rear naked choke), Round 4
Round 3
Some nice exchanges in the early going of Round 3 with both guys landing punches, kicks and knees. Nothing too significant, but each fighter looks comfortable at this point.
Faber charges with an uppercut and then lands a nice right hook-left hook combination. Not much grappling in this one thus far. Who will look for the takedown first?
Faber feinting like crazy, and Jorgensen clinches against the cage. Scotty clinging to Faber's back, but Urijah shakes him off, and they continue to trade. Big left from Jorgensen stumbles Faber, and he follows that up with a big toss from the clinch. That was beastly, but Faber is right back up.
Elbow from Jorgensen finds its mark. Jorgensen looking much better in this round; he's bullying Faber around and being the aggressor rather than fighting defensively.
And just as I say that, Faber explodes on a double and puts Jorgensen on his butt to close the round.
Close call on that one.
10-9, Jorgensen
Watching Faber vs. Jorgensen just reminds me of how extremely (and unbelievably) underrated Dominick Cruz still is. #TUF17Finale

— Don Parker (@DonBParker) April 14, 2013
Can either of these guys contend with Dominick Cruz?
Round 2
Jorgensen eats a hard shot to the groin right away, and he takes time to recover.
Back at it.
Inside leg kick from Faber followed by an outside leg kick from Jorgensen. They exchange jabs, and Faber briefly shows a takedown but bails on it. Great knee and right hook combo from Faber. Jorgensen gets deep on a takedown attempt, but Faber counters it and tosses him aside. He looks sharp tonight.
I cannot praise Faber's quickness and transitions enough. He is unreal in the grappling department, and it's really showing, even against a tough wrestler like Jorgensen.
Two minutes to go in Round 2, and Faber secures a takedown of his own. Jorgensen looking for a kimura. He doesn't get it, but he uses it to sweep Faber and stand.
Big left hook from Jorgensen, and Faber returns the favor with a right. They clinch against the cage and separate, trading some more punches.
Another round for Faber.
10-9, Faber
Round 1
Jorgensen moves forward aggressively and eats some hard shots from Faber. Faber working from the front headlock position, but Jorgensen has double underhooks and is controlling the action. Nice escape from Faber, and he bullies Scott against the fence.
Jorgensen hits a trip that plants Faber on his back, but "The California Kid" is already back up to his feet along the fence. Jorgensen clinging to Faber's back, and Faber hits a beautiful sit out and is now threatening with submissions. Kimura then rear naked choke shown, but Jorgensen avoids both and stands.
Nice body shot from Faber followed by a huge knee to the midsection, and a scramble sees Faber takeJorgensen's back. Figure four from Faber.
Bad news for Scotty.
Jorgensen rolls out, but Faber persists and eventually looks for the high-elbow guillotine.
This is tight!
Jorgensen survives. Close call. Urijah working from half guard now, and he re-takes the back. These are some super quick transitions. Faber is on point.
Faber closes the round on Jorgensen's back.
10-9, Faber
Scott Jorgensen looks like a walking acid trip. #TUF17Finale

— MMA Roasted (@MMARoasted) April 14, 2013
Jorgensen is so colorful, man.
Urijah Faber and Scotty Jorgensen going through introductions.
Let's get it.
B/R's comments getting bogged down. If you have a question, or if you want me to respond, hit me up on Twitter @HunterAHomistek. Talk to you there.
Main event time: Urijah Faber vs. Scott Jorgensen
This can't be bad, can it?
Kenny probably feels so dirty having to promote Gastelum after slagging him the whole fight.

— Matt Saccaro (@MattSaccaro) April 14, 2013
Great point from B/R's Matt Saccaro. Mr. Florian did not give Gastelum his due during that fight.
Once again, we might want to hold off on grandiose comparisons until a fighter proves himself at a high level. Everybody was afraid to call Chris Weidman a threat to Anderson after destroying Mark Munoz but running through sub-UFC-level dudes on The Ultimate Fighter is reason enough to do so?
Makes sense.
Official decision: Kelvin Gastelum defeats Uriah Hall via split decision
Tears ensue. Good for you, dude. You deserved that victory.
One has to think Hall will still be around for another fight though, right?
Kelvin is my hero. This is so awesome.

— Joe Lauzon (@JoeLauzon) April 14, 2013
UFC lightweight Joe Lauzon is a fan of Kelvin's output, as am I. Nobody believed in him, and he lasted three rounds with Hall and very well may take this decision.
Round 3
Gastelum with a big left hook that glances off Hall's chin, and Hall fires back with a knee that catches Gastelum in the groin.
Kelvin takes a minute to regroup, and we're back at it.
Side kick from Hall, followed by a high kick. Nothing home. Nice jab from Hall.
Big takedown from Gastelum, but Hall escapes and scores a takedown of his own. Huge ground-and-pound from Hall, but Gastelum escapes. Great exchange there.
They clinch against the cage and jockey for position. Separation.
Midway through Round 3, and this is either fighter's to win. Nice jab from Hall, who still doesn't want to keep his hands up.
Big overhand left from Gastelum. Hall fires back with an uppercut but misses. Gastelum with the takedown, and he's looking for an armbar. It's a no go, and Hall regains full guard.
Gastelum working from the top, and he very well may have stolen this fight. Did any of you bet on him? If so, congratulations.
Hall throws nasty punches and elbows from the bottom, wow. A crazy scramble at the end sees Gastelum looking for the armbar again but failing.
I think the youngster did it, folks.
10-9, Gastelum
Overall: 29-28, Gastelum
Round 2
Hall looking more active already with kicks and his jab.
He is definitely loosening up and finding his range now. Hands down, full on cocky mode, and Gastelum scores a takedown. Gastelum works from the top with some light ground-and-pound. He looks content to just grind this one out.
Hall with a nice reversal. They clinch against the cage, and Hall lands some nice knees. Gastelum pursues the takedown but can't get it. Hall with a nice trip, and he goes to work from half guard. They stand, and Hall works from Gastelum's back.
By the way, Hall was insanely overconfident in this one. He clearly bought into some of the hype, and he did not earn it yet. He's looking better now, but he is far from Silva-like.
Big suplex from Hall, but Gastelum again pops back up. Close round, but Hall closed it better.
10-9, Hall
Uriah Hall is looking like one overconfident fighter so far.

— MMAFighting.com (@MMAFighting) April 14, 2013
Indeed, indeed.
Round 1
Gastelum not looking scared at all in the early going as he forces Hall to back up in the early going. Hall looking cocky with his hands low a la Anderson Silva. The problem, however, is that his head movement isn't as precise, and he eats some shots from Gastelum.
They clinch against the cage and battle for position. Hall lands a knee, and they separate.
Nice leg kick from Gastelum, followed by a superman punch. Front kick to the body from Hall. You get the feeling he is just waiting to explode.
The crowd is going nuts for Kelvin. Gastelum rocks Hall with some left hooks! Oh my. Hall continues to try to be Silva, but he is not. Gastelum easily takes Hall down and lands in side control.
Full mount!
Back to half guard. Gastelum looks sensational.
Hall has done nothing, and Gastelum has done everything. Hall regains full guard and lands some punches from the bottom.
They stand against the cage and work from the clinch. Separation.
Hall fires off some nice kicks, and he's looking loose now. Gastelum is still undeterred, though, and he's moving forward.
Hall channels his inner Jack Lambert with a takedown that was just a straight-up tackle, but Gastelum pops back up.
Round 1 ends.
10-9, Gastelum
Uriah Hall vs. Kelvin Gastelum up now
It's hard not to get pumped whenever Hall is fighting. Can he finish the extraordinary run?
Uriah Hall or Kelvin Gastelum?
Obviously, Hall is the favorite, but anything can happen, and Gastelum can shock the world. Nice back story for Gastelum on FX now. Touching.
What are your picks for fight, KO and sub of the night so far? Mine:
Tate/Zingano - Fight
Hester - KO
Pineda - sub
This article is
What is the duplicate article?
Why is this article offensive?
Where is this article plagiarized from?
Why is this article poorly edited?