Jamie Collins: 5 Things You Need to Know About the Southern Miss OLB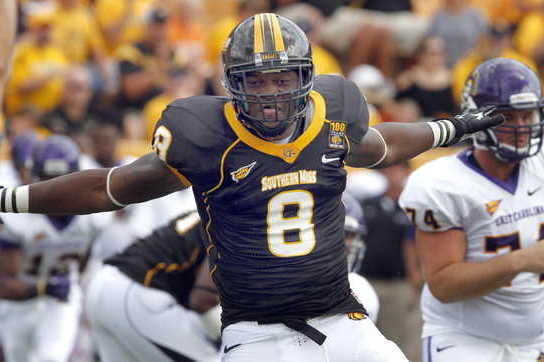 Courtesy of Beyond the Combine
Hattiesburg, Miss., has become somewhat synonymous with former NFL quarterback Brett Favre, but the college (Southern Mississippi) located there has actually produced a couple of decent prospects through the years.
Last season saw offensive tackle Lamar Holmes go to the Atlanta Falcons in the third round.
You can expect Jamie Collins to one-up his former teammate and be an early Day 2 pick. I absolutely love what he brings to the table as an edge pass-rusher. He is one of the most underrated defensive players in the draft.
Let's take a look at some facts you should know about Collins as he prepares to make the adjustment from small southern town to the bright lights of the NFL.
Begin Slideshow

»
Full Name: Jamie Collins
Birth date: May 2, 1990
Hometown: McCall Creek, Miss.
High School: Franklin High School in Meadville, Miss.
Major: Criminal justice
Class: Senior
Jamie Collins was nowhere near a top recruit coming out of high school. Rivals had him ranked 68th nationally among linebackers in 2008 (via Rivals.com).
No major conference power showed interest in the young linebacker, which made his decision to stay home for college that much easier.
Collins ran for more than 1,200 yards and passed for another 1,000 yards in 2007 while leading Franklin High School to the Mississippi State championship game (via Scout.com).
Collins made the honor roll last semester at Southern Mississippi with a GPA over 3.0. He was only one of 78 student-athletes to accomplish that feat.
2009 (Freshman): 13 games, 47 tackles, 28 solo, three for loss, two sacks and one forced fumble.
2010 (Sophomore): 13 games, 76 tackles, 49 solo, 2.5 for loss, two interceptions, 2.5 sacks and one touchdown.
2011 (Junior): 14 games, 98 tackles, 19.5 for loss, one interception, 6.5 sacks, eight quarterback hurries and one touchdown.
2012 (Senior): 12 games, 92 tackles, 66 solo, 20 for loss and 10 sacks.
Jamie Collins earned first-team All-Conference USA honors for Southern Mississippi in 2012. His total of 20 tackles for losses ranked sixth nationally and his 10 sacks ranked just outside of the top 20 in the nation (via Southern Mississippi).
As a senior in 2012, he ranked first in Conference USA in tackles for loss, second in total tackles for loss yards, second in sacks and second in forced fumbles.
All statistics provided by CFB Stats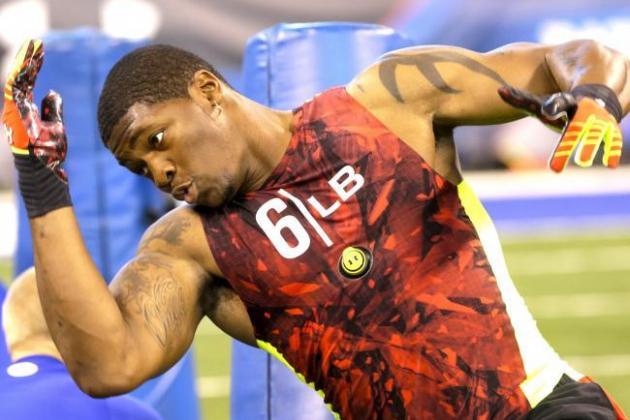 Measurables
Height: 6'3"
Weight: 250 pounds
Arm Length: 33.75"
Hand Size: 9.75"
Combine Results
Broad Jump: 139.0" (best among linebackers)
40-Yard Dash: 4.64
20-Yard Shuttle: 11.55
Three-Cone Drill: 7.10
Vertical Jump: 41.5" (best among linebackers)
Bench Press: 19 reps at 225
Collins absolutely dazzled onlookers at the combine. His 139-inch broad jump ranked No. 1 among linebackers, ahead of more celebrated prospects such as Alec Ogletree and Kevin Minter. His 4.64 40-yard dash also ranked Collins in the top five among linebackers in that category.
Even more impressive, his 41.5-inch vertical jump also topped all linebackers at the combine. All said, Collins finished near the top five in nearly every single drill he participated in.
Gil Brandt of NFL.com had the following to say about Collins' performance at the combine (h/t CBS Sports).
Collins stood on his numbers from the NFL Scouting Combine (he was a top performer in his position group in five events). Collins' official 40-yard dash time (4.64 seconds) in Indianapolis is especially notable. Collins worked out as both a linebacker and defensive lineman with his hand in the dirt. He'll have a lot of intrigued teams visit for a private workout.
As much as experts want to jump on the performance of prospects in generic drills, it is more important to look at position-specific drills. Collins was among the most impressive defensive linemen and linebackers in these types of events at the combine. That has helped him solidify his status as a possible early Day 2 selection.
All numbers provided by NFL.com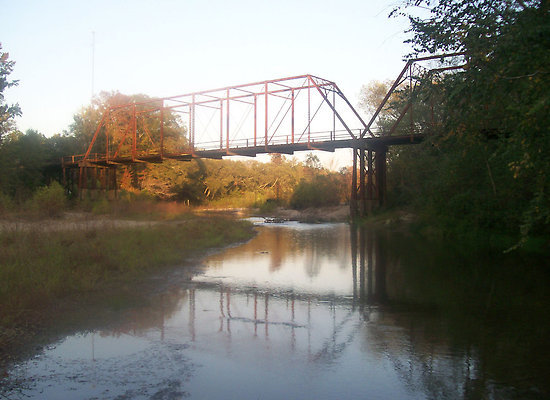 Collins' hometown of McCall Creek, Miss., has one store and a sawmill. It was founded in the early 1900s and named after a family of settlers.
Talk about growing up in the backwoods of the south.
Will the lights of a major U.S. city be too big for Collins? No, I wouldn't go that far.
His performance in front of scouts and experts this postseason has proven that Collins can be a dynamic pass-rush force at the next level. He showed us exactly what we wanted to see after performing extremely well for a Southern Mississippi football team that failed to win a single game this past season.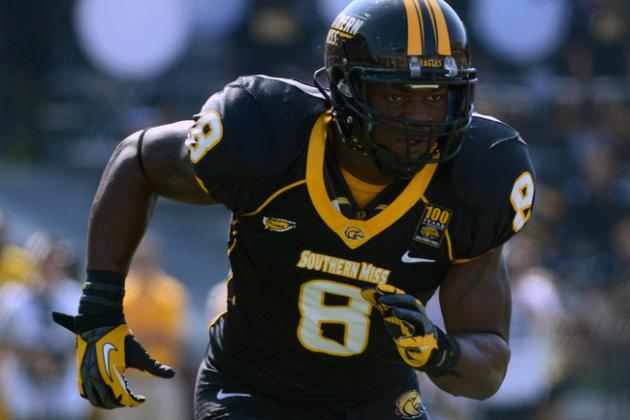 Courtesy of Draft Browns
Collins seems to be flying under the radar in the mainstream scouting community, but he is going to be a mighty fine linebacker at the next level. Those who have actually spent time watching tape on the Southern Miss prospect know full well that he will go higher than most anticipate.
Daniel Jeremiah over at NFL.com indicated as much earlier in April:
Finished Southern Miss LB Jamie Collins. Athletic, better as blitzer than pure pass rusher, can hold point of attack vs TE's. Late 2/early 3
Outside of where Jeremiah projects Collins to go, his other point here is interesting. If Collins is better as a blitz linebacker, he seems better suited to play outside in a 4-3 scheme rather than being more of a hands-up 3-4 pass-rusher.
Todd McShay tends to disagree with the value of selecting Collins in the second round:
Jamie Collins has versatility and explosive natural tools but better athlete than football player. Big gamble IMO if you're talking 2nd rd
Not sure I see that. By virtue of watching tape, I am pretty sure Collins is just as good of a "football player" as he is an "athlete." Much like most young linebacker prospects, Collins does need to learn the nuances of the NFL. That being said, his upside indicates late second or early third.
Vincent Frank is an NFL featured columnist here at Bleacher Report. Vincent is the head sports editor over at eDraft, co-host of Draft Sports Radio, which airs every Monday and Wednesday from 3 to 6 p.m. ET, and a fantasy writer for Pro Football Focus.

Go ahead and give him a follow on Twitter @VincentFrankNFL.