What Detroit Pistons Should Do with Their Own Free Agents This Offseason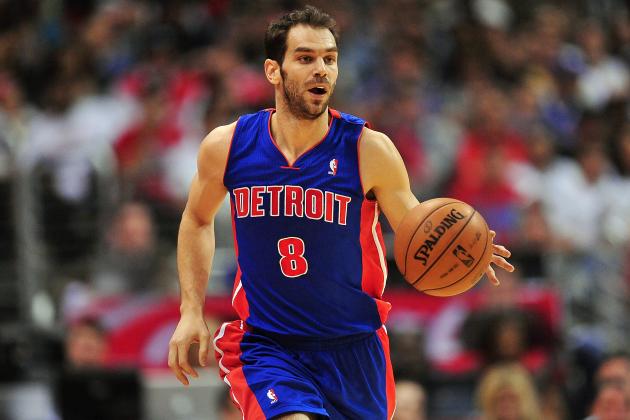 Gary A. Vasquez-USA TODAY Sports
Jose Calderon has played well for the Pistons, but should they bring him back next season?
The Detroit Pistons will have many important decisions to make this offseason, as they currently have four veterans on their roster with expiring contracts (and another with a contract that is only partially guaranteed).
The front office will have to decide if it is worthwhile both financially and basketball-wise to bring back each player.
On one hand, the five players are collectively averaging 44.8 points per game this season, and four of them have played over 18 minutes per game. On the other hand, allowing all of their free agents to leave would leave the Pistons with over $20 million in cap space this summer, more than enough to sign a maximum-contact free agent.
The decisions may not be easy, but here is what the Pistons should do with each of their own free agents this summer.
Begin Slideshow

»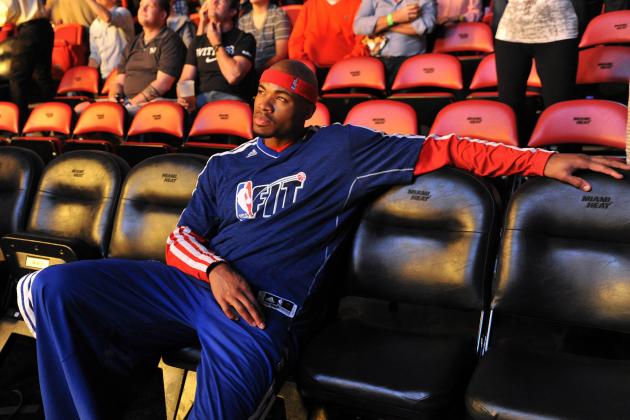 USA TODAY Sports
Corey Maggette has played in just 18 games this season for the Pistons.
Two days before the 2012 NBA draft, the Pistons traded Ben Gordon's contract and a future first-round pick to the Charlotte Bobcats for Corey Maggette. Not only did Maggette have an expiring contract, but he had been a very solid scorer from the wing throughout his NBA career.
However, Maggette never got much of a chance in Detroit.
Before this season, he had averaged double-digits in 12 straight seasons. In Detroit he has averaged only 5.3 points in 14.3 minutes per game in 18 games, all career lows. He has not seen action since December.
It is clear that Maggette never fit in with the Pistons, and there is no reason for the Pistons to bring him back in 2013-14.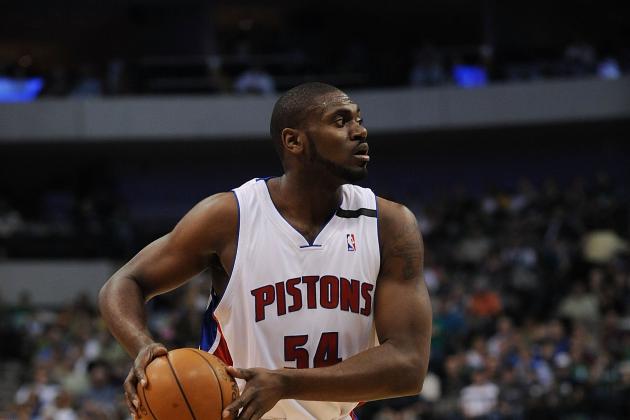 Ronald Martinez/Getty Images
Jason Maxiell has played all eight of his NBA seasons with the Pistons.
Jason Maxiell has been with the Pistons longer than any other player on the roster, but it is time for the team to cut ties with the power forward.
Maxiell is a decent rebounder and has averaged a career high in blocks this season, but he offers little else to the Pistons. He is undersized, a poor defender and his field goal percentage has declined in each of the past four seasons.
Even more worrisome is that he has started 71 games this season. While the Pistons do not have a deep frontcourt, Maxiell is taking away valuable minutes from Andre Drummond. As the Pistons rebuild, Drummond and Greg Monroe need as many minutes together as possible to continue to develop.
Maxiell can still play valuable minutes off the bench for an NBA team, but the Pistons need to continue to get younger. Letting Maxiell walk will let the younger guys play even more.
Sam Greenwood/Getty Images
Will Bynum has had the best shooting season of his career in 2012-13.
After an atrocious 2011-12 season, Will Bynum has shown again that he can be a decent backup point guard in the NBA.
Last season Bynum shot just 38.1 percent from the field, the worst of his career. He also had a career-low assist-to-turnover ratio of 1-to-2.
This season Bynum has shot much better, currently shooting 46 percent from the field. He is still not great from outside, but his three-point percentage is back up above 30 percent (it was 24.1 percent last season). Most importantly, he has been a better point guard, as his assist-to-turnover ratio is up to 1.89.
While Bynum is no more than a backup guard, his ability to provide a spark off the bench can be very valuable. The Pistons should look to re-sign Bynum, but for no more than two years and not much above to the veteran's minimum.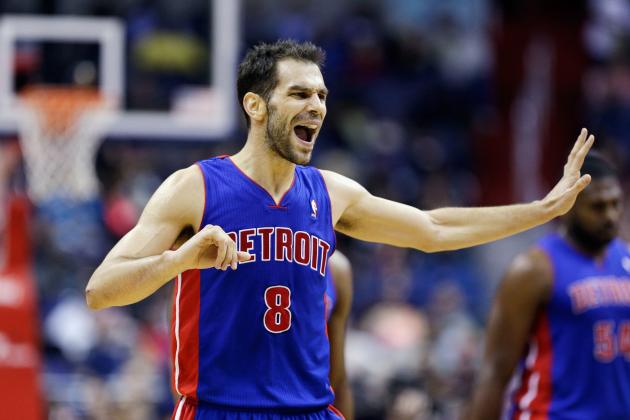 Rob Carr/Getty Images
Jose Calderon has been the Pistons' best shooter since being acquired from Toronto.
Since the Pistons traded for Jose Calderon, the veteran point guard has been one of the most consistent players on the team. In his 31 games with Detroit, Calderon has averaged 11.6 points and 6.6 assists per game. More impressively, he has shot 52.7 percent from the field, 52 percent from behind the arc and 89.3 percent from the line.
Calderon's impressive play has almost certainly shown teams around the league that he can still be an impact player. His ability to shoot and run an offense will be very valuable for teams looking for a solid facilitator and shooter to help contend for an NBA title.
That being said, the Pistons would be wise to cut ties with Calderon while his stock is so high. At 31, he will be looking to get one more big contract before he starts to regress. There will be several teams vying for his services this summer, and he should get a good-sized contract.
Also, the Pistons are a young team that should be looking to develop through the draft and by cultivating its own young players. By the time the Pistons are ready to compete, Calderon will be too old to be a difference-maker.
While he is still a very good player, the Pistons would be wise to let Calderon leave in free agency, freeing up minutes for Brandon Knight or another young point guard who is not currently on the roster.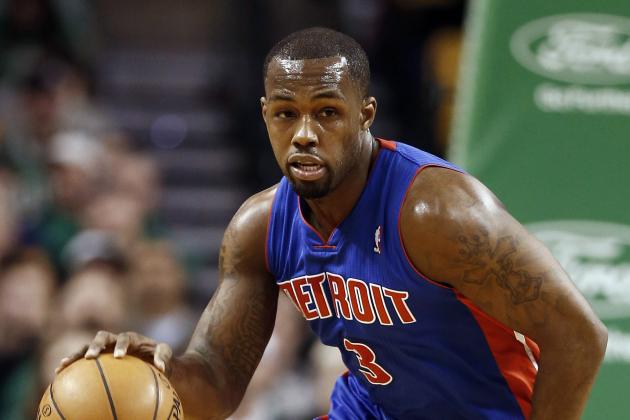 Winslow Townson-USA TODAY Sports
Rodney Stuckey took a step back this season for the Pistons.
Rodney Stuckey has the most interesting situation of any potential Pistons' free agent. Not only is his contract partially guaranteed for next season, but he is also the only potential free agent that is still in his prime.
Stuckey has had an up-and-down career with the Pistons, to say the least. During his rookie year he was great in the playoffs against the Boston Celtics. Chauncey Billups was traded the next fall in part because Joe Dumars thought that Stuckey would be the point guard of the future. Now in his sixth season with the Pistons, Stuckey is having arguably the worst season of his career.
If Stuckey's contract expired this summer, it would make sense to part ways with him. However, $4 million of his $8.5 million contract for next season is guaranteed, according to Hoopsworld. Letting him leave would free up less than $5 million dollars for the Pistons with a weak crop of free agents available.
The Pistons would be be better suited to keep Stuckey for one more season. He may be struggling this season, but he is just 26, and there is some reason to believe that he will bounce back after this poor season. He still has value as a third guard off the bench who can play both guard positions in a pinch.