Reid Fragel Scouting Report: NFL Outlook for Ohio State OT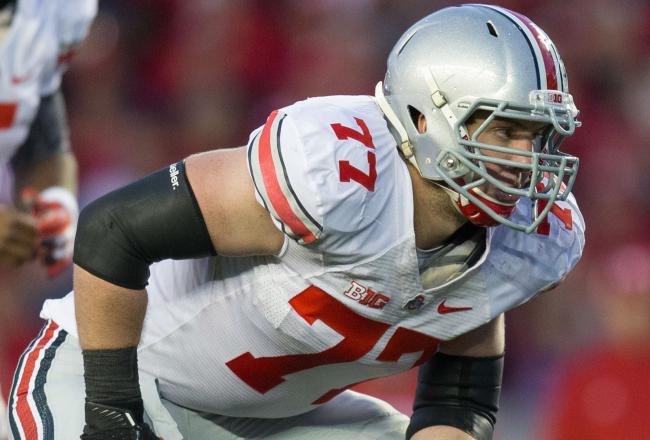 Jeff Hanisch-USA TODAY Sports
Reid Fragel
Seventh Round: 240th Pick
When Urban Meyer came to Ohio State, Reid Fragel saw the writing on the wall and made perhaps one of the best decisions of his life.
Fragel knew he was not a fit at the blocking tight end position he had played previously in the new spread offense that would be coming to town, so he switched to offensive tackle.
In this ongoing film study of "later­-round" tackles in the 2013 NFL draft, none have been a more pleasant surprise to evaluate than Fragel. After having to beat out a freshman in a highly­ contested camp battle for the starting right tackle spot in 2012, Fragel got better and better throughout his first season at the position.
Will this progression continue at the NFL level?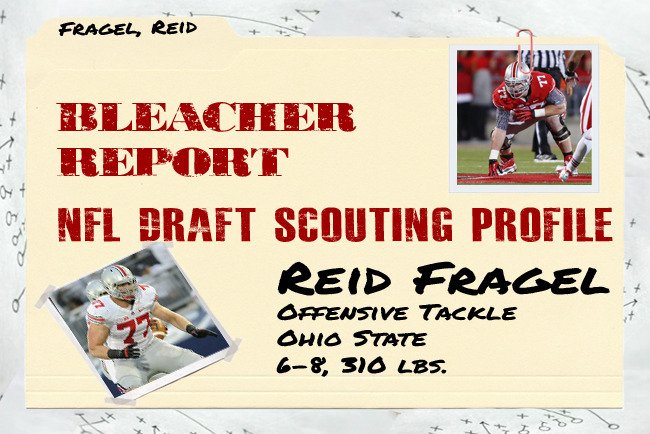 Feet
We always start with the feet, because the feet are the single most important aspect to keep a close eye on when evaluating most any NFL position. The play starts in the feet and athleticism starts in the feet. While Fragel's feet are not the quickest off the snap in his power step, they are extremely quick once in motion—and more importantly, under control.
Motor, Toughness and Power
People close to the athletic program at Ohio State have said that Reid Fragel is one of the nicest persons in the world off the field, and one of the most mean­-spirited on it. Fragel plays with a motor, an anger and a love for finishing plays that shows up every time. He plays tough, and flies to his assignments with noticeable control. Fragel showed in his game—and through his impressive strength and measurables at the NFL combine—that power is the last issue in his tool bag that should be cause for any concern.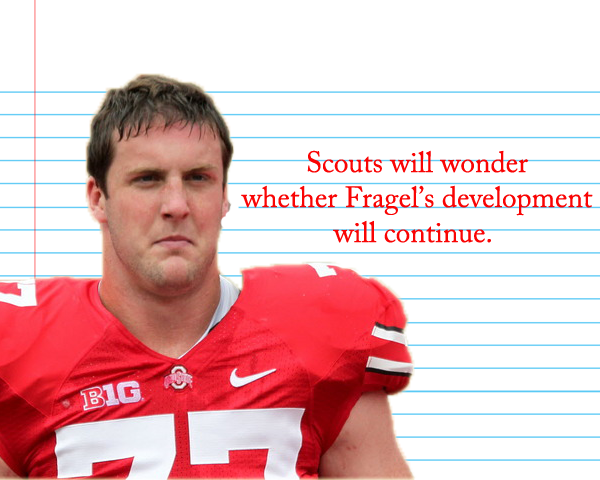 Quickness, Agility and Balance
Fragel plays with great functional balance, and has the length to cover a great distance protection-wise from a sturdy, athletic base. Fragel had one of the best three­-cone drills at the combine, which shows up in his game during second-­level readjustments after taking his inside­ zone steps.
His short shuttle was among the top echelon as well—all things one would likely expect out of a transitioned tight end on paper. What separates Fragel is that the numbers simply back up what evaluators have seen on tape.
Run Blocking
Fragel does a lot of things right. He keeps his head about him and executes his assignments with attention to detail. The fact that Fragel is still learning the position as a transitioned tight end does not appear to be overly concerning. While huge, he can seemingly "pinball" defenders when uncovered in getting to the next level. He uses his length to execute reach blocks at both the first and second levels.
You love seeing that a right tackle can turn a man outside—especially on his own—when out of position, and Fragel possesses the upper-­body strength to do this in addition to his size and athleticism.
The point of the zone and spread attack offensively is to create lateral motion in the defense and get them running side to side. This takes away from a defensive coordinator's ability to attack in downhill ways and puts some of the most athletic defensive players on the field in some of the least athletic positions. The flurry of lateral activity across the offensive front is also confusing for defenders as they constantly re­assess exactly what the "flow of the play" means to their assignment specifically.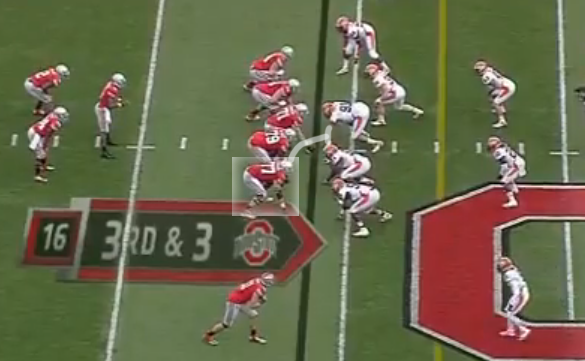 What Fragel is asked to do on this zone-­read option toss play has little effect on what happens at the point of attack, but he sells the inside two­-man zone blocking assignment so well, and in the process, shows his capability to execute a really hard reach block against a powerful inside DT. If the ball were coming where the fake dictates it logically should, Fragel has to get all the way inside the three­technique and turn him outside.
The easy thing to do would be simply blocking down and burrowing him out of the play, but that is not what Fragel is asked to do here.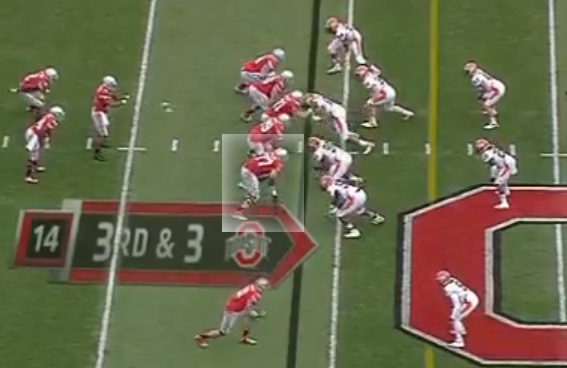 He gets a decent first step and takes proper aim. Again—it was not a good first step, and the good news is, refining this technique is one of the things that can be taught through muscle memory and repetition. On the bright side, his left foot is aimed to the inside foot of the DT and his right knee aimed to explode into a line down the center of the man's body.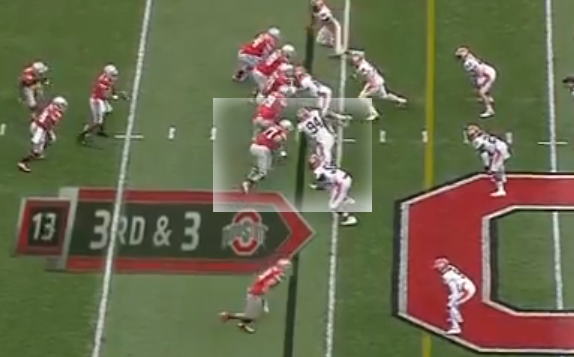 Fragel is keeping a low center of gravity while his feet are moving quicker than anyone else on either side of the line of scrimmage. In this instant, we notice how Fragel makes up for his initially mediocre power step. His feet are not quick immediately out of the stance, but they are brutally fleet once in motion.
The three-­technique is trying to get his eyes upfiled inside the B-­gap, and square himself up in the hole to "survey the situation" in the split-­second allotted for making such football decisions.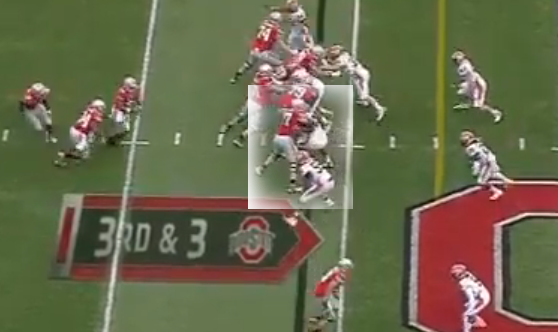 In the bat of an eye, Fragel has latched onto his inside armpit and has somehow put himself in position to drive the three-technique outside as assigned. Unfortunately, the defensive end left free doesn't get fooled and caves down to try and tackle the running back (#34) as he executes his fake through the B­-gap.
Illinois has the numbers outside to account for both the QB and the pitch man. This doesn't stop Ohio State from getting the first down, though. The line's motion away from the play was solid enough to not only freeze the linebacker shown, but also give the pitch man plenty of room to the outside to pick up an easy seven yards.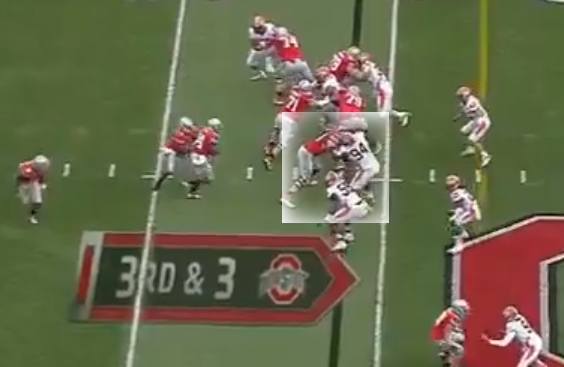 But this is not about play­-design, it is about technique, which is much easier to break down. The fact that Fragel has the strength, agility and balance to reach to such an unenviable position and then show the motor to latch on and drive sums up why it is more than just the 6'8", 310-­pound frame that will be getting NFL teams excited.
Pass Blocking
Fragel has a quick, choppy kick slide that looks somewhat forced and not entirely fluid, but he remains very effective. As the 2012 season wore on, his motions in this realm began to look more and more natural. This is a good sign for Fragel's future development at the position and even lends credence to the idea that he may actually have left tackle capability at the next level.
He is not a player who was stuck at right tackle because he was not athletic enough to pass block effectively. He played right tackle because to start the season he was, for all intents and purposes, a project.
Bottom Line
The improvement Fragel showed through his 2012 season was nothing short of dynamic and bodes extremely well for his chances of continuing to improve at the NFL level. When gauging "upside" in tackle prospects, there are few clearer indicators than proving this sort of progress in one short season, especially when playing the position in a demanding spread offense that calls for athleticism, brains and brawn.
Fragel will be a steal in the 2013 NFL draft. With the crop of offensive tackles drawing such rampant favor at the top of the order, we've seen what happens. A greater value is placed on the position as supply dwindles.
Once Eric Fisher and Luke Joeckel go off the board, the price of poker goes up for players like Lane Johnson and D.J. Fluker who are pegged near-­universally as first-­round talents.
After Fluker and Johnson, many analysts have predicted that players such as Terron Armstead and Menelik Watson may garner first-­round consideration for tackle-­needy teams through the latter half of the first.
There is not one single reason that Reid Fragel should not be in the same discussion at this point as well.
This article is
What is the duplicate article?
Why is this article offensive?
Where is this article plagiarized from?
Why is this article poorly edited?

Cincinnati Bengals: Like this team?