2013 Summer Transfers: Early Targets for Tottenham Hotspur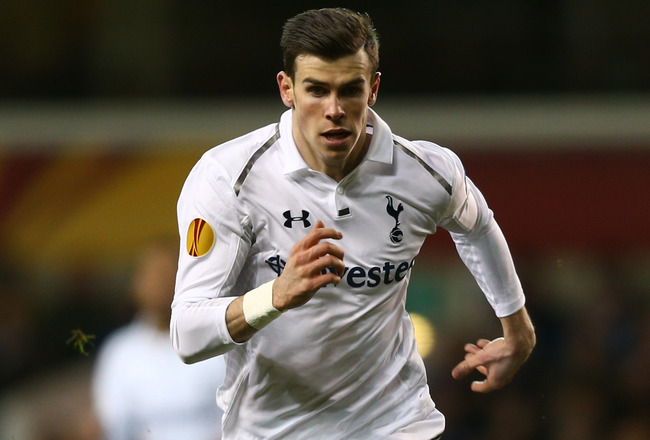 Paul Gilham/Getty Images
After a heartbreaking loss on Thursday night to an inferior but inspired FC Basel in the Europa League quarterfinal, it must have been difficult for Andre Villas-Boas to not think about what might have been.
Without their talisman, Gareth Bale, Tottenham showed motivation, pace, determination and finishing prowess, but their inability to put away a feisty Swiss squad raises questions about the team's Champions League hopes.
With a top-four finish teetering dangerously and the possibility of losing Bale to a foreign giant like Real Madrid or PSG, the next four-to-six months could determine the legacy Villas-Boas will leave at White Hart Lane.
With a difficult month ahead, it is important to consider the top transfer targets for a team still longing for a deep run in Europe's premier tournament next season.
Christian Benteke, Aston Villa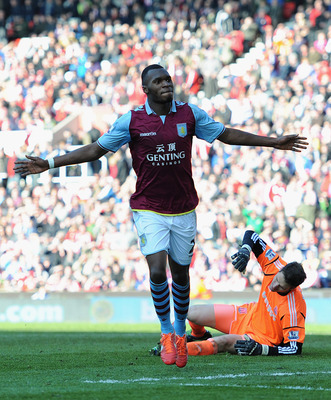 Chris Brunskill/Getty Images
Christian Benteke has been a revelation for an otherwise dismal Aston Villa side. With relegation to the Championship still a very real possibility, Villa could look to cash in on the prolific Benteke while his stock remains high.
At just 22, Benteke has experienced an incredible journey already in his young life. After fleeing the Mobutu regime in the Democratic Republic of Congo, Benteke eventually settled in a poor community in Belgium.
After hard work and determination, Benteke eventually made his way to Birmingham and Aston Villa. His next move could be to North London to come to Bale's aid.
Jermain Defoe has been injured for much of the season, Emmanuel Adebayor looks disinterested even when scoring one of his rare goals and Clint Dempsey has contributed sparingly despite a two-goal performance against Basel on Thursday.
Joining Spurs would also allow Benteke to link up with fellow Belgian internationals Jan Vertonghen and Moussa Dembele.
Benteke makes sense—especially if Villa are relegated and it might help keep Bale in London.
Isco, Malaga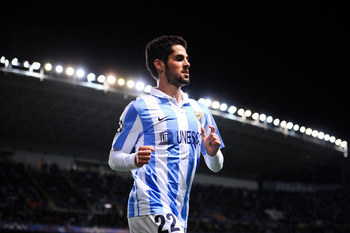 David Ramos/Getty Images
Yes, Villas-Boas did bring in Lewis Holtby to help a beleaguered midfield unit at the last minute in January, but with Malaga in financial ruin despite a surprising Champions League run, 20-year-old Spaniard Isco is on the market.
Isco is slick, skilful and quick. Like Benteke, he is also young. Building around Bale, Isco, Dembele and Vertonghen would give Spurs fans an impressive young core of players to get excited about.
Isco has already earned one cap for Spain, impressive considering who he is up against, and has paced Malaga through European competition.
Born in Malaga, it is unclear whether Isco would be open to a move to the Premier League, but his influence at White Hart Lane could be crucial with Scott Parker set to turn 33 in October.
Jordy Clasie, Feyenoord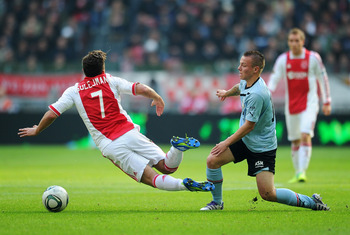 Jasper Juinen/Getty Images
Known as the "Dutch Xavi" in reference to the Barcelona passing maestro, Clasie is rumoured (per the Daily Mail) to be strongly on Villas-Boas' radar.
Like Isco, Clasie has broken through on his national side, registering five caps for Holland. Clasie is known for his vision on the pitch and tremendous pace. At just 5'7", he will not win many balls in the air, but luckily for Feyenoord he isn't asked to.
Clasie is one of the top young midfielders in Europe and would be a welcome addition for Spurs.
Pablo Osvaldo, Roma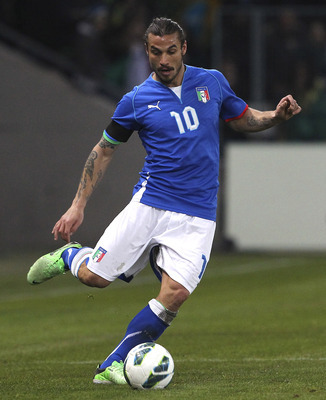 Marco Luzzani/Getty Images
Talksport has reported a possible move for the Italian striker to London after Osvaldo was recently spotted in London with his girlfriend.
Although perhaps not the best-known striker, Osvaldo would bring another goalscoring threat to Tottenham. Osvaldo has made a name for himself with some eye-catching goals this season in Rome and his effort would be a welcome influence in Spurs' attack.
With Spurs likely to lose out (per the Daily Mirror) on Sevilla's Alvaro Negredo to Borussia Dortmund, Osvaldo could be a nice contingency plan.
Borja Valero, Fiorentia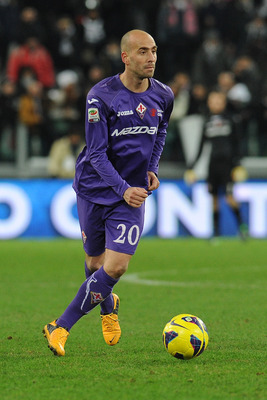 Valerio Pennicino/Getty Images
Another Spanish midfielder target for Spurs. While Isco could prove too expensive, Tottenham are reportedly interested (per Talksport) in his countryman, Borja Valero.
Somewhat of a journeyman, Valero has spent time in England before with West Brom from 2008-2011, making 31 appearances. He then moved to Villarreal on loan before making the move permanent.
After apparently spurning talk of a transfer to Real Madrid, his boyhood club, it is believed that Spurs could be alone in the race for Valero.
Thomas Ince, Blackpool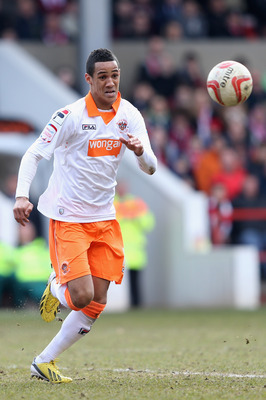 Mark Thompson/Getty Images
Long linked with Brendan Rodgers and Liverpool, it appears as though Ince may be headed to Tottenham instead (per Metro).
Spurs would like Ince to challenge Aaron Lennon on the wing in an attempt to get younger out wide. Ince has become a feared goalscorer for Blackpool after putting the ball in the net 24 times in just 72 appearances.
Tresor Mputu, Mazembe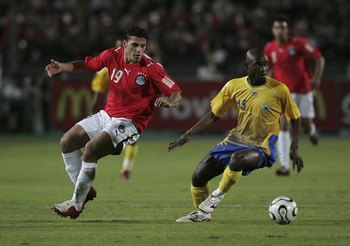 Ben Radford/Getty Images
The thing about Mputu is that Tottenham could get him for a bargain. The Democratic Republic of Congo captain is 27 and has failed to live up to the comparisons with Samuel Eto'o he drew earlier in his career.
Still, like Ince, Mputu was linked to Spurs during the Redknapp era and it seems there is a sustained interest (per Sky Sports). After a positive African Cup of Nations, Mputu could well find himself at White Hart lane over the summer.
Keep Reading

Tottenham Hotspur: Like this team?