8 Reasons Liverpool Will Finish Strong in the English Premier League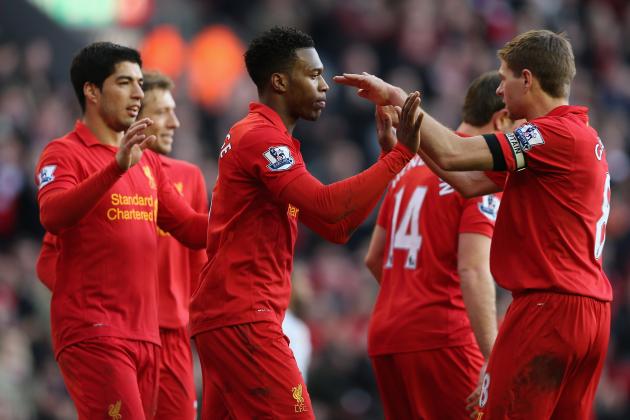 Clive Brunskill/Getty Images

Brendan Rodgers has amassed his armada for the final assault on the English Premier League's fourth spot. He and his troops will find it well protected by familiar foes from across Stanley Park and the nation's capital. Bound tightly in mathematical possibility, success depends more on the shortcomings of others than success from the sweat of Liverpool's brow.
It is a fact that has many of the Anfield faithful, bereft of hope and guarded against optimism, resigning themselves—once again—to wait for the inexorable conclusion to another season filled with budding promise that failed to take seed on pitches around the globe. It was a campaign that failed to fully ignite the torch that would light the way back to former glory.
But seasons have been made and broken on the last kick of the final game, with matches down the stretch being pivotal to a club's domestic fortunes. And there are reasons, at least eight, to believe that Liverpool will make the end of the 2012-13 season one to remember.
Begin Slideshow

»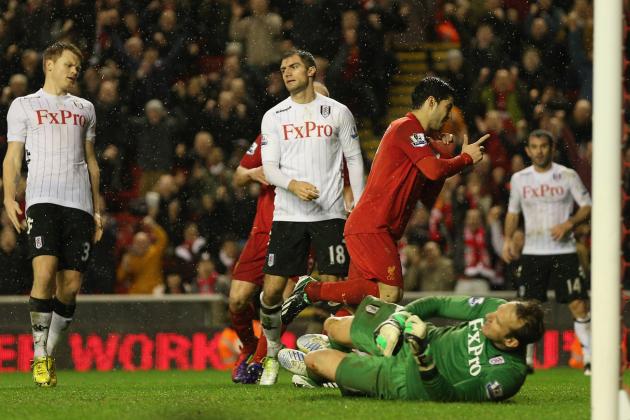 Clive Brunskill/Getty Images
Luis Suarez scores one of the four goals Liverpool put past Fulham.
There are only two teams above Liverpool (Everton FC and Chelsea FC) in the season's remaining six games. Relegation-threatened Reading FC and Queens Park Rangers and mid-table Fulham FC and Newcastle United FC round out the list.
Liverpool took an impressive 10 of 12 points in the fixtures against QPR, Reading, Fulham and Newcastle, dropping only two points to Toon after a 1-1 tie at Anfield.
The two points that Liverpool tallied against their remaining opponents—courtesy of two draws—could quite easily have been four had they held onto a two-goal lead against Everton at Goodison Park or if the disallowed Luis Suarez strike had stood.
Both Everton and Chelsea have to come into an Anfield that is traditionally deafening to defend their claim that they deserve to be in Europe more than Liverpool.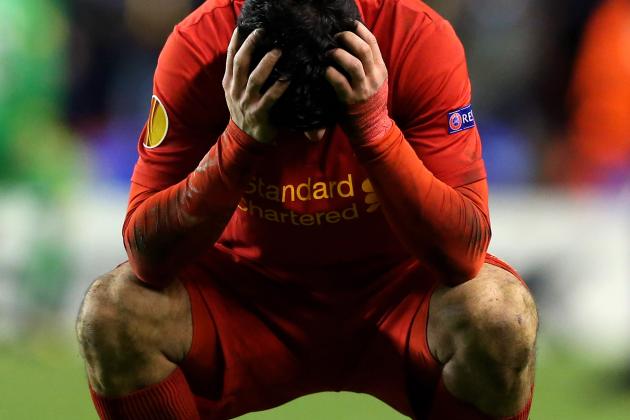 Alex Livesey/Getty Images
A distraught Luis Suarez after the aggregate loss to Zenit St Petersburg.
Liverpool won an alarming two games out of the nine they played after three-day turnarounds in the UEFA Europa League and one out of four after playing in the two domestic cups. Conversely, since losing to Zenit St Petersburg in dramatic fashion on February 21st, Liverpool has lost only one of their five fixtures, tallying 10 of 15 possible points.
Out of all domestic and international cup competitions, Rodgers won't have to juggle his lineup, second-guess the strength of the team that he fields or have to worry about fatigue. His players can focus all of their attention and energies on the remaining task, with the bonus being the most exotic location for travel arrangements is London.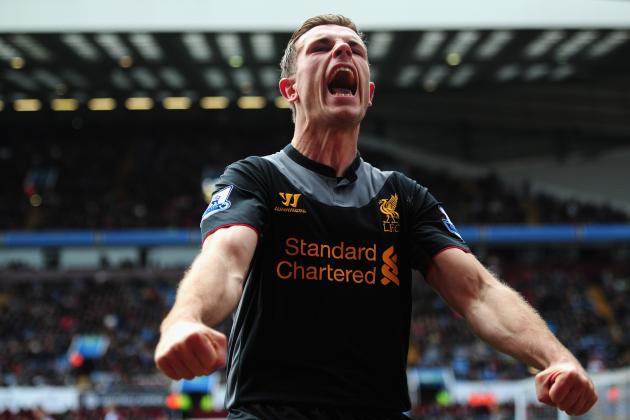 Stu Forster/Getty Images
Jordan Henderson is one whose confidence has continued to grow under Brendan Rodgers.
In a recent article (via The Guardian), full-back Glen Johnson has said that the Liverpool of this season is better than the Liverpool of last year. It's a stunning endorsement of Rodgers' progress in a very short time, but it is also testament to a team that feels they are playing better football.
Notable players, like Lucas Leiva, have extended their contracts, which evidences further that this Liverpool is one that is worth sticking around at, despite the fact they could potentially find themselves, like Lucas (according to ESPN FC blogger Kristian Walsh) down the pecking order next season.
Players like Jordan Henderson, Stewart Downing and Jose Enrique, marginalized and maligned, have attracted the eye of the manager through perseverance and have continued to grow as a result of good performances and the continued backing of their boss.
Using quills, quotes and quorum, players are describing a team gaining in confidence and, equally as important, belief. Granted, the proof of the metamorphosis is measured by success, but the cornerstones of that success are hewn from these two qualities. Rodgers will most certainly keep his players' tails up as they move into next year.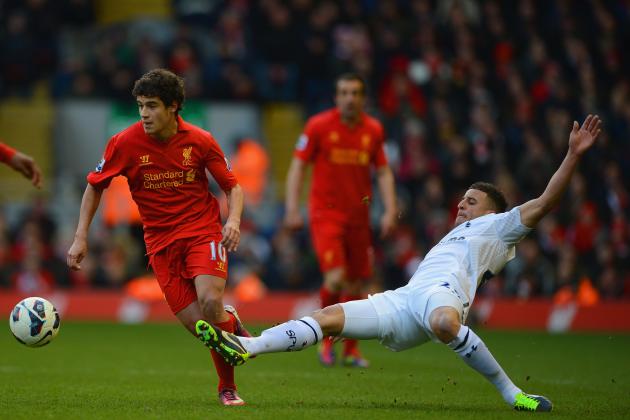 Michael Regan/Getty Images
Philippe Coutinho is one of the players brought in by Brendan Rodgers to bolster his strike force.
In January, Providence made her way back to L4. Where paucity once dwelt, plenty returned. The woefully anemic bench, which dictated Rodgers reach deep into a bag filled with untried tricks, was replenished with new arrivals Philippe Coutinho and Daniel Sturridge. These two internationals repaid his confidence immediately and gave him the much-needed depth and support lacking in Liverpool's attack.
Rodgers feels that his hierarchy of player needs might be three to four players short, but his key pieces have remained relatively healthy this year and those he would want for the final push have returned back from injury in time to get into form. Rodgers can be confident in the fact that his first 11 selection will be the one he trusts to do the business.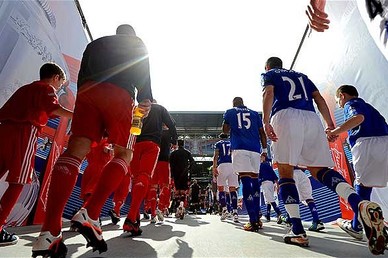 Bleacher Report's Vince Siu maintains that Liverpool finishing higher than Everton should be Liverpool's main objective. Many would see this as the only objective. European qualification might ostensibly be the aim for both teams, but with nothing left to play for this year, pride and bragging rights for another season holds more juice than any chalice on foreign soil.
The glaring fact that Everton FC currently holds positional supremacy acts as a real spur to the red half of the Merseyside. And if this is isn't plain enough to those Reds not born in Liverpool, the ones that were most definitely will make it so.
With a game in hand and a fixture still to be played, the Toffees are three points and one position above Liverpool, giving the upcoming May 5th Merseyside Derby all the makings of a cup tie. The hammers and the tongs for league supremacy will have a little extra metal for this match.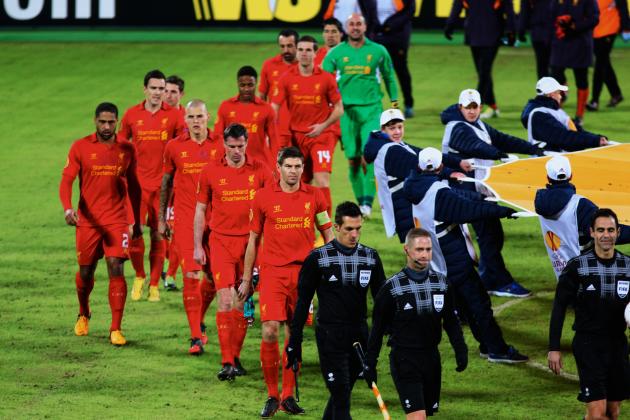 Oleg Nikishin/Getty Images

There are 2.2 million reasons that Fenway Sports Group will want Brendan Rodgers and his squad to muscle their way into Europe. The reported windfall from the UEFA Europa League, before gate and sponsorship, should be enough impetus for them to impress upon Rodgers the urgency to finish well.
Not that he would need that memo. Despite Rodgers' proclamations (via ESPN FC) that a Europe-less 2013-14 season would be a blessing in disguise, the first-year manager would no doubt like to avoid it as it would rubber stamp his first season in charge as a failure. Blinding his critics in the bright lights of nights in stadiums around Europe would be a good way to distract them.
The players, too, know that yarns of their exploits are best spun in hallowed parks around Europe. They will be mindful of the fact that Liverpool has missed European competition on four occasions since the 1964-65 season and be keen not to let the 2011-12 campaign relive itself.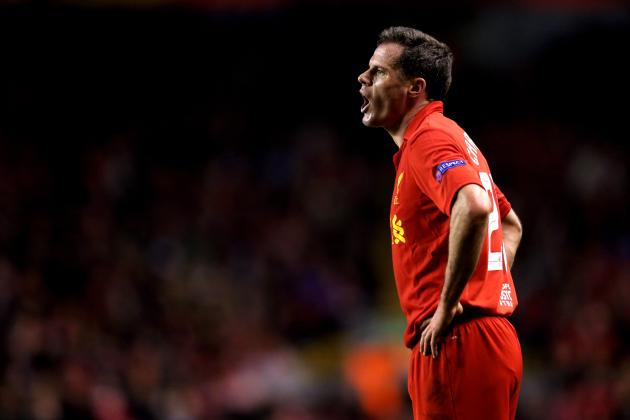 Alex Livesey/Getty Images
Jamie Carragher barking orders to the very end.
There is no good night that Jamie Carragher will go gently into and his teammates will want to make sure that his last hurrah will be a raucous affair. There is not a single player in the famed dressing room that will not do their best to see the Bootle-born kid go out on top.
The unifying power of the "last ride" mentality is undeniable, and the Liverpool dressing room will want to make sure that the central defender's legacy ends on a high note. As they come down the final stretch, the urgency and proximity of the finish line will prompt the whip. And if that doesn't work, he'll be sure to bring his own words of encouragement.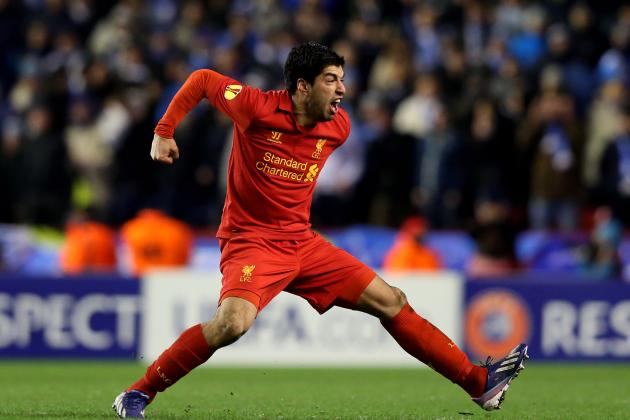 Alex Livesey/Getty Images

With the Uruguayan fit and—more importantly—hungry, almost anything is possible. His singular ability is a fortune-altering force all to itself.
The Professional Footballers' Association Player of the Year candidate is capable of moments that seemingly defy physics. If he can harness the mercury that governs the nature of his performances, he can single-handedly engineer a late-season charge for the Reds.
If Luis Suarez has anything to do with it, Liverpool will make the last six games of this season something worth writing down.