Manchester City's 4 Most Improved Players of the Season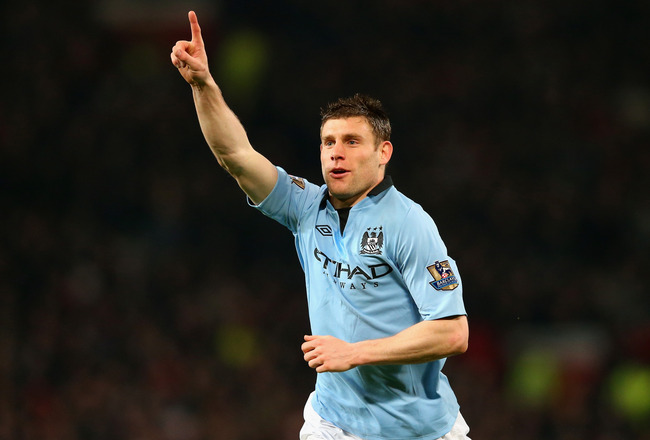 James Milner has been fantastic for Manchester City this year.
Alex Livesey/Getty Images
As Manchester City's season begins to grind towards its conclusion, it's an appropriate time to reflect on what has transpired thus far. An arduous campaign has the Blues in the semifinals of the FA Cup but on the verge of surrendering the Premier League title to Manchester United.
Personnel-wise, there have been plenty of ups and downs. Mario Balotelli went from hero to zero in almost no time, being shipped back to Milan in January. Summer signings Jack Rodwell and Scott Sinclair have failed to make an impact while Matija Nastasic has been a revelation of sorts.
More importantly, other players made bigger roles for themselves in this campaign compared to last. Their play over the course of the season has greatly helped City remain competitive domestically despite their European failings.
What follows is a spotlight on a few of these players.
Carlos Tevez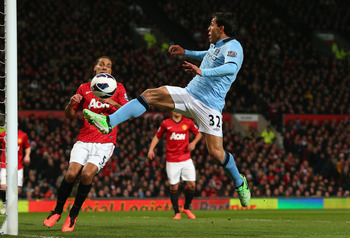 Carlos Tevez's season has been miles better than the last one.
Alex Livesey/Getty Images
Carlos Tevez's 2011-12 campaign was, frankly, one to forget outside of winning the Premiership, from wanting out of the club to being stripped of the captaincy, not to mention his exodus in Argentina. He helped the club upon his return, but it was basically a wasted season.
He returned to being a full part of the squad this season, and the results have been strong. The Argentine has notched 10 goals in Premier League play, with another five coming in the ongoing FA Cup campaign. This includes a fantastic hat-trick against Barnsley in the quarterfinals.
Incidentally, that match came just two days after he was cited for driving while disqualified, having had his license suspended previously. It was a great sign that he was able to put aside this personal issue and help his team perform on the pitch.
This is perhaps the biggest visible improvement in Tevez this season. His attitude is one where he is not constantly rebelling against the club powers and seems settled into life in Manchester. While he won't be getting the armband back anytime soon, he's surely won some respect for this change.
And he still drives when he wants.
James Milner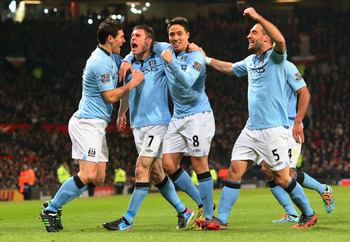 James Milner (7) has been hugely impactful in 2012-13.
Alex Livesey/Getty Images
James Milner is one of those guys who can easily get overshadowed by star power. In City's midfield alone, he contends with the likes of David Silva, Yaya Toure and even Samir Nasri. England's midfield boasts Steven Gerrard, Ashley Young and other big names.
But Milner has easily been one of City's most important players this season. He's really taken hold of a big role in this side despite featuring in just 19 Premier League matches. Additionally, his inclusion was a key part of the club's FA Cup win over Leeds.
The reason why Milner seems to get overlooked so often is that he's not a flashy player in the ilk of Silva. He works his butt off every time he steps on the pitch, does what's asked of him and always seems to do it well.
This year in particular, he's taken up a big role on the right side of midfield. His pace helps keeps the opposing right-back working while he always looks to get back on defense. His four league goals aren't too shabby, either. His contributions have been telling—just ask Manchester United.
Pablo Zabaleta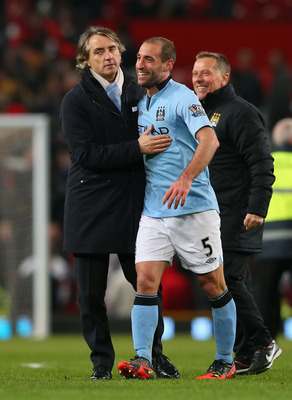 Pablo Zabaleta has become a key player for Roberto Mancini.
Alex Livesey/Getty Images
Frequently featuring behind Milner on the right side has been Argentine defender Pablo Zabaleta. He scored the opener in the title-winning match against QPR last May, and his role in the team has expanded ever since.
The key moment in his season was when Micah Richards went down with a devastating knee injury. Zabaleta grabbed hold of the right-back role and hasn't looked back. He even captained the side in the absence of Vincent Kompany.
Zabaleta's biggest assets—his tenacity, confident tackling and willingness to bomb up and down the flank—have been indispensable for City. With Milner or Nasri in front of him attacking the opposing left-back, the Argentine is left to create real havoc for the opposition.
Zabaleta is making himself a real fan favorite at Eastlands. With his supreme consistency to go along with the other qualities described, it's hard to see City youth product Richards getting his spot back. Not for now, at least.
Gareth Barry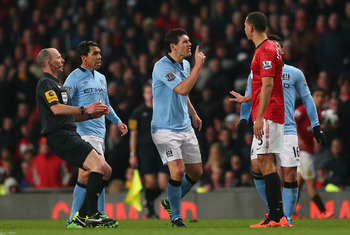 Gareth Barry lectures Rio Ferdinand in his typical gritty style.
Alex Livesey/Getty Images
Gareth Barry is similar to James Milner in a few ways. The England and Aston Villa links stand out, not to mention their style of play—industrious. Though Milner does his hard work on the flanks, Barry keeps things clean in the center of the park.
This season has been a great success for Barry individually, if not for the team's lack thereof. He's been a consistent rock in front of the defense, freezing out summer signing Javi Garcia from that role. As Yaya Toure barrages forward, Barry holds things together.
Perhaps the best description of his role in this squad comes from the match against Reading in late December. The Royals were pushing for an away win, but Barry would have nothing of it. Not only did he snuff out attack after attack, but he "saved Christmas" by scoring a stoppage-time winner.
Another example came just this week in the Manchester derby. Pressing Ryan Giggs, he forced a mistake, jumped on the ball and sparked the attack from which Milner opened the scoring. Performances like that show why he's become almost impossible to drop.
Keep Reading

Manchester City: Like this team?