Much has been made about Tianlang Guan's Masters debut Thursday at the tender age of 14.
We've heard the jokes about him not being old enough to make his high-school team and the ones about how much homework he brought with him to Augusta National Golf Club.
The jokes aren't nearly as funny this evening after the youngster from Guangzhou, China shot an opening-round 73.
He made five bogeys and four birdies, shooting 38 on the front nine, 35 on the back.
The youngest player ever to play in the Masters put up the kind of statistics you might expect. He did surprisingly well on the difficult par threes, parring all four. He struggled on the par fours, finishing two-over par.
He bogeyed the long and tight seventh, the tricky and dangerous ninth, the 505-yard 11th and the uphill 14th. He did birdie the short third, the monster 10th and then put on a show on the final hole.
He played the par fives in one-under, making birdie on the 13th.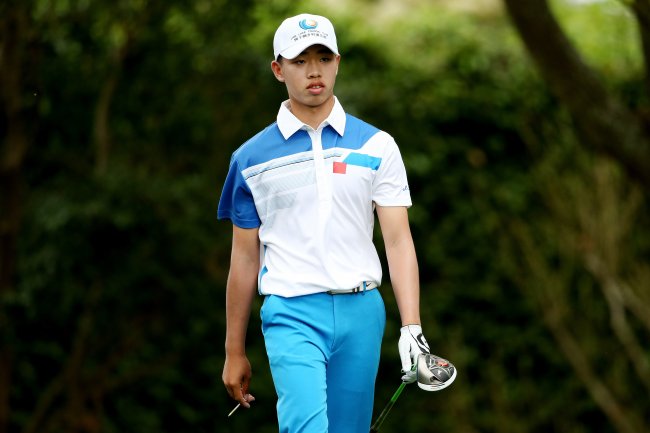 Andrew Redington/Getty Images
Playing in a group with Matteo Manessero and 61-year-old former Masters champion Ben Crenshaw, Guan had a lot left on the 465-yard last. He pulled a club he has become very proficient with, a five-wood, and ripped it just on the left edge of the green.
The 20-foot putt he faced had a touch of a bend, but he read it perfectly and it fell into the center of the cup. A wonderful way for an unprecedented day at Augusta National to end, but wait, it got even better.
Crenshaw dropped his own birdie putt, about a 10-footer, on top of Guan's and the roar could have been heard all around the layout.
The youngster is 5'4" and weighs in at around 145 pounds. He has some growing to do and no doubt he will. Guan says he normally drives the ball 240-250 yards, but obviously he was a little pumped Thursday, averaging 276 off the tee.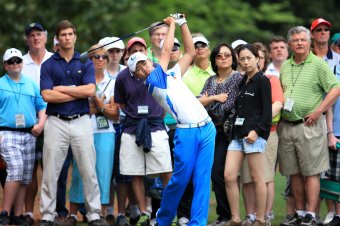 David Cannon/Getty Images
He clearly has a knack for scrambling, too. Guan hit only nine fairways and just eight greens.
What might have been a devastatingly bad aspect of the game for him, putting, wasn't really all that bad. Actually, it was pretty good. He didn't three-putt once and only needed 26 putts for the round.
There were eyes all over the world anxiously watching how Guan would perform or, more specifically, how he'd hold up under the pressure that accompanies playing in the Masters.
"There aren't really words to describe that," former Masters champion Trevor Immelman told ESPN after the youngster finished. "It's pretty incredible, just to be here at age 14. To shoot one-over today as a 14-year-old is an incredible achievement. I don't hardly have the words to describe it."
Guan made three bogeys and a birdie on the front nine and got off to a quick start on the back, making birdies on 10 and 13 (a 15-footer). But he also bogeyed 11 and 14, offsetting his third birdie of the back nine on 18.
Can Tianlang Guan shoot 73 or better in Friday's second round?
He also had a big par save at 16, drilling a five-footer.
The kid got the full Masters treatment on Thursday. He was even brought into the ESPN studio at Augusta National for a chat with Mike Tirico.
"All I want to enjoy the tournament, hit some good shots and have some fun," Guan said. "I was just a little bit nervous on the first tee. But I hit a great tee shot and felt comfortable. Ben Crenshaw and I both made birdies on 18 and that was great."
It's probably unreasonable to presume that Guan will be able to duplicate what he did Thursday.
But it's probably equally unreasonable to presume that he won't improve on his opening-round achievement, assuming the worst of the nerves will be behind him.
What if he shoots a score similar to the first round?
Can you imagine how the golf world would be turned on its ear should a 14-year-old actually make the cut?
Check out the leaderboard from The Masters above.
Note: All quotes were obtained via ESPN's live telecast of the event.