Grades for Each St. Louis Cardinals Position Player After First 10 Games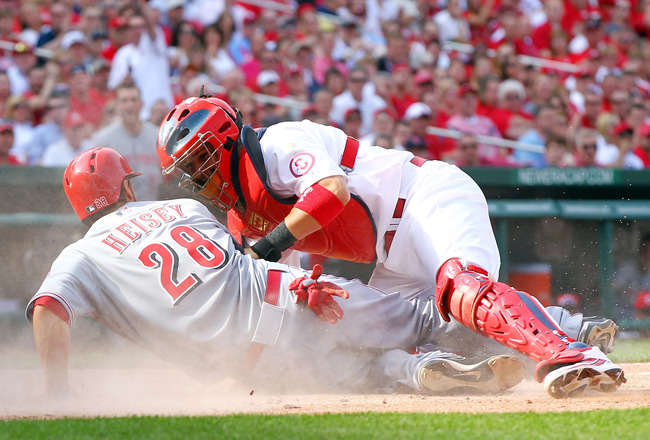 Dilip Vishwanat/Getty Images
The 2013 season is now in full swing.
After 10 games, the St. Louis Cardinals are in sole possession of first atop the NL Central with a 6-4 record. But how have they gotten there?
By comparing each major player's current statistics to their 2012 numbers, I've attempted to measure their success against what is expected of them.
We don't know what the future has in store for the Cardinals, but if these grades have set a precedent, we may be seeing great things.
Read on to find a grade and explanation for each position player.
*All statistics are from stlouis.cardinals.mlb.com and are current as of April 12, 2013.*
Yadier Molina: C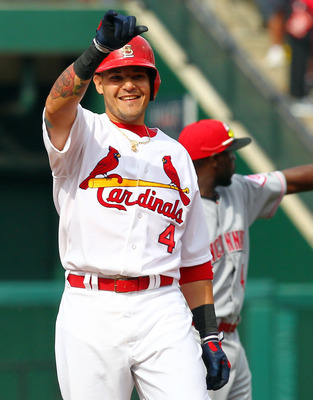 Dilip Vishwanat/Getty Images
Molina is undoubtedly the best defensive catcher in all of baseball, and 2012 was a career year for him offensively.
He's started the 2013 season with a .275 batting average and five RBI. This is perhaps a slightly slower start than expected when compared to the .315 average he finished with last year.
On the field, he's made one error—a rarity for Molina. But when you consider the fact that he's tied for first on the team in innings played with Jon Jay at 94.1, one error simply makes him human. He's also caught two of four baserunners stealing, putting him at 50 percent. This is right on par with his career average of throwing out 45 percent of all baserunners.
Grade: B+
Allen Craig: 1B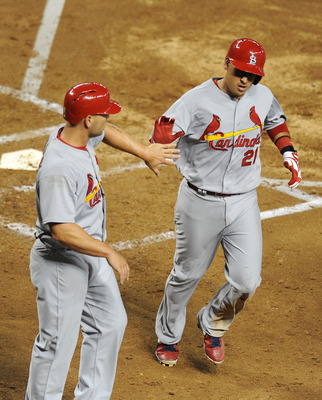 Norm Hall/Getty Images
Craig has been gaining a lot of traction in the MLB community after spending about a year labeled as "underrated." In 2013, he's expected to be a major force in the lineup, as he is healthy and ready to perform as the everyday first baseman.
So far, he's hitting .211 with five RBI. However, the most important stat lies in the fact he is three for four with two outs and runners in scoring position. Yes, his RBI total may be near the top of the pack, but his strikeouts are at nine and his on-base percentage is a somewhat undesirable .244.
On the field, Craig has made a couple web gems, and maintains a fielding percentage of 1.000, as most Cardinals do at this early stage in the season.
Grade: C+
Daniel Descalso: 2B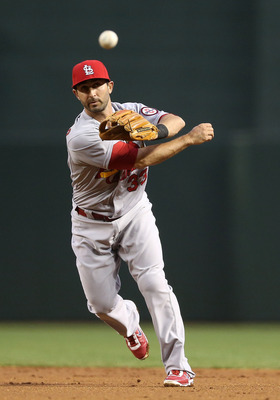 Christian Petersen/Getty Images
Descalso has been splitting his time at second base with Matt Carpenter, and it remains to be seen if this will continue with David Freese now back from the DL. He's known for his glove rather than his bat, but surprisingly, he's been putting up good numbers.
He's hitting .241, but is at .500 (2-4) with runners in scoring position. He's continued his tradition from last postseason as being a clutch at-bat.
On the field, he's made one error in 69.1 innings, and he's been involved in two double plays. This is probably subpar considering he's expected to be a defensive threat.
Grade: C+
Matt Carpenter: 3B, 2B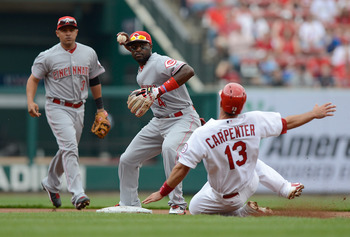 Jeff Curry/Getty Images
As I previously mentioned, Carpenter and Descalso have been splitting time at second base, the position Carpenter was asked to learn during spring training. And in the meantime, he's been filling in for the recently returned Freese at third base.
Carpenter's bat is expected to be his main attribute, and he hasn't let the Cardinals down. He's batting .400 with five doubles to his name.
He, too, has made one error, but in 85.1 innings. And he's helped turn two double plays.
Grade: A-
Pete Kozma: SS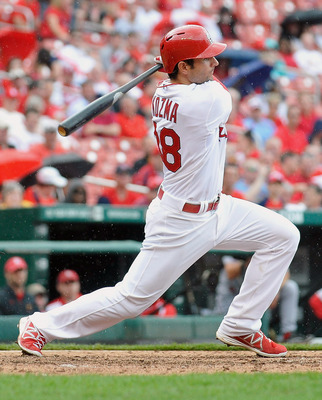 Jeff Curry/Getty Images
Kozma carries a lot of pressure on his shoulders in 2013. When Rafael Furcal was sidelined, the Cardinals put their faith in the young shortstop instead of finding a new solution. And so far, he has been living up to their trust.
Kozma is hitting .297 with five RBI and three doubles. He has struck out eight times, but he's made his presence at the plate known.
He leads the team with Molina in innings played at 94.1, and he's made one error thus far. On the plus side, he's helped four double plays come to fruition.
Grade: B+
Matt Holliday: LF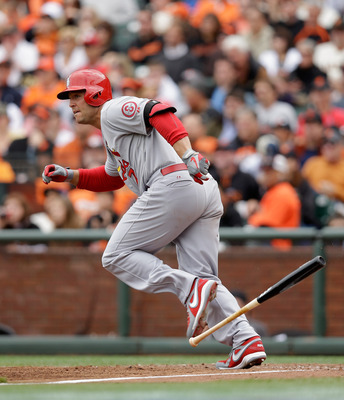 Ezra Shaw/Getty Images
Holliday is an MVP-type player. He's expected to be a reliable, veteran presence and provide a big bat. And he has been productive.
The outfielder is hitting .235, but he's three for five with runners in scoring position and has six RBI. Holliday is certainly productive, although he's expected to be driving in runs with better power numbers, rather than the grinding at-bats he's had so far. Overall, the offensive expectations are highest for Holliday, and he's yet to come close to living up to it.
Sometimes, Holliday is criticized for his defense, but he has yet to make an error this season in 81.1 innings.
Grade: C
Jon Jay: CF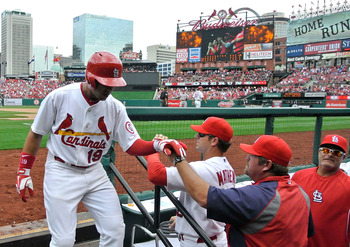 Jeff Curry/Getty Images
Jay is known as a solid all-around player. He doesn't make a huge impact statistically, but he's consistent. And on the field, Jay is traditionally efficient. He hasn't made an error in center since 2011.
In 2013, the outfielder is hitting .217, and has an on-base percentage of .250. As a lead-off hitter, he's supposed to get on base, and so far, he hasn't been doing that. However, he has racked up five RBI, and he's exceeding expectations in the power department with two home runs.
Like Molina, he's played 94.1 innings. And unlike Molina, he has yet to make an error.
Grade: B-
Carlos Beltran: RF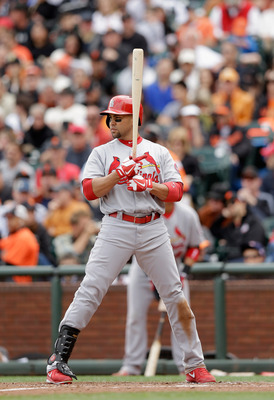 Ezra Shaw/Getty Images
Much like Holliday, Beltran is a marquee name. His recent string of injuries has shown his age, but he should make up for it with his production at the plate.
So far this year, Beltran is hitting .226 with a whopping eight RBI (leading the team) and a 3-5 performance with runners in scoring position.
In 69.2 innings, Beltran has a fielding percentage of 1.000. Although he has failed to showcase his previous range in the outfield, it hasn't yet affected the team statistically.
Grade: B
Matt Adams: Pinch Hitter, 1B
Dilip Vishwanat/Getty Images
Adams has been a man without a territory in the Cardinals organization, as Craig is the everyday first baseman. But his expected production at the plate has earned him both a spot pinch hitting and four starts thus far in 2013.
This "fill-in" player has far from disappointed. Adams is hitting a huge .643 with seven RBI and two towering home runs. His slugging percentage is 1.214, and his only pinch-hitting performance so far wielded one of his bombs.
He's helped turn two double plays and has a perfect fielding percentage. If he continues to hit like this, the Cardinals will have to find a way to get his bat into the lineup every day.
Grade: A+
Keep Reading

St Louis Cardinals: Like this team?