Predicting Which Washington Wizards Players Will Not Be Back Next Season
Rob Carr/Getty Images
Tervor Ariza, pitcured here with head coach Randy Wittman, has a player option for next season, and is one of a number of players who may not be back in Washington next season.
There always seems to be turnover in Washington. After missing the playoffs for five straight seasons, the Wizards' front office is constantly looking to shake things up in hopes of finally finding a winner.
This offseason should be no different. Eight different players could potentially not return to the roster come the 2013-14 season.
However, that doesn't mean that Washington won't make a good-faith effort to bring some of those players back, as the team tries to build a young base of players around John Wall and Bradley Beal.
The players who may not return either have player options, early termination contracts or contracts that have just run out.
Players on this list are likely to not return to the Wizards for one reason or the other. Players higher on the list are going to leave the biggest hole in the roster if they don't return to the nation's capital next season.
If a player is not on the list of players likely to be missing from Washington next season, an explanation as to why they will be back next season can be found on the "Honorable Mentions" slide.
Some of these players have made hardly any impact on the team this season, while losing some of these players could be a detriment to Washington. However, spaces on the roster will give Washington a chance to sign veterans and draft younger players that will set them up for a run at the playoffs next season.
Begin Slideshow

»
Jared Wickerham/Getty Images
Jason Collins, pictured here with the Boston Celtics, has already said he is interested in returning to the Celtics after spending part of the season in Washington.
In Washington's 107-96 loss to the Boston Celtics Sunday night, Jason Collins was the only player to not play a single minute.
Collins was sent off to Washington just before the trade deadline in exchange for Jordan Crawford, but he hasn't done much for the Wizards since coming over.
He has only appeared in five games this season, starting in two, and averages less than a point per game in Washington.
The 34-year-old center's contract expires at the end of this season, and he has already told the Washington Post he would 'definitely' like to return to Boston.
Making just over $800,000 this season, according to HoopsWorld, Collins still didn't do much in Boston, averaging just over one point per game, and not much else in any of the major statistical category.
For someone his age, Collins is likely to go to a team that has a much better chance of winning a NBA Championship than the Wizards.
Rob Carr/Getty Images
Power forward Cartier Martin's contract expires at the end of this season after spending the last four seasons in Washington.
While Cartier Martin has never been a starter in the NBA, and probably never will be, he has made a significant contribution to Washington this season coming off the bench.
However, his contract expires at the end of this season, and Washington would be wise to let him walk in favor of a younger player.
The 28-year-old power forward has spent the past four seasons with the Wizards, never averaging more than nine points per game.
Martin hasn't started a single game this season, but he still averages 16 minutes per game, averaging six points and two rebounds per game.
While those are solid numbers for a bench player, his numbers in almost every major statistical category have gone down this year from last season.
Martin is only shooting 38.5 percent from the floor, and on a team that needs to improve in field goal percentage, it would be wise for the Wizards to pursue other options and let Martin go.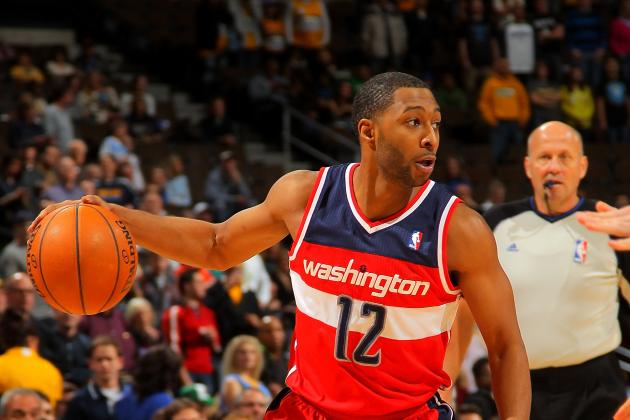 Doug Pensinger/Getty Images
Backup point guard A.J. Price filled in for John Wall this season when Wall was out, only to lead Washington to a 12-game losing streak to start out the year.
When John Wall missed the first 33 games of the season with injury, A.J. Price filled in at point guard.
However, Wall's absence was too large of an obstacle for the team to overcome, starting off the season with a 12-game losing streak.
Price played 13 games in November while Wall was out, and averaged nine points and five assists per game. His numbers weren't nearly enough to warrant more playing time though, and only averaged five points per game in February and four in March.
The 26-year-old didn't make all that much this season, just over $800,000, but the Wizards likely won't want him back.
While Price has already said he would like to return to the Wizards, for a player who only shoots 39 percent from the floor and isn't averaging double-digit points per game, he probably won't be back.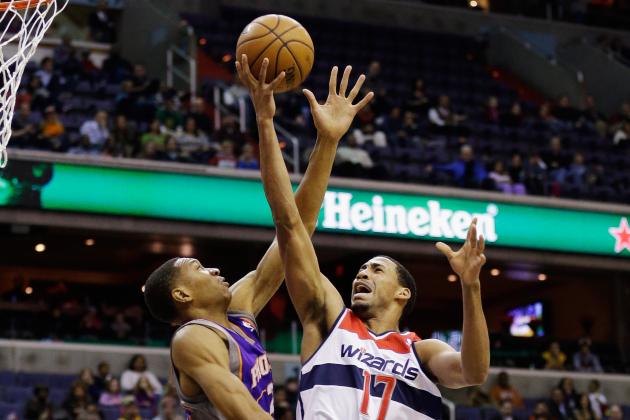 Rob Carr/Getty Images
Garrett Temple is eligible for a qualifiying offer this offseason worth over $1 million.
While production isn't a problem for Temple, who has started 33 games this season, money will be.
Temple's contract expires at the end of this season, but he is eligible for the Wizards to send a qualifying offer to the shooting guard. However, that offer is worth $1.1 million.
The 26-year-old has started at guard when rookie Bradley Beal was out with injury, but he still only averages just about five points per game. He does put up two rebounds and two assists per game, but not much else, as he is struggling to shoot over 40 percent from the floor.
Assuming Beal can stay healthy next year, Temple wouldn't even see much playing time.
But judging by his history, Beal is bound to miss a few games. If the Wizards do need a backup, they are better off looking in other directions for someone who can produce more than Temple, and costs less than $1.1 million.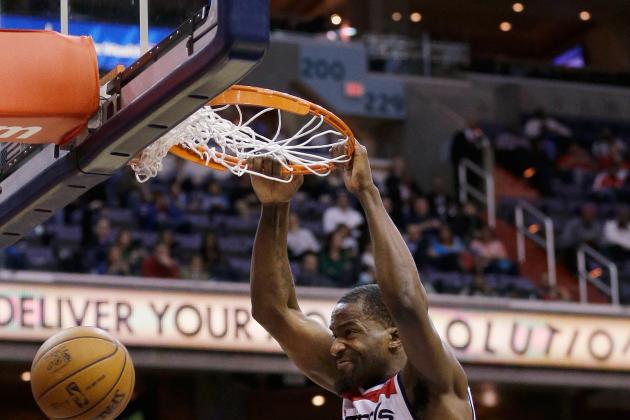 Rob Carr/Getty Images
Martell Webster is the most stressful free agent on the Wizards' plate this offseason. Webster has an aspiring contract, but has improved his play since John Wall returned to the lineup this season.
Once the final buzzer sounds on Washington's season, fans will immediately turn their attention to Martell Webster.
Webster's contract will be expiring at the end of this season, and he has also said he would be willing to discuss a new contract with the Wizards.
However, that doesn't guarantee that Webster will be back. He made $1.75 million this season, but at 26, he may be looking for more.
If both Emeka Okafor and Trevor Ariza choose to return, they will have already occupied two of the three biggest contracts on the team next season.
Put that on top of the money the Wizards will have to pay for their first round draft pick, and it's tough to say that Webster will be back if he wants more money than he made this season.
The small forward got off to a slow start but really came alive when John Wall returned to the lineup. Since Wall's return in January, Webster averages 12.3 points per game, compared to nine when he was out.
Just the thought of Webster back next season with a healthy Wall and Beal is enough to get fans thinking playoffs, but that is only if Webster doesn't demand much from Washington's front office.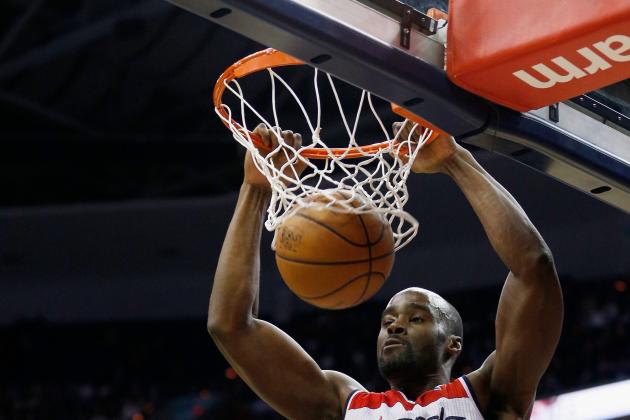 Rob Carr/Getty Images
Center Emeka Okafor is not likely to accept the early termination on his contract, and play one more season in Washington.
While there is a possibility that Ariza and Okafor could leave Washington after the conclusion of this season, both players have said they plan to play out the remainder of their contracts.
The addition of Okafor and Ariza this season has greatly improved Washington's defense, leading them to the seventh-best scoring defense in the league.
Ariza has a player option for 2013 worth $7.7 million, and Okafor is due $14.5 million, although Okafor has an early termination clause for next year that could allow him to end his contract early and test the free agent market.
It looks as if they will both be sticking around, though, as they have found a niche in the Wizards' offense. Okafor starting at center and Ariza coming off the bench.
Okafor is perhaps the more valuable of the two players, as he leads Washington in both blocks and rebounds.
Ariza has been more effective on offense, shooting 36 percent from three and averaging over nine points per game.
It's very important for the Wizards to have a young base for their team, but veterans like Ariza and Okafor are necessary if Washington wants any chance at making a run at the playoffs next season.