SF Giants: Nine Early Season Storylines to Follow Most Closely After Nine Games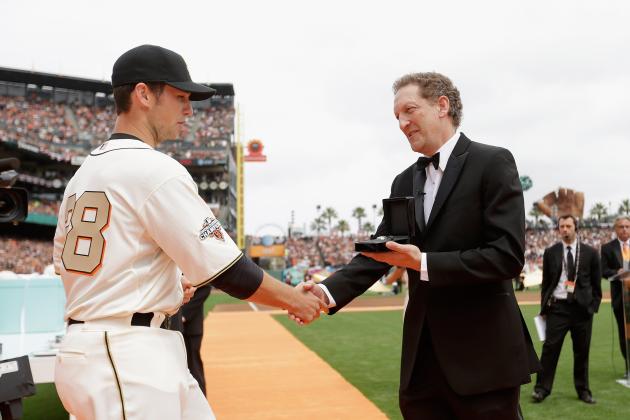 Ezra Shaw/Getty Images
Buster Posey is presented with his world championship ring.
The San Francisco Giants are off to a 7-3 start in the regular season. The Giants are attempting to defend their World Series title and also win their third world championship in the past three years.
Manager Bruce Bochy has the Giants playing good baseball, in general. Their early season look is that of a playoff team. The first ten games have been very interesting and already we have several intriguing story lines to follow.
A baseball game is nine innings, so let's look at the top nine stories thus far with the 2013 Giants.
Begin Slideshow

»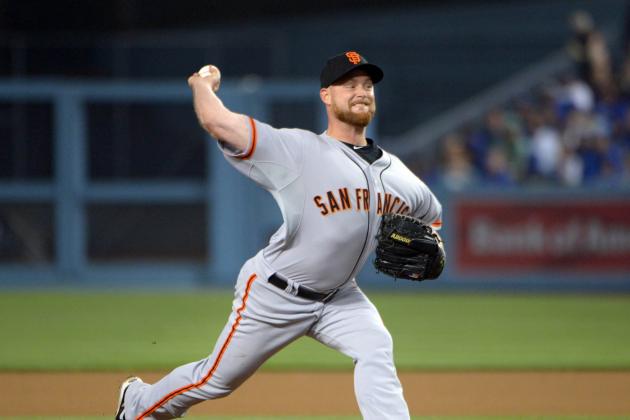 USA TODAY Sports
Chad Gaudin has not been scored upon in six innings of relief.
The San Francisco Giants have one of the top bullpens in all of baseball. All but one of the core members of the 2012 world championship team have returned. Only Guillermo Mota is gone, replaced by Chad Gaudin.
The bullpen consists of four right-handers, Sergio Romo, Santiago Casilla, George Kontos and Gaudin. There are three lefties, Jose Mijares, Javier Lopez and Jeremy Affeldt.
Only Kontos has really struggled, allowing six earned runs in five innings of work. If we remove Kontos' numbers, the bullpen has thrown a total of 24.1 innings, allowed only 16 hits and four earned runs.
The strikeout-to-walk ratio is tremendous, as the Giant relievers cumulatively have struck out a total of 30 hitters, while walking only four.
Manager Bruce Bochy and pitching coach Dave Righetti are well known for building a strong bullpen. Bochy did that during his tenure with the Padres and has done it again with the Giants.
Thearon W. Henderson/Getty Images
Hunter Pence has three home runs and seven RBI in his first nine games.
The Giants acquired outfielder Hunter Pence prior to the trade deadline in 2012. Although his average was only .219 with the Giants, he came through with 45 RBI in only 59 games.
Pence's emotional speeches were also well chronicled as he helped get the team fired up as they faced elimination in the postseason.
Pence admittedly was trying to do too much and was over anxious at the plate last year. Now, in 2013, Pence looks much more relaxed at the plate and has been very productive. In only ten games, he already has three home runs and seven RBI.
The Giants are hoping for a big year from Pence and he looks ready to deliver.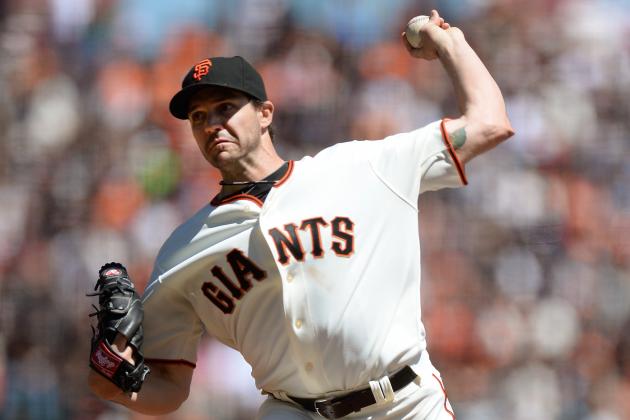 Thearon W. Henderson/Getty Images
Barry Zito has not allowed a run in two starts.
Every pitcher in the Giants' starting rotation had over 30 starts last season. If they are somehow, able to duplicate that in 2013, that will mean the Giants are having great success.
The starters have been, at times, spectacular and at other times, very poor. Matt Cain has yet to get on track, with an 0-1 record and 8.38 ERA. Cain has been the Giants' most reliable pitcher over the past several years, so expect him to turn things around in his next start.
Madison Bumgarner is 2-0, with a 1.32 ERA. Barry Zito has thrown two excellent games and has not allowed a run in 14 innings of work.
Tim Lincecum struggled with his command in his first two outings, but still has a record of 1-0.
Ryan Vogelsong did not pitch particularly well in his first start and had a rough patch against the Cubs. He battled through and got the win, as the Giants rallied from a 5-0 deficit.
The Giants' starters have been a bit inconsistent. For the Giants to have a chance to defend their world championship, they will need to improve. Even without great starting pitching thus far, the Giants are off to a 7-3 start. Expect the starters to become more consistent and put together a good run.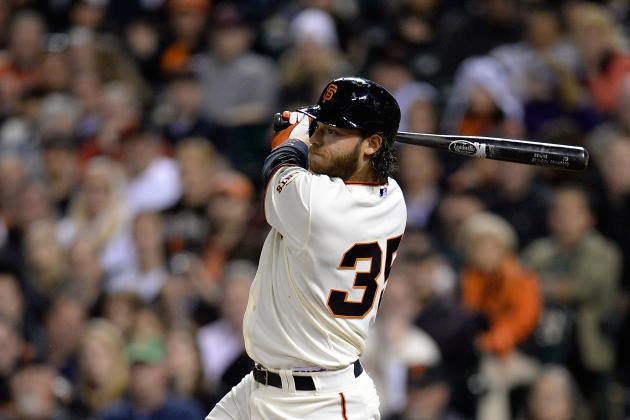 Thearon W. Henderson/Getty Images
Brandon Crawford has come through with some clutch hits.
The 2013 season started with the Giants expecting improvement offensively. Two of the players expected to improve are Brandon Crawford and Brandon Belt.
Crawford is off to a good start with the bat, hitting .273. He has five runs scored and driven in five runs. Defensively, Crawford is looking good and has a legitimate shot at winning a Gold Glove.
The Giants' other young Brandon, Brandon Belt has not gotten off to a good start. After swinging a hot bat in spring training, Belt is hitting only .156 and has no RBI. This lack of RBI punch was a problem for Belt last year and the Giants need him to produce with runners in scoring position.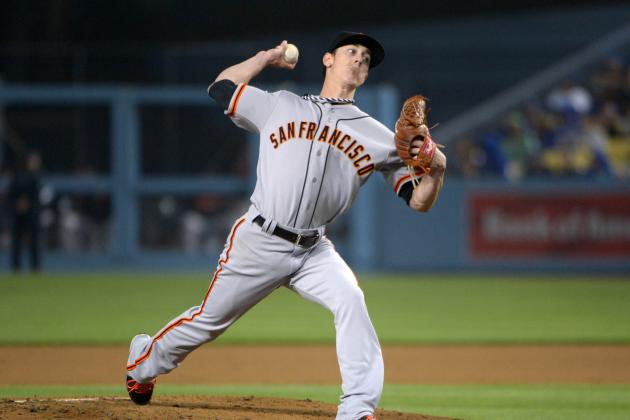 USA TODAY Sports
Tim Lincecum has been inconsistent with his command
Tim Lincecum has, at times, looked very good, but at other moments looked like he has no idea where the ball is going. Lincecum is coming off the worst season of his life and was hoping to start the year off by returning to top form.
In his two starts, Lincecum has thrown 11 innings, allowing only seven hits, while striking out 11 batters. All good, it appears, until you realize he has an alarming 11 walks.
Lincecum's WHIP is 1.636, which is even worse than last year. His ERA of 4.91 is also too high.
The issue with Lincecum has been inconsistent command. There are stretches where he is dominant, but far too many instances when he cannot throw quality strikes.
Lincecum is at the end of his contract and if he wants to cash in, he needs to have a good year. In addition, Lincecum is a very prideful young man and he was frustrated by his lack of performance last season. He felt like he let the team down, which weighed heavily on him.
If Lincecum cannot command his pitches far better than he is currently, he will be in for a long year. However, if he is able to harness his control and his mechanics stay right, Lincecum still has the ability to be a solid winner.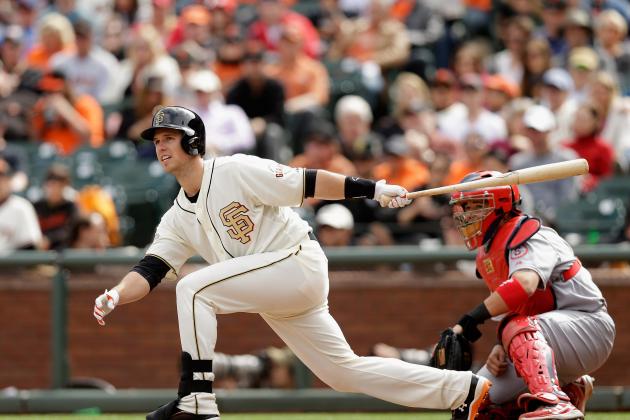 Ezra Shaw/Getty Images
Buster Posey is the reigning NL MVP.
It took Buster Posey until the seventh game of the season for him to get his first RBI. In his first six games, Posey was batting only .200, and not hitting the ball well.
Over his next three games, Posey is 4-13, with two extra-base hits and four RBI. His batting average has climbed to .242 and is on the way up.
With all the festivities of two Opening Day games, one in Los Angeles and the other in San Francisco, plus Posey being honored with his MVP award in the second game in San Francisco, it was understandable that he may have been a bit distracted.
The Giants' ring ceremony was also on the third home game, which was another emotional event for the Giants.
Now that the hoopla has quieted down and the Giants are back to a full focus on baseball, they have won four in a row and Posey is heating up.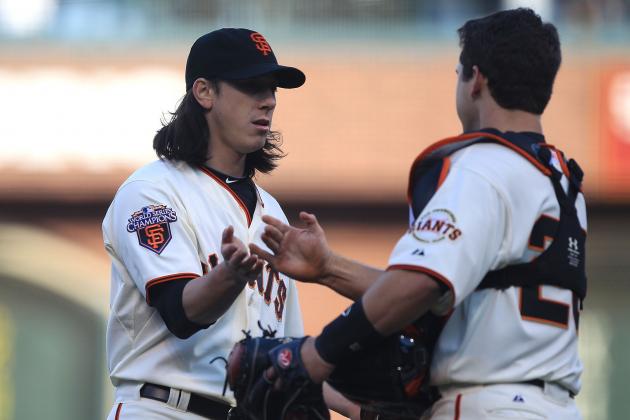 Jed Jacobsohn/Getty Images
Tim Lincecum and Buster Posey worked well together in the 2012 postseason.
Tim Lincecum has worked primarily with catcher Hector Sanchez since the 2012 season, fueling speculation that there is some sort of rift between he and Buster Posey.
Could this be true?
At one point in his career, Tim Lincecum was the Giants' "face of the franchise." He won two Cy Young awards and was a dominant pitcher.
In the 2012 season, his brilliance was gone and he muddled his way through a 10-15 season, with an ERA of 5.18 and WHIP of 1.468. These numbers were by far the worst of his career.
Meanwhile, in 2010, when Buster Posey broke in with the Giants in late May and the team traded catcher Bengie Molina soon after, it was Posey who would help lead the Giants to their first world championship in San Francisco. Posey was named the NL Rookie of the Year.
Lincecum mentioned on more than one occasion how he missed Molina and how well the two worked together.
After sustaining a devastating leg injury in the 2011 season, Posey would return in top form in 2012. He earned Comeback Player of the Year honors and was the NL MVP. The spotlight on Posey was never brighter, while Lincecum was under a dark cloud.
Did this lead to any jealousy or animosity between Lincecum and Posey?
In the first two starts of Lincecum's 2013 season it was Sanchez, not Posey behind the plate. Sanchez is not nearly the same receiver or pitch-caller that Posey is, but he and Lincecum seem to have found some chemistry.
Manager Bruce Bochy insists there is no problem between Lincecum and Posey. He insists that Posey needs some rest periodically and it just happens to work out that he chooses to give Posey a break on the days Lincecum pitches.
It is no secret that of the Giants' five starting pitchers, Lincecum is by far the most difficult to catch. His command has been very inconsistent and he frequently has no idea where the ball is going. In 11 innings of work in the 2013 season, Lincecum already has an alarming 11 walks.
In addition, the pitch Lincecum uses to get most of his strikeouts, the split finger, often dives down into the dirt. Anyone catching Lincecum is going to get a tough workout and will be constantly blocking balls in the dirt, which will take it's toll on the body and stamina of any catcher.
Lincecum and Posey both insist there's no personality conflict or divisiveness between them. They also worked well together in the 2012 postseason when Lincecum was called on in relief.
The conclusion is that manager Bruce Bochy knows he must give Posey some periodic rest. Also, Sanchez needs some playing time to stay sharp.
Bochy gives Sanchez the start when Lincecum is on the hill, which also saves Posey from getting too beat up. This approach makes perfect sense and we must believe Lincecum and Posey when they say there is no problem between them.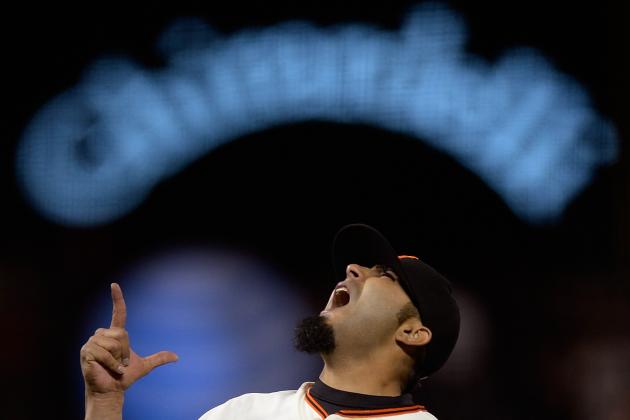 Thearon W. Henderson/Getty Images
Sergio Romo celebrates a save.
Santiago Casilla was the Giants' closer in the first half of the 2012 season, as Brian Wilson was lost for the year after only two appearances. Casilla led the Giants in saves with 25,
Casilla encountered problems with blisters and that affected his pitching. He blew some games and lost his confidence, which caused him to struggle even after the blisters were healed.
Sergio Romo took over the closer role in the second half of the season. He did a remarkable job finishing out the year and especially into the postseason.
Romo had 14 regular season saves and finished the year with an ERA of 1.79 and WHIP of 0.849. In 55.1 innings of work, he remarkably struck out 63 hitters, while walking only 10.
Romo's success continued into the postseason, where in 10.2 innings, he allowed four hits and only one run. He also struck out nine, against only one walk. Romo earned four postseason saves, including three in the World Series.
There has been speculation that because of Romo's small stature and heavy reliance on throwing the slider, he would not be able to last for an entire season. Romo is listed at 5'10" and 185 pounds, but that may be a stretch.
The issue of durability is not an unfounded concern because when Romo is over-worked, he is susceptible to injury and his devastating slider also loses some of it's bite, becoming much easier to hit.
Manager Bruce Bochy and pitching coach Dave Righetti watch Romo closely. They are very careful about not over-taxing him. Romo will not work three consecutive days and sometimes won't even be called upon to pitch in back-to-back games if he threw a lot of pitches the night before.
Bochy is a master at giving Romo a proper workload and so far it's working beautifully this season. In six games, Romo has thrown six innings, allowing only two hits, while walking nobody and striking out 10.
Romo's ERA is 0.00 and his WHIP is a microscopic 0.33. He is a perfect six-for-six in save opportunities.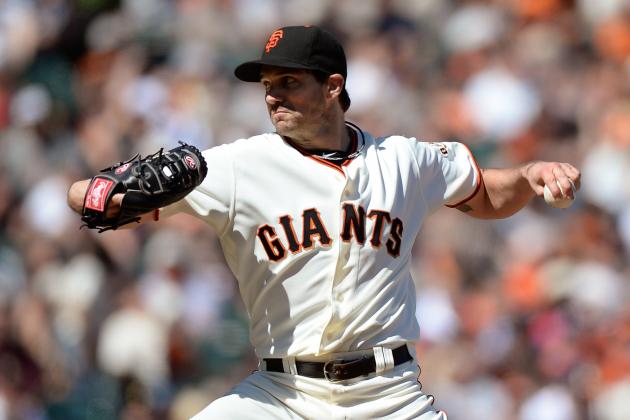 Thearon W. Henderson/Getty Images
Barry Zito has not been scored upon in 14 innings this year.
Barry Zito is hearing cheers and chants of Barry-Barry-Barry from the fans of San Francisco. At no point in his first five years with the Giants would anyone have ever believed this.
Prior to the 2007 season, Peter McGowan, the managing owner of the Giants orchestrated the signing of Zito to a seven-year $126 million contract. This is the final year of that deal and Zito is earning $20 million.
The Giants hold an option for 2014, where they can keep Zito for another $18 million or pay him a $7 million buyout. Amazingly, the way Zito pitched last year and has started out the 2013 season, he may be worth keeping for the extra $11 million.
There is a lot of baseball left this year and things can change quickly, but for now, Zito has been the best pitcher in the Giants' rotation. In 14 innings, Zito has not allowed a run.
Zito also came through in several clutch situations last season, including getting a win against the Cardinals in the NLCS, when the Giants were facing elimination. He also out-dueled Justin Verlander in the first game of the World Series against Detroit.
Perhaps even more incredible is that Zito has a five-game hitting streak, which includes a key hit off Verlander in the World Series. In 2013, Zito is 3-4 for a .750 batting average and also has three successful sacrifice bunts. He is truly doing it all for the Giants right now.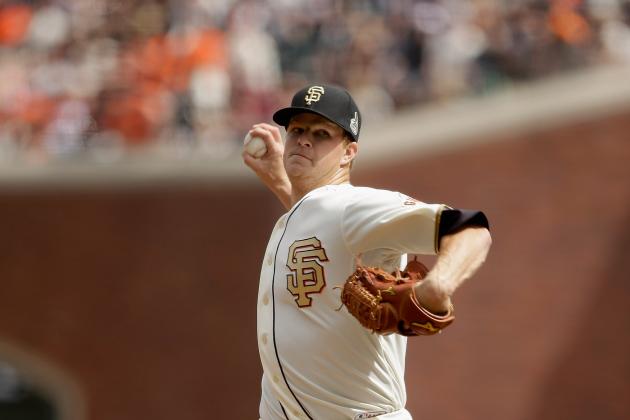 Ezra Shaw/Getty Images
Matt Cain has had two rough outings but is still the ace of the staff.
The Giants' formula for success starts with good pitching and defense. GM Brian Sabean has built this club around these two focal points and it has paid huge dividends.
The Giants are also receiving some timely hitting and have already come back and won games where they trailed by four runs against the Rockies and five runs against the Cubs. The team plays good fundamentally sound baseball and rarely beats itself.
The one additional thing that separates the Giants from the pack is their incredibly good team chemistry. Under the steady guidance of manager Bruce Bochy, this group of men genuinely enjoy each other and love playing together.
To a man, the Giants play for each other and that camaraderie and positive vibe carries through to the field. This is the intangible factor that has lifted the Giants to the top of the baseball world in two of the past three seasons.
If the Giants stay healthy this year, they will be right there challenging for another world championship. Baseball is alive and well along the shores of McCovey Cove.