After defeating Oklahoma in the Cotton Bowl last season, 2012 Heisman winner Johnny Manziel and Texas A&M look to make another run at the national championship this season.
Fueled by Manziel, the Aggies went 11-2 (6-2 SEC) last season, upsetting eventual national champion Alabama and only losing to Florida and LSU, who both finished in the top 15 in the rankings.
The Aggies dual-threat sensation was spectacular as a freshman, averaging 8.5 yards per pass attempt while tossing 26 touchdowns to nine interceptions. He also rushed for over 1,400 yards and 21 touchdowns.
Obviously, Texas A&M's title hopes lie firmly on Manziel's shoulders. Perhaps the biggest challenge for the young signal-caller will be staying mentally sound coming off a Heisman campaign. There figure to be plenty of distractions, before and during the season.
As for the rest of the team, the Aggies have lost some key players, most notably left tackle Luke Joeckel, defensive end Damontre Moore and receiver Ryan Swope.
On the other hand, tackle Jake Matthews opting to stay another year at A&M was a complete surprise. The Aggies figure to move him to the left side to replace Joeckel.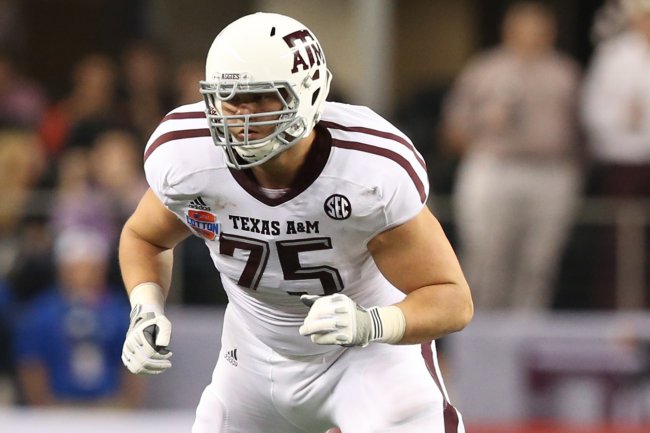 USA TODAY Sports
The Aggies also still have last year's leading receiver, Mike Evans (82 catches for 1,105 yards and five touchdowns), as well as running backs Ben Malena and Trey Williams, who combined to rush for 1,184 yards on 5.8 yards per carry in 2012-13.
There's also running back Brandon Williams, who sat out last year after transferring from Oklahoma. Williams was ranked as the No. 18 overall recruit in the 2011 class by 247Sports.com.
The biggest concern for the Aggies will be on the defensive side of the ball. Moore was a huge player for them, emerging as a terror against the run and the pass last season. A&M returned just two players in the front seven this spring, linebacker Steven Jenkins and defensive lineman Kirby Ennis. Ennis has some work to do after being arrested in February on charges of discharging/displaying a firearm and disorderly conduct (via the San Antonio Express-News).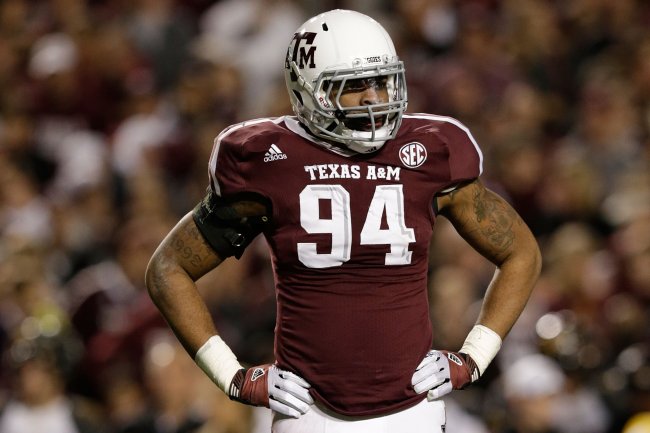 Scott Halleran/Getty Images
Will the Aggies have a better campaign than last season?
One player who could help fill the void is defensive end Brandon Alexander, who didn't see the field last season but has a lot of potential given his physical tools.
Another thing: The Aggies don't have to face Georgia, Florida or South Carolina in 2013. They do, however, face rematches with Alabama (Sept. 14) and LSU (Nov. 23). They play the Crimson Tide at home and go on the road to battle the Tigers.
I recently projected Texas A&M to begin at No. 5 in the AP preseason poll. I think that's a good indicator of where they stand in the country at the moment.
Of course, championships aren't won on paper. It's not necessarily the most talented team that goes all the way. It's the team that meshes as a unit.