7 Biggest Draft Steals for the New York Mets from the Past 8 Years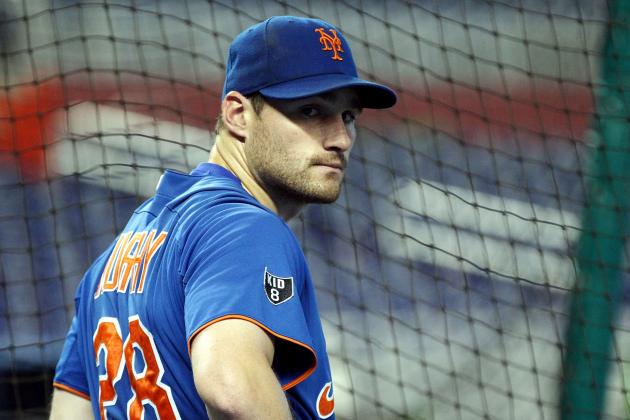 Marc Serota/Getty Images

Over the past 10 years, the New York Mets have discovered many key players through the draft.
Some of the best players on the team have come from the top end of the draft, while some have been steals from later rounds.
For example, Ike Davis is one of the best hitters on the current Mets roster. But Davis was also a first round pick in 2008. Because he was drafted so high, Davis cannot be considered a draft steal despite his quality production.
Here are the seven biggest draft steals for the Mets from the past 8 years:
Begin Slideshow

»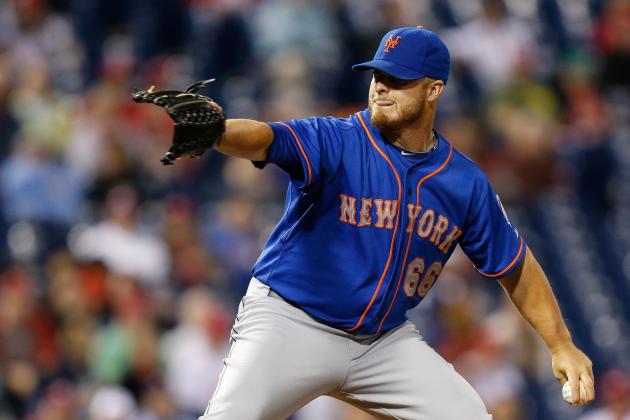 Brian Garfinkel/Getty Images
The Mets drafted Edgin in the 30th round, but he is already the best left-handed reliever in the organization.
Josh Edgin was originally a 50th round draft pick of the Atlanta Braves in 2009, and then a 30th round pick of the Mets in 2010.
Since being drafted by the Mets, Edgin has become one of the Mets' best left-handed relievers.
In 2012, Edgin posted a mediocre 4.56 ERA in 34 games. But Edgin also had 30 strikeouts and only 10 walks in 25.2 innings pitched. He also allowed just 19 hits, equating to a stellar 1.13 WHIP. Thus, the 4.56 ERA does not fully indicate how well Edgin pitched last season.
This season, Edgin has already pitched in five games and boasts a 2.45 ERA.
A 30th round pick is not supposed to become one of the most reliable relievers on a team, but that is exactly what Edgin has become.
At only 26, Edgin has a bright future ahead of him, and the Mets were able to find a hidden gem in the 30th round.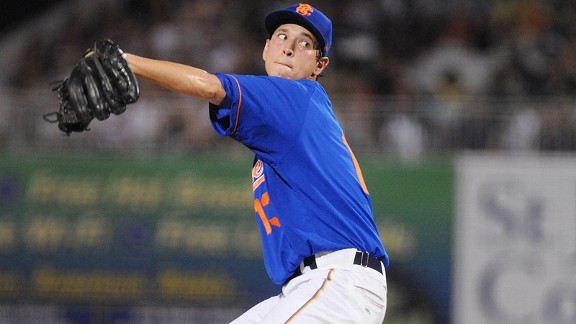 Bowman is still raw, but the Princeton grad already shows great command, athleticism and intangibles. Photo via: http://a.espncdn.com/photo/2012/0702/ny_e_bowman01jr_576.jpg
Matthew Bowman, who graduated from Princeton with a degree in economics, has shown plenty of potential in his brief minor-league career.
Bowman currently is a reliever and spot starter, but in college he earned All-Ivy Honorable Mention as both a pitcher and shortstop. The Mets could not pass him up in the 13th round, and they raved about his pre-draft workouts.
As a pitcher and shortstop, Bowman already boasts pure athleticism. In his final season at Princeton, Bowman was a modest 4-2 with a 4.66 ERA. But the Mets saw a raw player with a fastball that can get as high as 95 mph. Bowman also throws a hard slider, curveball and changeup. The Mets also liked his strong command, as 58 strikeouts and only 17 walks in 56.0 innings is worth bragging about.
In his 2012 Short-A season with the Brooklyn Cyclones, Bowman was unhittable.
In 12 games, Bowman threw 29.1 innings. He posted a 2-2 record with a 2.45 ERA, 0.95 WHIP, three saves and an incredible 30:2 K/BB ratio.
Opposing batters only hit .239 with just one home run all season.
Bowman surprised everyone and earned the Opening Day start for the Class-A Savannah Sand Gnats this season. He earned a no-decision, giving up only two earned runs in 5.1 innings. Bowman had five strikeouts and two walks and had a superb 8:1 groundball to flyball ratio.
Bowman has overproduced greatly in his brief minor league career, especially as a 13th-round pick. If he continues to develop and perhaps crack the Mets roster one day, Bowman becomes an even bigger draft steal.
Chris Trotman/Getty Images
For a 9th round pick, the Mets received their most dominant reliever in Parnell.
Bobby Parnell is arguably the Mets' best reliever, and he came at little cost as a ninth round pick.
Of the 13 other pitchers taken in the ninth round, only one made it to the majors. Robert Mosebach pitched in three career games with an ERA of 7.71.
Only one of the 15 pitchers taken in the eighth round made it to the majors: Clayton Richard, who has always been subpar and sports an 8.68 ERA in two starts this season.
Meanwhile, Parnell has a 3.81 ERA in 257.2 career innings. In 2012, Parnell had a superb 2.49 ERA and 61 strikeouts in 68.2 innings. He was named the full-time closer in spring training this season and has thrived.
Parnell is a mainstay in the Mets' plans for a long time.
As a ninth round pick, Parnell was a great draft pick for the Mets.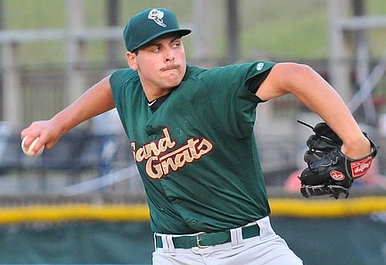 The big Fulmer already has incredible command for a 20-year-old, and the Mets received him for letting Pedro Feliciano sit on the Yankees' DL for two seasons. Photo via: http://smhttp.18058.nexcesscdn.net/808D60/wordpress/wp-content/uploads/2012/07/michael-fulmer.png
Michael Fulmer may have been a first round pick, but he is a huge steal for one ultimate reason.
The Mets received the first-round compensation pick from the New York Yankees in exchange for signing away reliever Pedro Feliciano before the 2010 season.
That is the same Pedro Feliciano who did not throw a single pitch for the Yankees. The Yankees ended up paying Feliciano $10 million over two years to rehab his shoulder. The Mets stole away the Yankees' first round pick for the price of nothing.
With that compensatory pick, the Mets drafted Fulmer (the "1s" in the title indicates Fulmer was a compensation pick).
According to MLB.com, Fulmer currently ranks as the 10th best prospect in the Mets' farm system.
Last season, pitching for the Class-A Savannah Sand Gnats, Fulmer was outstanding.
Fulmer finished the season 7-6 with a 2.74 ERA and a respectable 1.20 WHIP in 21 starts. Fulmer allowed only 92 hits and six home runs in 108.1 innings. Most impressively, Fulmer had 101 strikeouts and 38 walks.
For a player who just turned 20 in March, he already possesses the command of seasoned veterans.
Even though Fulmer was a first round pick, he is a steal for the Mets because they drafted him at no cost due to Feliciano's lingering injuries as a Yankee.
And to rub salt in the wound, Feliciano is healthy and back on the Mets in Triple-A after a strong spring training.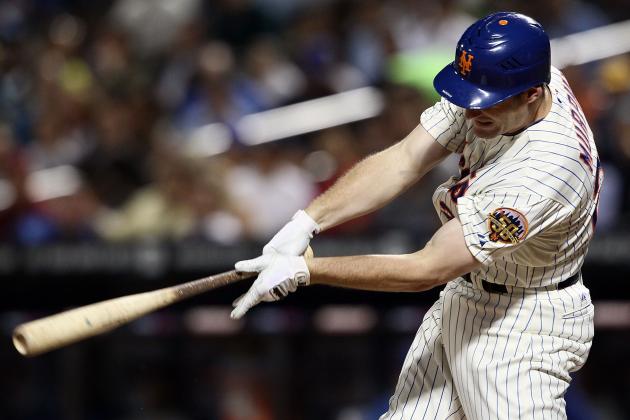 Alex Trautwig/Getty Images
Murphy is one of the most consistent offensive second baseman in baseball, and he came for only a 13th round pick.
Daniel Murphy was originally drafted as a third baseman in 2006.
Of the 19 third basemen drafted before Murphy, only two of them became full-time major leaguers: Evan Longoria and David Freese. And of the 15 second basemen drafted before Murphy, none of them ended up becoming full-time major leaguers.
In fact, the most impactful second baseman drafted before Murphy in 2006 is another Met, Justin Turner.
Somehow, Murphy fell all the way to the 13th round coming out of Jacksonville University. Since then, he has quietly developed into one of the better offensive second baseman in baseball.
In his five-year career, Murphy has hit .292. But take away the 2009 season, where Murphy struggled as he was shuffled between left field and even first base, and Murphy's career average goes up to .305.
Last season, Murphy hit .291 with 62 runs and 65 RBI. Murphy also hit 40 doubles, which is the same as AL MVP and Triple Crown winner Miguel Cabrera.
In eight games this season, Murphy has already slugged three doubles, a triple and two home runs. He is hitting .333 with a 1.075 OPS.
For the minor cost of a 13th round pick, the Mets managed to pick up an offensive-minded second baseman with improving defense.
Murphy was a big draft steal for the Mets, and he will continue to rake in a lineup that desperately needs his bat.
Al Bello/Getty Images
Gee fell all the way to the 21st round, and since being drafted has pitched his way into the starting rotation.
The 2007 draft was heavy on starting pitching.
Some of the biggest names include David Price (Round 1), Madison Bumgarner (Round 1), Rick Porcello (Round 1), Jordan Zimmermann (Round 2) and Steve Cishek (Round 5). Even Matt Harvey was drafted out of high school in the third round by the Los Angeles Angels of Anaheim before he decided to attend college instead. I think Mets fans are pretty happy with that decision.
But after Matt Moore was drafted in the eighth round, none of the pitchers drafted afterward became mainstays in the majors until Dillon Gee. Chris Sale was drafted in the 21st round before he too decided to go to college instead.
Yet Gee, drafted almost 15 rounds later than any impactful pitcher, has become a full-time starter for the Mets.
Not only has Gee made it to the Mets rotation, but he also has a chance for a breakout season.
Gee seemed destined for that breakout season in 2012 before he had season-ending shoulder surgery. His 6-7 record and 4.10 ERA are modest, but Gee's strikeouts were up and his walks were down. His numbers could have improved greatly by season's end.
Gee is completely healthy this season. If he continues to improve each season like he has, Gee could give quality production in the bottom of the rotation.
For a 21st round pick, that is a huge steal.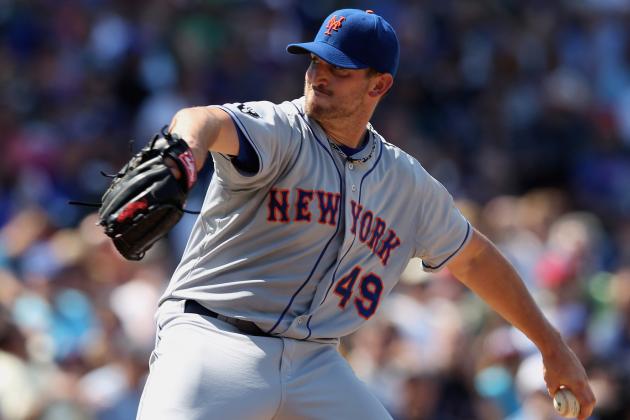 Scott Halleran/Getty Images
Niese has quickly established himself as a reliable top-of-the-rotation starter for the price of only a 7th-round pick.
Two rounds before the Mets drafted Parnell, Jon Niese was another one of the Mets' biggest draft steals.
In fact, I believe he is the biggest steal.
Niese was the 99th pitcher chosen in the 2005 draft. Roughly half of the pitchers drafted before Niese never made the majors. Only a handful became top-of-the-rotation starters like Niese did, such as Ricky Romero and Matt Garza.
But none of them were drafted as low as Niese was at pick 209.
Niese has developed into one of the best left-handed pitchers in baseball. Last season, he finished 13-9 with a 3.40 ERA in 190.1 innings.
The 2005 draft was a pretty backwards draft for pitching.
Romero and Garza were arguably the best pitchers drafted toward the top end of the draft. But the better pitchers were drafted much later. Andrew Bailey was a 16th round pick. Jaime Garcia was a 22nd round pick. Sergio Romo went in the 28th round. Most incredibly, the National League saves leader for 2011 and a two-time Cy Young winner were drafted two spots apart in the 42nd round: John Axford and Tim Lincecum.
Even last year's NL MVP, Buster Posey, was drafted in the 50th round as a pitcher.
As for the Mets, for the price of a seventh round pick they found an Opening Day starter who can give 200 quality innings every year.
Niese may not have been the biggest steal of that year's draft, but he is certainly the biggest for the Mets in the past eight years.
Stats and/or draft info via ESPN.com, MLB.com, MiLB.com and baseball-reference.com