Wisconsin Football: Week 4 Spring Practice Stock Report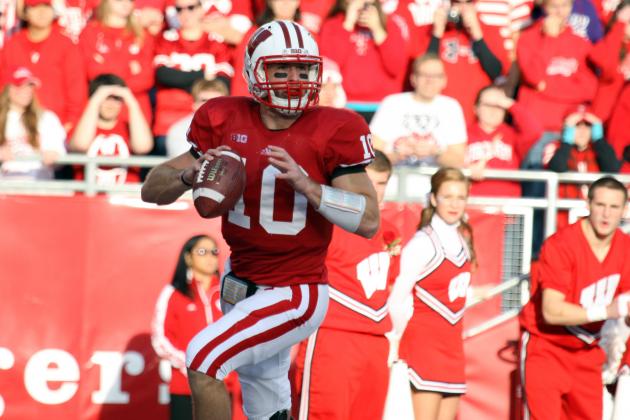 Mary Langenfeld-USA TODAY Sports

It feels like there aren't enough fingers and toes to keep track of the number of injuries Wisconsin football is dealing with this spring. To rub salt in the wound, the Badgers learned that converted outside linebacker David Gilbert will miss his senior season due to a recurring foot injury.
Head coach Gary Andersen has been playing it safe with some of his mangled players, and while that's not a bad idea considering it's only April, there is plenty to learn pertaining to new philosophies both on offense and defense.
Whether you're a sixth-year senior like Curt Phillips or a early enrolled freshman like Sojourn Shelton, everyone has something to learn. While it may set the Badgers back a bit at first, injuries have allowed younger players to gain some valuable reps in practice, which could benefit the team down the road.
With just one week to go until the spring game, let's see whose stock is up and whose is down.
Begin Slideshow

»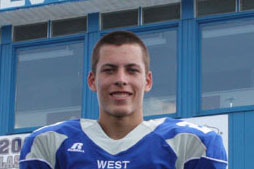 Photo courtesy of 247sports
How can a walk-on sophomore already be receiving significant practice time for the Badgers? Well, lots of injuries first of all, but Joe Schobert has also been taking advantage of an opportunity he otherwise wouldn't have received.
We noted that Gilbert is out of the picture, and also out for the spring are seniors Brendan Kelly and Tyler Dippel, so that has allowed Schobert to make an impression as a hybrid defensive end/linebacker (via Tom Mulhern of the Wisconsin State Journal).
"I really think Schobert's going to be a special young man," Andersen said. "He's a youthful, excited player, great natural instincts. He's come a long way."
Andersen also lauded sophomore Jesse Hayes as a DE/LB, who we mentioned in last week's stock report. There should be great competition between Hayes and Schobert this fall along with those returning from injury, and don't forget about highly touted redshirt freshman Vince Biegel.
The extra reps for Schobert are paying off, and getting this experience in the new defense could help him surprise some people and earn playing time in 2013.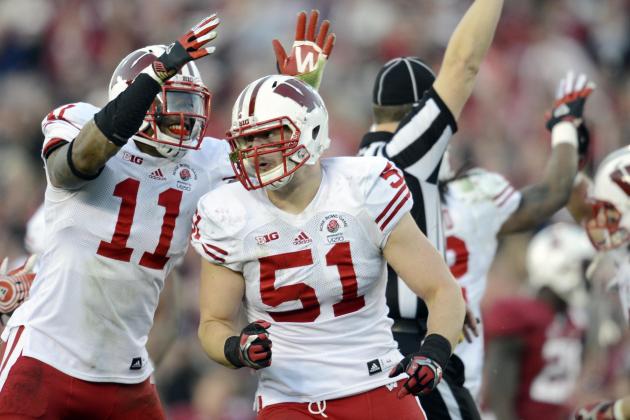 Robert Hanashiro-USA TODAY Sport

Injuries are opening doors for underclassmen to contribute, but they are also hurting the stock of some seniors, including DE/LB Tyler Dippel.
Due to a shoulder injury, Dippel will have to wait until summer conditioning to participate, and from there he has a lot of ground to make up in regards to getting comfortable to the 3-4 defense and gaining on the competition at DE/LB (via Benjamin Worgull of Badger Nation).
And there's a lot of competition.
Wisconsin losing Gilbert may wind up giving Dippel a larger role next season, but he was essentially a pass-rush specialist last season as a junior and only started when players ahead of him on the depth chart were injured.
It's that pass-rushing ability—he tied for the sacks lead last season—that could make Dippel a nice fit at outside linebacker in the 3-4, but his injury and the crowded DE/LB group will make things difficult for Dippel.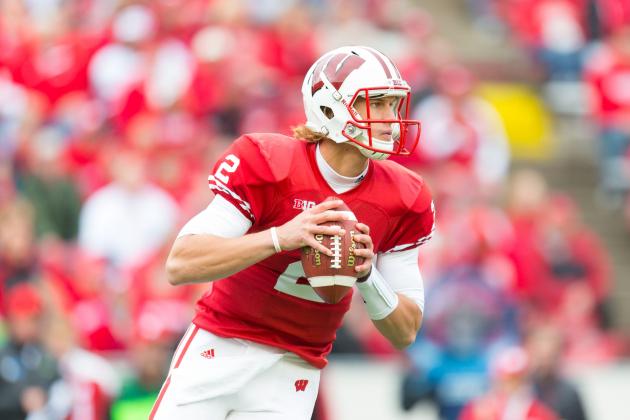 Jeff Hanisch-USA TODAY Sports

Through four weeks of spring practice, it's hard to deny this—Joel Stave is the best passer among the Wisconsin quarterbacks.
You would think this translates into Stave being the obvious choice as No. 1 quarterback this spring, but Curt Phillips hasn't done anything to lose his grasp on the job. Phillips has a good understanding of the offense and is also the most mobile of those competing for the starting position (via Mulhern).
It's great to see Phillips healthy and realizing his potential this spring, but Stave's deep ball continues to be spot-on. In the team scrimmage on April 6, Stave completed 4 of 6 pass attempts for 101 yards while producing three touchdowns on four drives. There's also this little tidbit from Mulhern regarding the Badgers' most recent practice:
Couple great throws by Joel Stave at the end of practice, one to Jordan Fredrick, one to Jacob Pedersen.

— Tom Mulhern (@TomMulhernWSJ) April 11, 2013
Heck, Stave even ran the most successful read option of the scrimmage when he scampered for nine yards. It's not as if the Badgers have a full-fledged running quarterback on the current roster—even when considering Phillips—so that shouldn't downgrade Stave in the quarterback competition.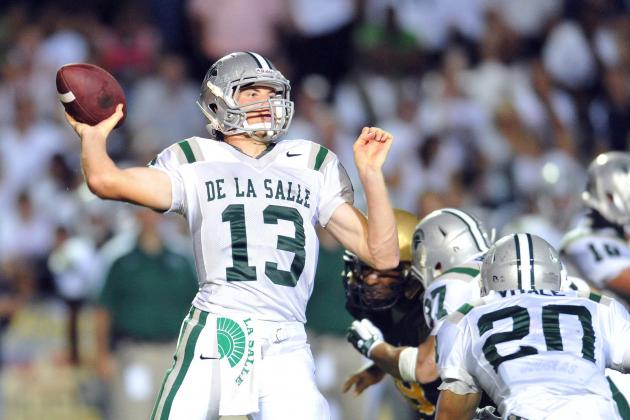 Steve Mitchell-USA TODAY Sports

Of the three quarterbacks that received snaps on Saturday's scrimmage, redshirt freshman Bart Houston appeared to be the least comfortable in the offense under center.
And understandably so, as Houston is still merely a freshman going up against two players who helped lead Wisconsin to the Rose Bowl last season. He has a very strong arm, but that's obviously not all that goes into winning the quarterback competition.
In his two drives at the scrimmage, Houston only went 2-of-5 for 30 yards and failed to lead the offense to any points. According to what coach Andersen had to say after practice on April 11, it looks to be a two-man race until Tanner McEvoy arrives this summer (via Worgull).
GA on Stave and Phillips have separated themselves because of production and leadership in different ways throughout spring. #Badgers

— Benjamin Worgull (@TheBadgerNation) April 11, 2013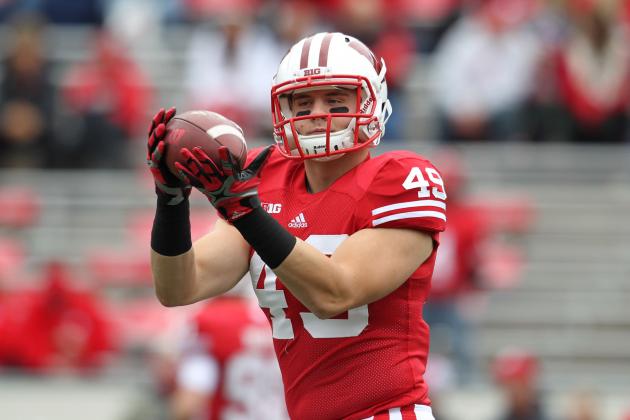 Brace Hemmelgarn-USA TODAY Sports

During the aforementioned scrimmage, the offense used a lot of "13" formation, meaning one running back and three tight ends were lined up. The three tight ends on the field were Jacob Pedersen, Brain Wozniak and Sam Arneson.
This might have been coach Andersen sending a message to his wide receivers, because only having Jared Abbrederis on the field gives the impression that he is the only competent receiver on the roster.
That probably isn't far from the truth, and while Pedersen is already known for his pass-catching ability, Arneson could be the next in line as far as prestigious tight ends to come through the Wisconsin program. The 6'4" junior has been praised in the past by now Arkansas coach Bret Bielema because of his size and ability to create mismatches in the secondary.
Being buried in the depth chart for the most part last season, using three tight end sets could allow for Arneson to flourish and be an unlikely source of offense in 2013.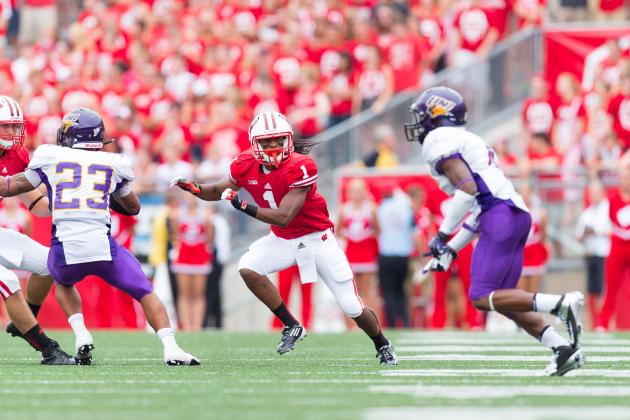 Jeff Hanisch-USA TODAY Sports

Of course, if the Badgers are going to use a lot of "13" sets, that's bad news for sophomore receiver A.J. Jordan.
With Kenzel Doe all but locked into a slot receiver role, the job to start alongside Abbrederis appears to be between last year's No. 2, Jordan Fredrick, and Jordan. This is a nice step up for Jordan compared to his limited role last season, but he didn't do himself any favors in Saturday's scrimmage by dropping a pass and only catching one ball for eight yards.
Meanwhile, Fredrick had two receptions for 35 yards, so it's hard to say anyone has overtaken the reigning No. 2 wideout. With Reggie Love and Marquis Mason battling injuries, this would conceivably be a great opportunity for Jordan to take advantage.