To the Semis Barca Go: Takeaways and a Look Ahead for FC Barcelona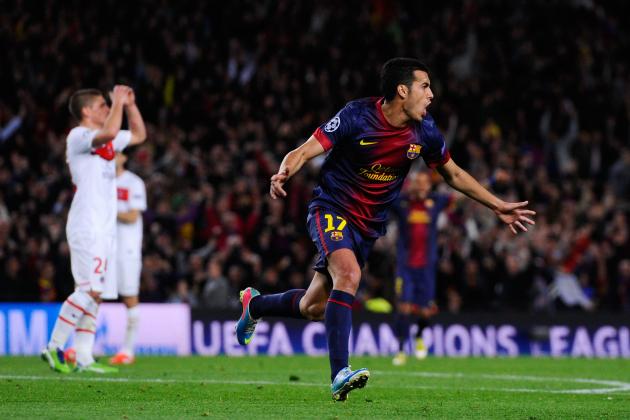 David Ramos/Getty Images

Manager Tito Vilanova's men held down the Camp Nou as Barcelona moved on to the semifinals of the UEFA Champions League after a 1-1 draw against Paris Saint-Germain on Wednesday night. With a 3-3 aggregate scoreline, Barça moved on via away goals. Barcelona became the first club to reach the European Cup semifinals in six consecutive years.
Xavi nearly got the scoring started in the second minute as his free kick just went left of the net. Lucas Moura took a good shot at Victor Valdes in the 13th minute, but Valdes was at the right place to make the stop.
Ezequiel Lavezzi had a golden opportunity in the 24th minutes as he we inside the box with Valdes, but he held his ground and made the huge save. Moura had another great shot in the 28th minute as Zlatan Ibrahimovic made the cross to the Brazilian, who headed the ball toward the net, but Valdes again made the timely save.
Valdes saved FC Barcelona for the night. He needs to be convinced to stay at Barça.
In the second half, Javier Pastore scored in the 50th minute, using his left foot and putting it past Valdes for the 1-0 lead. Once again, the shaky Barça defense gave up a counterattack goal.
Lionel Messi came on in the 62nd minute, as Barça were looking for the goal. Marc Bartra came on as well as he replaced an injured Adriano.
Pedro tied the game in the 71st minute. Messi threaded it to David Villa, who then gave it to Pedro, and the Canarian put it high and right, past the outstretched arms of PSG goalkeeper Salvatore Sirigu, for the equalizer. Tremendous shot by Pedrito, and great setup by Leo and el guaje as well.
It was a mad scramble until the end, but Barcelona were able to hold on and moved on to semis.
FINAL: FC Barcelona 1 - 1 PSG. (AGG: 3 - 3)* *FCB advance on away goals.

Let's take a look at my takeaways and other topics "From The Mind of Xoel" as FC Barcelona moves on to the semifinals of the UEFA Champions League.
Begin Slideshow

»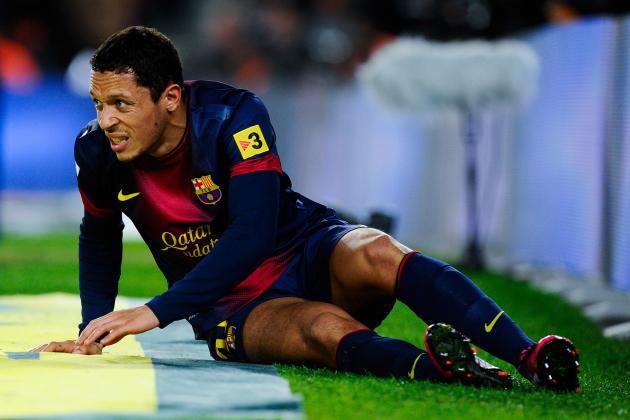 David Ramos/Getty Images

While I do admire Adriano's all-out toughness, I don't think he deserves to be re-signed by Barcelona.
Adriano is an excellent utility player. He can play defense, forward and even in the midfield. But as much as I like him, the man is as fragile as a kitten. He continues to suffer thigh and hamstring injuries.
Sandro Rosell needs to reconsider extending Adriano's contract. Can this team depend on him being regularly available from now until, let's say, 2015? I'd say no.
There are plenty of good, young players at La Masia like Carles Planas, who deserve to be called up to the first squad.
Sorry, Adriano, I like you, but you're injury-prone, and I just don't think you merit a contract extension. Your injury against PSG just verifies what we all already know.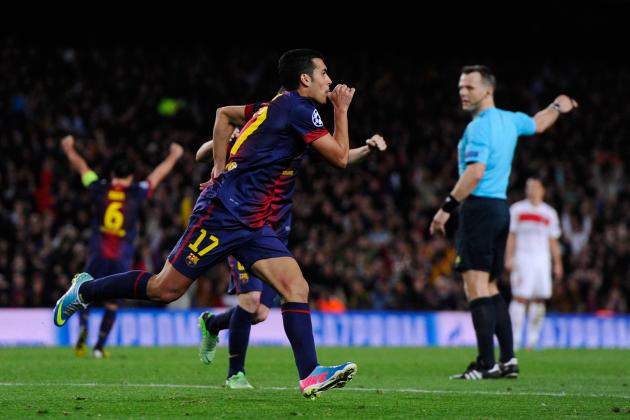 David Ramos/Getty Images

Last week, I wrote an article where I mentioned that Pedro needed to step up since Lionel Messi was more than likely not going to start against PSG. I mentioned that he needed to perform like he does for the Spanish National Team.
And by "perform," I mean "score goals."
Pedro has scored more goals (10) in eight matches for Spain this season, than in his 37 matches for Barcelona (seven goals).
It was time to score for Barcelona.
Mission accomplished.
Yes, he has his moments where he doesn't have the goal-scoring impact we'd like for him to be, but Pedro Rodriguez is still one of the best wingers in football, and his great touch on the goal reminded us that no one should count out Pedro.
He'll need to step up in the semis, and beyond.
Hopefully, the goal against PSG will give Pedro more confidence to shoot first and ask questions later heading into the semifinals.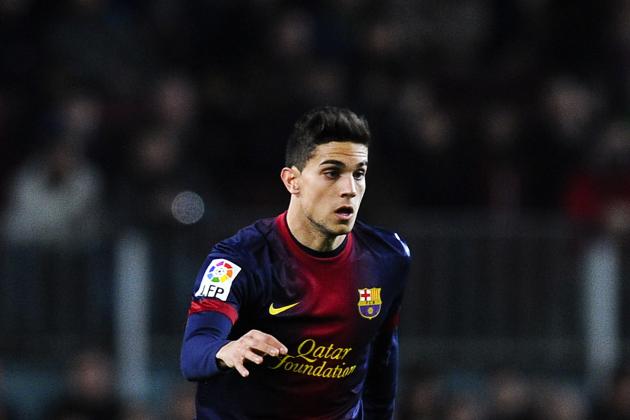 David Ramos/Getty Images

Marc Bartra played only a few minutes against PSG, but for those few minutes, he played well.
With Barça heading to the semis, it's obvious that he is the only logical option for the rest of the UEFA Champions League campaign. Adriano is out, and Alex Song is not a natural CB.
As most of you know, Barcelona will be looking for a new center-back this summer. Names like Vincent Kompany and Mats Hummels will be the top two candidates.
I have always been a big advocate of Hummels to Barcelona, but if Bartra can make a huge impact in the semis, he will undoubtedly have to be considered as the center-back for next season.
I hope he is able to earn it.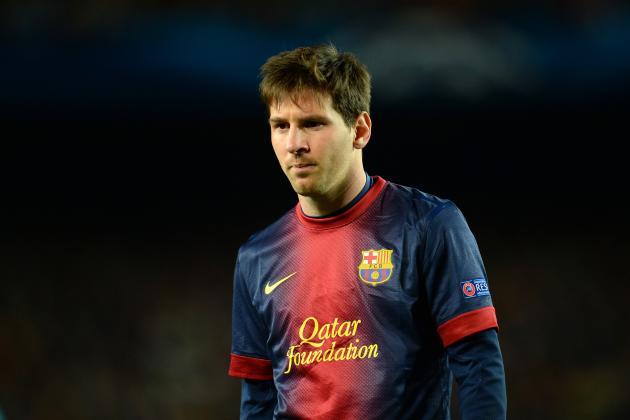 Shaun Botterill/Getty Images

When Javier Pastore scored the goal for PSG, most Culés immediately looked toward the Barcelona bench to see if Lionel Messi was going to come into the game. It didn't take long for Coach Vilanova to bring Leo into the game.
Messi was not the Messi we're used to seeing. His injury hindered him tremendously, and we were all very fortunate that Leo did not re-aggravate his injured leg.
What we are fortunate for is Leo was able to set up the pass to David Villa who then facilitated Pedro for the goal. Leo's presence on the pitch worried the PSG defense enough to open the door for the play.
After the game, PSG Manager Carlo Ancelotti acknowledged that Messi's presence helped Barça get past the French team: "Messi gave his teammates more confidence, which is normal. He's a fantastic player, even if he's not totally fit." (via @barcastuff).
There was a sense of calm when Leo entered the game, but even Superman needs to rest once in a while.
With the semifinals of the UEFA Champions League beginning on (depending on draw) April 23 or 24, don't expect to see Messi to play against Real Zaragoza this weekend, and even against Levante on April 21.
Vilanova should consider only playing Leo for some of the Levante game just to warm up and give those legs some game action prior to the Champions League semis.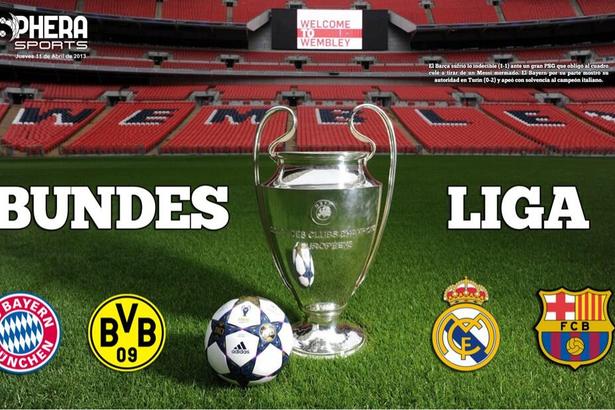 Photo courtesty of Spherasports.com
So the big question now is: Who will be FC Barcelona's next opponent?
We'll find out on Friday.
For me, I want to see:
FC Barcelona vs. Borussia Dortmund
Real Madrid vs. Bayern Munich.
What I don't want to see is another Clásico semifinal between Barça and Madrid. I don't know if my emotions and nerves could handle a repeat of 2011. Although, I'd take 2011's outcome once again, please.
Plus, I don't want to see a German clásico as well. Let's mix things up.
Before I go, let me give a special congratulations to Cesc Fabregas. If you didn't hear the news, Fabregas became a father during the PSG game. His girlfriend, Daniella, gave birth to the couple's first child, Lia.
It was a grind-it-out game against PSG, but FC Barcelona were able to hold on, and move on to the semifinals of the UEFA Champions League.
The road to Wembley Stadium and the Champions League Final is just one step closer.
Xoel, The Voice of FC Barcelona.
Follow me on Twitter for continuous Barça news, live tweets of every game and your questions answered.
Follow me on Twitter: @XoelCardenas