Grading Each Tampa Bay Lightning Rookie for the 2013 NHL Season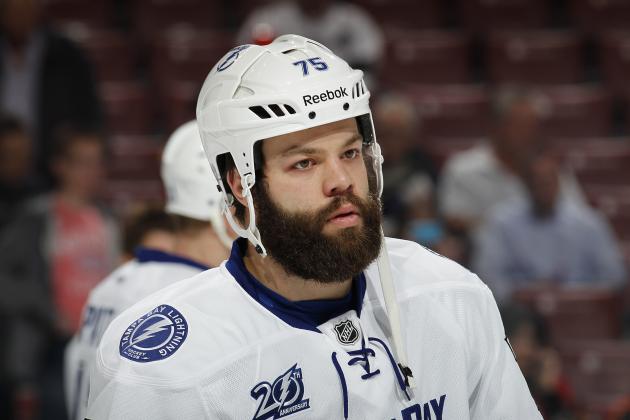 Joel Auerbach/Getty Images
Radko Gudas has the facial hair and the talent to stay in the NHL.
Rookies have made their mark in the 2013 NHL season for the Tampa Bay Lightning. Eight different rookies have played for the Bolts (not including Cory Conacher) and have made an impact. Some have made bigger impacts than others, but all have earned their grade.
Up until the trade deadline, the Lightning had Conacher—a rookie of the year candidate. He was traded to the Ottawa Senators, but players like Radko Gudas, Alex Killorn and Pierre-Cedric Labrie have made significant strides this season.
Despite varying minutes this season, here are the grades for each of the Lightning's rookies this season based on production, quality of minutes and development.
Begin Slideshow

»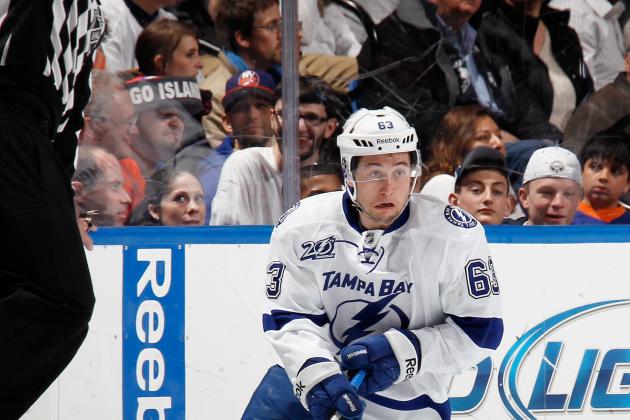 Bruce Bennett/Getty Images
Tyler Johnson is a small but highly-skilled forward for the Lightning.
Grade—B
Tyler Johnson made his NHL debut on March 14 against the New York Islanders. He has played in 13 games this season with six points.
Johnson is a relatively small forward—just 5'10"—but has great skating ability and strong hands. He is second among Lightning rookies in points and provides solid minutes in a variety of situations.
The young center averages over 13 minutes per game and sees time on the second power-play unit. Johnson's best addition to the team this season is his faceoff percentage. He is winning around 60 percent of his draws this year.
Johnson has some developing to do. Expect him to get more comfortable after a full NHL preseason and training camp.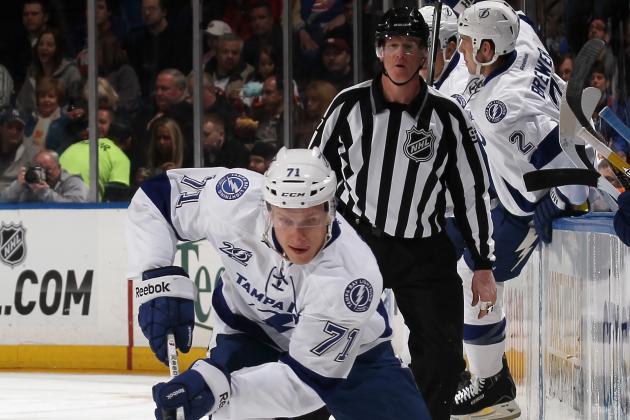 Bruce Bennett/Getty Images
Richard Panik earns around 10 minutes per game and is still developing his offensive craft.
Grade—B-
Richard Panik is part of the Lightning's energy line. His job isn't to put up a ton of points or be flashy with the puck. What he does is battle against the opponent's top lines, control the puck and try to tip the momentum in Tampa Bay's favor.
Panik adds just over 10 minutes per game. He recorded his first point against Carolina on Feb. 23. Panik is still developing his offensive touch, but he is with the right organization if he wants to be an offensive star.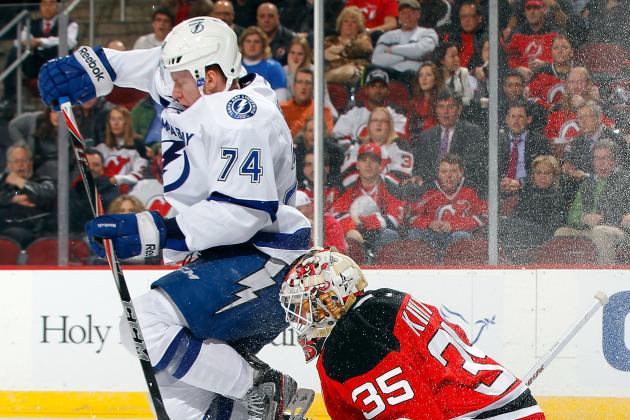 Jim McIsaac/Getty Images
Ondrej Palat is going to be a force in front of the net if he grows into his frame.
Grade—B
Ondrej Palat is one of the more physical forwards for the Lightning. At 6'0" and 180 pounds, Palat will only grow into his frame and become a bigger force in front of the net.
Palat is another player who hasn't grown into his offensive potential—yet. He will develop a greater offensive presence.
Bruce Bennett/Getty Images
P-C Labrie has to be a favorite in the locker room with his energy and team attitude.
Grade—A-
Pierre-Cedric Labrie is the ultimate team player. His presence is notable whenever he is on the ice. Earning less than 10 minutes per game, Labrie makes the most of his minutes with all-out hustle, grinding and winning puck battles.
His attitude and energy are contagious on the team. He isn't the most skilled offensive forward, but he can chip in when necessary. Labrie gets the majority of his time when the Lightning need an aggressive forechecker.
Labrie's first goal came against the Ottawa Senators on April 9. His in-game interview makes him a must-watch talent. Find the interview here. Everyone associated with this guy must love him.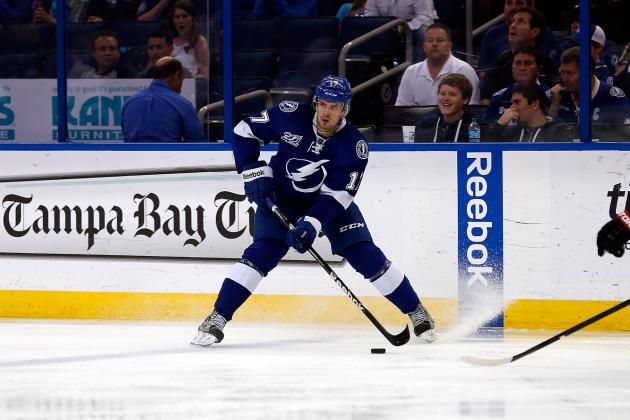 J. Meric/Getty Images
Alex Killorn leads the Lightning rookies in points and is one of the best puck-possession forwards the Lightning have.
Grade—A
Alex Killorn has developed into the most complete rookie for the Lightning this season. He is a top-six forward who earns just under 17 minutes per game.
With 17 points in 29 games, Killorn leads Lightning rookies and is tied for ninth in the league. He became the team's leading rookie after Conacher was traded to the Senators. Conacher has 25 points (second in the NHL).
Killorn may be one of the best puck controllers for the Lightning. He is very creative with the puck and extremely poised in the offensive end. Seeing time with Steven Stamkos, Vincent Lecavalier and Martin St. Louis have helped provide Killorn with additional space to make plays.
He has a big frame at 6'2" and 205 pounds that he doesn't mind throwing around. Killorn has 32 hits in 29 games—second among Lightning rookies.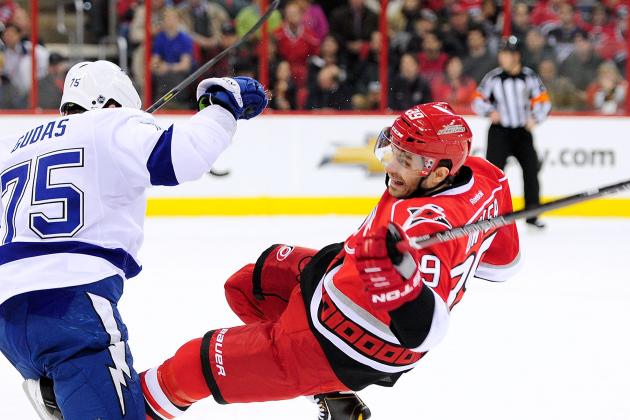 Grant Halverson/Getty Images
Radko Gudas has had the biggest impact of all of the Lightning's rookies this season.
Grade—A+
There is nothing negative about Radko Gudas' play. He does everything he is expected to do: be physical, protect the superstars, control the puck and eat minutes.
By the Numbers:
Two Points
Plus-Three Rating
20 Penalty Minutes
17 Minutes on Ice
21.9 Shifts per Game
20 Blocked Shots
56 Hits
Considering Tampa Bay's need for a steady and sturdy defenseman, Gudas has been everything the Lightning needed this season. Gudas is at the end of his entry-level deal and should be offered a significant raise to continue his career as a Bolt.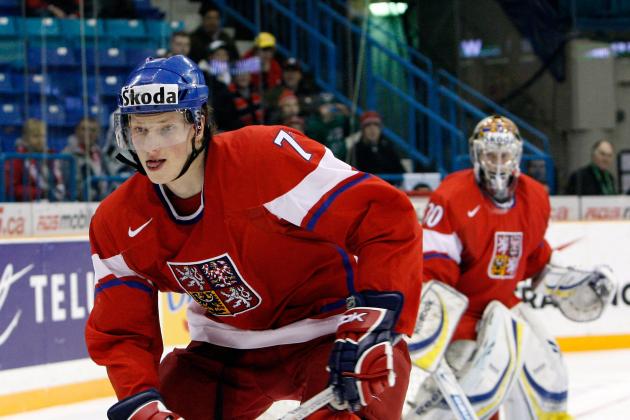 Richard Wolowicz/Getty Images
Andrej Sustr made a brief appearance for the Lightning this season after finishing up his time at the University of Nebraska-Omaha.
Grade—Incomplete
Andrej Sustr and Mark Barberio have played a combined three games. Barberio made his NHL debut against the Senators on April 9 and picked up a minus-one rating in just over 14 minutes of ice time.
Sustr has played in two games since signing out of the University of Nebraska-Omaha. He played on March 29 against New Jersey and April 2 against Florida. He is plus-one with no points and two shots on goal.