Barrett Jones: Video Highlights for Former Alabama Lineman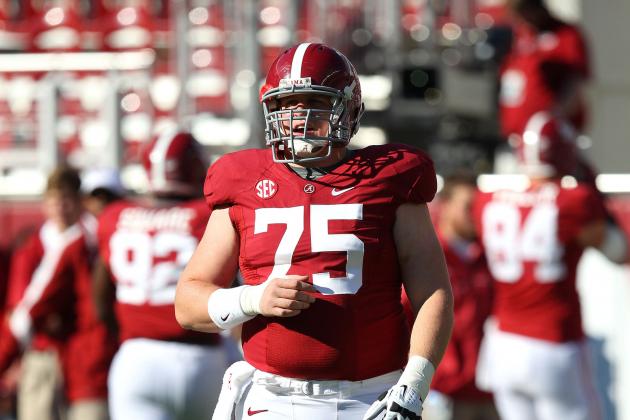 Mike Zarrilli/Getty Images

Few players enter the NFL draft as decorated as Alabama lineman, NFL-hopeful Barrett Jones. While he's had to battle some injuries along the way, Jones has played all five offensive line positions for the Crimson Tide over the last four years and helped them to win three national championships.
In 2011, Jones received The Outland Trophy, presented to the nation's best interior lineman. He also won the Wuerffel Trophy for his involvement in academics and community service while completing his accounting degree in just three years.
Following his most recent national championship, Jones underwent surgery to a Lisfranc injury on his left foot. This surgery has kept him out of traditional pre-draft activities. He did find time to throw up 27 reps on the bench press at Alabama's pro day.
Suffice it to say, Jones is a pretty remarkable talent. With the intelligence to play anywhere on the offensive line and the experience of having held three Coaches' Trophies, Jones will make a name for himself in the NFL just like he has thus far.
Begin Slideshow

»
Barrett Jones' NFL.com Draft Profile says that he "fits on second-level blocks very well in the run game." Having had to block for Mark Ingram, then Trent Richardson and then Eddie Lacy, it's understandable how his prowess in the run game emerged.
Jones is playing center in this highlight. The Crimson Tide are on the goal line, a scenario that usually comes down to the big boys in the trenches. Notice how Jones bursts off the ball and initiates contact with the linebacker who had already identified the play as a run.
Jones' Draft Profile also says that he "gets correct angle to create running lane when blocking on the move." Jones' angle has a lot to do with why this play works. The linebacker started out a shade to the left of Jones, the center. However, when the play starts, he reads the right-side handoff immediately.
Jones' angle and upper body strength, combined with the cutback vision of Eddie Lacy of course, allow for this play to work. Jones' ability to reach linebackers quickly in the run game should translate well to an NFL career.
To say that Alabama's running backs the last few years haven't been complete would be the understatement of the year. However, as they'll be the first to say, everything starts up front. And while the Crimson running game has widely been known as the ground-and-pound style of the SEC, reaching the edge has proven very successful for them as well.
Alabama had lots of long runs while Barrett Jones was at tackle. Observe how he maintains contact with LSU defensive end Barkevious Mingo and not only keeps him from touching Trent Richardson, but he doesn't even get his hands up.
While this is a run play, Jones shows the ability to engage defenders and occupy their hands, making them less likely to attempt a tackle or bat down a pass. Traits like these are a quarterback's best friend in the passing game.
Barrett Jones only participated in one event at the Alabama pro day last month while he continues to rehab following a foot surgery. That event was the bench press, and Jones didn't disappoint. He was credited with 27 reps, but he may have gotten more.
"I think I got 29 and they counted two off or something," he told a group of reporters after his pro day. "I wanted to get 30 but I was close."
Jones' upper-body strength is another thing that makes him special. In the highlight above, notice how easily Jones displaces the Michigan defensive tackle en route to the linebacker. He makes contact, bursts through with his long arms and disengages to the next level.
Having played every position on the offensive line, Barrett Jones has done his fair share of pulling or lead blocking downfield for rushers. Possibly the most important skill to have for a pulling blocker is foot speed. Oftentimes, pulling linemen have to sidestep the feet of their teammates while running parallel to the line of scrimmage.
In the highlight above, Jones pulls from the center position. He navigates past the heels of other linemen and still finds a way to get just enough of a piece of the cornerback for his running back to score.
It remains to be seen which position Jones would play in the NFL. When asked about it, in the politically correct fashion we've come to expect from Jones, he said, "I'll play whatever position I'm asked to play."
Jones did admit to having a particular preference, though: "If you made me choose I'd probably choose center right now because No. 1, I played there last year and No. 2, I'm kind of a control freak. That's the kind of guy I am. I like making the calls. I like the preparation aspect of it" (AL.com). Regardless of which position he is asked to play, Jones' foot speed will serve him well at the next level.
Although Jones' contribution is more widely seen via the Alabama run game the last few years, his pass game acumen is just as impressive. While Eddie Lacy made a push for the Heisman Trophy, Alabama QB A.J. McCarron finished with the highest passer rating in the nation. Neither of those accomplishments could have happened without Jones.
In the highlight above, Jones is able to get back into his pass set while maintaining contact with a rushing defensive lineman, a testament to both his footwork and technique. If there is anything he could have done better on this particular play, it would be to work to keep the defenders hands down but the way he maintains contact and a bit of a pancake at the end make it hard to critique his play.
Jones was the center for an Alabama QB who finished with a passer rating of 174.3 and was only sacked 22 times in 14 games. It goes without saying that he had a lot to do with that. Jones' passion got the best of him in the national championship game this past year when he shoved McCarron after a miscommunication on the field.