Jamie Carragher: 6 Potential Roles After He Leaves Liverpool Football Club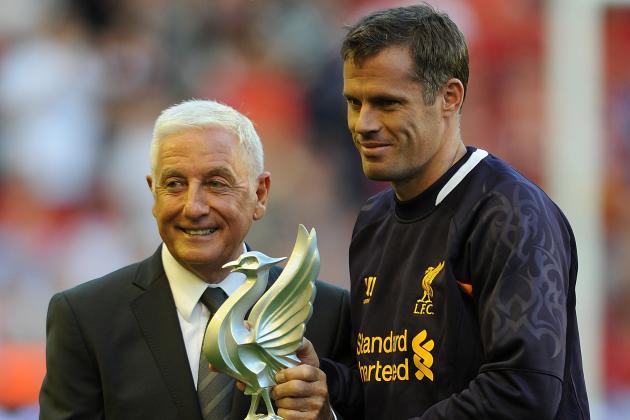 Chris Brunskill/Getty Images
The 700 Club: Jamie Carragher receives an award from Roy Evans after his 700th appearance.
"No Replacement Found" is what appears over the word "Carragher" when typed into an iPhone text box. It is perhaps the most fitting testament to Jamie Carragher and encapsulates perfectly how his supporters feel about him. It is something that Brendan Rodgers echoed when called Liverpool's No. 23 "irreplaceable."
At 731 appearances, that iconic Carragher stands only one in line behind Ian Callaghan in number of appearances (857) for the Mighty Reds and is unbeaten in European bows (139).
With only six games left before the curtain comes down this stage of his Liverpool career, barring injury, it looks like 737 will round out his tally of performances.
Carragher's relationship with Liverpool has spanned 26 years. There have been many more ups than downs, and at 35 years old his resurgence in form after taking over central defensive duties from the injured and out-of-form Martin Skrtel is proof of the football fire that still burns unabated inside of him.
But this is not a eulogy, rather a preface to the undoubtedly rich and accomplished future that will be the next chapter in his life. Because no matter what Jamie Carragher chooses to do, his legend will only continue to grow.
So what awaits the Red with blue roots after his final bow in a Liverpool jersey?
Begin Slideshow

»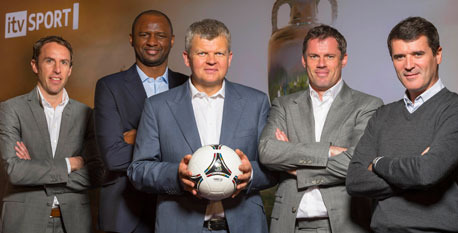 Carragher as an analyst for ITV in 2012.
Not exactly in the game but not quite out of it, this would seem the obvious choice to ease his way into retirement. As an astute student of the game and one that proved his worth as an analyst on ITV for the 2012 European Championship, he is tailor-made for life in the studio.
His vast domestic and international experience, unflappable attention to the brutalities of honesty and Scouse wit would be a refreshing tonic to add fizz to any media team.
His no-nonsense, unapologetic on-pitch approach has already manifested itself when he steps off it. His now famous Drive Time "bottler" radio interview with Adrian Durham, and on-field dressing down of Sky Sports' Andy Burton are proof that viewers will be treated to the real Jamie Carragher in real time.
He will also find himself in familiar company. The road from playing in the limelight to speaking in it is already well-trodden by notable ex-Reds legends. Steve McManaman, Jamie Redknapp, Graeme Souness, Alan Hansen and John Aldridge have all gone on to expound their expert footballing insights as pundits.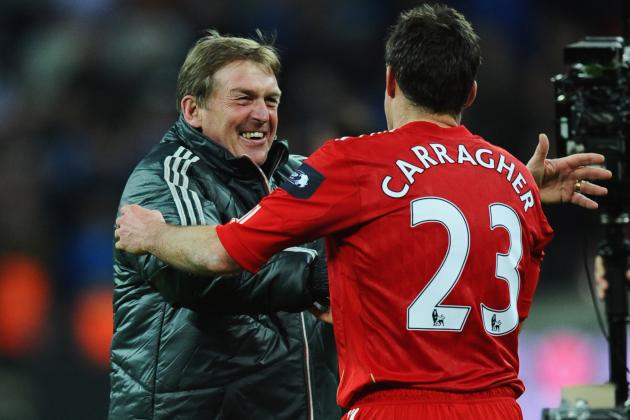 Mike Hewitt/Getty Images
Carragher has played under some of the best managers in the game.
Jamie Carragher may step away from the field to decompress, but with his passion for football, experience in both domestic and international arenas and having played for coaches who bring their own styles and pedigree to bear, it probably won't be long before he is patrolling the technical box in a collared shirt and a tie.
There are some big-named backers who believe his skill set is perfect for the managerial marketplace once he has the badges that he lacks. In a BBC article article England gaffer Roy Hodgson and Rick Parry both gave glowing accounts of his potential, with ex-Liverpool great Tommy Smith earmarking him for the top job at Anfield in the (via Liverpool Echo).
Whether it is a question of which echelon he would fit into, either working his way up the ranks or jumping straight into a hot seat may have been answered by ex-Leeds midfielder Terry Yorath who said "I think Jamie would be the perfect choice to take over from Neil (Warnock)," despite Carragher's lack of managerial experience, after Warnock walked out of the position at Elland Road.
His pending availability and 38 England caps has presented another potential petitioner in the form of the English Football Association. The FA, keen to utilize and foster ex-professionals by involving them at an international level, are reportedly interested in the Liverpool vice captain's particular charms to help the Three Lions at some level.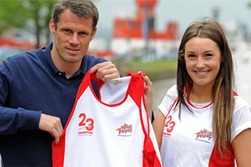 Jamie Carragher has already proved his ability to leverage his successes on the pitch into off-pitch ventures. His 23 Foundation, which "aims to give local kids in Merseyside a chance to achieve their dreams through local charities, clubs and community initiatives by providing the means to make a difference," is a great example of that.
On name alone, Carragher would be able to get an academy off the ground.
Even with good intentions, current Tottenham and ex-Red goalkeeper Brad Friedel can attest to the financial peril of this type of an undertaking, but Carragher's experiences playing for world-class coaches, his uncompromising pursuit of excellence, an obvious drive to help children achieve more and the time to devote to it lays a solid groundwork for another successful enterprise.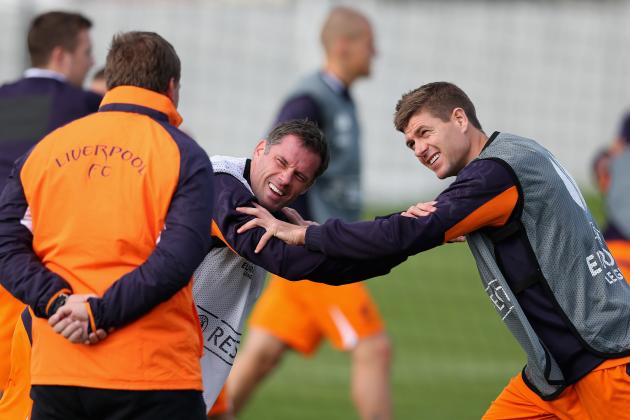 Clive Brunskill/Getty Images

During 16 seasons in the top flight, Jamie Carragher will have honed his sensibilities to a razor's edge in quickly recognizing the qualities that define success beyond the precursor of talent. It is an experiential instinct that would help him sort those that have it from those that don't.
His honesty and tenacity would make him the type of character his clients would love. Or fear. Or both. The same could probably be said for those potential employers that he focuses his attention on.
His presence, stature and credibility in the international market as a player would provide the golden ticket into the big leagues. The contacts in his Rolodex would certainly help, too.
It could also offer Liverpool Football Club a pipeline to future stars. His institutional knowledge as well as his inherent understanding of the club's inner workings makes his judgment worthy of respect or, at the very least, attention.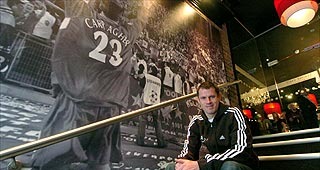 Carragher on the steps of his flagship restaurant, Cafe Sports
Jamie Carragher has proved that his business acumen is canny as his timing is for tackles. He has a knack for harnessing his aura and successfully diversifying his already well-stocked portfolio of achievements including a two-restaurant chain, Cafe Sports and Cafe Sports Express.
With more time at his disposal, he can grow his chain of restaurants and franchise them to locations where there are growing pockets of Reds support such as the Far East.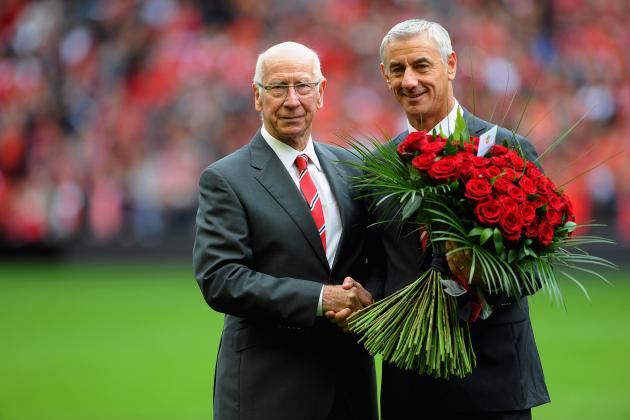 Michael Regan/Getty Images
Carragher would join other Liverpool legends like Ian Rush (right) as an ambassador
Carragher is affable, approachable and has played his entire career with the Liver bird on his chest—there is no doubt that a role as a club ambassador would suit him down to the ground. Other Red legends like Robbie Fowler and Ian Rush have embraced the role of club representatives, wooing supporters and cementing bonds among Reds' supporters.
Most would probably agree that this may not be something that he would embrace immediately after hanging up his boots, but as a servant to the club, it would be a magnificent way for him to wind down his relationship with the club by increasing and solidifying others' affections for the club.