Le'Veon Bell: Video Highlights of the Former Michigan State RB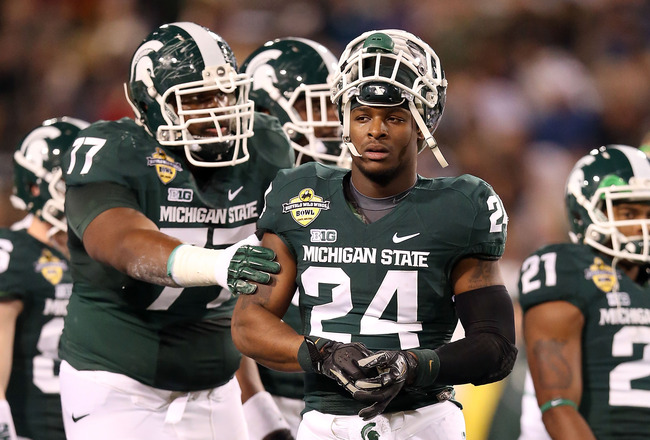 Christian Petersen/Getty Images
Ever since Marcus Lattimore's season came to a screeching halt via an injury against Tennessee, the running back draft class has been in flux.
However, one player that has been on NFL scouts' radars is Le'Veon Bell.
Bell is huge for a running back, measuring 6'1" and weighing in at 230 pounds. He puts that size to good use and runs like a freight train.
Here are some of the most impressive runs of his college career.
1. Bell Has a Career Day Against Minnesota
Bell isn't the kind of running back who has a lot of big, impressive runs. However, he does have a lot of runs, and collectively, they're very impressive.
Despite being more of a power back than a speed back, Bell managed to average over seven yards per carry against Minnesota. He had 35 carries total, which meant he had a 266-yard game.
In this clip, you can see Bell spin to beat multiple defenders, catch a couple of passes and even rattle off a 40-yard run.
2. Hurtling an Indiana Player
Bell is a workhorse, but he's more athletic than his size and running style suggest.
He demonstrated that by jumping over an Indiana defender who thought he could beat him if he went at him low.
Well, he got a little too low, and Bell took full advantage.
3. The Man Who Can't Be Tackled
This is one of those videos you have to see to believe. Michigan State is taking on Boise State, which tends to be pretty good.
The Spartans are backed up near their own end zone and they hand the ball off to Bell. Of course, the play breaks down and Bell finds himself swarmed by Boise State defenders.
However, rather than getting tackled, Bell just keeps going, until finally he breaks enough tackles (five by my count) to get out into space and puts his team into scoring position.
4. More Hurdles
I think Bell was an Olympic hurdler in a past life.
Bell wasn't done with Boise State after beating its entire defense. He rattled off another big run and then decided he'd go the hurdle route instead of the tackle-breaking route.
Notice how far above the defender he jumps, nearly losing his balance on the way down.
5. Back-to-Back Big Runs
Notre Dame didn't make it to a national championship game in 2010, but it did sport a tough defense. You wouldn't think so seeing Bell, as a freshman, run right at them.
The first play is a dump-off pass, which Bell turns into a first down.
The second is an even bigger run up the middle that results in a touchdown, giving Michigan State the lead, and eventually, the win.
6. Doing What He Does Best
Well, if you've never seen the impressive plays that Bell has put together, now you've seen a few.
Here's a video of his 2012 game against Iowa. He had a couple of impressive runs, but mostly, he did what he does best: grind out tough yards on the ground.
In his senior year, Bell was the only serious offensive threat that Michigan State had after the departure of Kirk Cousins. Defenses prepared for Bell. They stacked the box against him. They stopped him.
Even so, he carried the ball 382 times that year, eventually running for 1,793 yards and 12 touchdowns, because that's the kind of running back that he is.
Keep Reading

Pittsburgh Steelers: Like this team?