Oakland A's: Analyzing Each Position Player's Biggest Strength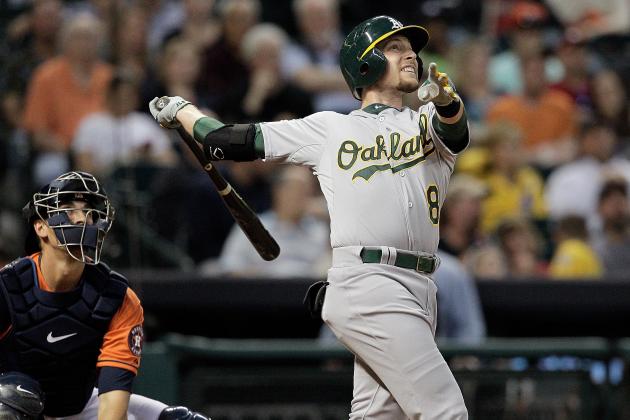 Bob Levey/Getty Images
Lowrie has made Beane look like a genius early
Riding an early winning streak, the A's look every bit the team GM Billy Beane envisioned. They have ridden to more than just good starting pitching and depth in their outfield and middle infield to jump out faster than they have in a decade.
That said, injuries to Josh Reddick and Scott Sizemore have only further emphasized the need to have a deep team from spots 1 to 25. More specifically, with the position players, having guys that can fill gaps will only serve to increase the strength of the team overall, even as some parts may not seem to help the sum of the club individually.
So let's take a look at some of the strengths each contributing player has displayed in this early 2013 season.
Begin Slideshow

»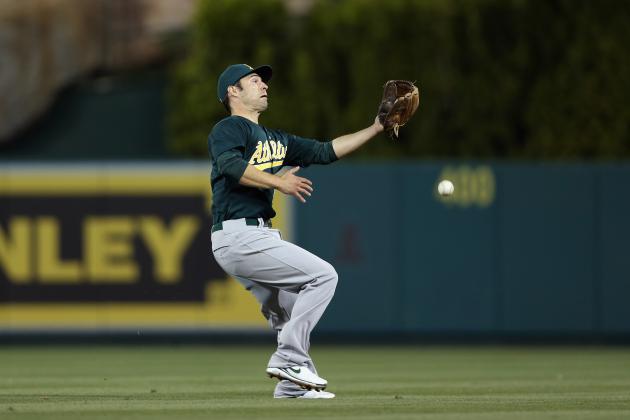 Jeff Gross/Getty Images
Well just let this one slide...
Current position: Backup second baseman
Sizemore left the opener of the series against the Los Angeles Angels with an apparent lower leg injury. It looked like a knee injury and hopefully isn't serious.
Right now, the biggest strength Sizemore has is his versatility. He can play both second and third base, as well as shortstop. He is still rounding in to shape and again, hopefully his injury is not serious.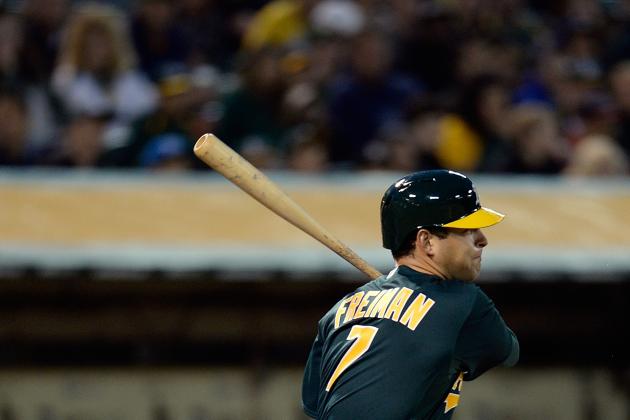 Thearon W. Henderson/Getty Images
The 26 year old rookie will face a diet of left handers
Current position: Backup first baseman/DH
The very tall, very green (no pun intended) rookie beat out Daric Barton for the backup spot at first base. Okay, he was claimed off of waivers, making Barton expendable. But Freiman has shown potential in his limited time.
As a minor league prospect, the 6'8" slugger was noted for his ability to hit left handed pitching. Freiman's minor league power (back-to-back 20-plus homer seasons) and decent eye at the plate should bode well as he will face primarily left-handed pitchers.
Overall, Freiman's minor league slash line (.349/.435/.625) against southpaws puts him in a position to be of higher value on this team than Barton could have.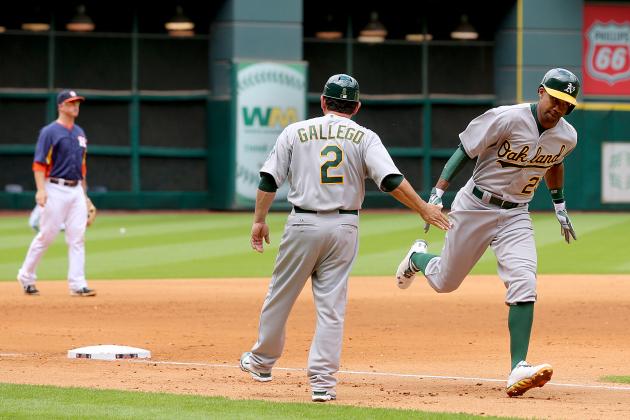 Thomas B. Shea/Getty Images
It did not take long for Young's value to surface with the A's
Current position: Backup outfielder
It was pretty common knowledge that Chris Young would be someone important to the A's in 2013. A's fans had to hope it wouldn't be as vital less than a week into the season. But with Josh Reddick hobbled after a scary crash in Houston, Young is in the starting lineup for at least the next couple of games.
Furthermore, with the injury histories of both Coco Crisp and Yoenis Cespedes, it almost seems inevitable that Young would be thrust into a starting role. By far his biggest strength is his defensive prowess.
Yes, Young possesses a power bat, particularly against left handed pitching. But when in the lineup, he strengthens the defense no matter which outfielder he is in for.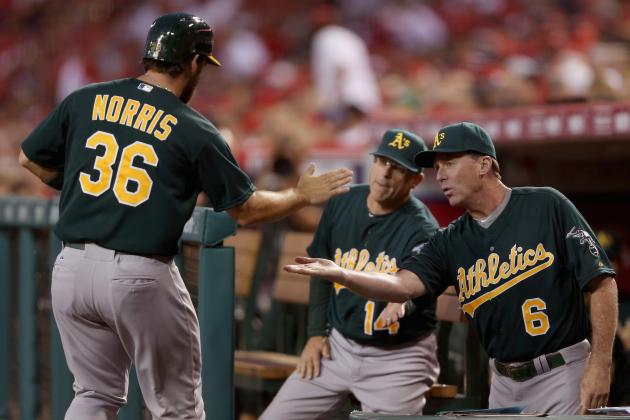 Jeff Gross/Getty Images
Norris gives manager Bob Melvin another option off the bench
Current position: Backup catcher
On more than a few squads, Derek Norris might very well be the starting catcher. But with the acquisition of John Jaso, Norris has been relegated to an irregular platoon situation. But he definitely has the strength of being familiar with this pitching staff.
As the A's made their push to the postseason in 2012, it was Norris starting the bulk of the games, with George Kottaras getting the occasional matchup here and there. So while the power numbers may improve in 2013, even with reduced playing time, Norris' ability behind the plate is his biggest strength right now.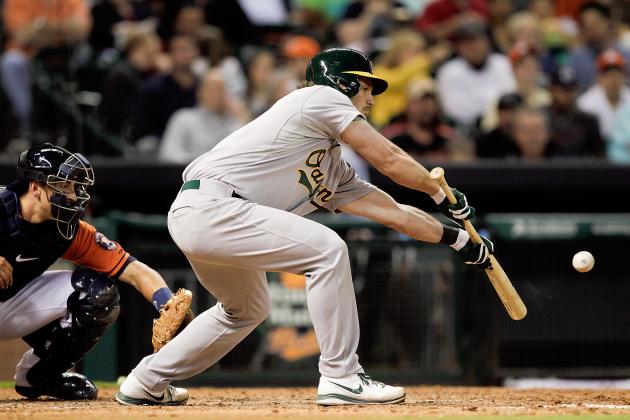 Bob Levey/Getty Images
Jaso's ability to handle the bat is by far his biggest strength
The starters begin with John Jaso. Oakland's new starting catcher has definitely impressed to begin the season, hitting 7-for-18, including a go-ahead three-run home run to put Oakland ahead in their first game against the Angels as a pinch hitter.
Jaso came with the reputation as a player that possessed a good eye and could handle the bat. Seeing him up close has only reinforced that position. He has decent power but controls the bat well. That combination bodes well for Melvin's lineup, as he can put Jaso in the No. 2 hole or anywhere after the fifth spot.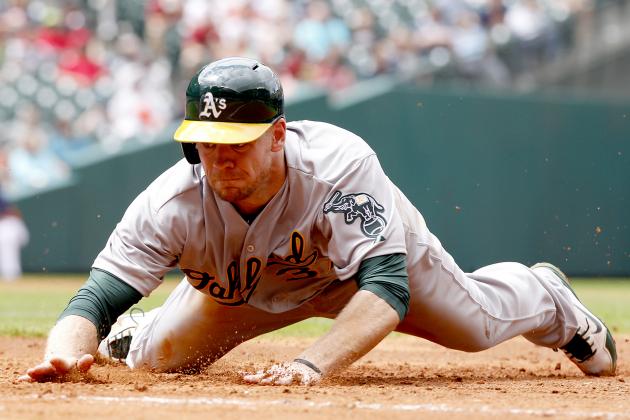 Thomas B. Shea/Getty Images
Moss is showing flashes that 2012 was no fluke
Continuing around the horn, we have first baseman Brandon Moss. Having essentially been given the starting job with the trade that sent Chris Carter to Houston in exchange for Jed Lowrie, Moss has not disappointed early.
Currently, he is hitting .333 with a home run and five RBI after eight games. More importantly, he has not disappointed at first defensively. His ability to produce against both lefties and righties is tremendous in the event that Nate Freiman struggles in his first year of Major League service. As a converted outfielder, that fact has been even more impressive for Moss.
But his value to this team is at the plate. And as long as he is a legitimate threat in the fifth through seventh spot, this lineup is dangerous. Not just serviceable, but dangerous (as its league-leading 15 home runs demonstrates).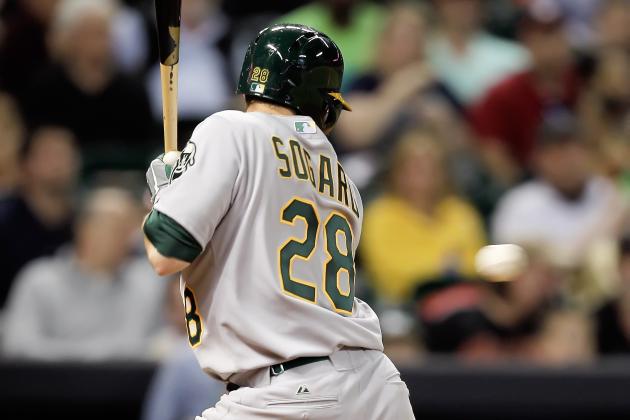 Bob Levey/Getty Images
Eric Sogard
I'll keep it short and sweet: Eric Sogard's biggest strength is the fact that both Hiroyuki Nakajima and Adam Rosales are both injured. Having seen Sogard tear it up in Arizona during spring training, only to fall flat in the regular season, I was not buying his great spring.
And so far, the numbers bear out. He has committed two errors and is hitting just .150 on the year. All signs point to him returning to the bench when another option becomes available.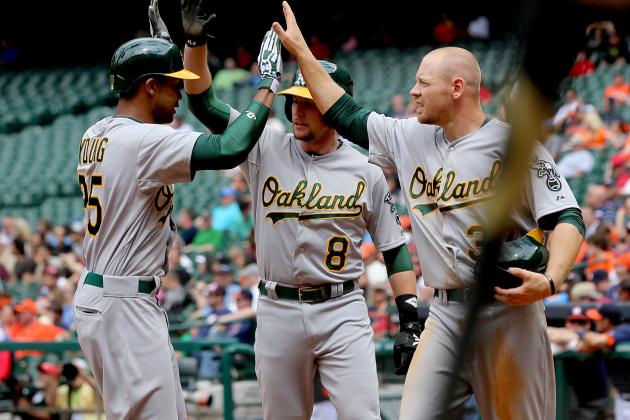 Thomas B. Shea/Getty Images
Lowrie (in middle) has been sizzling to start 2013
Well, I can't say I expected this. Jed Lowrie was supposed to be an upgrade, no doubt, over the utility men of 2012. But Lowrie has thrust himself into the starting shortstop spot and has absolutely killed the baseball.
Through the first nine games, he has hit 13-for-30 with three home runs and six RBI. Needless to say, his bat has been his greatest strength. Whether he will play at second base upon Nakajima's return in some situations or becomes the permanent solution at short, the A's appear to have turned 180 degrees from the production they got in the middle infield on Lowrie's bat alone.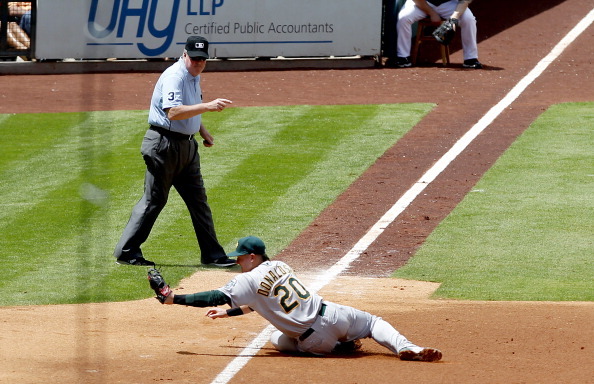 Thomas B. Shea/Getty Images
Donaldson's range is remarkable for a converted catcher
At the hot corner is Josh Donaldson. While his bat is slowly coming along (.167/.194/.200), Donaldson has contributed with his defense at third base.
While he may not replace the contributions that Brandon Inge gave to this team in 2012 defensively, Donaldson has shown a growing range and has already made a couple of really nice plays, first at home against Seattle and then against Houston.
Assuming he warms up (and there are signs of life at the plate), his defense will carry Donaldson in terms of production in this early part of 2013.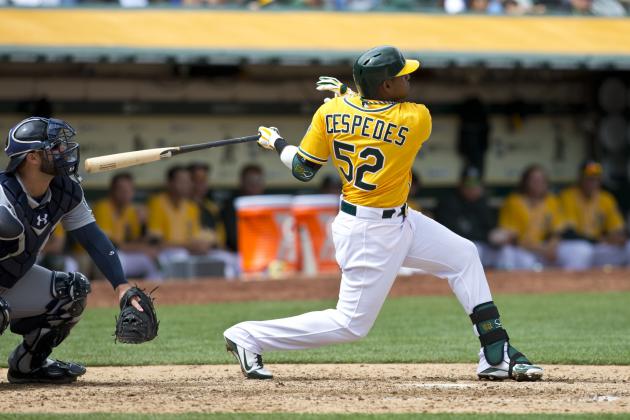 Jason O. Watson/Getty Images
The Cuban Missile has been slow to launch
Yoenis Cespedes is a talent. And while he has been a bit slow out of the gate overall offensively, there's no doubt he will break out sooner than later. His strikeout totals have been a bit high, and that does cause room for some concern.
But on the whole, Cespedes has four tools. His strength is that he can impact a game defensively, with power or clutch hitting at the plate and speed on the basepaths to turn some plays into special ones. I still feel 2013 will prove to be Cespedes' launching pad to superstardom.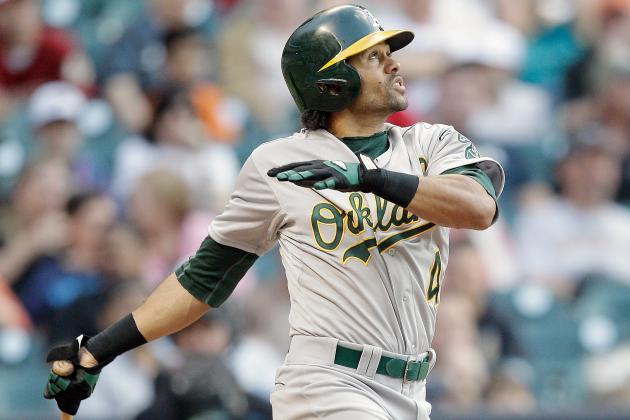 Bob Levey/Getty Images
Behold the power of Crisp!
At last check, Coco Crisp is a leadoff hitter. You would never know the way he has been hitting at the plate. His tally of nine extra base hits is good for the top spot in the American League. As of this writing, he is currently riding a four-game home run streak.
But Babe Crisp he is not. Coco's strength is still defensively, where his range in center field elevates the A's defense to elite level with the ground he covers. Even when his bat cools down some, Crisp's slashing offense and that plus-level defense is what gives him his value in Oakland.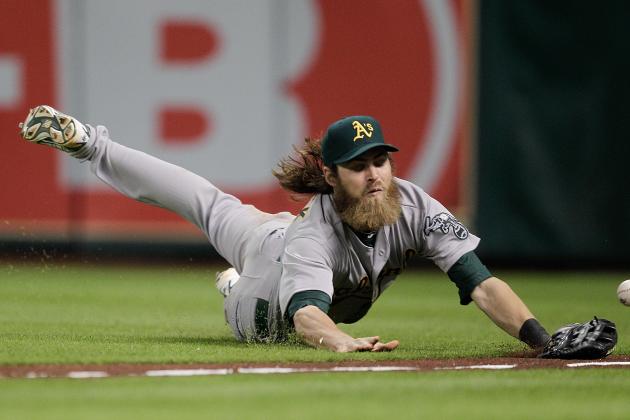 Bob Levey/Getty Images
Reddick's all out play in the outfield has him down, but not out
The last position player on the list is Captain Caveman himself, Josh Reddick. Expected to miss a few days minimum with a wrist strain sustained in a scary crash against Houston, Reddick's effort is never an issue.
Early in the season, his adjustments at the plate saw him going more towards left and left center. And most encouragingly, Reddick only struck out one time in 29 plate appearances to this point.
But Reddick's biggest strength is his cannon of a right arm. His 15 outfield assists were a large part to his winning the first of what could be many Gold Gloves in right field. The reputation he has earned has already paid off, stopping multiple runners in the opening series against the Seattle Mariners from attempting to take an extra base.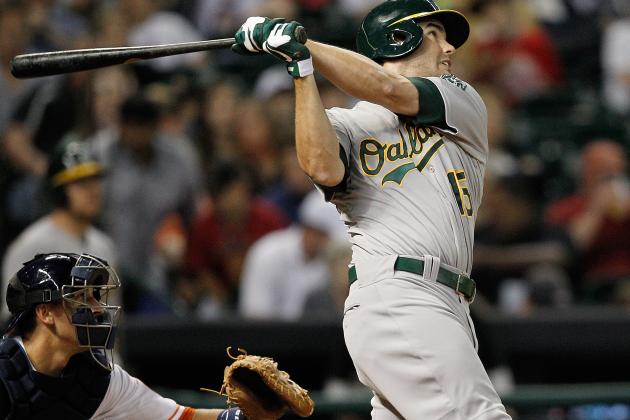 Bob Levey/Getty Images
Smith gives the A's even more versatility in their lineup
Finally, we come to the A's designated hitter, Seth Smith. Smith is the opposite of Nate Freiman in that his strength is his ability to hit right-handed pitching.
Smith has gotten off to a solid start, going 4-for-13 with a home run and three RBI with a slash line of .308/.400/.692. Of course, it is very early, but what Smith does is enables Melvin to make the most out of matchups on a game-by-game basis. His ability to hit righties stands out because the A's will face an overwhelming amount of right-handed pitching in 2013.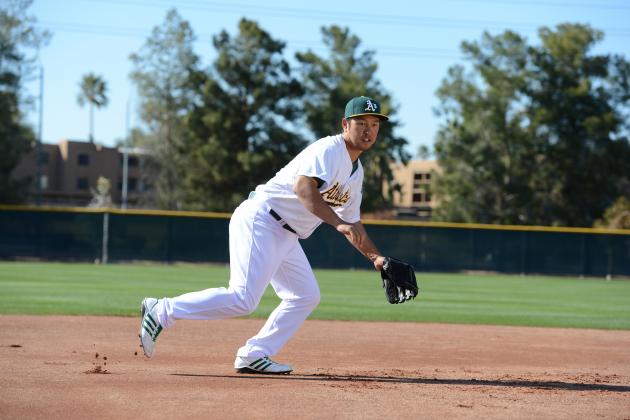 Robert Binder/Getty Images
The debut of Nakajima is indefinitely delayed
As this list demonstrates, the A's are strong because they are deep—solid players that have unique strengths and it's showing on the field. In eight games, they have scored 46 runs, good for second in the league thus far.
Ultimately, depth and sustained starting pitching is going to carry the day for this team, but so far, so good.