TUF 17 Finale: Info and Predictions for Faber vs. Jorgensen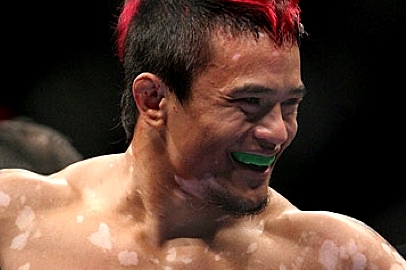 Photo: mmaweekly.com
With UFC cards every Saturday in April, it is easy to overlook some of the action coming our way. This weekend, fans will be treated to a free night of fights on FX that are full of important divisional matchups that promise fireworks.
In the evening's headliner, title contenders Urijah Faber and Scott Jorgensen meet in a matchup of bantamweight mainstays. Their scrap is expected to be a fast-paced war of technical boxing with bits of grappling brilliance sprinkled in for good measure.
Before that, women's MMA returns to the UFC in a highly-anticipated matchup between Miesha Tate and undefeated contender Cat Zingano. The winner gets a coaching spot on next season's TUF, as well as a title bout against Ronda Rousey.
On top of all that, we will be crowning a new Ultimate Fighter winner after one of the most entertaining seasons in the history of the program.
With all this action and more, this is a card you can't afford to ignore. With any further ado, let's take a look at The Ultimate Fighter 17 finale.
Begin Slideshow

»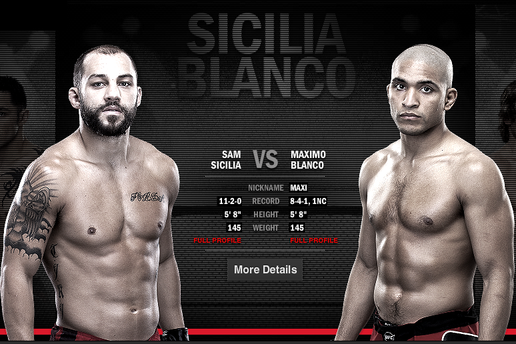 How To Watch:
Facebook at 5:35 p.m. ET
Preview:
Sam Sicilia is remembered most for his time on The Ultimate Fighter 15, where he was a member of Team Cruz. After earning his spot in the house with an eight-second TKO, Sicilia was highly-regarded and ultimately the third overall pick.
Sicilia made a successful UFC debut by knocking out Cristiano Marcello, however, he succumbed to strikes at the hands of TUF: Brasil winner Rony Jason last October.
Maximo Blanco has certainly not had much success in recent memory. After finding considerable success in Japan, the Venezuelan joined the Zuffa family as part of the Strikeforce roster in 2011. Since that time, "The Max Murderer" is 0-2 after dropping fights to Pat Healy and Marcus Brimage.
This could be an exciting standup affair, or it could be a complete snoozer. Blanco's hesitation in his promotional debut makes this matchup unpredictable.
Expect to see Sicilia push the pace here and Blanco look for the flying knee that he enjoys throwing.
Prediction:
Sam Sicilia defeats Maximo Blanco in Round 2 via TKO.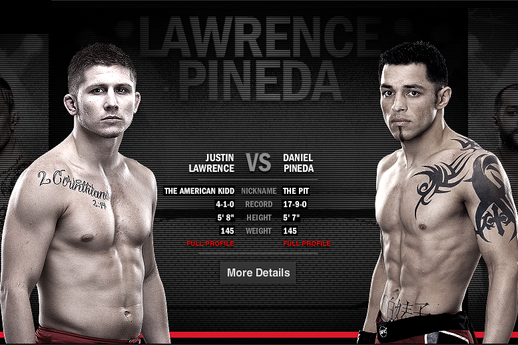 How To Watch:
Facebook at 5:35 p.m. ET
Preview:
Although Justin Lawrence is only five fights into his professional MMA career, the Ultimate Fighter veteran has a 16-year history in kickboxing. These skills earned Lawrence a pair of KOs during his stay on the reality program, as well as a vicious head kick win in his post-show debut.
His opponent, Daniel Pineda, has a dangerous submission game that has earned him 11 wins as a professional. In addition, he has 26 professional fights to his credit.
Pineda dropped his last two fights and will not be taking chances of coming up short in this fight. Expect him to quickly look for takedowns in order to avoid Lawrence's strongest attribute.
With a tremendous experience difference in this fight, it's hard to look to Lawrence as the victor, despite his standup credentials. Pineda will be able to work this fight to the ground and lock in a fight-ending submission.
However, the longer that this fight goes, the more opportunities that Lawrence will have to land an tide-turning strike.
Prediction:
Daniel Pineda defeats Justin Lawrence in Round 1 via submission.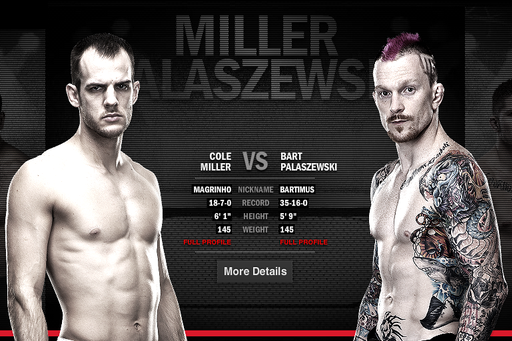 How To Watch:
Facebook at 5:35 p.m. ET
Preview:
Speaking of featherweights with their backs against the wall, it's time to take a look at a matchup between Cole Miller and WEC standout Bart Palaszewski.
Despite each man having tremendous skills and major wins to their credit, both men are currently on depressing losing streaks. Since December 2010, these exciting scrappers have a combined record of 2-6.
Miller has incredible submission skills and has used them to pick up victories against respected fighters Jorge Gurgel and Ross Pearson. Meanwhile, the power striking of Palaszewski has earned him 17 KO/TKO finishes and a decision victory over Anthony Pettis.
In the striking game, Palaszewski has the advantage, however, Miller is a lengthy fighter who knows how to effectively use kicks to keep boxers at a distance.
That being said, I'm not sure that Miller has what it takes to get Palaszewski down and keep him there long enough to hunt for the tapout he wants.
Prediction:
Bart Palaszewski defeats Cole Miller via unanimous decision.
Author's Note: This is my pick to win Fight of the Night.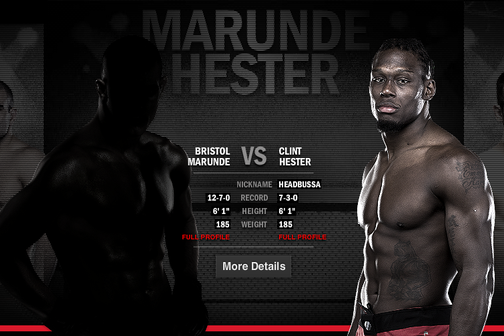 How To Watch:
Fuel TV at 7:00 p.m. ET
Preview:
Clint Hester was the first pick of UFC champion Jon Jones, however, found himself on the wrong end of a major upset when Team Sonnen's fifth pick, Jimmy Quinlan, latched onto a rear-naked choke.
Bristol Marunde wasn't a cast member on the current season of The Ultimate Fighter, but he did compete as a member of Team Carwin last fall. In the quarterfinals, Marunde found himself outworked by Neil Magny.
Like most other members of Season 16, Marunde was not given a fight on the show's finale. Perhaps that was due to the admittedly lackluster fights that went down.
Marunde was aggressive in defeat, and that is likely what earned him a post-show matchup.
Hester has solid takedowns and will look to incorporate his ground-and-pound skills en route to his seventh career victory due to strikes.
Marunde hopes that he can use his submission skills and experience advantage to pull out the victory here. Considering that Hester was out-grappled on the show, this is a smart move.
Prediction:
Bristol Marunde defeats Clint Hester in Round 2 via submission.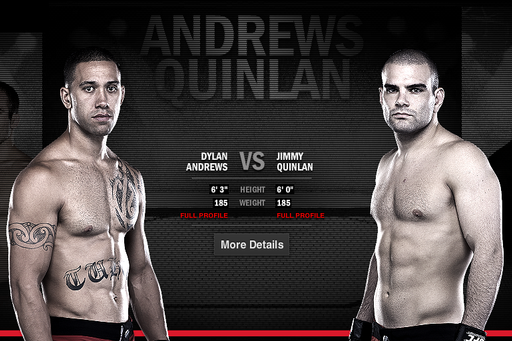 How To Watch:
Fuel TV at 7:00 p.m. ET
Preview:
Although Dylan Andrews was unable to overcome the monster known as Uriah Hall, the final pick from Season 17 did upset both Zak Cummings and Luke Barnatt along the way.
The New Zealander holds a professional record of 15-4 and is looking to put the first official blemish on Jimmy Quinlan's record.
Quinlan shocked many when he unseated Team Jones' first pick, Clint Hester, with a submission in the elimination round.
This is a stylistic nightmare for Andrews, who has been submitted in three of his four professional losses. If he can't keep this fight standing, it is unlikely that he will have his arm raised at the end of the night.
Prediction:
Jimmy Quinlan defeats Dylan Andrews in Round 1 via submission.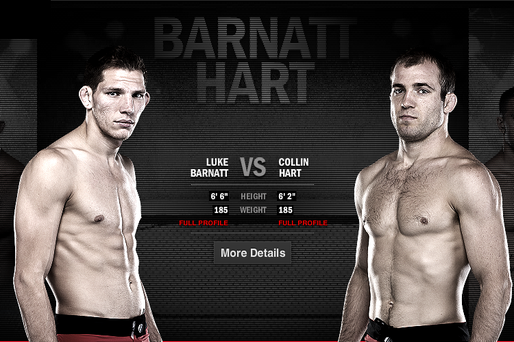 How To Watch:
Fuel TV at 7:00 p.m. ET
Preview:
Luke Barnatt, the overall first pick from Season 17, found himself on the wrong end of a Cinderella story in the quarterfinals. After two back-and-forth rounds, Barnatt was knocked out by final overall pick Dylan Andrews in the final frame.
Barnatt holds a professional record of 5-0 and looks to pick up his sixth win on Saturday night when facing Collin Hart.
Hart, whose only professional loss came via split decision, dethroned Kevin "King" Casey in the elimination round, but was knocked out by finalist Kelvin Gastelum.
Barnatt is a lengthy fighter with a well-rounded game and knockout power. He will look to keep this fight standing as a way to avoid Hart's excellent submission skills. Based on what we've seen from "Bigslow," he's got the skills to do it.
Prediction:
Luke Barnatt defeats Collin Hart in Round 2 via TKO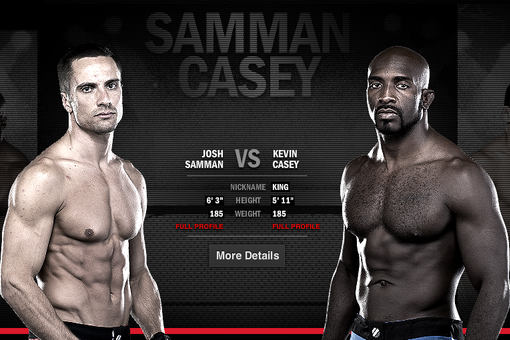 How To Watch:
FX at 7:00 p.m. ET
Preview:
Kevin Casey is a two-time Strikeforce veteran who holds a 5-2 record as a professional. On Saturday night, "King" has his work cut out for him when he takes on semifinalist Josh Samman.
Samman was widely expected to make his way into the finals and challenge Uriah Hall, however, he couldn't get off his impressive striking game after being taken down by Kevin Gastelum.
While competing on the show, Samman scored a trio of first-round knockouts. With any luck, he will pick up one more on Saturday night.
Hopefully, Casey worked on his cardio during his break after the show, as he faded in later rounds in each performance. Without the conditioning to take Samman in deep waters, it's unlikely that King can pull off the upset.
Prediction:
Josh Samman defeats Kevin Casey via TKO in Round 2.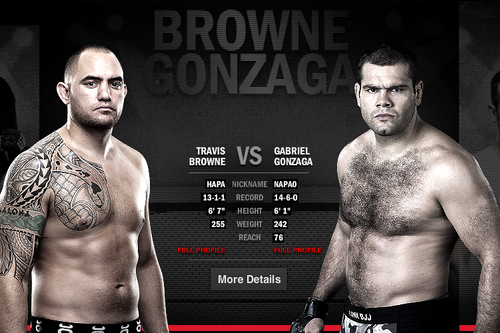 How To Watch:
FX at 9:00 p.m. ET
Preview:
Gabriel Gonzaga has looked fantastic since returning to the UFC in 2012. The Brazilian was released in late 2010 after a 1-3 stretch, but has since posted a 3-0 record with all victories coming by way of submission. Most recently, "Napao" choked out Ben Rothwell in January.
Browne is coming off a loss against Bigfoot Silva; however, an asterisk sits next to the loss due to the freak torn hamstring he suffered during the first round. Before that time, Browne was undefeated in 14 fights, including five UFC appearances and a one-fight bid with Bellator.
Both guys have incredible knockout power and a desire to impress in a major fight. The difference maker is the nasty jiu-jitsu that Gonzaga brings to the table. One way or another, this fight won't touch the judge's scorecards.
I like Gonzaga a lot, but this is not a matchup that favors him stylistically. Five of his six losses have come by way of knockout, which so happens to be the specialty of Hapa.
Prediction:
Travis Browne defeats Gabriel Gonzaga in Round 2 via KO.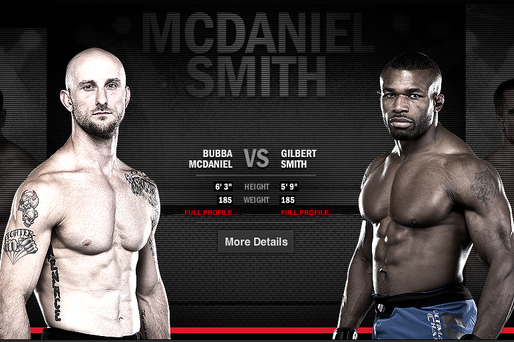 How To Watch:
FX at 9:00 p.m. ET
Preview:
Did anyone have a harder road to the TUF finale than Bubba McDaniel? After being submitted by finalist Kevin Gastelum, McDaniel fought his way back in through the wild card, only to be knocked out by finalist Uriah Hall.
McDaniel has 26 professional fights under his belt and has recorded 15 of his career wins by way of submission.
McDaniel's opponent, Gilbert Smith, is a promising talent who only has six pro fights, but has never lost a three-round fight. Smith was knocked out by a flying knee from Luke Barnatt during the elimination round.
This is a battle between teammates, as both fighters were members of Team Jones on the show.
Both fighters excel in the submission game, but there is a serious experience advantage on the side of McDaniel on Saturday night, Smith may show patience in his grappling, although his standup is sloppy and full of holes.
Prediction:
Bubba McDaniel defeats Gilbert Smith via unanimous decision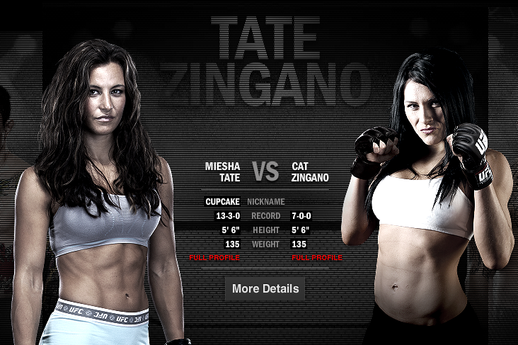 How To Watch:
FX at 9:00 p.m. ET
Preview:
The second women's bout in UFC history takes place on Saturday night, and once again, the stakes are very high. The victor of this matchup will not only get a coaching slot on the next season of The Ultimate Fighter, but they will additionally get a crack at the UFC women's bantamweight championship.
Fans are familiar with Miesha Tate from her impressive run in Strikeforce, where she won a one-night tournament to earn a title shot before ultimately choking out then-champion Marloes Coenen to strap gold around her waist.
Tate actually escaped an armbar from Ronda Rousey during her title defense against the judoka, however, she succumbed to a second hold later in the fight. With a current record of 13-3, she is the No. 1 ranked contender according to UFC rankings.
Opponent Cat Zingano does not have the same name value, however, her record sits at an unblemished 7-0 and includes six victories by way of stoppage. She was scheduled to make her Strikeforce debut in 2012, however, due to the Melendez vs. Healy card's cancellation, that never happened.
Zingano has solid grappling, however, those who saw the Zingano/Pennington fight can tell you that her wrestling isn't on the same level of Tate. That will ultimately be the difference maker in this fight, as Miesha will dictate this fight's location while patiently grinding out a win.
Prediction:
Miesha Tate defeats Cat Zingano via unanimous decision.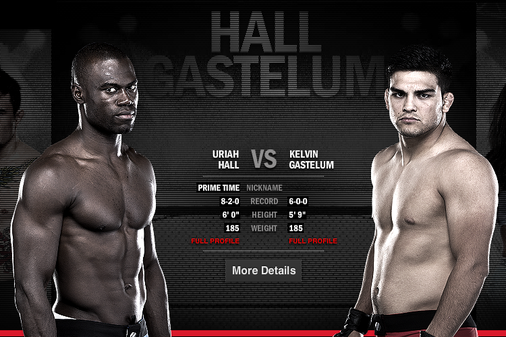 How To Watch:
FX at 9:00 p.m. ET
Preview:
Remember when Dana White started promoting Season 17 of The Ultimate Fighter by telling fans that there was a beast on the show who terrified everyone and put all of his opponents in the hospital? We now know that the fighter in question is none other than Uriah Hall.
In the elimination round, Hall guaranteed himself Knockout of the Season with an incredible wheel kick against opponent Adam Cella. Since that time, the Jamaican earned KO finishes against Bubba McDaniel and Dylan Andrews.
Finalist Kevin Gastelum worked his way into the finals despite being the last pick of Team Sonnen. Like Hall, Gastelum finished all three of his opponents in the house, including McDaniel, Collin Hart and Josh Samman.
Logic tells us that Gastelum will get wrecked during the standup exchanges, but that's not the only place that he is in danger. If he can secure a takedown, he will need to watch out for strikes from the bottom, as Hall was able to finish Andrews after rocking him with punches from his guard.
Gastelum is hoping to write the end to his fairy-tale story on Saturday night. However, all signs point to an ending that resembles The Brothers Grimm more than Disney.
Prediction:
Uriah Hall defeats Kevin Gastelum in Round 1 via knockout.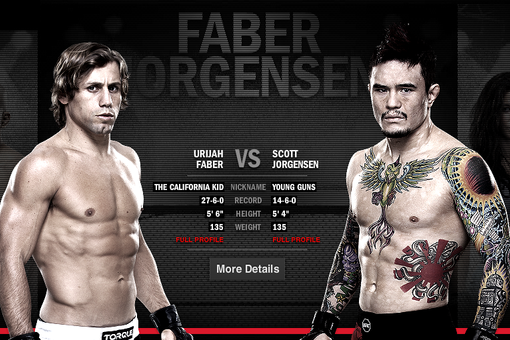 How To Watch:
FX at 9:00 p.m. ET
Preview:
Despite competing in the same organization for the last five years, ranked bantamweights Urijah Faber and Scott Jorgensen have never done battle inside the Octagon. Granted, Faber was a featherweight for half of that time, but nonetheless it is a surprising fact given Jorgensen's status as a former title contender.
This fight is a replacement main event for a once-scheduled battle for the UFC flyweight championship between Demetrious Johnson and John Moraga. That bout was postponed after Johnson was forced out due to injury.
For Jorgensen, this is the biggest matchup since a failed bid at Dominick Cruz and the bantamweight title in late 2010. Since that time, the tattooed cardio-freak has posted a record of 3-2 with his losses coming against current interim champion Renan Barao and challenger Eddie Wineland.
Considering that both fighters have come up short against champions Dominick Cruz and Renan Barao, it is unlikely that either man will get a title shot with a victory on Saturday night. However, the victor will certainly be in an enviable position after the inevitable title unification matchup between Cruz and Barao.
Both fighters are notoriously difficult to finish. This fight will come down to who can control the action. With the size and power advantage of Faber, this is his fight to lose.
Prediction:
Urijah Faber defeats Scott Jorgensen via unanimous decision.