The 15 Most Entertaining Fighters in MMA Right Now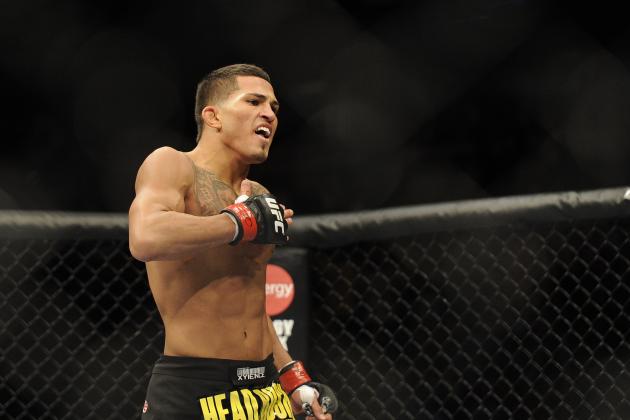 David Banks-USA TODAY Sports

Some fighters, like Georges St-Pierre and Dominick Cruz, will sacrifice anything to win, even if it means detracting from their own entertainment value.
Rather than regularly attempting spectacular techniques, which St-Pierre and Cruz are each certainly capable of, the longtime UFC champs have no quarrels employing extremely cerebral and conservative game plans en route to safe victories.
Others, on the contrary, aim to deliver crowd-pleasing victories, holding their aptitude to entertain in an equal light with their ability to win.
Every fighter on this list takes low-percentage risks on a regular basis. In the cases like that of pound-for-pound kingpin Anderson Silva, gambling perpetually pays major dividends. For others, such as lightweight gatekeeper Joe Lauzon, taking risks has its rewards and its downsides.
Regardless of whether or not they've won in the process, these are the 15 most entertaining fighters in MMA right now.
Begin Slideshow

»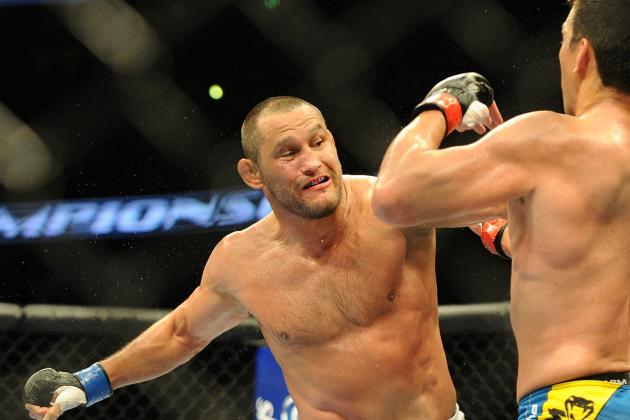 Jayne Kamin-Oncea-USA TODAY Sports

Dan Henderson, Gegard Mousasi, Shinya Aoki, Robbie Lawler, Rory MacDonald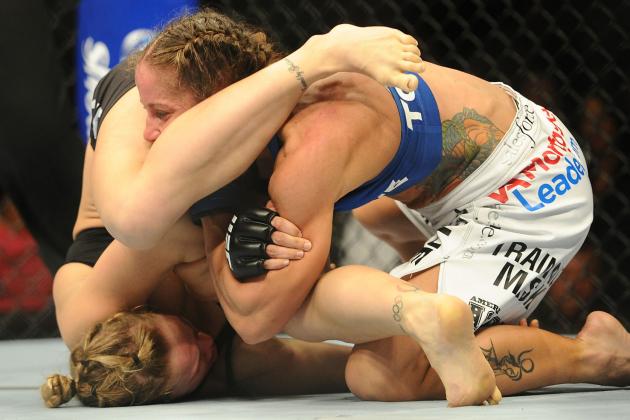 Jayne Kamin-Oncea-USA TODAY Sports

Since getting the spotlight shined on her in Strikeforce, essentially the entire MMA world has expected to see top-flight armbars from Ronda Rousey in the UFC.
In the first ever women's fight in the promotion, the heavily favored Rousey captivated over 13,000 fans at the Honda Center with a first-round armbar of Liz Carmouche at UFC 157.
Rousey survived a precarious situation and then turned the tides on Carmouche to end her seventh straight fight by armbar. The win had nearly every fan at the Honda Center in Anaheim, and those who rented on pay-per-view, on their feet.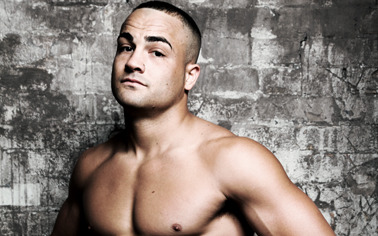 Photo credit: MTV.com
The only fight that Eddie Alvarez has lost since 2008, a barnburner against Michael Chandler at Bellator 58 for the lightweight strap, was named the Yahoo! Sports Fight of the Year in 2011.
Alvarez and Chandler slugged it out for the better part of four rounds before the Philadelphia native succumbed to a Chandler rear-naked choke.
Alvarez made his bones with some of the most entertaining fights in Dream history against the likes of Joachim Hansen, Tatsuya Kawajiri and Shinya Aoki.
Now, the only thing stopping Alvarez from making the UFC lightweight division even more enthralling is a contract dispute with Bellator.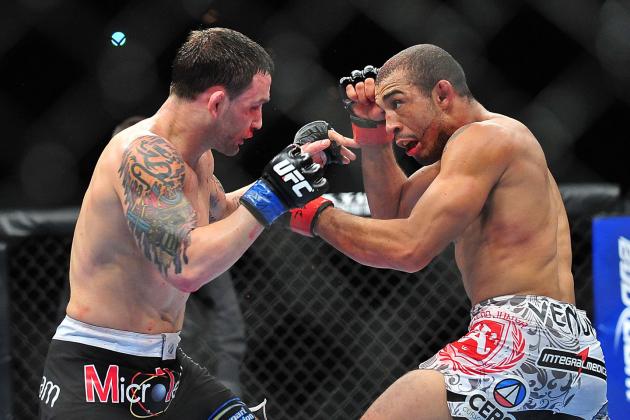 Gary A. Vasquez-USA TODAY Sports

Granted, three of his last four fights have ended in decision, but that doesn't diminish the fact that UFC featherweight champ Jose Aldo has all the ingredients to consistently mesmerize fans.
Chopping leg kicks, double flying knees and ferocious hand combinations are just a few staples that have carried Aldo past the likes of Chad Mendes, Urijah Faber and Kenny Florian, just to name a few.
His credentials in pivotal bouts aren't what landed Aldo on this list, though.
The 26-year-old Brazilian has a knack for ending fights suddenly, a quality that's propelled him since his pre-WEC days.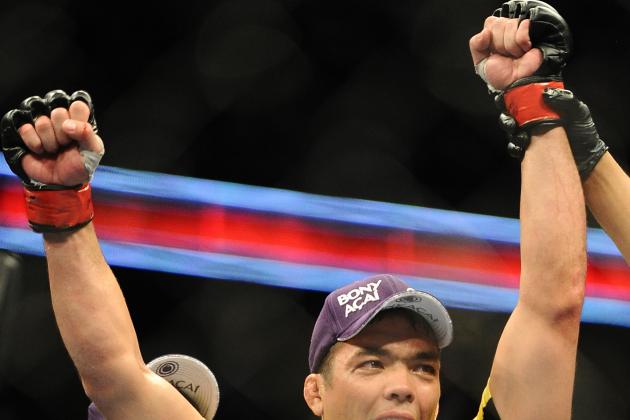 Jayne Kamin-Oncea-USA TODAY Sports

Blending karate with top-flight wrestling, Muay Thai and Brazilian jiu-jitsu, Lyoto Machida routinely executes unthinkable techniques in the Octagon.
First, Machida put his vicious submission skills on display by becoming the first man to tap U.S. Open judo champ Rameau Thierry Sokoudjou (arm-triangle choke) at UFC 79.
He then became the only fighter to KO Rashad Evans when he flattened the former champ at UFC 98 to snatch his light heavyweight belt.
To add to his lure, Machida amazingly KO'd Randy Couture with a jumping crane kick at UFC 129 before becoming the first man to KO Ryan Bader at UFC on Fox 4.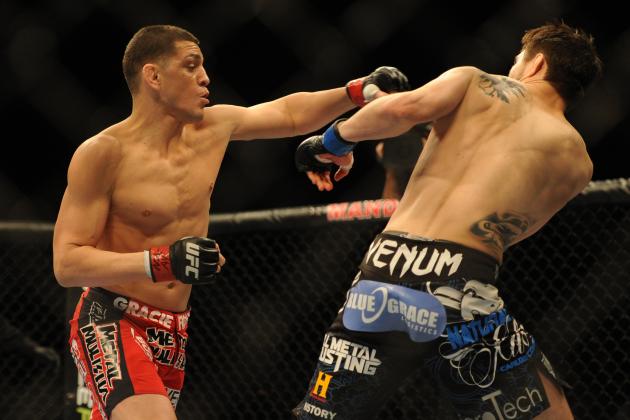 Kelvin Kuo-USA TODAY Sports

Nick Diaz may talk more trash on his peers than any other fighter in the UFC. But that's only because every word he spews outside the Octagon he intends to back up with force inside it.
Plenty of fans adore Diaz, both a gifted boxer and a talented submission artist, for the honesty he displays in verbally attacking his opponents both in pre-fight routines and in the heat of battle.
The fans who booed Diaz and Carlos Condit during their strategic war at UFC 143 obviously expected a finish from one of the two notoriously tenacious scrappers.
Condit outsmarted Diaz, however, and as a result, made the Californian appear boring for the first time in his career.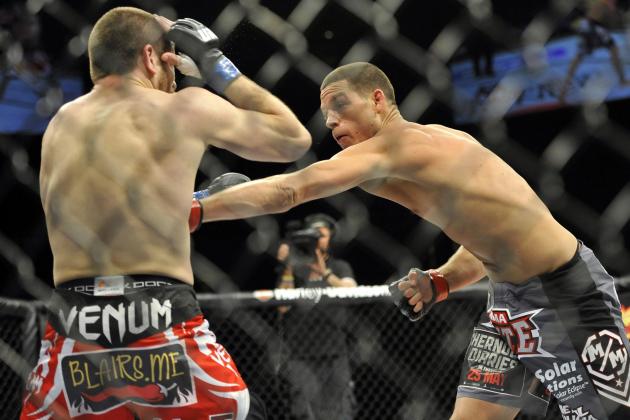 Joe Camporeale-USA TODAY Sports

Like his older brother Nick, Nate Diaz seems to enjoy dishing out and taking punishment, a personality trait that seems to drive fans wild.
He absorbed entertaining beatings from stronger and bulkier foes like Rory MacDonald and Benson Henderson.
But when Diaz gets the better of an opponent, like he did in wins over Jim Miller (guillotine choke), Donald Cerrone (unanimous decision) and Kurt Pellegrino (flying triangle choke), among many others, it's quite evident that he's the protege of his older brother, Nick Diaz, who's extraordinarily entertaining in his own right.
Josh Holmberg-USA TODAY Sports

In 13 MMA fights, Pat Barry has fought to just one decision, a unanimous decision win in a slugfest against Joey Beltran at UFC: Fight for the Troops 2.
In every other MMA bout he's partaken in, "HD" either knocked out his opponent, got knocked out or gave up a submission.
His classic war against Cheick Kongo at UFC Live 4 serves as the best example of Barry's volatile yet charming nature.
Barry clipped Kongo several times and put the Frenchman on skates at Pittsburgh's CONSOL Energy Center. Barry ferociously stalked the visibly wobbled Kongo in pursuit of a knockout before absorbing a few massive shots on the chin to suffer a shocking knockout.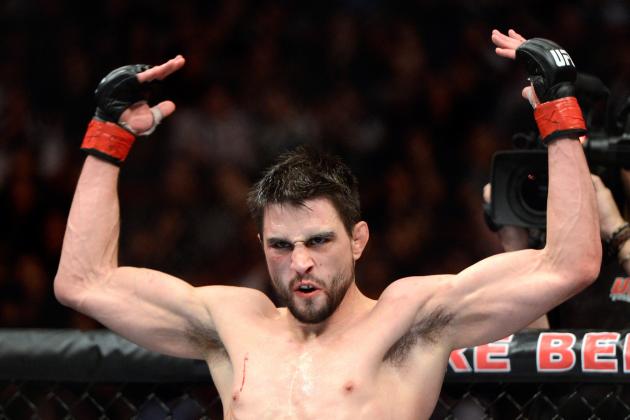 Eric Bolte-USA TODAY Sports

Following his loss to Johny Hendricks at UFC 158, Carlos Condit admitted his need for a radical tune-up in the wrestling department.
Condit, didn't, however, mention anything about attempting to become more exciting.
That's because the 28-year-old former WEC champ knows he's one of the most exciting fighters in the sport, even if he can't outwrestle stars like Hendricks and Georges St-Pierre.
Pit Condit against another exciting fighter like Nick Diaz, Dan Hardy or Rory MacDonald, and watch "The Natural Born Killer" hold up his end of the entertainment bargain.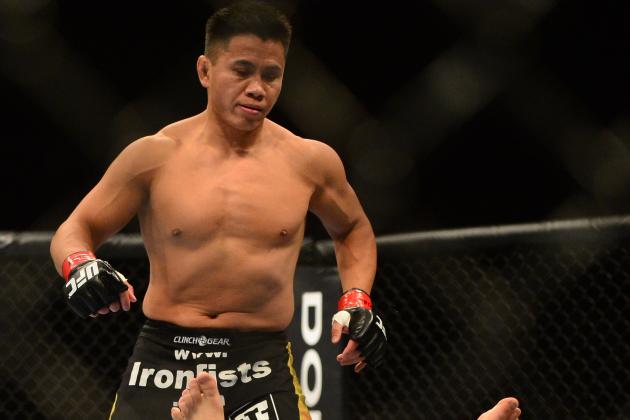 Mark J. Rebilas-USA TODAY Sports

Believe it or not, Cung Le possesses top-flight wrestling chops. He proved that by winning a California JUCO state title in 1990.
But Le hasn't spent much time flashing his wrestling prowess in his seven-year MMA career. Instead, the soon-to-be 41-year-old Le has used much of his time in the sport showing off his brilliant Muay Thai abilities.
Spinning back kicks, punches and elbows, jumping knees and spinning wheel kicks are all techniques that Le will throw with confidence, even if his opponent's expecting it.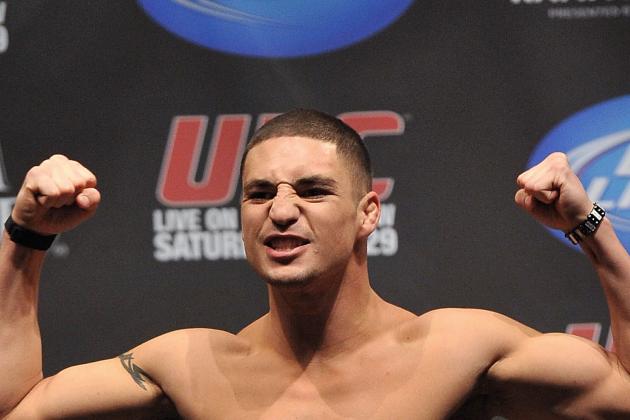 Jon Kopaloff/Getty Images

Even in one of the lowest moments of his career, a demoralizing defeat to B.J. Penn at UFC 107, Diego Sanchez looked like a fighter who knew how to put on a show.
A never-ending gas tank, a monstrous heart and a skill set to match, Sanchez has taken part in unforgettable wars against the likes of Jake Ellenberger, Martin Kampmann and Nick Diaz, among many others.
A five-time winner of the UFC's "Fight of the Night" bonus, Sanchez put on his most memorable show in a gritty scrap against Clay Guida at The Ultimate Fighter Season 9 Finale. The World MMA Awards later named awarded Sanchez and Guida "Fight of the Year" awards for their efforts.
Gary A. Vasquez-USA TODAY Sports

Being tied with pound-for-pound king Silva for most UFC post-fight bonuses (12) has put Lauzon in rarefied air in terms of entertainment value in the realm of MMA.
Known for setting a torrid pace in the early stages of fights, Lauzon has reeled off wins by first-round submission in three of his last four fights.
Although he's gone 1-1, Lauzon's last two performances in the Octagon solidified his spot at No. 5 on this list.
Both his submission win (triangle choke) over Jamie Varner at UFC on Fox 4, and his unanimous decision loss to Jim Miller at UFC 155 could have been deemed "Fight of the Year."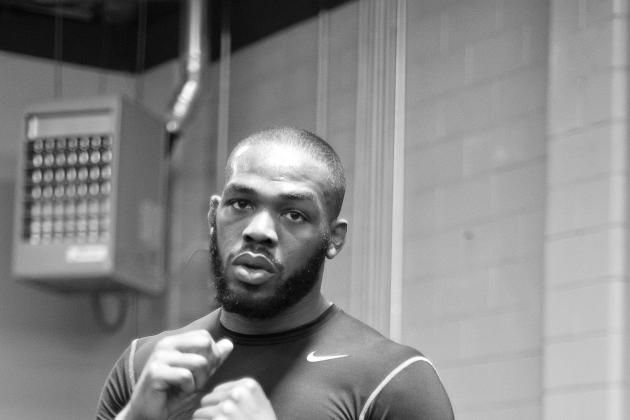 Steve Snowden/Getty Images

When Jon Jones brought the crowd in Toronto to its feet at UFC 140 by choking former light heavyweight champ Lyoto Machida unconscious, it marked the sixth straight fight that "Bones" either won via TKO or by submission.
Sporting a freakish 84.5-inch reach and rangy legs like Anderson Silva's, Jones can pull off techniques that other fighters simply can't. Leaping elbows, unorthodox trips from the clinch and an array of chokes are just a few of the entertaining tricks Jones holds in his bag.
With Jones, it's never a question of if he's going to finish a fight—it's usually a query of whether he's going to snatch a submission or score a TKO.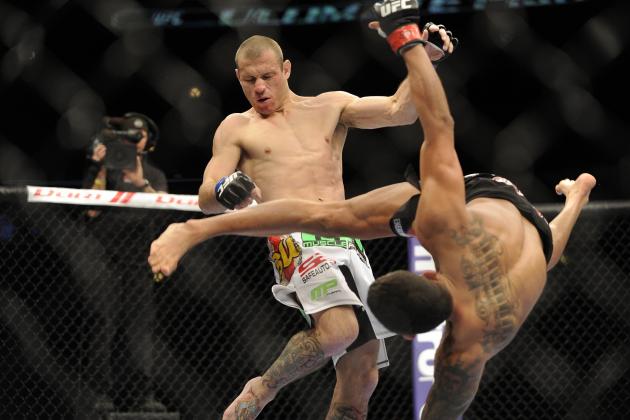 David Banks-USA TODAY Sports

Anthony Pettis first gave the MMA world a glimpse of what kind of performer he was when he nailed the "Showtime Kick" on Benson Henderson to stamp his win for the lightweight strap at WEC 53.
Three fights later, Pettis, who started his UFC career as a lightweight, made short work of Lauzon with a brutal head-kick knockout at UFC 144.
Pettis offered up his coup de grace before his first UFC title shot by dropping the resilient Donald Cerrone with a slick body kick at UFC on Fox 6.
For his efforts, the UFC's brass awarded Pettis the next shot at the UFC featherweight strap and its holder, Jose Aldo.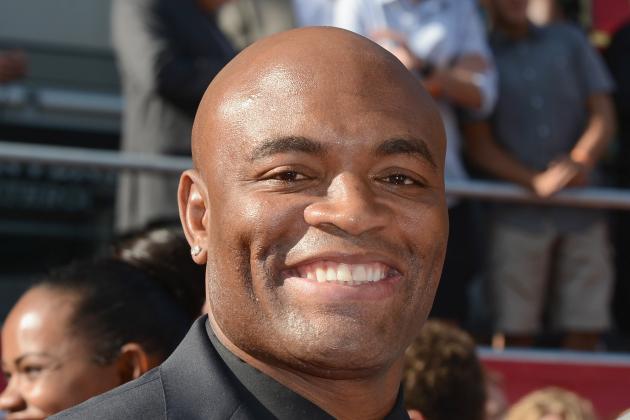 Frazer Harrison/Getty Images

At nearly 38 years of age, Anderson Silva remains both the UFC's most prolific innovator and its most prized performer.
The extremely venomous Silva's landed virtually anything and everything he's attempted in the Octagon since 2006, including a Hail Mary triangle armbar of Chael Sonnen at UFC 117 and a front-kick KO of Vitor Belfort at UFC 126.
Silva possesses the dexterity to submit or KO an opponent at any given second, a recipe that's made him one of the most polarizing figures in the MMA history.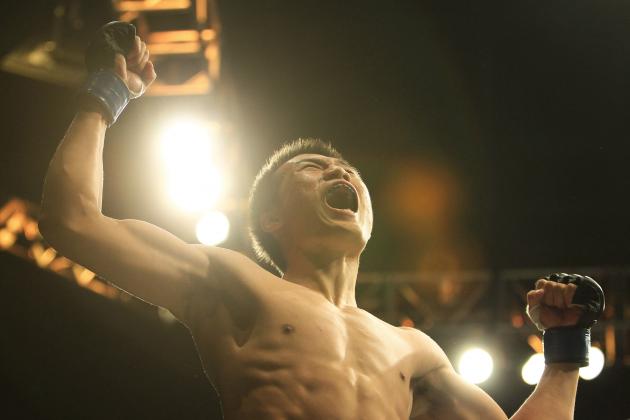 Tom Szczerbowski-USA TODAY Sports

The Korean Zombie made a name for himself in a timeless brawl against Leonard Garcia at WEC 48.
Just over a year later, Jung entered the UFC in style by nailing the company's first ever twister submission on Garcia at UFC Fight Night 24.
The Korean Zombie followed up his win over Garcia with an astonishing seven-second KO of the seasoned Mark Hominick at UFC 140.
In his last bout, Jung solidified his status as the sport's most entertaining fighter when he outshined perennial contender Dustin Poirier at UFC on Fuel TV 3.
The Korean Zombie took Poirier into deep waters before ironically slapping on the Louisiana native's favorite submission, the d'arce choke, to end what Sherdog.com deemed the 2012 "Fight of the Year."